The French composer Claude Debussy once famously said "Music is the space between the notes." Decades later, jazz great Miles Davis echoed this sentiment by saying "It's not the notes you play, it's the notes you don't play."
For Maurice Louca, a musician based in Cairo, the concept of the space between the notes–the absence of sound and how he plays with it–has been an integral part of his life and musical progression. Louca is releasing his latest work, Elephantine, on February first. He says it is his "most ambitious work yet." In it, Louca (who plays guitar and piano) leads a 12-piece ensemble through a swirling, hypnotic jumble of cosmic jazz that has a feeling of perpetual motion. Think Kamasi Washington if he had grown up listening to mesmerizing Yemeni chants and Egyptian shaabi pop.
---
We caught up with Louca to talk about how this record came to be. But, in order to properly explore the record, let's first dig a little into the life and circumstances of the musician himself.
Louca was born in Cairo in the early eighties. By the mid-nineties he had picked up a guitar and was trying, as best as a gifted 12-year-old could, to emulate the swirling psychedelic sounds of the rock legends of the sixties. It was around this time that the Egyptian magazine Rose al-Yousef published an article linking youths interested in rock and metal music to satanic worship. The Interior Minister got word of this and, suddenly, playing live rock and dressing the part was pretty much outlawed by the state. So what was young, blossoming Louca to do?
He stayed inside, he practiced, he worked on his songwriting—space between his notes.
Eventually, Louca broadened his musical repertoire to include classical and contemporary Arabic music. He began listening to electronic music and shaabi being played on the street. He went out and got himself synthesizers, samplers, drum machines and all the other toys that let digital composers play around between 0 and 1. As rock wasn't a viable option, he would learn to play everything else. Time wore on and Egypt saw social and political changes. Following Arab Spring in 2011, the artist scene in Egypt had a powerful rebirth and jolted a lot of the creative scene back to life by the will of the people. Notes were being played again.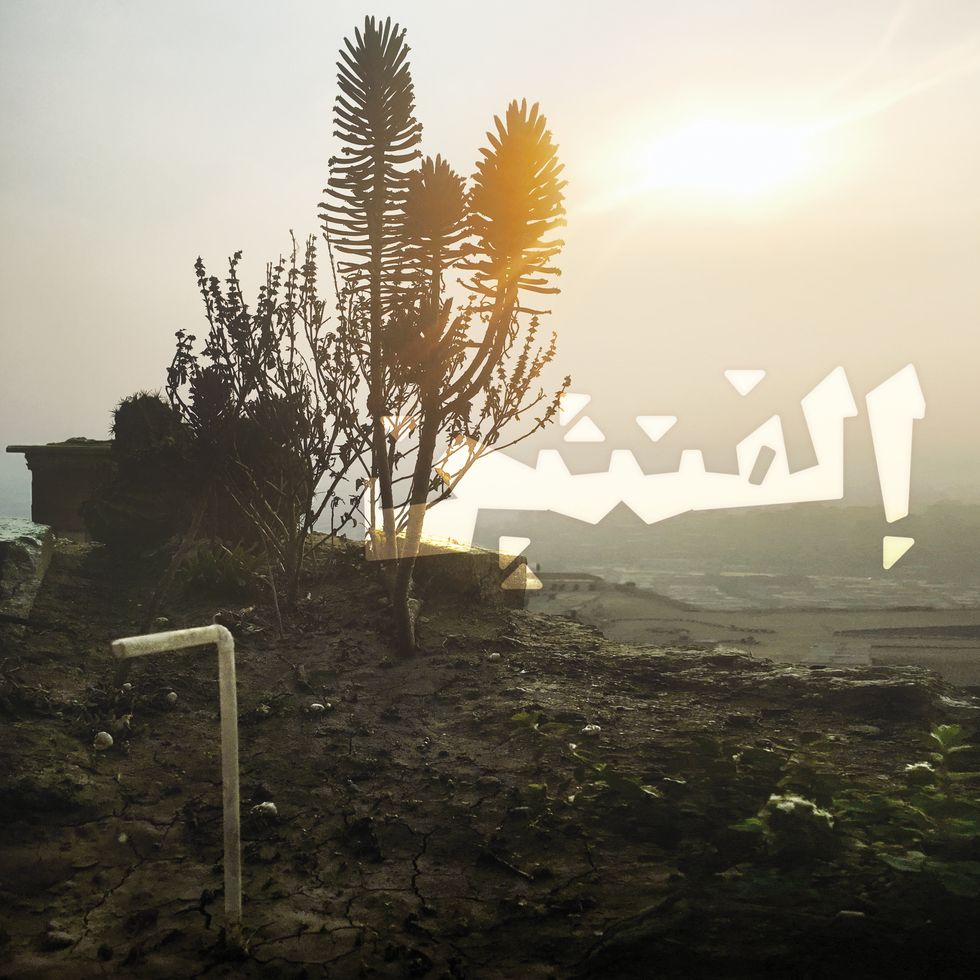 Elephantine
This lasted a little while but, today, the current regime has tightened the reins on music performance and the ability for large groups to gather. It hasn't stifled the creative energy of the country, far from it, but it has created obstacles to getting art to the people. Another space between the notes. So, as Egypt wasn't offering enough opportunities for him, Louca took Egypt on the road. He recorded Elephantine in Stockholm with a group of musicians hailing from all over: Italy, Turkey, Sweden, Iraq and Denmark. What resulted is a record that is both incredibly international and absolutely local. In it, you can hear the effects of how he filled the spaces between the notes, what he did when there was an absence of sound.

Read on for some words from Louca on the process of making Elephantine and the music scene in Egypt.
Nereya Otieno for OkayAfrica: What is the story behind this album? And how did you assemble the band for the record?
I started working on ideas for this record almost immediately after I was done recording my last record Salute the Parrot. It was clear to me that, for the next record, I wanted to work in a different way, although most of the record was composed on guitar. It was also very clear to me that it wasn't going to be a strictly guitar record per se. I started to hear different voices and instrumentations coming out of the composition, and then as the music kept developing it became a matter of whether I would be able to do this record in the way I imagined it.
But it wouldn't have been possible to work on these compositions in another way, I don't think. Going into the rehearsals and recording phase, I had only known two of the other musicians, Tommaso Cappellato and Ozun Usta, who are both dear friends and people I had played with before in different contexts. The rest of the group I had properly met for the first time when we started working on the record, and were mostly recommended through friends. There was a blessed thing about the process of making this record, the dynamic between us musically but also as people … it was a very exciting time.
Listen to an exclusive track from Louca's upcoming release:
What is your take on Egyptian jazz? Where is it and is there a future for it?

I would say jazz music in general isn't very present in the sonic landscape of Egypt, even though we had some iconic figures in the past. In particular Salah Ragab in the 60s and 70s. I don't think jazz really caught up as a scene here. I'm not sure why, and I don't necessarily see it change much in the future or feel that it really matters in a way.
Is that kind of why you needed to go outside of Egypt to capture this album's sound?
Yes, I would say so. Following up on that last answer, the fact that there isn't really much of a scene here for the kind of playing I had envisioned for this record, it was clear that I was going to need to look elsewhere. For example im not sure if there even is a vibraphone player based in Cairo, and even though there is sometimes horn sections in Arabic music, the approach and style of playing is very different from what I wanted for these compositions.
How does Egypt's history play into that—as a musician? The different times of censorship the current culling of performance venues, do they have an impact on creativity in the country?
It's hard to tell, but I think being a musician and being able to express your ideas how you want to and still make a living from your art is very difficult in any part of the world. I have been lucky to have been exposed over the last few years to different scenes in different places, and I found that each city/scene has its own problems. Obviously Cairo is no different and there is certain grievances and difficulties that are particular to the scene here, but the city also gives back in some ways, too. In one way that I always mention is the audiences here – there is a huge audience base in Cairo and, in my experience, if you have something to say or represent musically it will most probably be heard. In other cities, that's not the case and a lot of great music goes unnoticed either because the scene is too saturated or for whatever other reasons. That being said, I'm not saying we should be satisfied with the status quo, obviously there is still a lot of battles to be had and efforts to be made to improve some aspects of the scene here, but at the same time I don't feel particularly handicapped or oppressed as a musician being based here either.
Elephantine comes out February 1st.
Find Nereya barely posting but always stalking on her Instagram.