Mumford & Sons had been wanting to play South Africa for a while. But they didn't want to just go to South Africa, play a show or two and leave, as is the norm for big overseas acts. "We knew we had to go, but it's just not on the way anywhere. It's not like playing in Germany where you can just pop over to France" the band's lead singer, Marcus Mumford, tells me over the phone. "We wanted to make it a bit more of a special kind of tour."
---
That desire to make it a whole thing resulted in a six-show South African tour and the "mini-album," Johannesburg, a five-song love letter of sorts to the group's travels from Cape Town to Joburg. Or rather, the musicians they met along the way.
The project was recorded in February at Joburg's South African Broadcasting Corporation (SABC) headquarters, where the group spent two days and nights in the studio with a who's-who of artists on the continent assembled by Swedish producer Johan Hugo of The Very Best, whom the band first met in 2010 on their Laneway Festival tour in Australia.
"I don't think it's within a certain genre" Mumford tells me of the project. Johannesburg is a collaboration in the truest sense. The sum of its parts being Cape Town indie-pop band Beatenberg, Senegalese legend Baaba Maal and The Very Best's Hugo and his other half, Malawian singer Esau Mwamwaya. And of course the four guys from Mumford.
"It really is a collaboration with different artists" says Mumford.
Though the group has no plans to return to South Africa as of now, they're excited about when they do. "For us it's become kind of an iconic trip that we did" concludes the Mumford frontman. "Next time we'll have to compete with how fun this first one was."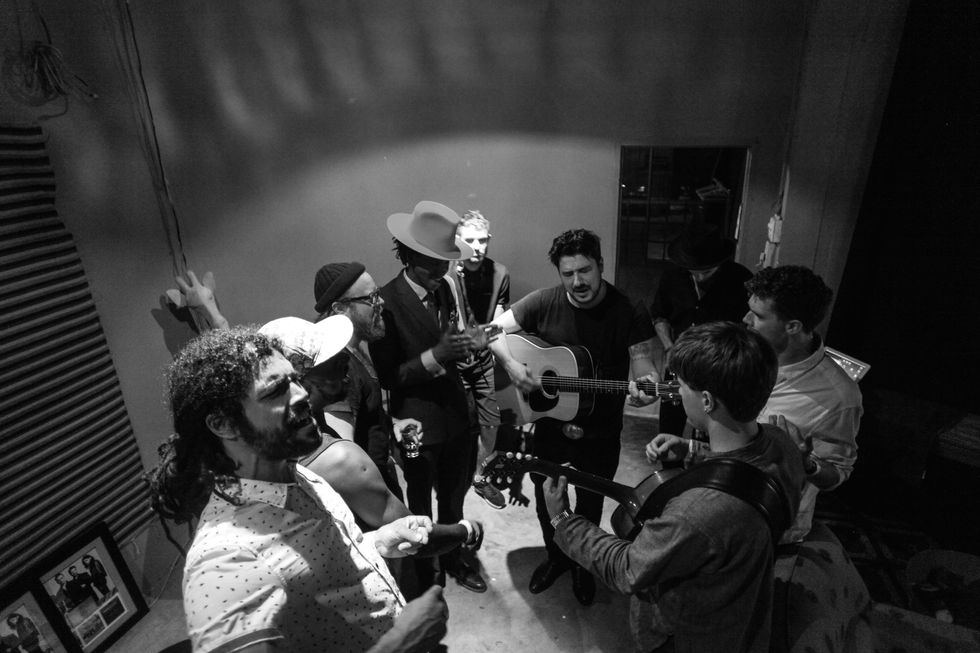 Mumford & Sons with Beatenberg and The Very Best. Photo: David East. Source: Facebook
Below, Marcus Mumford takes us inside the five tracks on Johannesburg:
There Will Be Time
"Well we wrote that almost two years ago now. With Baaba in the studio in London. We did one day together. Just for run, really. Johan from The Very Best had introduced us. And we did one day in the studio together. And we wrote that song. That was the song that really sent us to South Africa. We wrote that, and we were like 'we should do a whole project around, rather than release it as a one-off.'"
Wona
"'Wona' came about from us getting to Cape Town, picking up some instruments together. And then starting to write. And Matt [from Beatenberg] came over to my hotel, and we wrote some lyrics and some chords together, some ideas we both had. And then we took it to the lads in Joburg and we played it for them, and it became a thing."
Fool You've Landed
"We had a demo called 'Fool You've Landed,' which didn't make it onto our last record. It's definitely very different from now from what 'Fool You've Landed' sounds like on this record. There was like a verse idea and a chorus idea that feature on this song, but then Esau from The Very Best really embraced the verse, and wrote it basically in the studio. And it became a whole different thing to what it was before."
Ngamila
"Ngamila means camel. It was a song that Johan played me a demo of the idea in London, and I sang something on it that we did together in Winston's apartment in London, when Winston wasn't even there actually. We then took it with us to Joburg and played it for the guys, and that became something we wanted to work on more. And then Baaba did some vocals on it. That was Esau's baby, really. And I love that song actually."
Si Tu Veux
"'Si Tu Veux' is completely original from Joburg. We wrote that from start to finish in those two days. It was a very fun song to see being recorded, because it was a lot of candle light kind of vibes, and then Baaba sang this thing in the studio which just blew our minds with how special it was. And then we kind of crafted this cinematic kind of backing track thing. I think it might have been my favorite one, that one."
Johannesburg is out 17 June worldwide. Okayafrica is hosting the Gentleman of the Road: Johannesburg - a South African Experience pop-up exhibition now through 19 June at the Okay Space in Brooklyn, New York.