This profile is part of OkayAfrica's ongoing series, THE WAV 2019, following the young artists shaping the future of the South Africa's music scene. You can read more profiles and interviews here.
South African artist and producer Muzi released what is one of the best albums this year. Afrovision lives up to its name—the artist blends his electronic production with sounds from various parts of the continent, including afrobeat, Afro-pop, kwaito, hip-hop, house, among others.
The album features like-minded artists such as Una Rams, OkMalumKoolKat, Seaba, Black Rose, Langa Mavuso and Tiro.
After bubbling under for a few years, and scoring production credits on albums by South African hip-hop artists such as Patty Monroe, Riky Rick and Reason, among a few others, Muzi is slowly claiming his place in South Africa's exciting music scene.
The producer is a bubbly character, and his music represents him accurately, from his dress sense to what he's trying to achieve in his journey.
We caught up with Muzi to discuss Afrovision, his influences, his thoughts on South African music, working with OkMalumKoolKat and his history as a rapper, among other things.
---
You used to stay in Berlin. What were you doing there?
I went to learn. I wanted to learn more about electronic music and I wanted to see the scenes, and experience it from where they say it came from.
What did you come back with?
With ideas. I needed to be back home. The people I needed to inspire, I wasn't seeing. I felt, especially towards the end of the two years, very disconnected. Like, I'm tryna do black music, but I'm surrounded by white people.
And there's this prevalent perception that artists like yourself are celebrated more abroad than here at home. What do you make of that?
I think it's because of the way the market is set up. The market here is really genre-specific. It's either you're doing hip-hop or house—gqom being under house. So there's that, but there are always people who are always trying to find that cutting edge, new shit, that maybe in SA it's not the case. Here, the market seems to be a lot safer. They are trying to find what already works, instead of breaking new grounds.
Do you think artists could be doing more to change that?
Yeah. We could be. There's no tour circuit, that's like the first. Artists in South Africa get booked, but they don't really book themselves and do a whole tour. So maybe I do one show in Cape Town, another in Pretoria, also the small cities, and then you get your following that way and build your circuit. So artists could be doing that instead of crying, if promoters are not booking you, be your own promoter. Find ways to book out a venue, even if that means you just doing a house party and performing there.
With this project, you reference a lot of music from the continent. Not that you never did that with your previous work, but it's so blatant with this one. Was that something you'd always wanted to do, or you just stumbled upon it?
I've always wanted to do it, I just didn't know how to. And I was not confident enough to do it. I loved electronic music because I, as a producer, could just go out and perform. But in hip-hop, the producer is always at the back, and you give all your music to an artist, so they might not respect you. Going to Berlin, coming back immersing myself ekhaya, and going to Kenya, and doing all these things, reconnecting as I felt disconnected when I was abroad, I got confident enough to do the music I have always wanted to do, after growing up listening to Chicco Twala, Hugh Masekela, and all those artists.
Photo by Sabelo Mkhabela.
And the singing on some of the songs? Was that always a hidden talent you had?
My voice, it is an instrument vele. So that's what I was using it as. Sometimes the idea needs that level of expression. And at times I feel like I'm the only one who can pull it off, with regards to that song. It's all about me finding ways to express myself. Sometimes features can add on, and sometimes they can take away. So I decided to feature myself. One other reason is because I couldn't afford features. (Laughs)
So that means the way you made music changed, especially in terms of setup?
I've always had these little vocal things, even on Boom Shaka, but they weren't prominent. It was a fear thing. But now I've grown up. And some people say the music sound mature. Even though I still got a rebel in me, I'm not that rebellious kid I used to be anymore. I just wanna make music I can play for my mom, or play while driving or some shit. I was just trying to express myself, using all the influences I have to make an honest project.
And with the different types of sounds that you tap into in Afrovision, is there a specific sound that you were gunning for?
If you go through my phone, you'll find a lot of voice notes. The music comes to me. I don't even use keyboards or anything like that 'cause I feel like it fucks with the process. I hear the song in my head. The beat for "Sweet Chocolate," I heard it in my head. We were recording Una Rams' verses when Seaba started humming the chorus, and I'm like, 'yo, record.' So it's always natural. I've never sat and thought, 'I'm making afrobeat,' 'I'm making house.'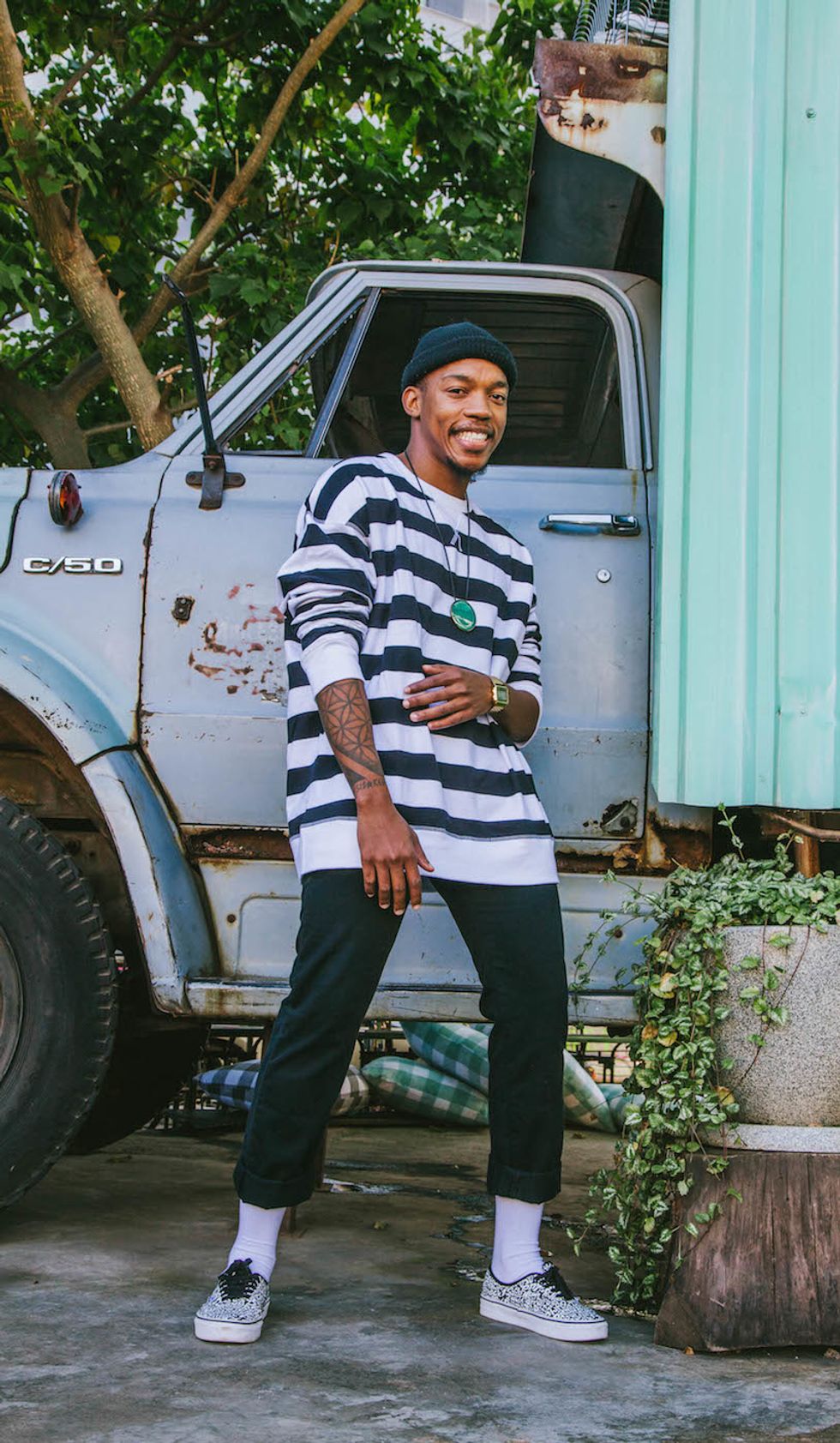 Photo by Sabelo Mkhabela.
Do you collect sounds, do you sample?

I do collect sounds. Just like recording random guitars emgwaqweni, whatever. I've made beats for a long time, what I do is I sample myself. So, say, I had a nice beat that had a really nice progression, but I couldn't express it fully then, so I take it and sample it. That's why some of the songs, have that oldie feel to it, because I have sampled an old beat of mine.
With a lot of artists who go to Europe or America, they always feel pressured by that environment and people to express their African-ness, did you ever feel any of that while in Berlin?
Yes. It felt like I was alone. My manager and I would count how many black people we'd see. So I felt like I had to represent, but it wasn't really pressure from Europeans; I didn't try to be as tribal as I could. It was just like a pressure of me representing my people, which translated into the music.
In terms of the response to the album, were you expecting it to be this positive?

I read a book, I read it like The Bible, it's called Ego is the Enemy. So I let go of things like that. I just make the dopest art I can, and then after that, I let it go. Gone are the days when I was still attached to my art after releasing it. You gotta allow people to receive it how ever way; some will love it, others won't. The reception has been super great, but I knew I had a dope project because I had put my heart and soul in it.
How do you pick the artists you collaborate it? Is it about whoever is accessible?
It's usually accessibility and relationships. I like working across, like if I know that you're a singer, I will be like, 'come through, let's hear,' it has to be organic to me, because that brings about a good song.
What are your thoughts on where South African music, especially black music, is at the moment?
House is doing great. There's anew wave of black artists that aren't scared to be themselves, the likes of Una Rams, Langa Mavuso, Espacio Dios, Jackie Queens, Da Capo, Culoe de Song, Black Coffee. There's a lot of artists expressing who they are in a modernized way, meaning that we are growing as a people, which is cool. Our music has always been dope, don't get it twisted.
I'm also a fan of hip-hop, and I wish that it was joining us on that. In 2014, it happened. Like, I was hearing a bit of kwaito, but it was modern, and then we went back to copying.
So when you started making beats, were you making hip-hop?
I started off as a rapper. My brother used to rap. At home, one of my brothers used to play hip-hop, another used to play R&B, my mother used to play gospel, and my daddy used to play electronic music, so I have always been influenced by all that. But hip-hop is where it started, because it was easier and less daunting compared to other genres—you can just get a mic, and be good in poetry, then take it from there. I started off rapping, but then realized I wasn't that good at it. I was in a group, Witness The Funk, so I let the other guy just be because he was really good at rapping.
You were part of WTF?
Yeah (laughs). I felt like Moshine had to rap and shine, and then I ended up leaving to do my thing.
Where did you record this album?
I recorded most of the songs in Durban. Some, in East London (Eastern Cape); I went to the Eastern Cape, I was trying to get away from the noise, to get away from the city. I rented a spot for like, two, three months. I would probably do it again. I understand why Kanye and them go to Wyoming and all that. You need to respect the time when making an album. If I make another album, I wouldn't do it while I'm touring or on the road, I will respect that process, and devote all my attention to it.
How long did it take to complete the album?
Approximately 15 months.
The title Afrovision is pretty dope, and it captures the music. How did you come up with it?
It was just trying to find words that explain what me and many other artists are trying to do—us telling our own stories, like, this is the vision we have for Africa, not the vision you keep telling us about. This is me adding my 2 cents to the whole landscape of really dope African acts. So I'm saying, 'this is the music that's coming out of Africa, I'm not the only one, hence there are features.'
And the artists featured on there, are for that vision.
Yeah, that's why the new wave is so exciting to me. It's less copious culture; it's more like real-life Wakanda vibes. I like saying that. (Laughs) Bu t Black Panther really brought that to the forefront.
When Black Panther came out, you were done with the album?
I was. So it was like, 'oh yeah, we all on the same vibe.' It's like a collective consciousness thing.
On the album, on the song "New Day," you worked with OkMalumKoolKat, who a lot of people have cancelled since his sexual harassment case. And every artist who works with him is seen as a rape apologist of some sort. What do you make of that?
[His case] is a very serious thing. It also exposed the toxic masculinity that we were brought up in. It's easy to point fingers, but at times we also have to look at our lives and ask, 'were we actually brought up like this?' Especially with hip-hop and the environment it brings. For him, though, because I've known him since his Dirty Paraffin days, not as a means to excuse him for what he did, but I think his apology was in actions. He wrote that letter, and it didn't go down well. But I think his apology was in his actions, and I had to respect that he wanted to do better. I respected him for that, instead of going back to whatever mindset he was in at that time. When I met him in Durban to talk about "New Day," he was doing a series of shows against women abuse. We chopped it up, and he wanted to do better. Even though it wasn't my place to forgive him, I had to respect him for that.
Photo by Sabelo Mkhabela.
What do you think of the culture of canceling people?
I think it's hypocritical. Because people on the Internet, they try to act perfect until they're caught for some shit. Obviously, people think different things, but everyone should be allowed the chance to grow. We all have our own bullshit. People who talk crap against cheating, for instance, you find that they themselves are cheating, but the public just doesn't know. Not to say that people shouldn't be accountable or responsible, but people learn differently, none of us are perfect, so I'm not gonna judge.
You are independent, but you also have a deal with Sony Music Entertainment Africa. Please explain that.
I'm still independent. The deal is just licensing and marketing. I have a team in the UK, a label called K7 that does my marketing and distribution there. And then for sub-Saharan Africa, I have Sony.
And then in terms of touring?
I have a booking agent in London called Earth Agency. I have an 8-stop UK tour this month.
What are you working on, moving forward?
I'm gonna drop another version of "Questions." It was actually the first version, it just didn't flow well with the album. I'm gonna drop that via Red Bull. And I'm working on season 2 of #MuziMondays. I also wanna do limited edition vinyl. And a bit of merchandise.
Follow Muzi on Twitter, Facebook, Instagram and YouTube, and stream Afrovision below and/or download it here.