It's safe to say that Faiza Hersi has caught the attention of many people in the past years.

A story of the path less travelled, this law graduate turned artist manager, restaurant owner, concert producer and philanthropist has her eyes set on the East African music landscape and is ready to usher in R&B music as the next sound to come out of the continent.
Her brand Nairobi R&B has hosted the likes of Masego, KAMAUU and Will Gittens in Nairobi just in the last year, with plans to create similar R&B hubs across Africa. Her work has earned her a South African Star QT award nomination for Best Media Personality and three recent Kenya's Top Women in Business award nominations.
We met with Faiza to discuss her vision of music, connectedness and production of these top tier R&B experiences.
---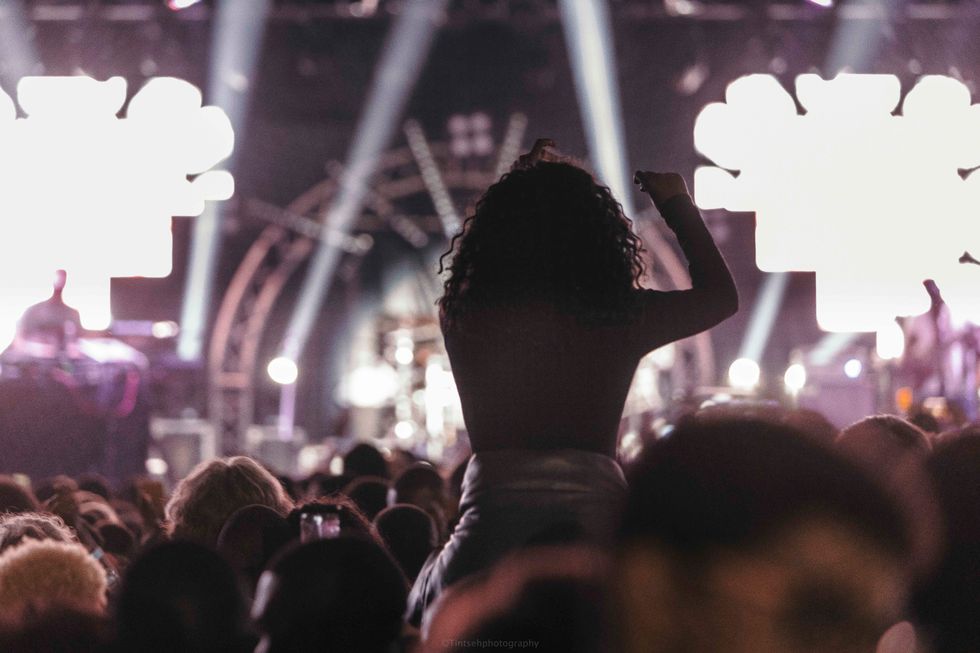 The crowd at Nairobi R&B. Image courtesy of Faiza Hersi.
You started out studying law?

I studied law and I followed that path because my dad was still alive and I wanted to honour my promises to him. My mum died when I was 2, so my dad passing away was super significant—it makes you realise that you're actually here by yourself regardless of whether your parents are there or not, and the decisions you make will only affect you. So, are you comfortable with the life you've chosen for yourself or not?
You moved back to Nairobi after you finished your law degree, how did you end up back in music?
At the time my sister and I were opening up our restaurant, TheBurrito Bar, and I was trying to figure out how I could merge my interests with the business. When we opened up [at our second location] we [wanted to] do a launch, and that is where music came in. At the time I felt like there were no or not enough R&B showcases [in Nairobi], [so I] curated a show.
And this became the beginning of Nairobi R&B?
We used Nairobi R&B for the launch and then it just became its own brand as we continued.
What was the biggest learning lesson from that first launch concert?
It was a bit disappointing because I didn't get the numbers that I wanted, and of course that just means you're going on a loss and that's never fun to hear. I think we hadn't understood the whole concept of taking a lot of losses before you can take a win, it was nice to have that prepare me mentally for it to happen again and not lose sight of the vision. That always stayed with me.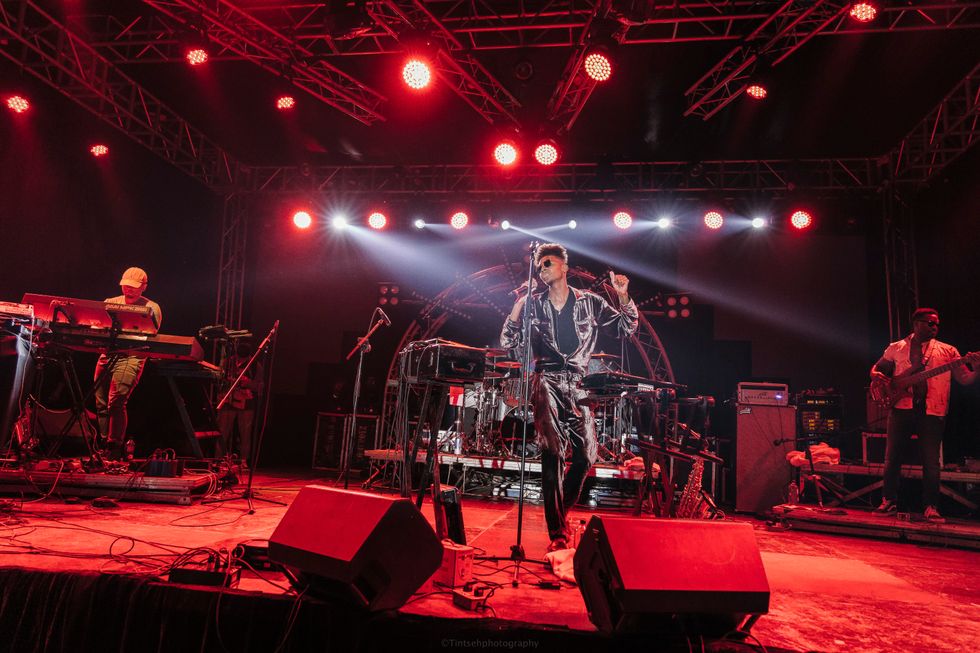 Masego performing at Nairobi R&B. Image courtesy of Faiza Hersi.
What is the mission statement of Nairobi R&B? Why Nairobi and R&B?

We want to bring R&B music to the forefront in Africa. The first stop has to be Nairobi because it is my home and I understand the audience here. I also believe that R&B music in Africa has a serious future that isn't recognized by a lot of people. People don't realise there are specific cities that can handle specific sounds. [Nairobi is] more adaptable, concert goers and consumers here are literal sponges. You dump them in a bucket, they are going to absorb everything from it and come out and [listen to what you presented] but I don't think you can do that in [other African cities].
How do you go about choosing which acts to book?
R&B is cool but R&B music live is way cooler. [Live music] sounds better than the records. I want to book artists that are entertaining on stage outside of their album or the music they have out, because even if you're not an R&B fan I want you to come to my show and be [converted] because it's entertaining.
Who have you had grace the Nairobi R&B stage?
Will Gittens, Masego, Blinky Bill, Kagwe, Karun, Wanja Wahoro, Njoki Karu, the EA Wave, Vallerie Muthoni and Tay Iwar—and KAMAUU coming up
A fan cries at the Masego concert. Photo: Jay Kamau. Courtesy of Faiza Hersi.
There is a captivating black and white photo, from the Masego concert, taken by Jay Kamau, of a young woman who is crying as she is looking up onto the stage. Knowing that you create experiences that touch people like that, what does that mean to you?

I'm still speechless about that photo. I didn't even expect many people to come to the show. I had specific songs that kind of walked me through some hard times, and you never know what those tears were. Those are the things that keep us going. You see things like that and it's a validation of your work and your vision.
Tell me why the crowd experience is important to you?
I have anxiety, that's also why I don't go to many shows in general. I try to put a lot of love and care and thought into how the show works and the spaces and making sure that everyone is comfortable and it's not too much chaos in terms of the layout in terms of how people maneuver. You get moments where you think you might fall back into that which made me very reclusive and because of this I started developing social anxiety and I wanted to create a space that is comfortable for people to attend, people like me.
You're using the Nairobi R&B brand to raise awareness around and advocate for mental health. Tell us a bit about this work.
My cousin started Basic Needs Watch, an NGO, to advocate for mental health and create safe spaces for people in Nairobi to come and share and feel heard. I embarked on this journey with her. We came up with the concept of Art Therapy [with local musicians and creatives] because we realised our brand as Basic Needs Watch wasn't accessible to [many] and this was a great way to bridge that.
Blinky Bill performs at Nairobi R&B. Photo courtesy of Faiza Hersi.
Why do you think that it's important for different African artists to collaborate and connect? Because at the moment most countries operate in their own musical bubbles.

For Afro R&B to stand out, it's important to combine our audiences across the continent so we're stronger together because as it stands we have small communities in [different cities] but there are no connections. I think it's important to collaborate because I think that's when the culture and agenda get to be pushed forward too. I think it's very important to bring people together because it makes the world smaller, it makes our audiences come together.
What ideas and plans do you have for Nairobi R&B?
We want to get into sponsoring projects by artists and helping them with distribution and just putting artists out there. I'm hoping that [Nairobi R&B] will have grown on its own and a lot of people have asked me if I think I need to change the name because they don't understand where it's going further than here, if I want to move to a new city I'll say Lagos R&B, or Kampala R&B or Mombasa R&B. But 5 years I want to be a part of building festivals and experiences.
Who should we be watching out for on the continent and in Kenya?
Chigratt, Tay Iwar and Tems from Nigeria. Tellaman and Shekhinah from South Africa. Karun, Blinky Bill, Wanja Wahoro and Xenia. EA Wave [who are] a collective of 5 guys, Jovie Jovv, Bey T, Ethic, Tanasha [Donna], Barak [Jacuzzi], Steph Kapela, OCTOPIZZO, who are all from Kenya.
Follow Nairobi R&B on Instagram.