26-year-old Windhoek-born rapper Latoya Lucile Mwoombola, aka Lioness, inadvertently created a song well-suited to be released during a pandemic when she wrote "Wish You Were Here." Although Lioness, who is a full-time doctor when she's not rapping, wrote it in a pre-coronavirus time about a breakup she was going through, she's glad it's finding resonance right now.
"When people hear the song, if, for example, you're in a long-distance relationship or you're not with your parents, it can really translate to you, and it can fill some sort of longing and be some sort of comfort at the same time," she told OkayAfrica. The song is also the title of her second album, a record of what she's been up to in the past two years since her debut release, Pride of Cilq. We spoke to her below.

You released your new album, Wish You Were Here, in the middle of a pandemic—how did that impact it?
A lot of musicians, we make our money, our revenue, from performance royalties so it's a little bit of a weird time that we are not able to do the thing that people want to go out for. Even having live [online] shows, it's not the same. But it's really good that artists are able to improvise on this. Fans and supporters are being extremely understanding and they're really trying to support us and be there for us. Ideally, I would have liked to have had a listening party and all of that. It's just a different way of marketing. But I feel like, on the contrary, the reception has been great because people are at home and can actually stream it, as opposed to, 'I'm busy, I'm going out tonight' or 'I'll stream it tomorrow,' then tomorrow turns into next week. So the impact, and the sharing, and everyone being on the Internet right now is a good thing for me."
---
LIONESS - WISH YOU WERE HERE (OFFICIAL MUSIC VIDEO)youtu.be
It's released through Mr Eazi's emPawa imprint, how did you come to be involved with emPawa?

Mr Eazi and I were at Coke Studio Africa [in 2018] together, and he told me, 'hey, by the way, I've started this emPawa thing, not sure if you're interested but have a shot and send your video in,' and so I did. I was the last person to be selected out of the 100 artists he chose for the emPawa Africa 100 [an incubator program created to fund music videos and provide career guidance for young artists]. It was about financing Africans to put out a video and have more exposure, so we put out the video [for "Tala"] and when it came out, it had a good reception. They had a selection of top 10 people that got to go to a masterclass in South Africa. I think I came in at number 12, but there was someone who couldn't come to the master class, and so Mr Eazi told me to come. That's where everything really starts with emPawa. He kept surprising us with guests—Diplo, Rouge, DJ Maphorisa, Kwesta, and world-renowned producers, like Juls. It was a big collage of artists that have great experience, from different genres, and it was so great to be immersed in that space. So fun to be so creative in that.
This album has a different sound to your previous one—you sing and you've incorporated different genres and artists on it, like amapiano. What led to that?
All the advice that I got at emPawa was really helpful to contribute to this new sound and this new image, this new description, of Lioness. When I was at emPawa, there were a lot of artists that sang. I would just sit in the studio and sing along to their songs. I decided to teach myself to sing. I didn't rap for 6 months and just worked on giving myself singing lessons. I would learn online; I didn't have time to go to vocal lessons because I'm a doctor but I saw that I was getting more confident in my voice. I'm not Ariana Grande, but I can infuse that sound into my rap style.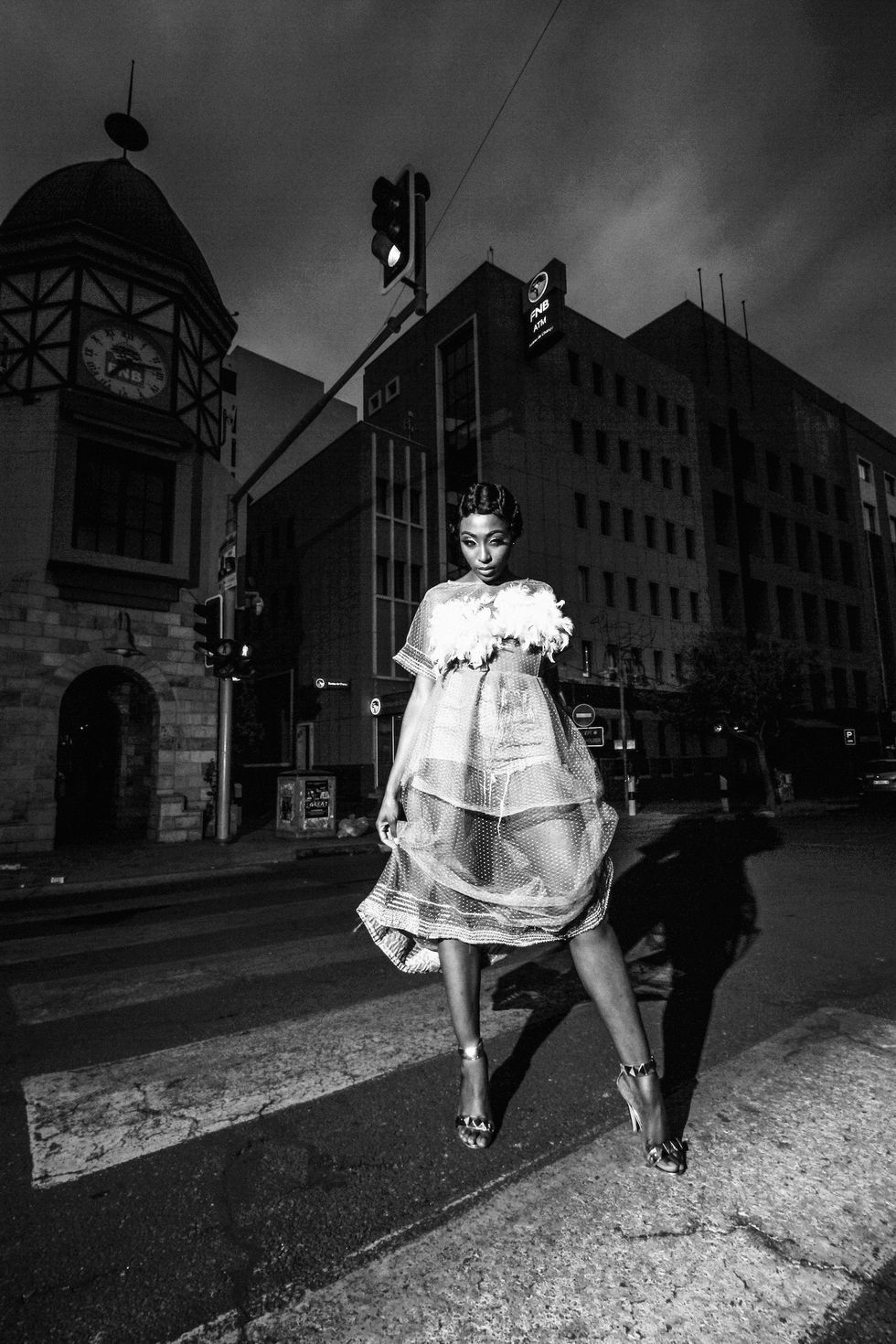 Lioness. Photo: AM Photography (via emPawa/LargeUp)
You rap in English and in Oshiwambo, how does the album speak to you being from Namibia specifically, but also being part of the greater collective of African artists that are getting attention outside your country? How do you see yourself and your place in music that's being created on the continent?

I was at a point where I saw how South Africa was exporting their native sound, their own organic sound. I mean, Beyonce was playing Moonchild Sanelly's song—you would never, ever believe that could happen. I also saw that songs I did in my native language did better than ones that were just English. I think Namibians were able to understand, if anything, this is what should be happening now; that we should be exporting our music and our music should be able to be listened to in other countries in Africa and outwards. Also, the world slowly started to move towards an African sound. The biggest genres are now Afro-pop. Pop has always existed but it's just so much better now. Burna Boy really internationalized it. So did Davido. Since the concentration is on us now, I thought, 'let me just bring my extra something and see if it works out.' The majority of artists on the album are Africans—J Derobie's from Ghana, Ogranya is from Nigeria, and some of the producers that I worked with are from Western Africa. I was just building up this mature sound and everything just flowed together. The inclusion of other African artists at this time is the perfect way to extend your music into different markets.
The question of how you balance being a doctor and rapper would have been a big one before the pandemic, but it's even larger now—so how have you been juggling the two roles?
I'm a medical intern, so I graduated as a doctor and now I'm interning at the state hospital. I'm finishing up my internship but it's forever a learning process. I started doing rap when I was 14. I did it through high school, I did it through med school, and I am doing it now as a professional. It was always a duel synergy —one with the other. I'm not downplaying either of my professions. But I'm a black African woman and I believe I had to have some backup. My mother was an academic and so's my father. Maybe medicine is not the best thing to go into because it's very demanding, but it just works for me.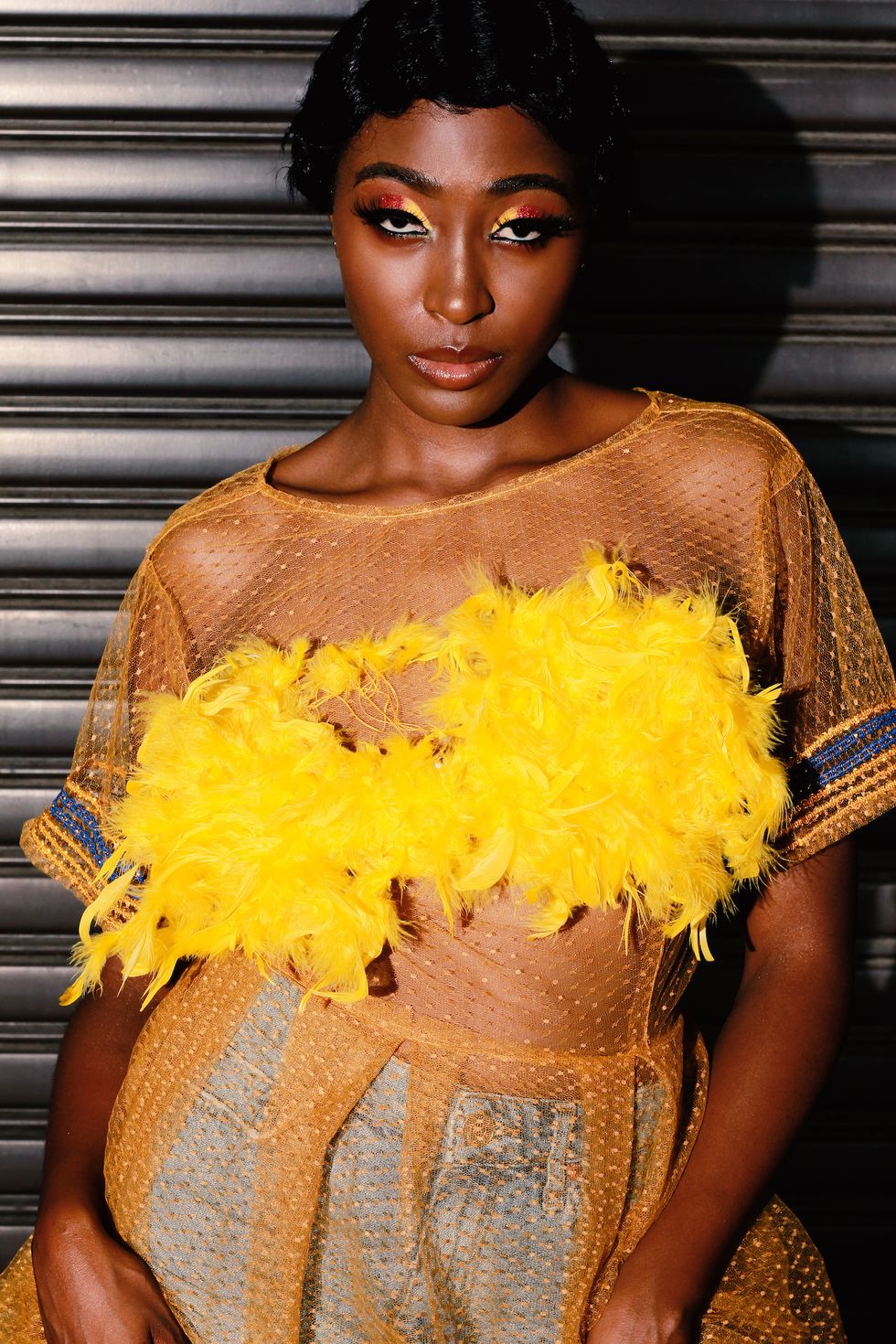 Lioness. Photo: AM Photography (via emPawa/LargeUp)
They are both demanding—one is really a pleasure and the other, really formal, white-collar work. It almost sounds like I have a split-personality but I don't! Music is a break for me and then I have my real job. Until I reach a point where I can make the kind of revenues that are double my profession, then I might consider giving one up for the other. But I get a lot of messages from young girls and guys who think I'm an inspiration, saying, 'how do you do it?' I can't even tell you. It just happens. So many times I want to quit one, but music is my passion.

You say you get messages that you are an inspiration, who inspires you?
The person I look up to in terms of attitude, in terms of fierceness, in terms of being unapologetic, is Brenda Fassie. My mother was a big fan of hers. We were all big fans of hers. The way that she really defied all the odds. She really just wanted to make good music. The way that she danced on stage—she was such a free spirit. Growing up listening to her definitely had an impact on my music. Also, the old-school girls—TLC, Tweet, Foxy Brown—they nurtured it and made me feel, okay, 'this is the right thing to do.' It's constantly a learning process. And then listening to the likes of Michael Jackson for that performance element.