Stogie T's monthly vlog "Verse of the Month" sees the veteran lyricist pick outstanding verses every month from songs provided to him by the Slikour On Life staff.
The vlog culminates in the Verse of the Year awards, in which 10 verses from the previous year earn rappers trophies, which are presented in an award ceremony, the second installment took place last night at The Wits Club in Joburg.
This year, Nasty C was the winner of the ultimate verse.
---
I had the privilege of making the shortlist of the 10 ultimate verses that won the awards. Stogie T invited myself, the editor of the website The Plug,Mercia Tucker, and veteran lyricist Zubz to deliberate.
My top three verses were A-Reece's second verse off "Couldn't Have Said It Better Pt 2," Nasty C's verse on Boity's "Wuz Dat?" and Captain's verse on "The Re-Up" by Bona V.
Boity, Nasty C - Wuz Datwww.youtube.com
Nasty C's verse was my number two, and Reece's number one. After the discussion, however, I was convinced Nasty C's verse was better than all of the verses in the long list.

What had previously impressed me about the verse was Nasty C's technical correctness—how he rhymes syllables instead of words (the stuff of legends), and how he uses different flows (again, the stuff of legends).
During the discussion, I was further made to realize his writing was also impressive, even though it's subtle. Lines like, "Came up out the sty hoe/ They were smoking light bulbs/ Fendi with a D bitch, that is not a typo/ I'm not your life goals," show an MC who is aware of the nuances and limitations of success and his hometown, and he is able to get to the point quicker than the average MC.
The discussion confirmed a theory I've held in my head for a year or so. In the generation of South African rappers who rose to prominence after 2010, no one can touch Nasty C.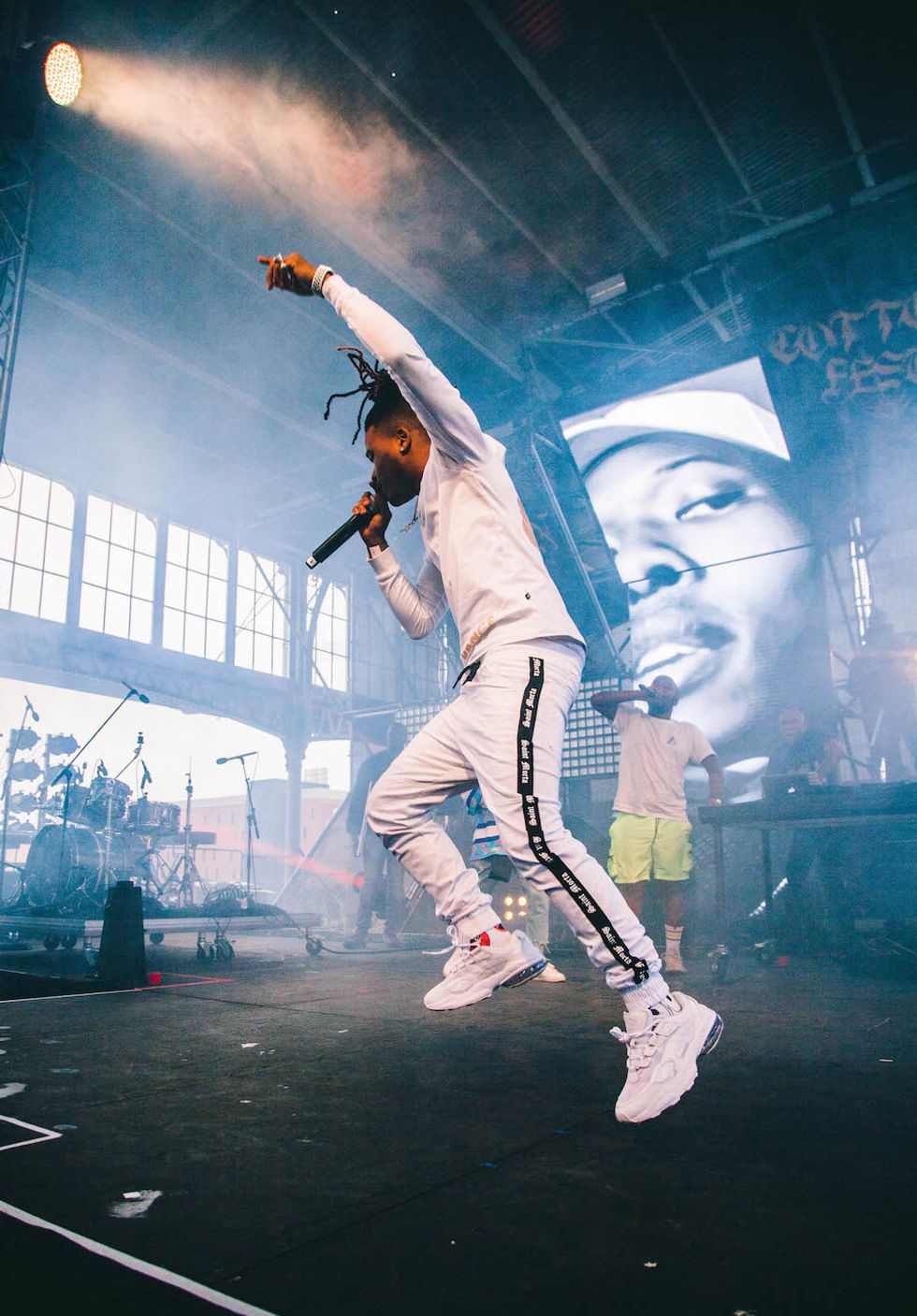 Nasty C. Photo by Sabelo Mkhabela.
A-Reece, YoungstaCPT, Rouge, Shane Eagle, Touchline, Kid Tini, ByLwansta, Jimmy Wiz, ShabZi Madalion, and a whole lot more, are top tier MCs, but all of them are Nasty's sons and daughters.

MCs such as Rakim, Eminem, Zubz, Stogie T, Reason and many other greats are contenders for greatest of all time not just because of their subject matter, but because of how they push themselves technically while doing so. They hit double entendres, conjure complex rhyme patterns and rhyme words that an average rapper wouldn't be able to. All this while telling coherent stories and making sure they stay on-beat.
So does Nasty.
Most Technically Correct
In a video that all Stans should be aware of, Eminem told an interviewer that it pisses him off when someone says there's no word that rhymes with "orange." "I can think of so many things that rhyme with 'orange,'" he says.
Eminem has rhymed many words with orange on songs like "Business," "Role Model," "Brain Damage," "Brainless," "American Psycho" and plenty others, which are highlighted in the clip. "You just have to figure out the science to breaking down words," Eminem says.
The technique Eminem is referring to and has applied countless times is known as syllable rhyming. It's where a rapper pieces together two or more words that will rhyme with another set of words.
They achieve this by adding other words before a word like "orange" to make it rhyme with another set of words on the next line. As opposed to an average MC, who relies on words that already sound the same for their rhymes. For instance, in the 1999 song "Role Model," Slim Shady rapped, "Some people only see that I'm white, ignoring skill/ 'Cause I stand out like a green hat with orange bill." and in the song "Brain Damage," he raps, "Grabbed some sharp objects, brooms and foreign tools/ This is for every time you took my orange juice."
This is a technique that top tier MCs have mastered—the likes of DOOM, Rakim, Kool G Rap, Eminem, Lil Wayne and locally, Stogie T, Reason, Zubz and, well… Nasty C. A great example from Nasty is in his award-winning verse on Boity's "Wuz Dat?" in which Nasty C rhymes "sty, hoe" with "light bulb" and "python" with "dice rolls."
Nasty C - King ft. A$AP Fergwww.youtube.com
Nasty did indeed study Eminem. Last year, OkayAfrica contributor Sabo Kapde asked the MC about his A$AP Ferg-assisted "King," in which Nasty C bends the rules once again by changing enunciation to make words fit his rhyme schemes.

"Yeah, I learned that from Eminem," Nasty C said. "He inspired it, definitely. Because I feel like most of my idols are not just my idols because they were successful in music. They're my idols because they teach people how to do stuff. They go against what people do and they show people that you could also do it this way."
With all this technical correctness, Nasty C still manages to not sound too technical for the average listener. This, he achieves by his delivery; he ensures to not pack too many words in his bars—a technique many greats of this generation use. More about that here.
This is why Nasty C can be a rapper's rapper and still pull off melodic songs like "Phases," "Belong" and "I Want It All" which have pop sensibilities. One of Nasty C's influences, Young Thug, is also known for his unorthodox melodic rhymes.
More To Rap Than Similes and Metaphors
Just like the greats mentioned earlier, Nasty C understands that there are more figures of speech than similes and metaphors (which most of your faves don't get). Nasty C's raps are replete with clever double meanings. A good example is the song "Vent," in which the MC manages to introspect while still using clever wordplay. Below are some sample lines from the song, explained:
Nasty_C - Vent [Official Audio]www.youtube.com
"I never became a doctor but made me some Ems and Ems"

Here, Nasty is celebrating that he made millions (ems and ems) even though he didn't follow the conventional career path of studying towards a degree in medicine. Also, by mentioning "doctor" and "em," he's making reference to Dr. Dre, who as you should know is the man who brought us Eminem as we know him.
"When Zyne gave me a shot, I promised me to keep my snipers on"
When Zyne gave him a chance (shot), he promised to make no misses, but the clever part of the line is that he used the word "shot" and later used "sniper."
"I got 20k in my pocket/ That's heavy enough to keep me grounded."
He has R20,000 hard cash in his pockets, which is a sign of financially stability, so it keeps him grounded. But also, R20,000 hard cash is heavy, so it keeps him physically grounded.
"It's ironic 'cause I'm so not tryna get cuffed/ But I'm here committing crimes/ With the way I'm killing time with your life."
Here, Nasty keeps a punchline going for three bars. While the literal meaning needs no explanation, it's important to note his word choice. In the first line, he uses "cuffed," in the next, he uses "committing crimes" and ends it by making reference to a crime, "killing."
There are plenty more examples of Nasty doing this. And it's not as prevalent among his peers.
Nasty C - Switched Up (Official Music Video)www.youtube.com
In the song, "Switched Up," pulls another trick out his sleeve when he uses a complex rhyme pattern and deploys mid rhymes while telling the coherent story of his come-up and how he'll never allow his success to change him.

Diverse Subject Matter
Throughout his albums, mixtapes and features, Nasty C has been telling his story as it happens. He has chronicled losing his mother to taxi violence and how he carries her with him to this day ("IV (Four)," "Uok"). He has also given us a glimpse into his relationship with his father, which has since improved (peep his verse on Riky Rick's "Vapors").
His storytelling reached a new height on the song "SMA," a song that chronicles his real-life relationship with his high school sweetheart with whom he's still with. In the song, which is in his latest album Strings and Bling, Nasty C plays the roles of himself and that of his girlfriend. He exhibits great storytelling and shows emotion and vulnerability, achieving this through effective writing and most importantly, theatrical performance—his delivery intensifies with every verse as the story's plot thickens.
Nasty C - SMA feat. Rowlene (Official Audio)www.youtube.com
"SMA" was the pivotal point of Strings and Bling, the rapper's greatest effort thus far. In the songs preceding "SMA," Nasty was beating his chest over mostly bass-heavy instrumentals on songs like "Strings and Bling," "Jungle," "No Respect," "King," "Do U Digg." On songs that come after "SMA," however, the MC shows a side of him that we had only seen glimpses of in his previous songs like "Problems," "Pressure," "Vent," "Changed."

His pen bleeds on songs like "Another One Down," "Everything," "Casanova," "Mrs Me," as the MC documents his feelings as he goes through the motions of relationships and the less glamorous side of his life.
Major Lazer & DJ Maphorisa - Particula (ft. Nasty C, Ice Prince, Patoranking & Jidenna)(Music Video)www.youtube.com
With Strings and Bling, Nasty C revealed that his skill is able to carry him throughout the whole spectrum of being human—from egomania to love, sadness and disillusionment.

Apart from giving his fans a complete human being, Nasty C gives you a complete MC whose diversity doesn't just allow him to collaborate with Major Lazer, Runtown, TellaMan, Riky Rick, Rowlene, but also allows him to write effectively about diverse subject matter.
While writing with the technical proficiency of those that came before him, he's able to tell stories that resonate, and make songs that even a casual hip-hop listener will fall in love with. Basically, the difference between a DOOM and an Eminem, a Stogie T and a Hymphatic Thabs.
Commercial Success
This accessibility of his work is what has made him a pop star, one which makes his fans cry hysterically in his presence and have a 29-year-old write Op-Eds about him.
In his short career, Nasty C has achieved what many before him couldn't in their whole career. The artist has collaborated with French Montana, A$AP Ferg, Cassper Nyovest, appeared on Sway In The Morning, Vlad TV, DJBooth, among other prestigious platforms. Nasty has performed at major festivals across the country, the continent and Europe, and is currently working on a collaboration with T.I., one of his biggest inspirations.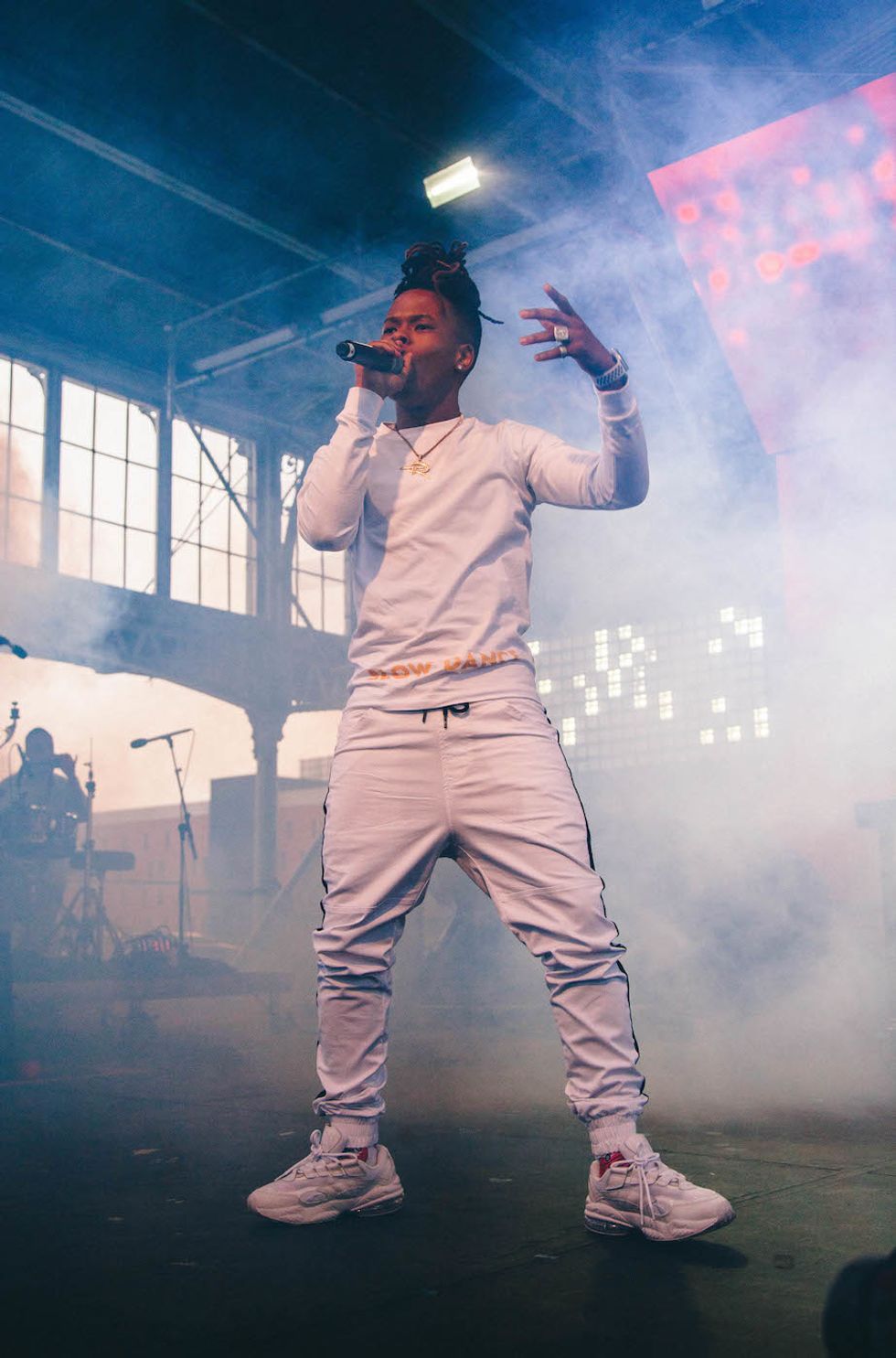 Nasty C. Photo by Sabelo Mkhabela.
His sold out countrywide IVYSON Tour managed to have a few stops outside the country, and he recently opened his own label, Tall Racks Records, which signed his musical twin Rowlene.

The MC is also one the most streamed South African artist on Spotify.
So, before you make your case for another one of his peers being the greatest (and really, there are many fitting candidates), count how many boxes they tick and tally them against Nasty's. Emotions aside, check the scoreboard, your fave got nothing on him.
Revisit Nasty C's latest masterpiece, Strings and Blinghere.
This piece is part of Sabelo Mkhabela's South African hip-hop column. He's happy to debate you on Twitter: @sabzamk