"I didn't see it happening in this sense," Nasty C says about the success of his sophomore album, Strings and Bling, which was released a year ago. The number of streams for the album, including music videos, totaled up to 60 million. The equivalent sales for Strings and Bling equal to double platinum by RiSA certification regulations.
To make this announcement, Universal Music Group South Africa, which Nasty C is signed to, has gathered a select number of journalists and Nasty C's producers, collaborators and acquaintances at a cozy venue in Maboneng in the Joburg city centre.
To kick the night off, a documentary about Nasty C's trip to Japan and a rough cut of his music video for "Strings and Bling" are screened while the rapper sits in front of the audience alongside the host for the night, hip-hop aficionado Scoop Makhathini, with his eyes glued to the screen.
In the documentary, Nasty C speaks about how liberating and life-changing the trip was. He explains that it felt great being able to be a normal 22-year-old again, who could roam the streets and randomly break into a dance routine and frolic without diverting everyone's attention to him. He admires the food and fashion, and makes friends who he ends up in studio with. The street style in Japan inspired him to go back to customizing his own clothes by scribbling and making holes on them, he says. A practice he says he stopped to avoid standing out.
---
After the screenings, UMG Sub-Saharan Africa managing director Sipho Dlamini shared the story of how the label made first contact with the young rapper trying to sign him. It was in 2016 when Nasty C, in a move that surprised many, released his debut album on Audiomack. He was avoiding missing its slated release date after the album was delayed due to sample clearance issues.

"A hundred and twenty thousand units were downloaded in the first 24 hours," Dlamini says, "and our team at Universal worked the whole weekend to get the album up and live on iTunes. Fast forward to 2018, where we finally got to sign Nasty C directly." As a result of the signing and the rapper having gained more momentum, Strings and Bling had an impressive rollout.
It's when I sit down with Nasty C for a quick interview after the event that he shares he wasn't expecting the amount of success the album achieved. "But every single song on that album was my favorite at some point," he says. "This is just outside validation, it's not something that I work for. Internally, I was super happy with it. Even if it hadn't done none of this stuff, I still would've felt the same way."
Strings and Bling showed great improvement compared to his 2016 debut, which fell short as an album. With all the attention he was receiving that year, Nasty C was still an internet mixtape rapper at heart. Him releasing his debut album on his own was fitting.
I ask him if he wrote Strings and Bling with a chip on his shoulder; if he felt there were areas that needed improvement. "I don't think it really was any of that," he says. "I think with Bad Hair, the pressure of putting out your first ever album got to me a little bit. I wasn't creatively as free as I'd like to be. I restricted myself, because I was like, 'Damn. This is SA, a song like this might not fly here. I might not ever get good booked.'"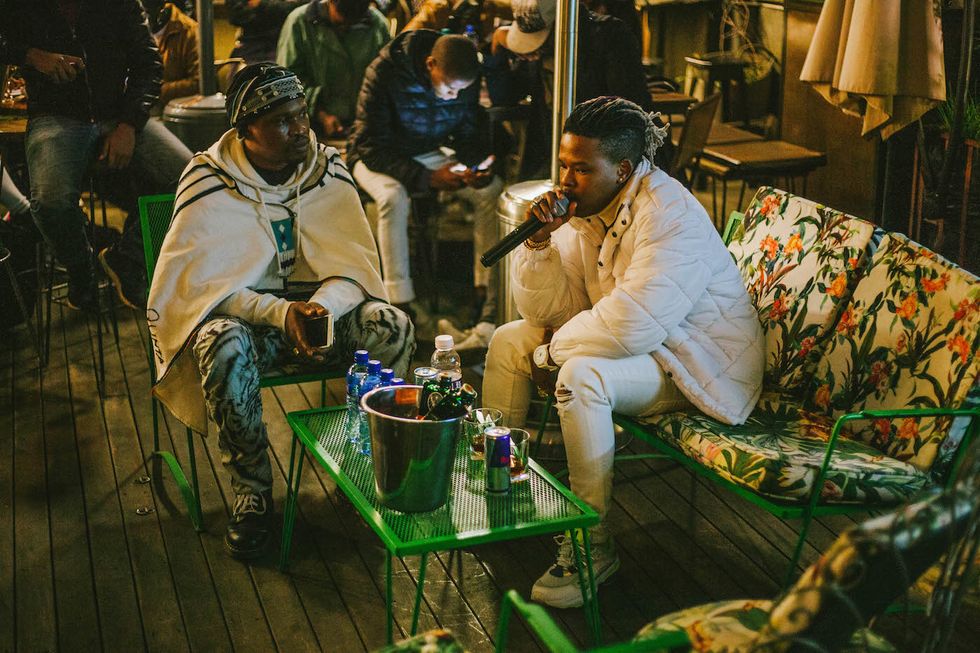 Scoop Makhathini in conversation with Nasty C. Photo by Sabelo Mkhabela.
When Nasty C emerged in the mainstream, circa 2016, South African hip-hop was beginning to embrace the country's rich musical heritage. The biggest hip-hop hits were mostly adulterated with kwaito and other genres, containing a lot of South African languages and slang in the lyrics. Even AKA, who proudly reminds you that he was the first SA rapper to break into the mainstream while rapping in English, was beginning his evolution as the pop star he is today whose music references and samples vintage South African genres.

"But I had to take that leap of faith," says Nasty C about sticking to his guns on Bad Hair amidst a changing climate. "And when it worked, I felt like shit because I didn't do it to my fullest potential. I did it, but I was skeptical. And, every time you do something repeatedly, it's like you correct your mistakes. You improve every single time."
The songs on Strings and Bling sound bigger and have a wider appeal ("SMA," for example, is smash pop crossover hit). Bad Hair was a mixtape masquerading as an album. Save for a few exceptions, it consisted of songs that though not bad, weren't so memorable. The album's direction was also not clear.
On Strings and Bling, however, Nasty packaged his personality into a digestible two-part album—the "Bling" section welcomed you with light-hearted and egocentric songs, while the "Strings" section completed the self portrait the album essentially is by revealing Nasty C's vulnerable side.
"So I was ready," Nasty C says. "On the second album, I was like, 'Okay, cool, I've seen people like how I tell my story. They embrace it for what it is.' You know, people don't judge it [anymore]. Before I dropped the album, everyone used to say, 'You sound American. You sound this and that.' And then, I don't know where it had to stop, and people just started really embracing my music for what it is and actually feeling the shit that I'm saying. So when I was working on the second album, my creative freedom was out of this world. So now I was really having fun."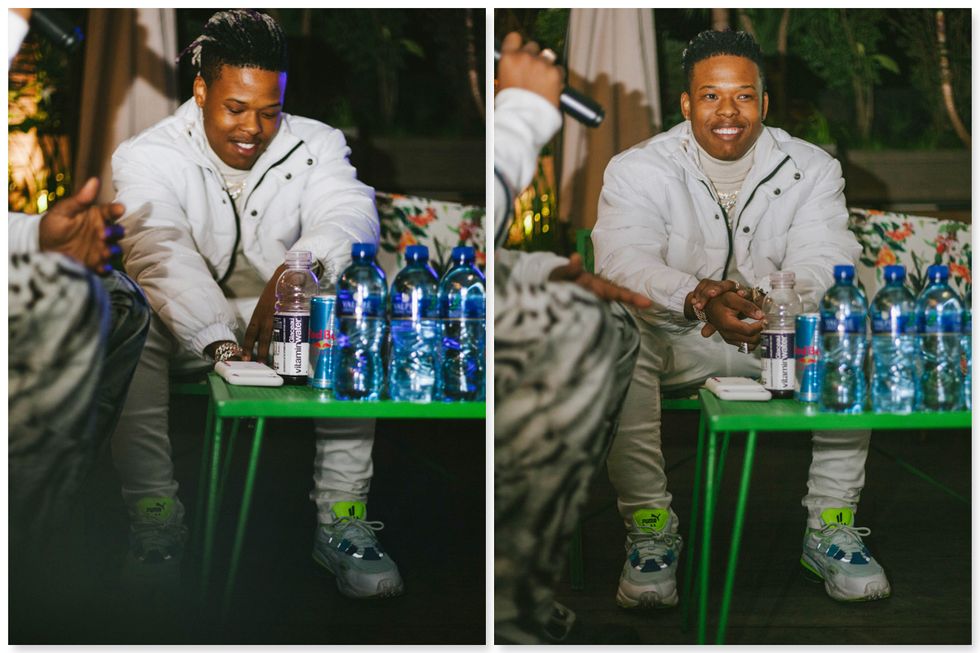 Photography by Sabelo Mkhabela.
As we have this conversation, South African music fans are elated over Sho Madjozi's victory at the B.E.T Awards. The musician walked away with the Best New International Act trophy. Last year, Sjava took home the Viewers' Choice Best International Act award. The general notion in South Africa is that Sho Madjozi and Sjava owe their victory to the Afrocentric nature of their music, which makes them stand out—they are being "originally African," we are told.

That train of thought makes a lot of sense to Nasty C. "That's not 100% incorrect," he says. "Their sound is like, if you're outside of SA, you've never heard anything like it ever before. They have known it for so long that they did it as children, as a part of our culture, I guess. And then, they finessed it and tweaked it and made it their own. And then they made it super dope. As an outsider, when you hear it, you just hear something that sounds wild, and you've never heard it before. So that is correct. That is correct. I don't dispute that at all."
He, however, feels that his story is the reason some people who see his sounding American as a flaw, gravitate towards his music regardless. "I feel like that type of stuff could never limit me because my music carries a message," he says. "It carries something. There's something you get from it. And I don't think that could ever stop it from winning anything or achieving any amount of success because it doesn't sound African or whatever. That type of stuff, it never messes with me."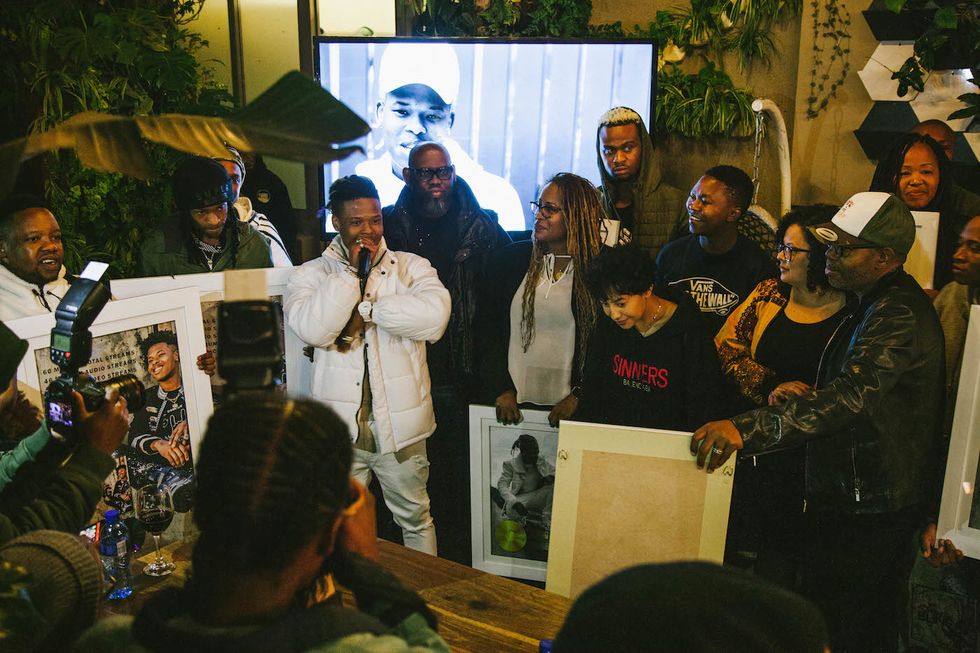 Nasty C and the UMG team. Photo by Sabelo Mkhabela.
While, as stated earlier, it's believed that the formula for (South) African musicians breaking in the US is to sound "African," Nasty C's success complicates the narrative a little. Sway Calloway, who's had his eyes on the country's scene for a few years, recently singled out the young MC as one of the most likely to succeed in the US. "Nasty C to me is special," Sway said in an interview on Metro FM, while he was in South Africa for the Castle Light Unlocked Experience festival in June. "Get behind that kid," he said. "He's the one that can really cross all geographical boundaries. He's the one who can actually blow up big in the States."

Sway's argument has legs. Nasty C's proficiency as an artist has attracted the attention of the likes of A$AP Ferg, Major Lazer and French Montana, who he's worked with. A song with T.I. is likely to appear on Zulu Man With Some Power, his next project in which Nasty C worked closely with No I.D. The veteran producer produced a few songs on the project, which Nasty C said was originally meant to be a four-track EP, but will now come with 18 songs.
"He mainly mentored me," says Nasty C about No I.D.'s involvement in the album. "He unlocked something in me that other people were failing to get across to me, like, 'Sound more African.' Blah, blah, blah... He put it in the perfect words, and I understood it. And I implied it in my music. You'll hear it. When you hear it, it's crazy, it's going to drive you nuts."
When Nasty C is in the US, he tells me his ethnicity is a curious case. He gets asked by people trying to connect the dots if he really grew up in South Africa or if he went to school in the States. "I'm like, 'No, It's purely influence—TV, radio, my phone, Google, YouTube... It's an accent that goes hand-in-hand with the language that goes hand-in-hand with my favorite thing in the world, which is rapping." says Nasty. "So, obviously, there will be a thread right across all of those three things."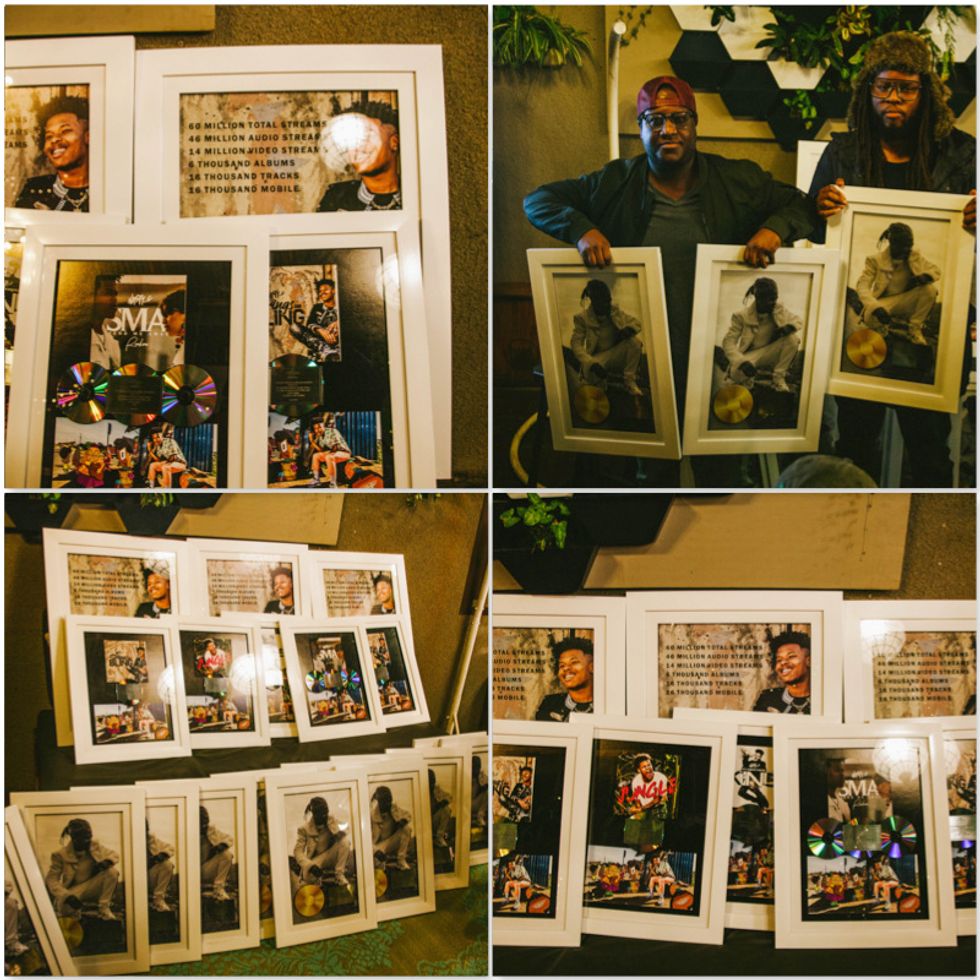 The plaque for Strings and Bling and all of its 16 songs.
A majority of people, he says, tend to in turn just focus on the music: "And then when they hear it, they're like, 'Oh shit, this is fucking dope, man.' They don't say anything beyond that. Once I confirm that I've never been there, they're like, 'Okay, that's a little hard to fathom, but, fuck it, this shit is dope.' And then they accept it."

And this doesn't mean Nasty C is disconnected from his roots. In the documentary that kicked off the night, he talks about his full name Ntsikayesizwe (meaning "the nation's pillar"), which he says embarrassed him growing up and made him the subject of jokes. After tattooing it in Japanese while visiting the Asian country, Nasty says he fully embraces it, especially after pondering its meaning, which he feels he has lived up to. "I've always wanted to name one of my albums after my name," he says in the documentary.
That's an album that may come in future. But right now, as he celebrates the success of his sophomore album, Nasty C's next move is already mapped out. He is excited about the upcoming project. He told the audience earlier, "The project on its own, sonically, is on another level. Even just in the way I perform on every single song and the energy around it. When the project drops and fans experience it, it's going to be a crazy thing. There will definitely be a lot of crying."
He's careful not to reveal anything specific, and any intriguing details are kept cryptic and don't help anybody by inducing suspense. For instance, he tells the audience about one song on the project. "The same day that I recorded it," he says, "I sent it to five people. It made four of them cry. It's very emotional. It is about something that is happening right in front of us, but it doesn't feel like a struggle song."
Zulu Man With Some Power currently has no release date yet.