In the diaspora, Nigerians are proud of afrobeats — and we should be. We takeover speakers at parties replacing trap music with Wizkid's "Final," we shoki to songs regardless of lyrical relevance, we recommend Burna Boy to our friends and colleagues, and we introduce people to our music the way we introduce them to Nigerian jollof rice — with confidence and enthusiasm, both being identity flags we fly high in many international spaces.
---
This summer we heard Ayo Jay's "Your Number" sounding out in hot New York streets, underground in the subway, walking past barber shops, and we smiled because he's one of us. Wizkid, one of our biggest stars, co-produced and voiced the recurring back up and wind on Drake's "One Dance," a number one hit in the country. Still, man cannot live by cross-over features alone. The question of visual storytelling and its relevance comes to play as we continually examine music coming from the continent. What does our visual storytelling really say about us? And as viewers, consumers of afrobeats music, can we demand for better quality storytelling from our artists — I think so.
As afrobeats takes over the global stage, some artists seem to be contorting endlessly to produce visual work digestible enough for a Westernized audience, but now straying a bit far off from home with certain themes which you may or may not have noticed, themes that do not provide strong storytelling, push the visual envelope, or convey any semblance of social impact — all cinematography prowess and no storytelling bite.
Here are some themes, existing in such overstatement that they no longer serve any video storytelling purpose, and should therefore be released:
(Close-up shot of) An expensive car.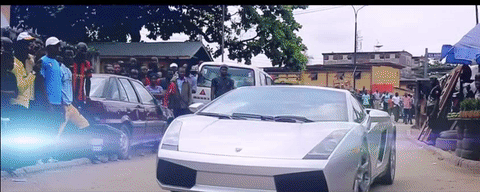 The fucking car.
The luxury car is ubiquitous, whether you want to admit it or not. It is in the car that the world was first introduced to Davido, flinging his arms out of a window and leaving dollar bill fly-aways behind him. The luxury car is a symbol of wealth, the music video cornerstone of hammering. Without it, how will we know you're not the one. How will we know that you are not the baddest? That you have not finally arrived? The luxury car is the difference between a chairman and an Alhaji video. It is with the close-up of this car, that we see for possibly the "X" time, the name Sesan or Clarence Peters hover in motion graphic font. And we're not even surprised.
2. The Lead (Light-skinned) woman YouTubers WILL complain about.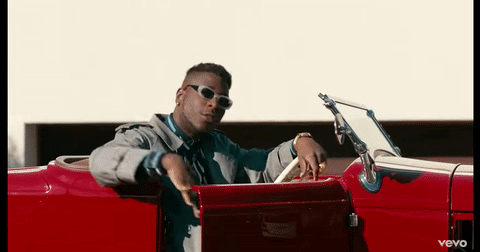 "Why do these African artists use so many light-skinned women in their videos?" — YouTuber
The racially ambiguous/light-skinned woman isn't one person, she is everyone, and no one — a many-faced god of some sorts. Her presence sparks debates on colorism in YouTube comment sections, highlighting differing opinions on identity in a continent where skin bleaching is rampant, and darker skinned women seem to be edging out of the broadcast standards of beauty. You don't know where she is from because she's racially ambiguous. All you know is you've seen variations of her featured in other videos, and you've wondered if there's a shared template circulating amongst casting directors. You're not mad at her, you're not even sure what's happening, because once you scroll down it's all comment section chaos.
3. "So you've joined bad gang now ehn?"
You really can't downplay the influential role American music has played in some of your favorite Nigerian afrobeats videos. Whether as imitation, a digestible marketing strategy, or a search for some warped idea of the aesthetically progressive, only a handful of videos seem to really push the envelope as more visual work imitates and subsequently flatters hip-hop and R&B originals. The cinematography might be clean, but if it's been done before and said imitation does not take it to the next level—might as well scrap it.
Again, one need not veer too far off into the comment section, where hopes of online decency go to die, before they stumble upon a quote of this nature:
"This video is just like the (insert American video name here) video, why are you copying (insert American artist here)" — Angry Youtuber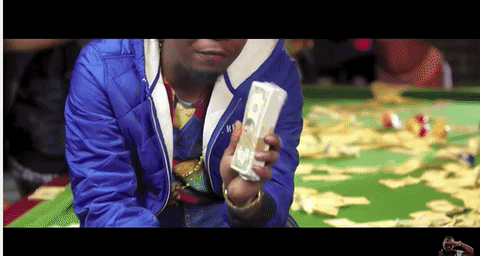 4. Include any of these words to your lyrics, and make sure it plays out in the video:Waist, wind, bend, go down, low, go-down-low, Baba, God, Baba-God, dance, and the money- what is life, without the money?
Re: "you've joined bad gang now ehn?," the deluge of women winding waists, and dressed in close-to-nothing doesn't seem like it's going to stop anytime soon. While this can't be absolutely attributed to foreign influence, one can only imagine why time and again it is a repetitive aspect of some afrobeats videos.
Indeed, the visual possibilities are not limited to the above themes, or the visual work we have seen produced by Yemi Alade, Phyno, Adekunle Gold and many others. For a country frothing at the mouth with conflicts in humanity, diverse experiences , and  stories, not enough has been captured, which leaves room for more. One can only hope that we can veer away from telling tales, so endlessly repeated in their visual stagnation, across various songs without any purpose, that nothing concrete in both story and discography seems to be accomplished.
Find more of Sheba Anyanwu's writing at her Sheba Is The Muse and her Medium page. Follow her on Twitter and Instagram.