Nigerian celebrity chef Tolu Erogbogbo, aka Chef Tolu Eros, aka "The Billionaire Chef," is honing in on his ability to entertain and educate through food. The culinary maestro has taken it upon himself to share the wonders of authentic West African food with curious foodies hoping to better understand the progressively popular cuisine. His latest conquest manifests as Ilé Bistro, a Los-Angeles based restaurant with the intent to give West African food the Hollywood treatment it deserves.
The 36-year-old chef grew up between Benin City and Lagos before heading to the United Kingdom to study International Business in 2008. There, Eros's longing for the food that raised him inspired him to learn and watch how his matriarchs created the meals he wished to share with the world. His move to Los Angeles in 2021 saw the chef garner acclaim stateside by hosting a series of intimate, intricate, dinner parties in his personal home, in Hollywood. Eros's desire to bring people around a dinner table evolved in his youth. In an interview with OkayAfrica, he said, "I'm the youngest in the family, and by the time I was around 10 years old, most of them had gone abroad, to university, and some started getting married, and I ended up being alone at the dining table a lot of the time," – missing out on the evening family banter that often fosters intimacy.
His restaurants and food experiences offer 'dining room table' styled participation because food is best enjoyed with good company and a nice glass of vino. Ilé Bistro follows the same design, and community sits at the heart. The restaurant's build-a-bowl system allows for patrons to explore the abundance of flavours in a more casual setting, on their own terms, and with the understanding that it'll all be good in the end. The structure offers the option to choose a base - jollof rice, curried fried rice, or a pepper soup bowl – and add on an array of proteins or vegetables. A self-proclaimed 'Culinary Entertainer', Chef Eros's position in Culver City's Citizen Public Market is the perfect setting for the emphatic personality to shine in all his glory. As a Nigerian man proud of himself and his heritage, his personalized touch and commitment to delivering authentic Nigerian cuisine have given the Billionaire Chef a platform for which his overt cultural and national pride have a valid, and delicious foot to stand on. And, as reviews of his restaurants in Lagos and LA would show it, the man knows what he's doing.
This year, Chef Eros was invited to host an exclusive dinner at the Coachella Valley Music Festival – making him the first African chef to do so. The dinner sold out within a week, and the chef commanded the festival's prestigious Rose Garden – blasting Fela Kuti's hits while giving each guest an explanation of the marvelous 14-course journey of puff puff, jollof rice, and more that their taste buds were embarking on – subsequently honoring him with the highest 'Outstanding In The Field' dinner ticket sales in the last 15 years of Coachella. Eros's ability to host an exuberant culinary experience speaks volumes to the time spent cooking with his mother and grandmother, and the personal relationship he's built with Nigerian and West African cuisine. "As a Calabar woman, my mom would always say, 'If food does not have love, you might as well not cook it at all!'," he said.
We spoke with Chef Eros about the energy behind being a culinary entertainer, the misconceptions about pepper soup, and how the youths should lead with passion.
The interview below has been edited for length and clarity.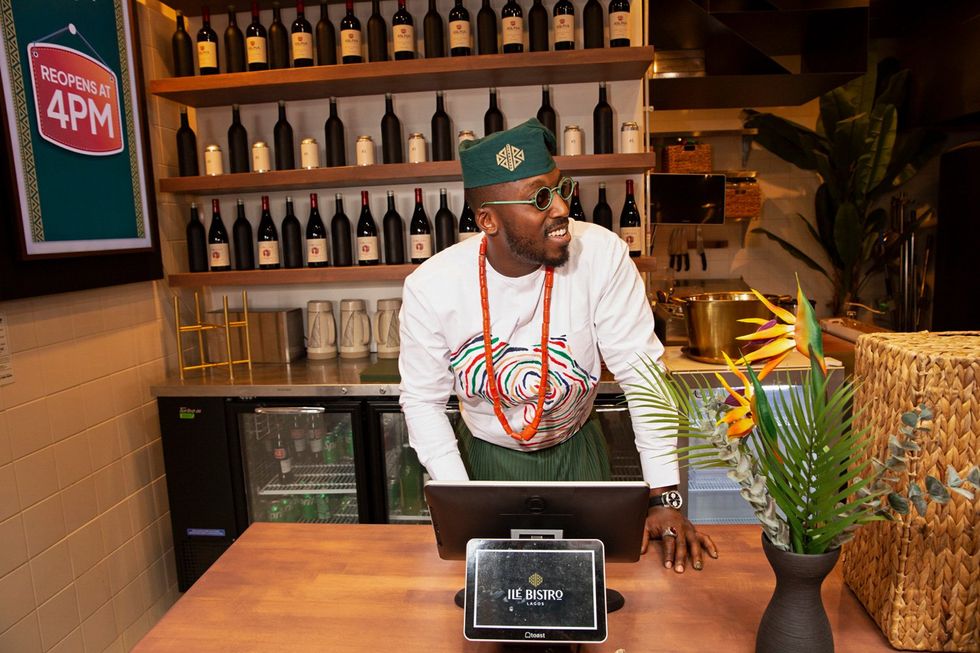 Photo by Bradley Meinz.
Of all the research you did before taking the Ilé brand out of Africa – what was surprising in your discovery and what assumptions did you have validated about how Westerners experience African food?
The first surprise for me was how vague West African food was to Westerners – they barely had any idea. As a matter of fact, most people just think all we have is fufu and egusi, one or two soups here and there, and Jollof rice. The first thing for me was just how little knowledge there was – even when I started to really research West African food, I wanted to learn things outside of what my mom and grandma could teach me. There wasn't a lot of resources online, I couldn't find anything. And even a lot of what you could find online, I would question mark a lot of it. But, the validation, for me has been the tremendous feedback we've received from the dinners we've hosted, and even every delivery. From people who have never tried, and were even fearful to try the foods, they say things like, "Oh my God, this isn't as spicy as I thought [it would be]."
I think a lot of the misconception comes from, for example, pepper soup should not even be called pepper soup because it's not really about how peppery it is. It's about the bouquet of spices and the flavors that those spices bring together. It should be an aromatic broth if anything. There's been a lot of misconception about the cuisine. And for me, what I've learned more and more is that there's a huge appreciation for West African food, especially when it's done right and done with integrity and love.
What's the greatest difference you've noticed between African restaurantgoers and Americans?
As an African restaurant owner, and I can only speak for myself, African restaurant goers tend to go in the fast thinking, "Ah, how could I pay this much for Jollof rice and other soups that I can eat at home? I can make it home." Unlike a Western restaurant goer that is going there for the experience and understands the amount of work that goes into standardizing and maintaining the standard and quality of food. But it is changing, though. I think this perception is gradually changing as I see more and more Africans coming out and enjoying the cuisine and appreciating and now celebrating it themselves.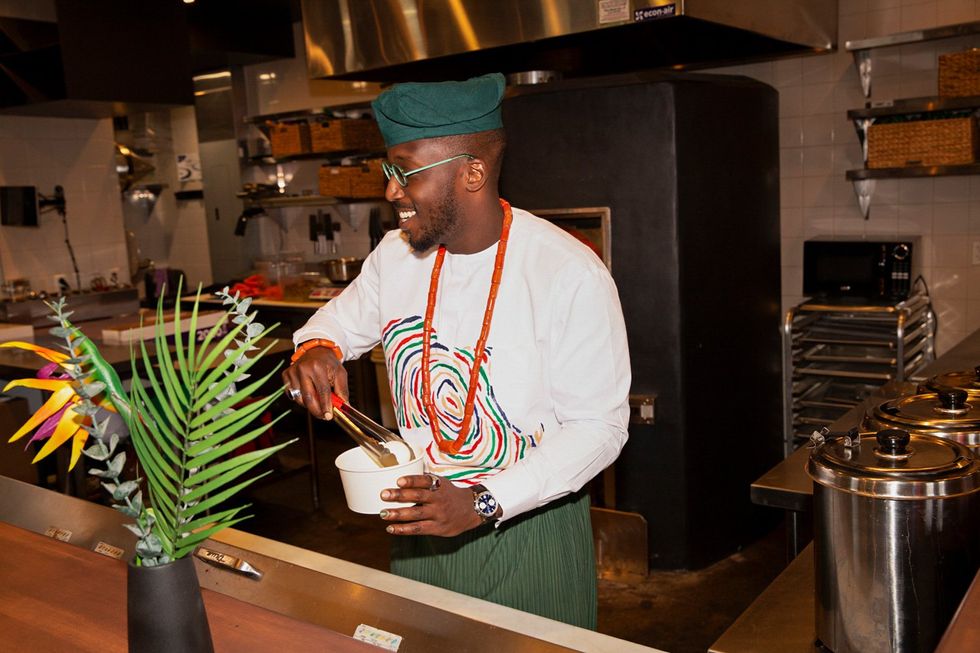 Photo by Bradley Meinz.
Where do you believe other West African restaurants have been getting it wrong all this time?

I think for one, there's been a lack of integrity when it comes to the quality of ingredients being used in preparing the food. A lot of it comes from a cost perspective because West African food costs a lot to make. Palm oil costs a fortune, the amount of burn time if you're just costing how much gas we go through, etc. I find that a lot of people have tried backdoor approaches to execute the cuisine, and then it ends up falling flat because it requires that much work. Traditionally, Nigerian food has been cooked with firewood, because of the high burn rate and also how long it would take to stew something.
The second thing I would say has been the approach towards the brand integrity as well. I don't think a lot of young Nigerians have invested the time and resources into setting up West African restaurants. It's usually been a lot of aunties, mom-and-pops who don't really care too much about the branding. It's more so, okay, auntie knows how to cook, and Auntie will say, "No problem, I'll cook if you pay me X amount of dollars." And after a while, it becomes butter song. They hire people who don't even understand it and it ends up just falling flat. But I think that the time has come and I can already feel and sense that a lot of other young Nigerians are eventually going to start taking that leap of faith to invest in the branding, to invest in the sourcing of ingredients, invest in the standardizing of their processes to maintain the value and the integrity of our cuisine.
What was your experience like feeding the people at this year's Coachella Valley Music Festival? How did that partnership come about?
It was mind-blowing. It was a dream come true, to be honest, because Coachella is such a huge stage. Music is at the heart of every human being. And Coachella is one of the largest, if not the largest, and most respected music festivals in the world. And a festival that has never really had any Africans take center stage, they had multiple Africans across different industries. You had Africans in the music space and you had an African chef, and we all did our thing. For me, it even started from the fact that the dinner sold out one week after it was announced, and was the only dinner to sell out with the highest ticket rating in 15 years.
On multiple layers from where the food was concerned, the taste of the food to just the presentation, you know I come with energy. And I'm running around the field telling people how to eat the dish, what to expect in terms of taste and flavor. I'm walking around with my jukebox playing Fela Kuti's music around the field, and this is something that's never been done. Being able to bring the sounds of West African drums to the field that day was a dream come true. For me, it was a remarkable experience and it's something that I will do over and over and over and over again.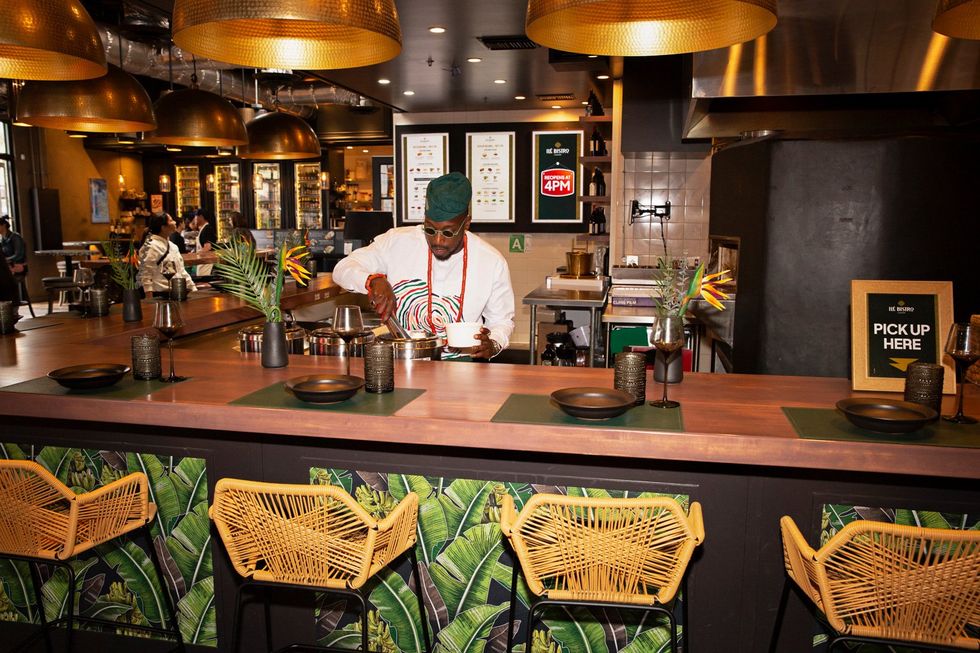 Photo by Bradley Meinz.
What is your wildest dream for the ILÉ brand? Do you have expansion plans?
I have quite a few. For the ILÉ Bistro brand, definitely to expand across the world, taking it in strides. I'm not going to rush into opening multiple stores in one year. I'm using this as my test of concepts. I'm experiencing all of my mistakes with this small one, and then I'm going to roll out a second one with the lessons, before we open the third, and gradually expand across the West Coast, into the East Coast, and then across America, and then into Europe, into Asia, into the Middle East, and even back into Africa. That's the ILÉ Bistro brand itself.
From a product perspective, I've always had dreams to have a brand that will be internationally recognized that will become a household name. I'm working on a number of products – spices, sauces – that should eventually hit the stores with the right partners in place, and you'd be able to get West African products in every home. But for ILÉ LA, which is really about entertainment, I always say that I'm not just a chef, I'm a culinary entertainer. I've used food as a medium of communication to celebrate the culture, and I want to do that on a much bigger scale. One of my biggest dreams is to have the biggest residency that really celebrates African culture with food as center stage. Celebrating music, fashion, and the stories of West African people whilst you are dining, whether it's 10 or 14 courses, and as God would have it, I've had all those experiences. There are a bunch of other aspirations in the fashion scene, but I don't want to say too much just yet.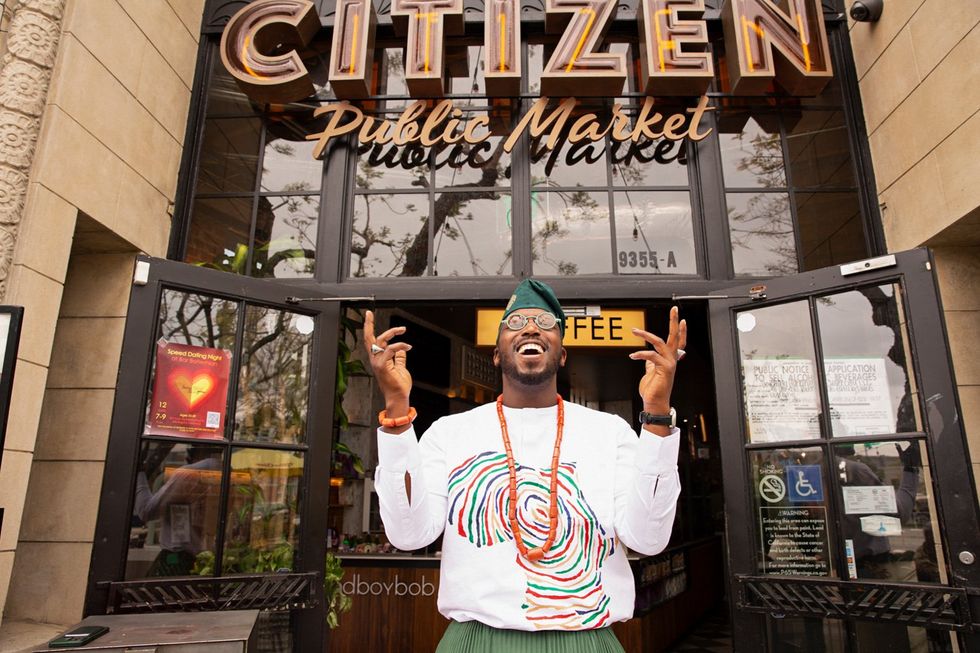 Photo by Bradley Meinz.
What advice would you give to Africans wanting to pursue food as a profession?
Number one is to find your voice: What are you trying to say to the world? What are you communicating? What is your story? Who are you? Where are you from? What do you eat? I always say, "Cook what you love to cook, cook what you love to eat." Number two is to not be afraid to take risks – failing is part of success. Don't be afraid to fail, just fail better next time. Take the first step. Know that as you take more steps, the light at the end of the tunnel will become brighter as you carry on. Nothing is easy. The more difficult it is, the higher the reward.
Also, stay original, and true to yourself. And do everything with integrity. I know it's very tough, especially in this industry, but try your very best to cook with integrity, with love, and everything will gradually start to align. Go big or go home.