West Africa's music scene has been growing steadily for the last few years. Afrobeats, led by stars like Wizkid, Davido, Tekno , and Sarkodie , has become one of its biggest exports. The younger generation are embracing this spotlight and global appeal, expanding their audience beyond the continent by fusing local influences into alternative sounds. Artists like Santi, Odunsi, Tems, Lady Donli, Prettyboy D-O, DRB, Tonero , have proven that this new wave of music stars are ready to live up to their predecessors.

Beyond the familiar names of the Alté scene, an ecosystem of music creatives such as producers, audio engineers, DJs, A&Rs, and artist managers have risen to the occasion and are supplementing the next generation of popular West African music.
We caught up with GMK, DJ Femo, Aye!, Mayowa Balogun , and Higo to discuss their relationships with music, pivotal points in their careers, and in the zeitgeist of alternative music.
---
Quddus King aka GMK (27) Rapper, Producer & Audio Engineer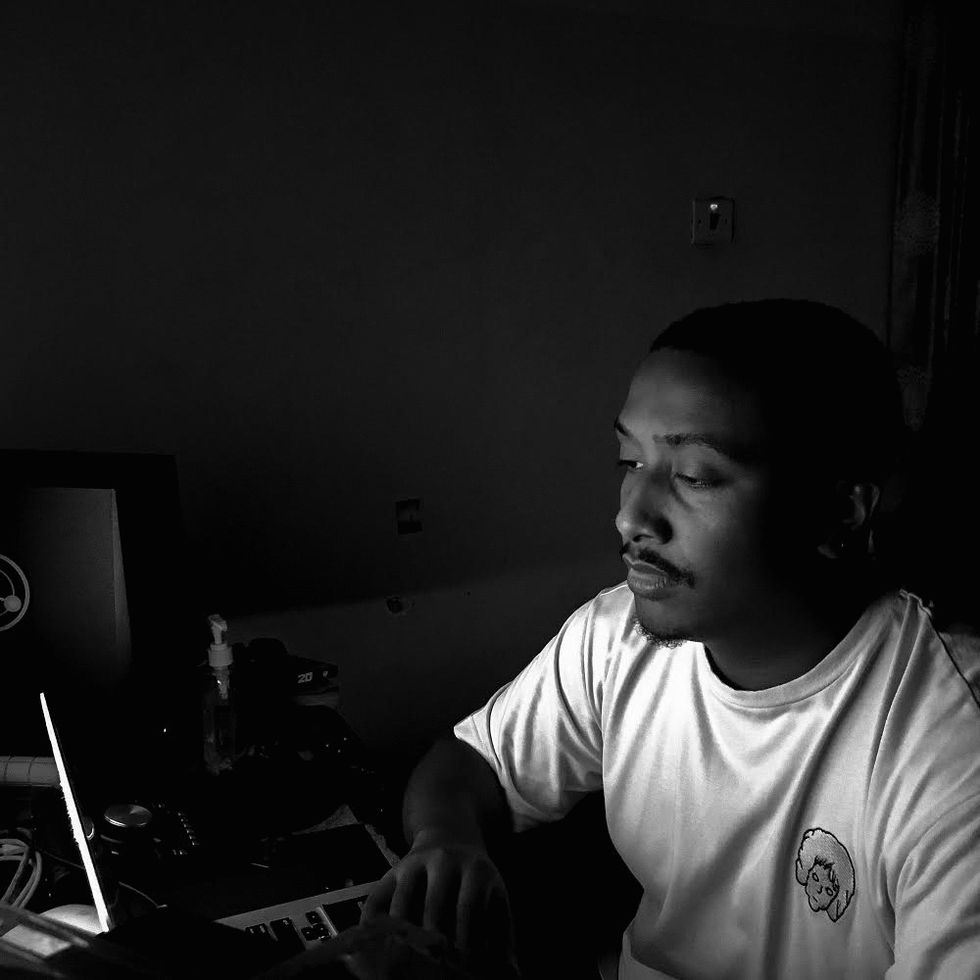 GMK. Image courtesy of GMK.
How did you grow into your love for music?

GMK: My earliest and fondest memory of music was, I was still living in Surulere. My dad had this rock album from a British band Dire Straits, he loved the album so much and I ended up liking it. There's this song they made called "Sultans Of Swing," I think that's the song that made me realize I really liked music. He used to play the album everyday but I always waited for that particular song to come on, it was just very special. Later down the line my brother introduced me to Eminem and that opened me up to rap music, I never knew about rap music I only used to listen to rock, R&B, and it changed my perspective on a lot of things.
Then I started learning how to play the trumpet because my parents are very close friends with the Kuti's, from a young age I used to chill at the shrine. So I used to learn how to play the instruments there. I got introduced to Fruity Loops when I was in primary school by my friend Lucky, his mum was a gospel artist so he got the installation and helped me bring it on a floppy disk. It was still like FL 3, and it was still clunky and weird. So I'll be home with the home theatre making beats and stuff.
Tell us about the Monster Boys?
GMK: At first I was working with Dirty A , he was part of Neno Brown , a group that had Ozzy B (who's now Santi ), Flowsick. So, one day, Dirty A brings Ozzy B/Santi to my house and he sounded so different, before he left my house I told him I had to work with him. I found out he actually lived close by and from then we just became very close, working everyday. Santi ended up going to Babcock where he met Banky .
In GRA we had a friend Giwa who had a big house and we used to set up in his boy's quarters, that's where I met Genio and we used to all just work and create there. I'll say that was the conception of the Monster Boys, and we decided to make it something and take the music seriously. A lot of songs from Diaries of a Loner and Birth Of Santi were created in that house. I feel like people love the music we make because it's young and rebellious, it's different from everything from the mainstream. We're trying to experiment with our own African sound and what we grew up listening to.
Call on Me (feat. Tomi Thomas & Kida Kudz) www.youtube.com
What's your creation process as a sound engineer?

GMK: For the production it's very experimental, I have gone deeper into afrobeats with R\&B influences, a little bit of rock, little bit of Japanese style, also listening to different elements trying to digest and add to the whole package. Every new thing you're about to hear from me and the camp, you'll notice the growth.
How would you define this sound you're trying to make?
GMK: In basic terms I'll say afro-fusion, fusing R&B and the likes with African elements. On the grander scale of things, I'll say it's how the music makes people feel, I want the music to remind them of a time later in the future. Like when you listen to "Gangsta Fear" years from now, it'll remind you about something profound the first time you heard the song.
I feel like now on a global level, with the backing we have now, like Santi being signed to LVRN, the music will be pushed more professionally and the sounds will be more calculated.
What are you working on currently?
GMK: I'm working on two projects, a production project and an artist project. The production tape is the one closer to completion, it has like 10-15 tracks but I'm trying to downsize, it's like a full length album. For the artist project it's mostly an EP, five to six songs. For everyone else, Santi has a lot of songs, enough for a project and Genio has a rap and producer project too. Everyone is just working.
What's next for the scene?
GMK: I feel the next phase is to keep on what we are doing but on a larger scale with more funds and hands behind it.
Mayowa Balogun (26) Music Manager & Co-Founder of Beam Ent.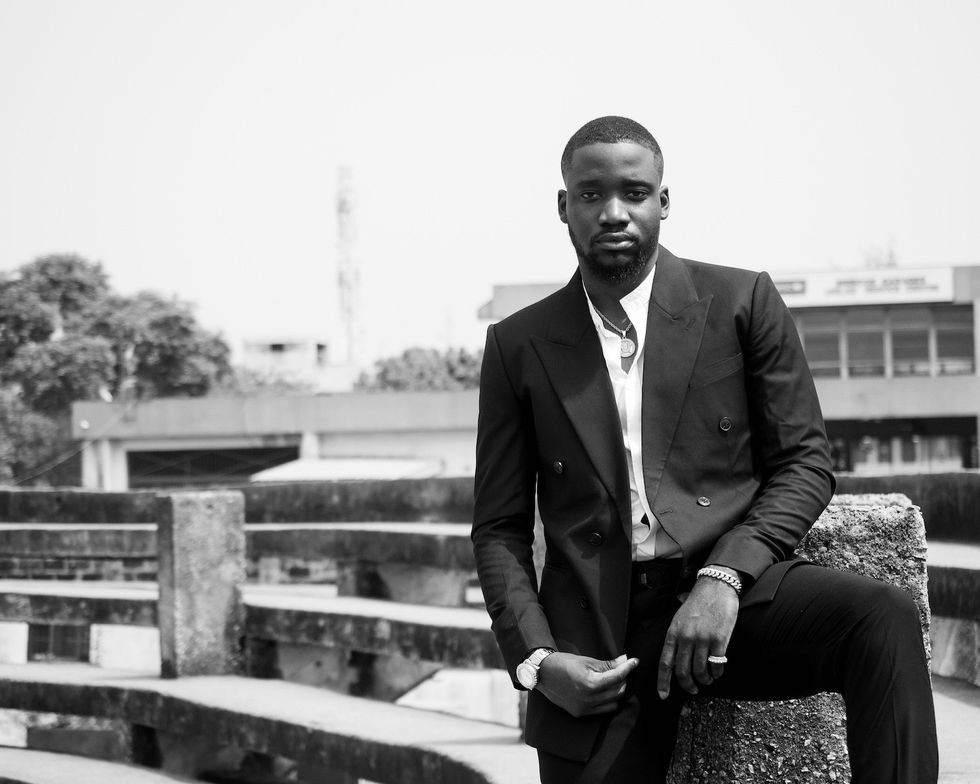 Mayowa Balogun Image courtesy of Mayowa Balogun.
How did you get into music management early on?

Mayowa Balogun: I've always been passionate about music, especially African music. I used to be one of those guys that was razz when I was in high school, I liked the Nigerian stuff more than the foreign stuff. When I moved to the US, I was desperate to keep the connection strong, so I was the biggest fans of all the blogs, NotJustOk, GidiFM, Jaguda, and from there I started my own blog. A lot of my guys at the time were doing music, we were like 16, 17. That's when the explosion of afrobeats really started making a loud impact at the time, and I wanted to be part of the movement, so I started out as a blogger. I was a decent writer, so why not? I did that for a year, then I leveraged that into a job at NotJustOk, did that for a year or two. Then I moved to Texas, switched school and started getting involved in the music scene and I started working with this really huge promoter.
After working the circuit for some time, I sat down one day and I'm like, I have connections in the game from my blogging years, I'm entrepreneurial, I like to take responsibility for people, so I figured I had the qualities and connections to be in management. I felt it fit where I was in life then and honestly I was tired of blogging, didn't see any future as a full time career in it at the time but I saw that in management.
What's the story behind meeting and becoming Lady Donli's manager? Tell us about the process that went into putting out an incredible project like Enjoy You Life ?
Mayowa Balogun: One of the things to have as a manager is you got to watch what's going on. I was on the Alté scene in terms of just watching the guys and watching the culture evolve. What I do when I see something that's going to pop is I follow everyone that has knowledge about it, the people involved. So when the Alté scene started popping I started following everyone on Soundcloud, listening to their songs on Spotify, from there I just kept tracking what was going on and I followed Lady Donli a while ago around like 2017.
Donli messaged me one day on Twitter, we had banted a few times on twitter at that point. She asks for my number, we FaceTime and she tells me she wants me to be her manager and I'm like that's crazy, cause I was going to ask her who's her manager and how we can work together then she tells me she manages herself, and that's impressive because at the time we had that discussion she was already operating at a higher level than her peers. She looked like someone that had a team behind her. So I asked for time to think about the value I could offer her and also sharpen up my skills before taking on the role, and we should just keep communicating over the next few weeks and take it from there.
Lady Donli - Cash (Official Music Video) www.youtube.com
Over the next few months I immersed myself even more into the culture, did more research, and started to think of how I can be of value. Before she reached out to me I was managing an afrobeat artist and the process I used with him wouldn't apply to Donli. I reached out to her maybe a month or two after sharpening up my skills a bit and made it official.

My philosophy as a manager is I don't get in the artist's way, especially someone like Donli, she knows what she wants exactly. So I helped in the leg work, setting up agreements and deals, and we went back and forth on ideas as well, I helped facilitate things and brought her ideas to life.
The album in particular was a bit difficult cause were talking to a lot of companies, those deals fell through last minute, so we had to put out the album independently and we had to work out contacts, Spotify, Apple Music, things like that and just try to do the best we could do on our independent level without any budget. It was pretty tough but a special connection Donli and I share is we're pretty resilient. Our mentality is to go out there and just keep working, doing what we need to do, the music is dope, the brand is dope, eventually it will catch on. So we just keep pushing hard till we get what we get and put out what we need to put out. We both know our roles, I'm her manager, I stick to it.
You are the co-founder of your own management company, BEAM Ent. How did that start?
Mayowa Balogun: When I started my company, the goal was to be a one stop shop for African creative and sports, so entertainment in general. In the long run, the next 5-10 years, we want to have a diverse entertainment clientele of creatives. The aim is once you get an agreement with us, all you need to do is focus on your craft, you don't need to worry about anything else. The basis of that idea for me is ownership. Being an African, we don't prioritise ownership and it's the same thing with afrobeats right now, it's a lot of people selling their souls for short-term money, they're not thinking long term. For me, I'm the opposite of that, I'm very big on ownership, legacy, those kinds of things. Why would you be an artist, athlete or creative making a lot of money, achieving great things if you can't leave a legacy financially for your kids so they won't struggle or live the life you lived when you were coming up. I'm very big on that kind of ownership.
Our goal is to build our clients to be their own brands and operate as independent structures of their own, and the thing about that idea is we want to look out for them. It's not just a business, I care about everyone I work with.
If you think about it, an artist that's signed, they have a manager who they're paying 15-20% to and the label is giving them 20% royalty max on their recorded music, booking agent is taking 5% to get shows, a business manager, PR companies are also getting a cut. When you think about the amount of people taking a piece of their pie annually they don't get half of their income. The idea I have is, if all those services are consolidated into one, then that percentage can be lower and they can keep more money and we can coordinate efficiently because if we control all those facets it'll help us operate better. So creating an entire ecosystem, a value chain for the client is our goal, so once you're with us you have every service you need and you can trust us to take care of everything.
LasGiiDi - ONE SHOT Ft. DJ Poizon Ivy & Giggz. www.youtube.com
What problems do you think the new generation faces?

Mayowa Balogun: It's two sides. On our end locally, it's the finances. I don't think there's enough people investing, and the people who are investing aren't making smart decisions. Things like improving the labour structure, lobbying for legislations, or unionizing producers/songwriters, having a trade organization like the RIAA that can certify us. Second would be knowledge, because our industry is very young and most people involved don't have the right knowledge. We're operating at a very high level in terms of the numbers we are putting out and the places the music is getting to, but I feel like knowledge is lacking behind the growth. You talk to guys in the industry and there's things they don't know and it's shocking. It's scary to see what people that don't have knowledge are controlling in our industry. It's a big problem.
Translating that to the global market, it becomes easy for us to get exploited by the foreign companies coming to Nigeria. They have the branding and multi-billion dollar backing, all they need to do is come to Africa, set up shop, fuck around basically and just pick the best talent. That's what scares me the most, I'm not really excited about the 'Afrobeat To The World' thing, not because it's not a good thing but because I feel we're not positioning ourselves well on the business side and narrative side. We also struggle with documentation, our industry cycle is like five years. We can't go back and research, you can't quantify anything. There's no collective structure to anything, everyone is just doing their own thing.
How was it touring Nigeria, UK and Europe with Donli over the last few years, what did you learn from that?
Mayowa Balogun: The experience in itself has been great, if you just consider it in a bubble. In reality, it has highlighted a lot of difficulties. It's hard touring independently, especially when you're not an A-list star because financially it's a loss, period. If you do research about touring, it's a difficult business to make a profit in, there's a lot of costs involved. So that's like the biggest hiccup. Asides that, it's exciting man, going to different places and they know the music is really great. It's validation for the work we're doing and there's still a lot to do. The artist who can tour always lasts longer.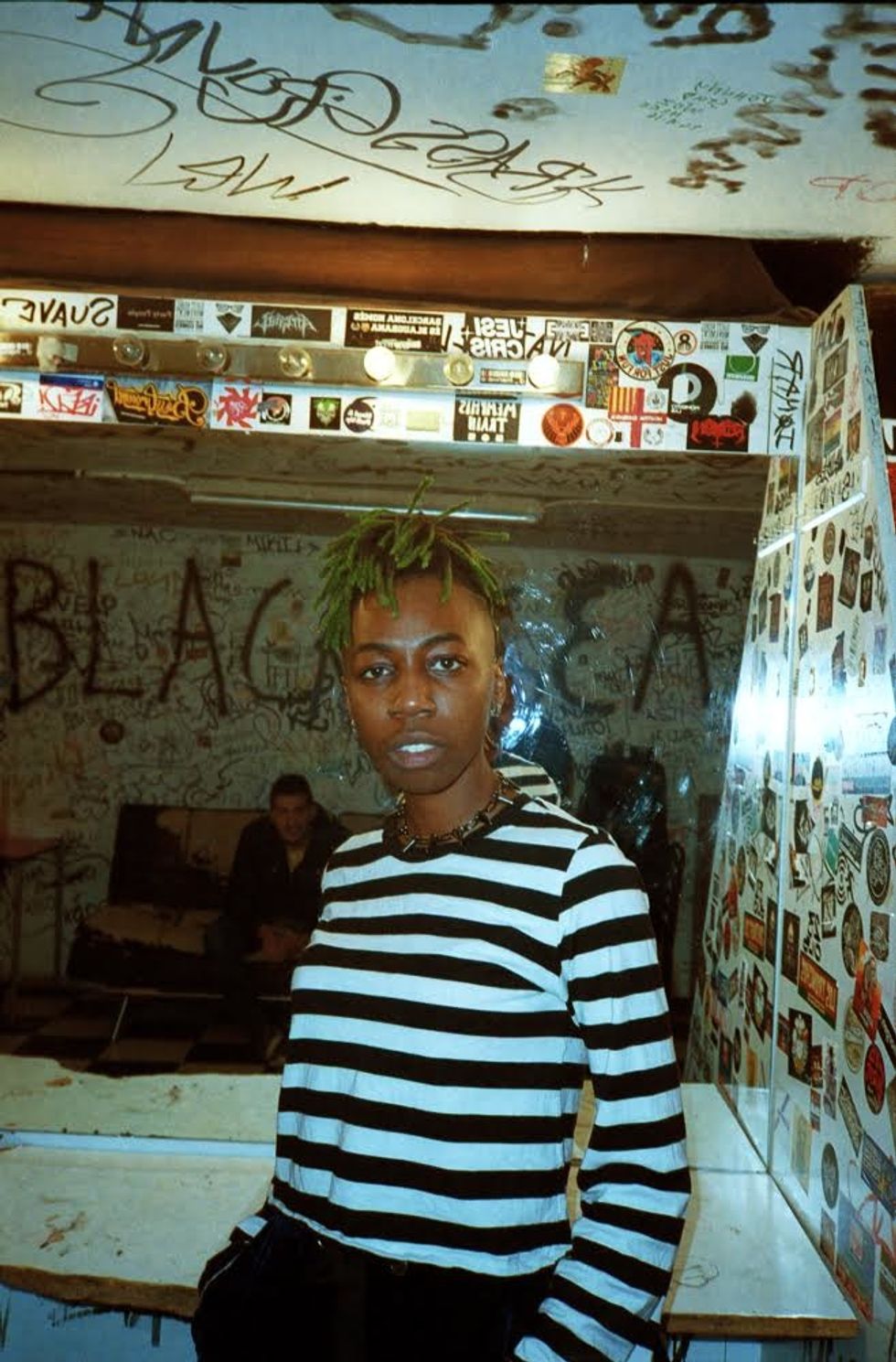 DJ Femo Image courtesy of DJ Femo.
How did you find music?

DJ FEMO: I've always been around music, I grew up in the church so there was a lot of music on that side but on the other side of that, I'm Yoruba and, growing up in London in a Yoruba community, I was going to parties almost every week. So being around all of that and I also went to music school on the weekends. I feel like all of that shaped me. I also had older relatives doing their thing, from being a DJ, to being an artist with a few hits. I guess my love of music came up from that. I've always been attracted to the image of a DJ, just that headphones and decks vibe. I was always into it.
How does it feel being one of the few female DJs in a male dominated scene?
DJ FEMO: I think people are really trying to uplift women these days. Most of the issues I'll say I've faced are probably from the local scene. The novelty of having a female DJ on your line as opposed to my actual talent. Also, it took a lot of time for people to give me a chance just based on the fact that i'm a woman but when push came to shove i've proven myself over and over again. I feel more women are getting into the scene. Some of our biggest DJs in Nigeria are women, DJ Lambo, DJ Cupp y, women are doing their thing.
How are your sets created?

DJ FEMO: I have a session with myself and I just vibe with what I'm currently listening to at the time, what's popping, try to find a bit of everything. Just make sure it slaps really, don't really know the process it just happens.
You're known for mixing both local and global scene into one mash-up, playing sets around Europe and Africa, how do you feel both ends are absorbing African music?
DJ FEMO: I think it's only natural because we have a lot of immigrants that live in Western countries, someone like me that was born and raised in London but was also raised partly in Lagos. It's only natural that i'll play both Western and African music. I've been doing that since i was a child. I think the more it happens, the more people will become proud to listen to African music.
Chigozie Ngini aka Higo (21) Producer, Sound Engineer & Member of 8OSounds Music Collective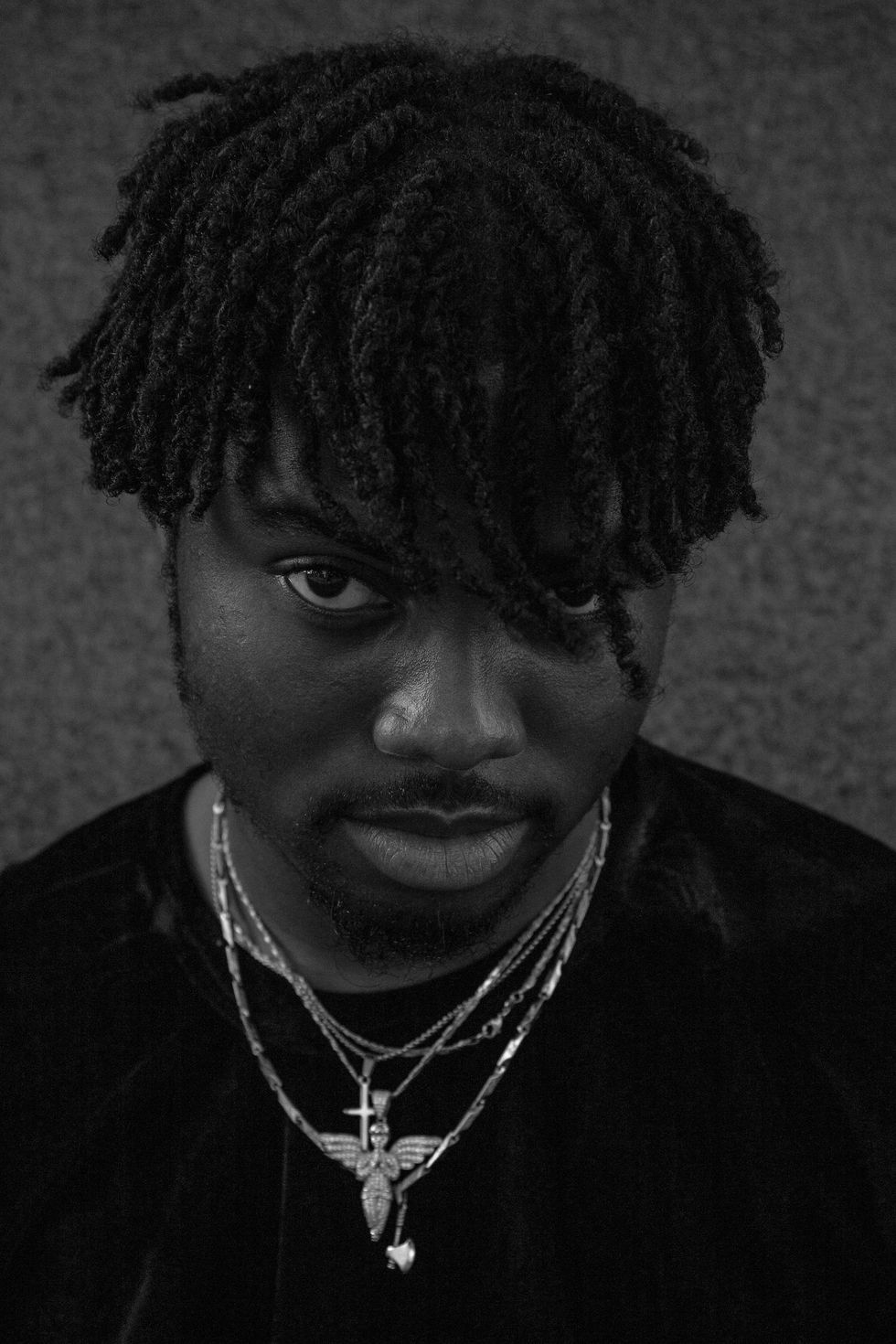 Higo. Image courtesy of Higo.
How did you get into music?

Higo: My mum was always playing gospel but my dad used to play classic music in the car, my aunts introduced me to the 2000s pop era of music, and then my brother used to watch MTV Base & Trace a lot. I'll say my biggest influences are my aunts and brother. My brother put me on to Chris Brown, Mario, Trey Songz, Jay Holiday, Mo'Hits, Styl-Plus all those people. I was born in the internet generation, I was going online from like age 6-7, so finding out about these artists from my aunts and brother, I'd do my own research and find more of their music on YouTube. My dad also used to buy visual albums and when I got to age 7-8 he made me take piano lessons.
Then my mentor was Remy Baggins , he was the organist in school at the time and I was just trying to get better. I remember hearing songs like "Why Me" and going to figure how to play it on my keyboard. In my senior years in Secondary School, Remy Baggins was the social prefect at the time which gave him access to a laptop. I saw him use fruity loops and I was blown away. I had never seen someone make a beat before and I knew I had to learn how to. After Secondary School I made beats every single day in 2015, my dad got me equipment and I was locked in. That's when I figured I wanted to go deeper into production.
How was Higo Born? What led to the creation of your early hits with Odunsi, AYLO, Fasina, and others?
Higo: The first song I ever produced was for Tim Lyre, can't remember the name. Then I did a couple of remixes to Odunsi 's "Happy Hour," Rihanna 's "Sex With Me," while I worked on getting better with my production. I figured I couldn't force anyone to work with me, you need to give people a reason to work with you. I remember I used to send beats and never [got] anything back so I just got better at making beats.
When my name changed, that's when everything kicked off properly. I did "Situationship," Desire," started working with Mav , all this was in 2016. I grew as a producer with my brothers through our collective 8OSounds. Le Mav, DOZ, Sosa, Hvrry , and Tobi , those are the people that took my shit to the next level, we had a group chat, we would just send beats in there and critique, collaborate, we were in our world. When you work with producers you get to see how the next man does his thing, their own process, and learn new skills.

I met Odunsi in 2014, but we started talking in 2015 and we made "Desire" in 2016. From there I went to the UK for Uni and I didn't know anyone there but I heard about Fasina from Odunsi and I hit him up and sent him the beat for what eventually became "5 Star," Then I worked on Odunsi & Nonso Amadi 's project, made "Oceans" with Hvrry. I made Santi's "Raining Outside" in 2017 over FaceTime with DOZ , then I sent it to the group chat and Mav was talking to Santi at the time and he just sent it to him, without me asking. Santi ended up recording the track on the beat and in April 2018 after I had met Santi in person we did "Raw Dinner." That was the same year I met D-O and the rest is history.
What's your creation process like?
Higo: For me, I'm just trying to make something I'll fall in love with or something that captures how I feel, a feeling I can best describe as driving in the night, around 2AM when the road is free and you're just cruising, it's so bliss, that's my mood and the feeling I'm trying to get on a personal thing. When an artist is involved, or someone I'm experimenting with is involved, I aim for that which makes us sound out. I don't force it but I don't see the point in giving the world something that already exists, I just try to execute differently somehow even if it's one detail I tweak.
You're very vocal about producers and their rights in the music they create. How have you navigated this coming up?
Higo: The whole exposure to producer rights, artists rights, it's becoming general knowledge. To be fair, we're still figuring it out over here. In Western countries they have it figured out and understand the music system. We're crossing over to a streaming era so it'll be silly to not try and secure your royalties or streams in this day and age because a lot of money is in there. You need to put your agreements in place.
Obinna Aniagolu a.k.a AYE! (31) DJ, Audio Engineer, Producer & Creator of Village Sound System
AYE! Image courtesy of AYE!
How did you find yourself falling in love with music?

AYE!: It began at an early stage when I realized certain songs played around the house gave me certain vibrations, there was James Brown , Sarafina, the soundtrack was amazing. I grew up in Surulere, driving into the Island with my mum, I was very young so I didn't even know who the artists were but I remember my heart and soul being put in certain vibratory moods. In secondary school I had this little band, DIY, [and] started rapping. My name was Big Dawg, music was fun then. It was really nice. Eventually... growing up... [you] realize pain is a recurring theme in life and for me this beautiful gem I had found called music became a way to deal with pain. I've been depressed since I was about seven.
So vividly speaking, my first music making experience... I remember looking at a cereal box and they were giving out these free music making CDs called Magix. That was how my music making life began, it was a simple program. You just put loops together and being the person that I am, I tried to make an album out of it, and I tried to play it in school. This was in 2012, after getting a masters in music engineering. At this point I was producing heavy, I was at a professional point of music making and I decided to start over, to become a DJ.
What made you follow the path of being a DJ?
AYE!: I think my most prized commodity are my ideas and what I found with DJing is a way to blend multiple ideas at the same time, ideas that go together but are still separate. You can look at these Ideas in terms of songs, genres or vibes. It became a way of blending memories and vibes together in front of people so I got a reaction immediately, and this was very essential. I remember being in a Hotel in South Africa, the first time I did my first mash-up. I was still using only my iPad, I mashed up Sean Tizzle 's "Sho Lee" and "One More Time" by Daft Punk , both very good songs, two different representations of two ideas and cultures in the form of house music and afrobeats at the time.
What's your approach to selecting music as a DJ?

AYE!: My selection of music is extremely eclectic, and that's because the world is also eclectic. We're all individuals making music. Anytime I hear a song that's so itself, meaning it's only comparable to itself, I'm automatically attracted to it. I apply this thought process to my playlist. Generally, the sets are approached [through] rhythm, emotion, originality and you use this lens to pervade every genre. That's the goal.
What role do you think you play as a DJ in the growth of Africa's new music scene?

AYE!: I think generally speaking the DJ pushes the music and helps the music move through, that's basic. What i really want to talk about is, DJing in our generation, this emerging culture has expanded upon what it means to be an artist. So now, it's becoming a thing for a DJ to be on a line-up at a festival, as his own person. I think that's very exciting.
Tell us about your music collective Village Sound System?
AYE!: Village Sound System in its purest form,is a concept and, really, that's all it needs to be. VSS isn't creating anything, we just show what's already true. How did it come together? Village Sound System was meant to be my stage name, my first mix was under the name VSS. Eventually i realized this might be a mouthful for someone that you'll see all the time. Being a concept VSS is able to delve into many contexts, whether in life or art. The concept important to me right now is blending the organic and synthetic, it's a very pure thing to me.