News
Here's How Nigerians On Twitter Are Reminiscing About #SecSchoolInNigeria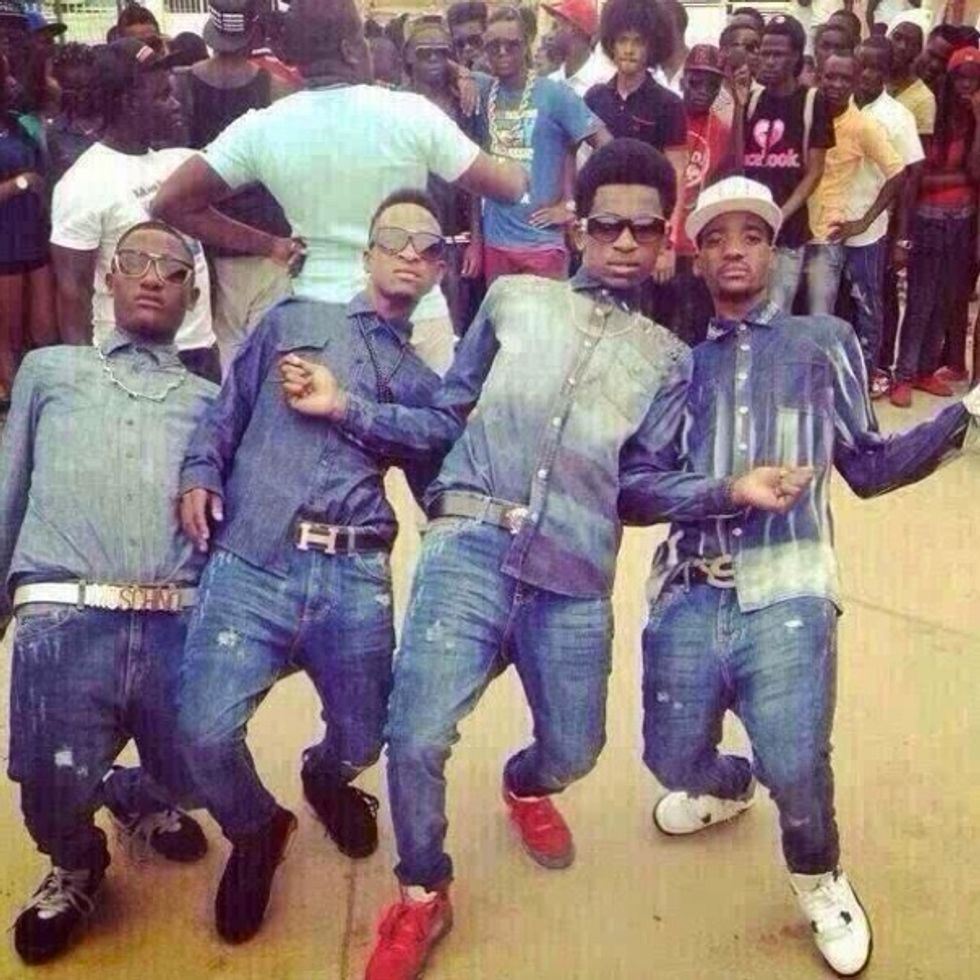 Nigerians are tweeting about their days in secondary school using the hashtag #SecSchoolInNigeria.
---
Via @TeeJolz
Searching for some Throwback Thursday inspiration? If you attended secondary school in Nigeria, you're in luck.
Over the weekend, Nigerians on Twitter were talking about what would happen if there were Nigerian students at Hogwarts. This week, Nigerians are reminiscing about their days in secondary school (high school). According to Topsy, the hashtag #SecSchoolInNigeria has sparked more than 193,000 nostalgic tweets in the past 24 hours. From tough teachers to lunchtime politics, here are some of the most hilarious recollections of this shared academic experience.
On sports:
#SecSchoolInNigeria when there is no ball to play but you've got the situation under control. pic.twitter.com/UayE0NP8z9

— ill21 (@wonderkid) August 6, 2015
You can't play ball but that fine girl in JS 2B is passing by #SecSchoolInNigeriapic.twitter.com/e40EOKTVQI

— tolu ogunlesi (@toluogunlesi) August 6, 2015
On tough teachers:
#SecSchoolInNigeria when your teacher gives a test that you pass and he says that it's not part of assessment pic.twitter.com/iz3Jpbfl86

— TheWeekdy (@AntonAzek) August 6, 2015
*Bell rings* Class: Aunty your period is over Teacher: it's your period that will be over #SecSchoolinNigeriapic.twitter.com/SCjpfnPTJY

— Aunty Dupe (@misstashamillz) August 6, 2015
#secschoolinnigeria When that teacher says "What do you have next? Oh, free period? Ehn lemme juss take 10 minutes" 😒 pic.twitter.com/xZKVMmhfTb

— ekperem (@Chinaza_A) August 6, 2015
#secschoolinnigeria When a teacher is about to give surprise test then the principal sends for him pic.twitter.com/9PSJobdVrY

— Tunde Hassan Okafor (@peekaymila) August 6, 2015
#SecSchoolInNigeria Teacher: I'm not collecting your sheet of paper once I step out this class Me: pic.twitter.com/sH2kYXjNNe

— Ibe (@I_pissVodka) August 6, 2015
#SecSchoolInNigeria When a teacher knows your bf and asks him a question he can't answer Teacher: Oya Titi,help him pic.twitter.com/LGsv7V5DFV

— #MadeOfRed (MUFC) (@Saga_christos) August 6, 2015
#SecSchoolInNigeria "Good morning sir, we are happy 2 see you sir" Teacher: Good morning class. Tear a sheet of paper pic.twitter.com/GxMqzVBWiK

— The Goddess. (@Brendalishus) August 6, 2015
#secschoolinnigeria We all had that one teacher retweet if one of them's there Mr.Ajayi Mr.Seun Mr.Bello Mr.Shola Mr.lawal Mr.Yemi 😂😂😂

— Oladele Akinsete (@oladele_ak) August 5, 2015
On seniors:
#secschoolinnigeria when a senior collects your provisions & you're angry but you just have to fake a smile pic.twitter.com/2swz5s9JEy — Tayo (@Temitvyo) August 5, 2015
#SecSchoolInNigeria When SS3 students are summoned to keep the peace and tranquility at the junior block. pic.twitter.com/ucivOKVfY2

— Nnamdi Anekwe-Chive (@nnamdianekwe) August 6, 2015
#SecSchoolInNigeria. Watching Fight between two seniors in dining hall like: pic.twitter.com/8SACHVfTww

— Bolatito Role (@Rolz_SouT) August 6, 2015
#secschoolinnigeria First day as an SS3 Student. pic.twitter.com/0fq5fLaEZB

— Amara Nwankpa (@bubusn) August 6, 2015
#secschoolinnigeria when u send a junior to buy u drink and tell her to drink it bcos u know what you did in d past pic.twitter.com/cfMeU6PrQA

— sophijuana (@Sophy_E) August 6, 2015
Them: "your seniors are about to write their exams ,stretch out your hands and pray for them" Me: #secschoolinnigeriapic.twitter.com/vV7SFp4v7F

— M'$ (@ImanMNG) August 6, 2015
#SecSchoolInNigeria When other students are getting up at 5.20am... Then you remember you're in SS3 😂😂 pic.twitter.com/gzYfzZzJja

— Tochukwu. (@Toch_O) August 6, 2015
On lunchtime:
#SecSchoolInNigeria when your homie tries to open his biscuit under his desk, but you heard the sound... pic.twitter.com/s2OSRlx6ev

— Onye Oringo (@BiggieMonzie) August 6, 2015
#SecSchoolInNigeria when you're about to eat your Sunday's chicken and the person you're owing shows up at your table pic.twitter.com/9GbCQCESip

— Martino Okulaja (@Tinolaja) August 6, 2015
"Please give me Garri.." "I can't, my mummy has counted it" 😱😱😱 #SecSchoolInNigeriapic.twitter.com/6yQtMEoTR5

— DJ Tohbahd™ (@DJTOHBAHD) August 6, 2015
#SecSchoolInNigeria When you miss lunch in school and you hear it was J.Rice & Chicken pic.twitter.com/yBND3yGaMD

— yung mami (@_QueenYass_) August 6, 2015
On teacher's pets:
#SecSchoolInNigeria when a teacher forgets he's having a class and the class captain wants to go and call him pic.twitter.com/SmOL8B5HHj

— S (@TaraAdesanu_) August 6, 2015
#SecSchoolInNigeria Where you ask people for garri and they tell you *I haven't opened my garri* pic.twitter.com/IkbYQ1hI1Z

— Sisi Tobi. (@tobss__) August 6, 2015
#SecSchoolInNigeria Excuse me sir you've not collected the assignme...... pic.twitter.com/TGIK21O9F7

— Gold (@Wura_ola) August 6, 2015
#Secschoolinnigeria when a teacher asks if there is a free period and one fool says yes pic.twitter.com/0eSKORIsj9

— X.〰 (@its_xabi) August 5, 2015
On punishment:
#SecSchoolInNigeria when there is no ball to play but you've got the situation under control. pic.twitter.com/UayE0NP8z9

— ill21 (@wonderkid) August 6, 2015
When the cane lands in the centre of your back and your can't scratch it #Secschoolinnigeriapic.twitter.com/5Ob2CxMCMZ

— HENRY Okelue (@4eyedmonk) August 6, 2015
#secschoolinnigeria After chopping 50 lashes on assembly ground without flinching pic.twitter.com/ijSt3zRhzU

— LaughorYawn (@LaughorYawn) August 6, 2015
#SecSchoolInNigeria after getting some strokes and your G's are asking you if it was painful 😭😂 pic.twitter.com/wDeMMNOlOb

— Donnè oby Donald (@__donne) August 6, 2015
#SecSchoolInNigeria when they finish flogging you and someone tells you sorry " pic.twitter.com/a5I4ST4ONy

— Akpos The Comedian (@AkposTheComedia) August 6, 2015