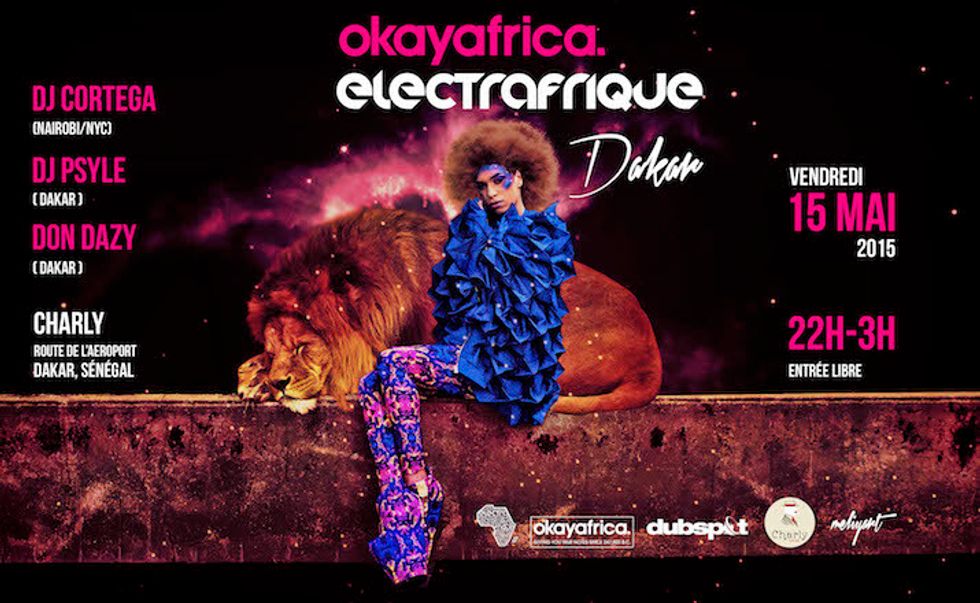 ---
Flyer by Meliyart Graphik.
Okayafrica Electrafrique is headed to Senegal this week, where DJ Cortega will be hosting a night of afrofuture sounds at Dakar's Charly Bar on May 15. The party, part of our ongoing collaboration with Nairobi's Electrafrique, will feature beat-heavy sets from Cortega, Senegalese deep house producer Don Dazy and Dakar-based afro-house spinner DJ Psyle. As a teaser for the Dakar show, as well other upcoming Okayafrica Electrafrique dates across Africa, DJ Cortega has put together a high-octane mix of tracks that have been on heavy rotation in his recent sets. Stream Cortega's okayafrica | electrafrique (may 2015 mix) below and get to know more about the Dakar party DJs below. Check out all the additional info for the party in the flyer above.
DJ Cortega. The driving force behind Electrafrique, Cortega has been bringing a rich blend of contemporary African dance music — from mzansi house to kuduro, afrobeats, soukous, and coupé décalé — to dancefloors across the bright continent and beyond. His sets draw inspiration from all corners of Africa and its diaspora.
Don Dazy. After a stint in Canada where he dove deep into the house scene, Don Dazy returned to his native Senegal, where he's been a pioneer on the deep and afro house front under Dakar's famed Stars & Heroes label. He's now turning an increasing amount of attention to production, drawing from Senegalese rhythms and instrumentation, and keeping with the light, breezy, at times Balearic, touch of his DJ sets.
DJ Psyle. One of Dakar's early adopters of afro-house music, Psyle has quickly joined the Electrafrique fam in Dakar, carrying on the legacy of Tchoub Tchoub, who's recently made a move to southern France in search of new live and musical adventures.