Oxlade's sultry voice was first introduced on his big break, Blaqbonez's "Mamiwota," and from that moment it was apparent that Nigerian music had another star on its hands. It was a performance that helped change the tide towards mid and low-tempo songs in mainstream Nigerian music. It was only a matter of time before Oxlade proved to the world that he was a force to be reckoned with, and a special talent among the new guard of Afrobeats stars.

Olaitan Abdulrahman, popularly known by the name his grandfather gave him 'Oxlade,' has a success story that blossomed at the confluence of opportunity and preparation. The new superstar was never sure of his path when he was just making ends meet, all he had was a voice, one fine-tuned since adolescent choir years, and a heart that believed he was destined for more. Four years later, with a couple of hits in his catalog, and a record deal with Epic Records, the spotlight is now on Oxlade.
In a year that has had major young Nigerian stars like Rema and Fireboy DML push African music to bigger frontiers globally, Oxlade lays his claim as well with the viral hit "Ku Lo Sa." The eargasmic Afro-tune was Oxlade's latest offering in collaboration with German creative house COLORS Studios. For Oxlade this was all unplanned but yet he's grateful and excited to share what he has in store, the music he believes is the best version of Oxlade his growing fans have heard.
"I make ethereal music. Ethereal is something that is so delicate, and it's so special. That almost sounds godlike."
We talk to Oxlade about the phenomenon that is "Ku Lo Sa," his incoming album, and the domino effect that has led him to this point.
---
Tell us about your background and how you grew up.

I was born in Mushin, somewhere on the mainland, one of the most notorious places in Lagos. A lot of people like Konga and Wande Coal came up from there. Due to the fact that my area was really rough, my grandma decided to send me to live with my dad after secondary school. So, I moved to Surulere. During all this, I was already in the church choir, I have always been a church boy, being in the church choir, youth choir, teens choir, and all types of choir groups. I have always been doing music.
People ask me how I got such a good voice and I just say it's years of voice training and rehearsals that I didn't even know I was going to need. So I feel like music choose me before I even choose music. That's why it's a love affair between me and music. That's why it feels like it's spiritual. That's why it feels quite personal to me when I perform or when I make or release music.
I was raised in a poor family, and I lost my mom when I was three, so I moved in with my grandma. I was basically raised by my grandma. After my secondary school, and the fear of me joining gangs and all that she sent me to Surulere to go stay with my pops and I moved into the university, where I got into recording music. I had a company that I used to do work for so we wanted to record proper music and make money off streams. We ended up meeting producer Alpha Ojini.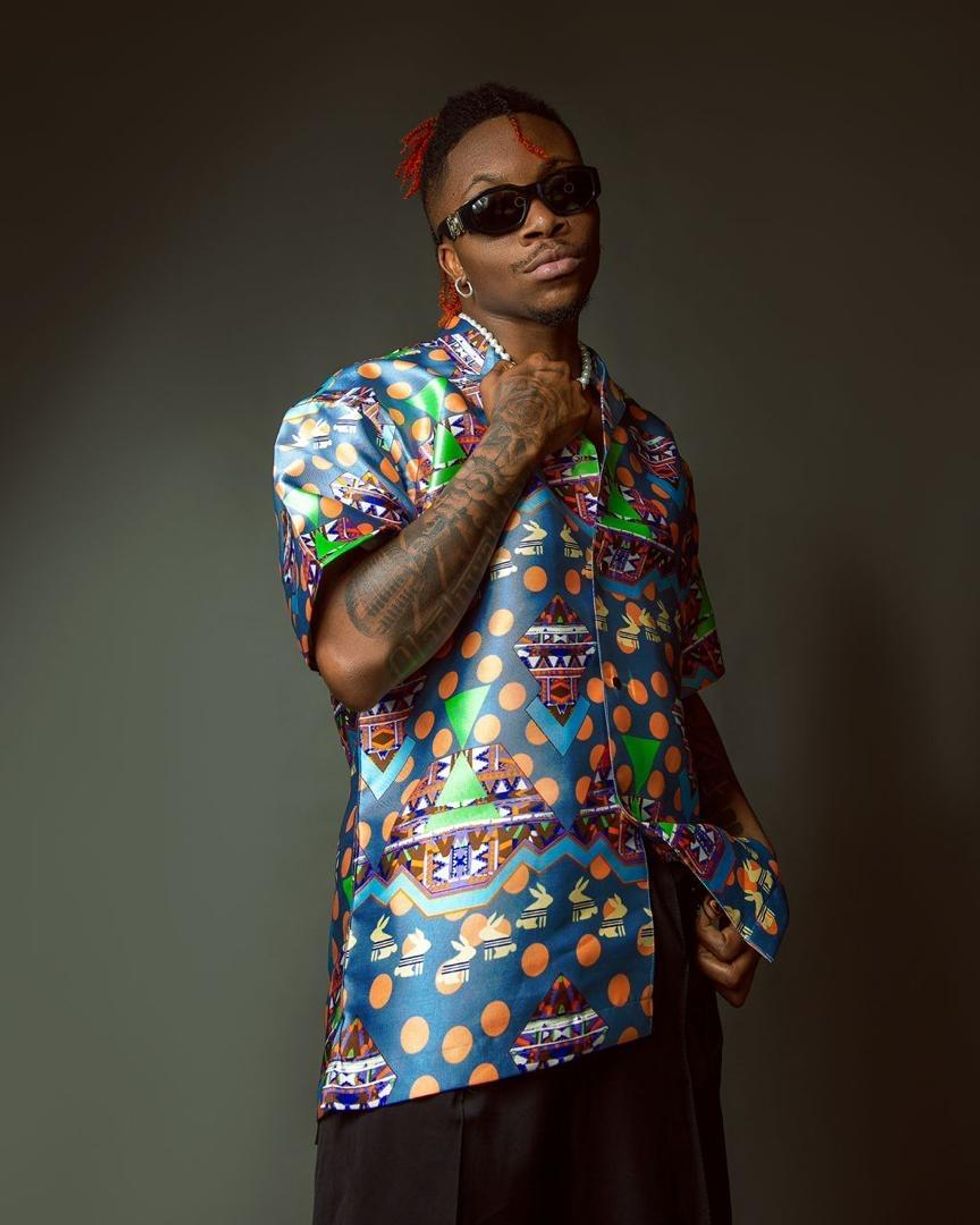 Image courtesy of Oxlade.
I had a song called "Sour," it's the first song Blaqbonez heard from me and he just hit me up like we need to connect. As of then, I was in the streets, I was a bus conductor, selling tickets around and I was also working at the Cyber Cafe trying to make ends meet, at that point my dad was reluctant to pay my bills. I had to leave the house and everything because nobody really wanted me to do music. I was living with a guy called Naya, and a guy called Ojah Bee. Crazy, Naya has gone on to become of Nigeria's biggest directors, and Ojah Bee is my manager right now and is also a producer.
It all just happened like a movie. I became a full artist after dropping "Mamiwota." At that point, "Mamiwota" was ready Chocolate City didn't want it to make the album and I didn't really care cause I was still hustling. Then all of a sudden he just comes back again, and was like, oh "Mamiwota" is making the project. I didn't even have a Twitter account... like I didn't have a phone. They just buzzed me, yo, I was trending and I didn't know how to use Twitter but my friends kept telling me I was hot on Twitter. When I got online and saw the love I got without anybody knowing what I looked like really just gave me the confidence that you know what, let's give this music a try like fuck every other thing, let's do this music thing properly, properly. That's how I got into music.
How did you shape the sound from "Mamiwota" which has grown into the Oxlade we know now?
So, I think the influences I had were majorly from Wande Coal, Chronixx, Chris Brown, and also the intense choir practice. These things shaped my sound. Also the intake of the kind of people I was listening to back then. I was listening to Michael Jackson, lots of legends men. I am a big R&B guy, I am a big soul singer. So like the majority of the artists I was listening to were literally singers. In my unconscious mind, even if I was listening to their songs or anything, even if I was singing their songs, I found my own for myself. And if you notice the way I sound on "Mami Water" is totally different from the way I sound now, so definitely there is also an evolution in my sound. So, you know, intake of a wide knowledge of music, brought me this far and brought me to this level. And brought me to this sound.
How did you come up with the name Oxlade?
So, Oxlade is actually one of my names. It was given to me by my grandfather, and he used to work at the British embassy. His best friend's name was Oxlade. Coincidentally, I was born the day he died. So he gave me the name in memory of the man. And also due to the fact that my family, the Yoruba tribe generally, bombard their kids with names. I have like fifteen names, my bro. So I was trying to look for a name, I was finding it hard to compile something together so I just decided to choose one of my names. Oxlade.
When did the Epic deal happen, and why did you choose that particular one?
It has always been in the works. Like conversations are always going on. Offers are always coming in but I didn't just feel it was the right time. I was alone for like almost two years. I had offers since "Mamiwota'" and it was my own management, my own label Troniq that has been guiding me since the get-go. They've been the ones handling and holding things down because I've seen people sign lots of contracts with so many mistakes and I didn't want to make that. So, when it was the right time for me to move, I decided to move. It's a dream come through and we are still scratching the tip of the surface, we have not started doing what I want us to do. But you know, I am grateful. I am optimistic about what I can become.
"Ku Lo Sa" is having a major moment right now, what's the story behind it? And do you feel like you're moving into a new phase of your career?
"Ku Lo Sa" is like a lyrical song. I already had plans of dropping my next single, after "Want You." Actually, I recorded "Ku Lo Sa" two days after a very tragic scenario happened in my life. So how I performed wonderfully well, I still don't understand. How people are feeling it, I don't understand, what people love about it, what's so special about it, I still don't understand. But I am really just happy that the love is real and that is all that matters to me. Like, if I had put extra effort in trying to sound better than that, I don't think people would really catch it. I like the simplicity of that performance. I like how God planned my whole year basically. I am happy that "Ku Lo Sa" is making sense, you know, because, left to me oh, "Ku Lo Sa" is not my hardest song. According to like what I make, the kind of music that is coming out from my album, I feel like, Ku Lo Sa isn't my hardest song but "Kulosa" being "Kulosa" amplified everything down to the engineer, down to life itself, down to God's plan. Basically, everything that is happening right now is beyond man's power, I am just grateful to God that I am the one he is using for this experiment.
Image courtesy of Oxlade.
I'd like us to talk about your forthcoming project and the things you have in store.
Definitely, I am itching to drop my album. It is 100% ready. In the next, I don't know, in the space of like one month or two, it'll be out. The album is ready, that's all I've been working on. I have been working on this album for three years, excluding other side projects that I have been doing. Some people don't know, they think it's just a year since he woke up and decided to do his album. The album is three years old. There are some songs in there that are even four years old. I just feel like it is the right time for them to come out. And, the body of work just expresses my pain, my insecurities, my happiness, my experience you know, it's a body of work, not a playlist. Let's just put it that way. And yeah, I am excited to give everybody.
What challenges have you faced over the years? And looking back, how have you overcome them?
So, financial instability is the biggest challenge any man can face in this life. And I am so happy that even if I cannot say I have passed it, I am actually stable to do whatever I want to do with my life. Also, validation in the industry. I didn't come from any godfather, I didn't come from any label, like any household name. I came into the music industry as a nobody, I came into the game as a random guy who knows how to sing and that's it. There was nobody that literally put me on like watch out for this guy. It's from "Mami Water" which was me and Blaqbonez to "Sing" which was me and Fireboy. There was never really like major stuff. My story is like the grace story. I hustled my way to the top. So, I am happy that everything is making sense now. There is no 'who is Oxlade?' anymore. There is no second guessing anymore everything is now moving and I am so thankful and grateful to God for that.
In your own words, what would you say is the Oxlade sound?
I make ethereal music. Ethereal is something that is so delicate, and it's so special. That almost sounds godlike. That's the kind of music I make. I am happy to God that it took me time to find the sound and I am still evolving as I grow with the sound. Like the star is that starting point with the sound. It took me time to even have confidence in this sound cause, there are people who threw me down. They said I was singing too much and the game doesn't require too much, it's lamba and gbedu. I make Afrobeats, I say I do Afrofusion, Afropop.