Watching Patoranking glide through his album listening in his all-black ensemble, you'd nurse the impression that this is a man who has just won the lottery. His smile is a wide curve punctuated by periodic deep laughter mined from his belly. When he poses for a shared photo, he throws his arms around the closest person and whispers into their ear. And as a record from his new album Wilmer comes on, you see him sing along, waving his arms up to connect with the music. His music. His sweat. His vision. His life.

This is a celebration for Patoranking. The DJ kept the playlist hovering around Caribbean sounds, the food was inspired by Jamaica, and alcohol flowed like it came from a spring situated in a corner of the room. All around, the venue was packed with hobnobbing celebrities, businessmen and key players from the Lagos music industry. Everyone who mattered in the city was in the room as cameras clicked away.
This wasn't exactly how Patoranking imagined it. He says he wanted a mini-gathering of stakeholders, but "when I got there I was just like "oh my goodness, this is a party. Okay, let's turn it into a party. Let's just party." And that's what everyone did.
---
Photo: Jonathan Mannion. Courtesy of Patoranking.
Wilmer, the sophomore album from the Nigerian fusion artist sounds like a victory lap. a panoramic snapshot of the state of new-age afrobeat, dance fusion, and left-of-the-dial wokeness. The themes are expansive, orbiting around the human experience, while weaving through topical narratives of love, self-actualization, existentialism and dance. "Black," the most poignant of records on the project, is part-reprimand, part-motivation for African unity. "Nakupenda" embraces saccharine romance, with help from Kenya's Nyashinski and his Swahilian infusion. Fela Kuti directly inspires "Lenge Lenge," which takes form as an afrobeat ode to the African woman. And "Confirm"—the record's commercial crown—is a self-congratulatory rally with Davido which expands on the trappings of financial success and celebrity.

I met the man, born Patrick Nnaemeka Okorie, on a burning early June afternoon in his studio and independent label office. You could tell this was the epicenter of his operations by the extended studio set-up, and his insistent offer to record the interview using his sound system. Seating in the midst of his trusted lieutenants, including a member of his management team who he refers to as "On-Point." his band members and a sound engineer who just landed from Ghana, Patoranking opened up. We spoke about his inspiring rise from crushing poverty—how he moved from petty hawking to packing stadiums—and the journey to the Wilmer album, which is named after his daughter. Fatherhood is his most emotional achievement and a compass to guide his future projects.
Patoranking - Confirm (Official Video) ft. Davidoyoutu.be
How is the reaction to Wilmer?

Well, to be honest with you, I like to keep it 100. I don't lie to myself. The comments and the whole feedback from the album has been awesome. It's been overwhelming. If I had seen 5000 comments, I would say maybe I've seen only three or four saying 'no.'
Whatever they say is cool. It's a blessing for me, I'm happy. This is an album that I had a lot in mind for, and when it came out, it was close to what I was expecting. For me, I don't expect much so I don't get hurt. That's the life I have been living for the longest. But for Wilmer, the album, I was like 'nah, this is different. How Patoranking is being perceived is quite different from just any artist.'
How's your daughter Wilmer?
She is awesome, beautiful.
Why is she such a huge part of the album?
Wilmer, by God's grace came into my life, on August 20, 2018. We were recording the album then, but trust me, in that period, it was my first time having a child and I don't know. You know when you're about to transit from one stage to another. For me, that was a transition from a boy to a man. In that phase, things were funny. I wasn't used to a lot of things I was seeing, so it was negatively affecting the whole creative process of the music. I remember the day she came. I held her in my hands, and it was a different feeling entirely.
Where did this happen?
It was in Germany. Everything changed when I held her in my hands. I remember, I was crying. I've never cried like that for the longest. I can't even remember. I was just crying and I held her tight. You know, I don't know, I was trying to stop the tears, but I couldn't. This was way more than how I thought it was going to be. I was happy. I shared the news with a few friends and family, and I went straight back to the studio and the vibe changed. Trust me, everything changed. When I create, I write with topics. After her birth, everything was just coming to me. What do you want to sing about? Love? It was coming. Dance? It was coming. It even affected the team, the vibe was different.
Photo: Jonathan Mannion. Courtesy of Patoranking.
How did fatherhood alter your personal life?

I moved from a boy to a man. These days, I don't argue too much. These days I try not to talk too much. There's somebody at home, I need to rush back home. I try to stay away from so many things that I was doing before my daughter. It's a whole transformation, trust me. And I love the man I'm becoming right now. I love myself. I like the way I think, I like the way I talk. Before this, if my respect to you was 100, now it's like 1001. If I talk to you politely, if its 100, now it's 1001%. Now I see life in a different form. There is somebody in existence that solely depends on you, you need to understand that. My parents were doing that back in the days. I never understood what it was. But now, not that I don't get what they were doing, but it's now self-explanatory. And we're thankful.
How was growing up in poverty for you?
Growing up wasn't easy. I grew up in Ebute Metta, in a ghetto called Ilaje in Ebute Metta West. I tell people the reason you don't see me make noise on social media or I don't want to talk about a lot is because I know where I came from. I know what I've seen, I know what I've been through. And I don't think I should talk, because from this place, back to where I was coming from, is not even expensive. So I don't want to go back. It wasn't really easy back in the days in the ghetto. Some people hear about poverty, some people live in poverty. We were poor. I was living in poverty, you know, in real life. This has nothing to do with praying. This is real life. You know when you live in a room, just one room, and you've got four siblings, and a mum and dad. Seven of us stayed in that one room. In that same one room, you have the bed. In that same one room, you have space for clothes, cupboard, kitchen and everything. So, its deep.
And as the first child, the orientation my parents gave me was education, God and business as an Igbo. So I took it upon myself that I need to contribute a little quota to the family because I was quite young. I was 12 when I started doing stuff for my parents, selling with my parents. My dad was a petty trader, so I was selling with him. We sold in traffic in Cotonou, when I was 12. Just look at any 12-year-old now, I was like that hawking on the streets of Lagos. There's nothing I didn't sell. But you know the one people talk about online and people laugh about is that I sold rat poison.
Patoranking - Lenge Lenge (Official Video)youtu.be
What else did you sell?

I sold a lot. My mum was making those petty pastries. At a point she was cooking meals. At some point, I sold ugwu (pumpkin leaves) and bitter leaves. At a point, I was selling wallets, bags, hats, calendar. I sold calendar in Lagos and Warri. You know, what again? I was selling juice. You see those people that sell juice in traffic—I'd sell cold juice, soda and satchet water. These were things I was doing because I was the first child in the family and my dad doing it alone wasn't enough. I couldn't wait to become the man. The drive and the strive for greatness were the things that really pushed me forward.
Success was very personal for you?
For me it was a must. Because I can't even tell myself that 'I can't make it', or 'I won't make it in life.' I was there already. It's like you being here, you can't tell yourself you're going back. Where's the back? I was there. So the only option I had was making it and I took it upon myself to succeed the right way. Back then, when I was in the ghetto hawking, people still looked at me like a star because I was still making the music, and I was a very good footballer. So I was loved by literally everyone in the ghetto but I still went out to hawk. I couldn't stop because it was important for my family to survive.
What was the first thing you did the moment you began to make money?
Before I started making money, I took my parents out of the ghetto. With my first hit 'Alubarika', I was playing shows for as low as N100,000 - N200,000 ($280-$550). So I had to take them out first. I took them to a very nice neighbourhood; It was the opposite of where they were before. They loved the place, it was furnished, and they were there chilling. Only my folks knew what I was going through at the time. But when the money came, I simply carried to a new life and that was it. And in my own little way, I've been trying to take people out of the ghetto as well, my friends from the hood.
How can Nigeria be rid of poverty?
I think its love. We don't love each other. Trust me. And the problem is, we still don't understand the power of love. We still don't understand that the lack of love is the problem. See my security man out there, whenever we are working in the studio and they bring in food, he eats here. hat's love. He'd definitely protect me with his life, simple. Look at the big man, look at the traditional kings in the South-South, ruling from the city because they want to drive a Rolls Royce. No. That's not love, they don't love their people. If you love your people, you'd go and rule from your village. From that riverine area and improve it. Even the government don't love the people. Because, if they love them, you will not lie to them. You will not tell them what you won't do for them for the next four years, when you know it's going to take you 16 years to build. That's not love. So I just feel love is a very very big topic that needs to be treated from home to churches, mosques. Those are where changes start from. Home first, you need to talk about love. Because if I don't love you, there is no how I would think you exist. Because if I hate you, you're never in my thought.
Photo: Jonathan Mannion. Courtesy of Patoranking.
Is this what inspired your song "Black"?

Exactly. Black is very personal and it's happened to everybody. A lady at the airport once stopped me from flying because I walked towards her when she asked that I run. She canceled my flight and printed the manifesto. What was her gain? I saw the plane take off, something she would have allowed me to board. At the same airport, someone called me 'proud' because they were intimidated by my dressing. Moving forward, when I have to go to the airport, I always always dress simple, never like an artist. I don't want problems again. You help a guy out, and he will deny it tomorrow. You hustle with a friend, and if you are more successful, he feels entitled and, begins to hate. Your helpers are most likely not in your close circle. They are strangers. It's quite deep for me and I felt somebody needed to talk about it. Falz spoke about it a little in 'Hypocrite' but I just had to take it to the universe. I just had to make it universal.
You did the same thing with "Heal D World"?
Exactly. I wrote "Heal D World" in 2015 and we released three years after. When I was recording it, I was just said Nigerians need to start listening to lyrics, but we know what the market of the street is feeding off from. It's kind of saturated with a very funny vibe. but listen to the lyrics. I said "Take a look round the city...Girls fighting over Gemini and Pisces, every corner.." I was just complaining. I wasn't even saying I wanted to sing. I was just complaining that "Girls fighting over Gemini and Pisces, every corner, its war and crisis. Boko Haram, Al Qaeda and Isis, how come the poorest people are the nicest people. Africa is blessed with too many history, but the way they are doing it is like a mystery." So I was just complaining but in my head when the song dropped, and because I don't want it to look like oh its a cheat. I want people to understand that I'm going to go hard. I went hard. Shot a sick ass visual for it. Very expensive Joey, very very expensive.
Why did you embrace afrobeat on "Lenge Lenge"?
To be honest, you know I don't like people seeing me coming, so every song sounds different. From 2013, since we dropped 'Alubarika,' I've never dropped two similar records. So, for 'Lenge Lenge', I said I want to see myself in an embodiment of Fela. That was the whole idea. I want to do an Afrobeat song. Let me do a real Afrobeat vibe, so when it is played at the New Afrikan Shrine, they will approve. That was what we went for. Big shout out to Coublon and Klem. Klem wrote 'Lenge Lenge'. And when they played the song for me for the first time I'm like 'yo this is it!' So I pictured a Patoranking in that Fela vibe, Fela's look, Fela's image. That's what I had in my head. And that was it. And moreover, I wanted to do something different.
Do you think Nigerians have reduced Fela's legacy to hedonism?
You know, I went to Jamaica and when I went to Bob Marley's museum. I got to understand Bob Marley more. When I see Bob Marley now, I understand why he is Bob Marley. And for me I just think, over here we don't. If Fela was a Ghanaian or maybe from Ivory Coast, we know how we Nigerians would see Fela. So, I just think he deserves more love. This is a time where what we have now, the whole world is coming for it. And whether you like it or not, we have to say it the way it is. The world is not coming for Juju. Not that they don't know that there is Juju music because they can read and conduct research. The world is not coming for Galala because they know Galala is close to dancehall. The world is not coming for Nigerian gospel because they've heard it in South Africa. They are coming for a particular genre that is untapped. So Fela Kuti owns all the attributes. I don't think I want to believe that he's been fully stripped down, even though it looks like that. If we want to do Fela thing, make we do am well. That's just the word.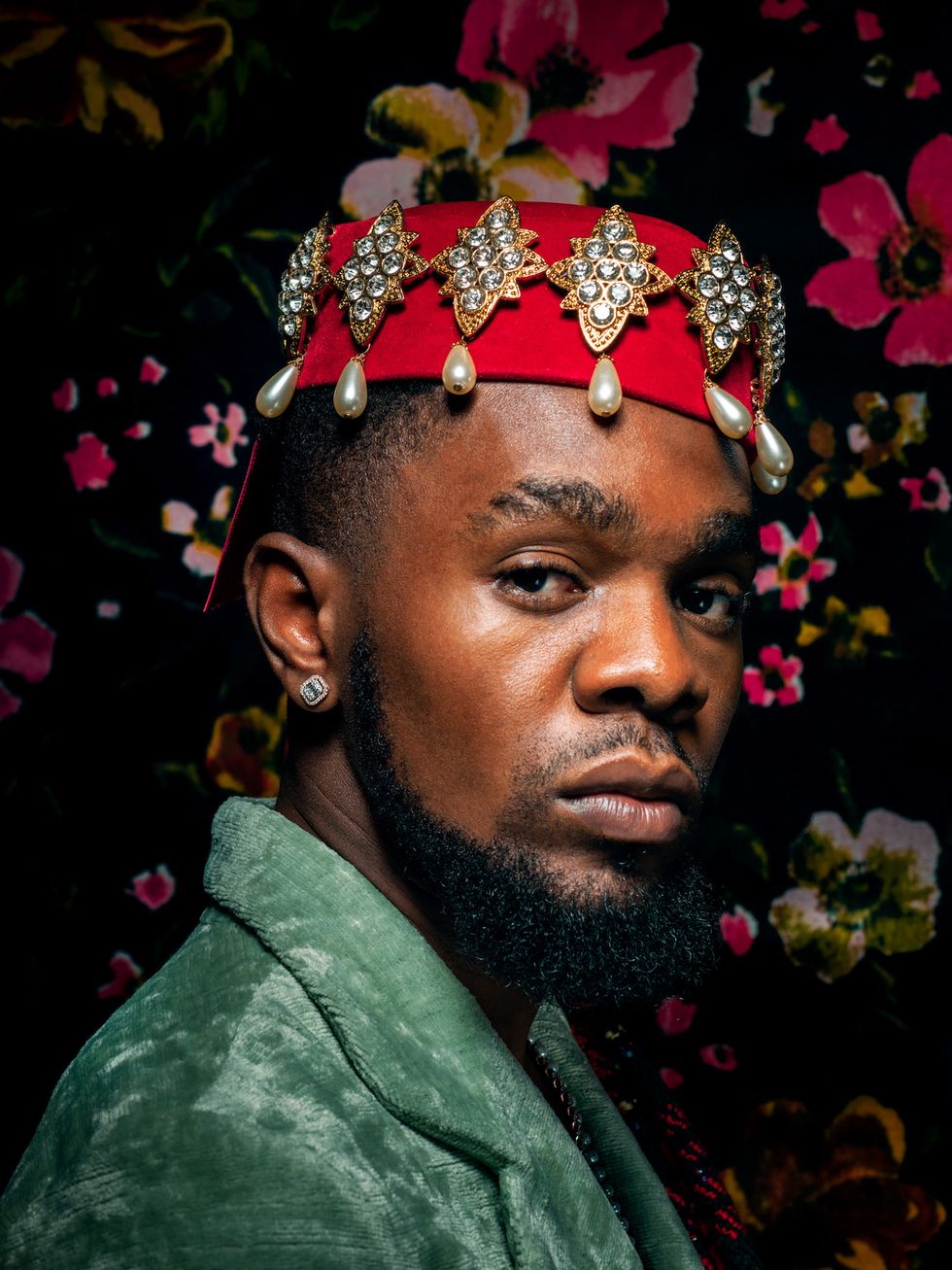 Photo: Jonathan Mannion. Courtesy of Patoranking.
You've been working with Bera a lot. How did you meet him?

That's my brother. Funny enough, Bera met me. He came for me, you know. My manager called me and said "Pato there is an artist that wants to work with you." This was in early 2018. He saw 'Available' and he was like 'who is this guy?' He reached out and said he wanted to do something with me. So I checked him out. I got attracted to his voice and look. The guy has a sellable look and he can sing. He sings in French and in English and I knew he was good. I'm gonna jump on the record. Let me hear the record. And we had to wait for a while because the middle person was just on and off. We recorded a song. I went to Georgia his country, we met, we got talking, and music brought us closer. So we've been sharing ideas, trading ideas and doing stuff. He's a great guy.
How about the single "Confirm"?
You can relate a song like "Confirm" to "Alubarika." And you can relate it to the album title Wilmer. Because a lot of people are working. For example, when I sang "Alubarika," I was still in the era of nothing. And with faith I said, "when I move from nothing to something, that was my story, everyday we are popping something, we give God the glory." Because i believed everything was going to change. When I sang the song, I had the song for eight months before I released it. Even in that space of eight months nothing had happened. The only change that came is that we shot the video in eight months. So, for "Confirm" I was just praying that this is how it would be. Confirmation season confirm, if you're doing Oil & Gas you would confirm, market woman, you know, higher higher in life would confirm. It's a prayer. There's no two ways about it. When I woke up this morning the first thing that came to my head is I want to make this money. And when we wake up in the morning, the first thing that comes to our head is studio, office. So what are we doing? We are all paper chasing. We want to make money and that's it for 'Confirm'.
Why did you name your daughter Wilmer?

Wilmer, the meaning of her name is 'famous' in German. I want to be famous and when she comes here, she is loved by everybody. I want a fame that comes with love. that's just all I told God. Wilmer. That is the album. I swear. There is no attachment of my daughter, I need people to understand that. Fine it's my daughter, it's her name but this is what she represents. I want a fame that comes with that. Fame comes with a lot and for Patoranking, everything he has said has happened. I remember telling myself: "Thank you lord for putting me on international stages." And I found myself doing shows, touring with Lauryn Hill. We did Chicago, I was performing, singing who did I see? Chance The Rapper. When I said "Thank You Chicago, God bless you. My name is Patoranking and I came from Nigeria representing Africa, Thank you very much." Just for me to walk this way, who was standing there? Kanye West, So, for me, everything I've said has happened; how I want to touch lives, how I want to make people happy. I want to see people smile. those are the things that give me joy. And I've been doping that heavily. So for Wilmer I just had to go that route because I can't think of any other thing.
What are your next steps?
By God's grace, putting Nigeria and Africa on the global map. You know, the album says it all. Wilmer. I told you what it means. Fame. But then my daughter, love. So, those are my prayers. When they start happening next year, don't be surprised I said it this year. We have a proper world tour coming. The last time I was in the States was 2015. So it's almost four, five years now. The last time I was in Europe was two years ago. The last time I performed in the U.K was three years ago. Not that we've not been getting bookings, but we want to give them something that they would always look forward to for the next one. We want to try to build a very good catalogue. So now i'm going on stage it's very different. You have the band, you have the music, you have the time. You have me doing like 2-hours set and you're enjoying your money. We just have to do what we have to do.