---
The final week of July saw South African PHFat's Smooth Mike, Disco Izrael and Narch release their very first 17 track full length entitled Happiness Machines-- a perfect amalgamation of rumbling bass, laser-like sounds and sparks-flying, metal grinding intensity that is true PHfashion. Here are just a few tips that might warm you to PHFat's endeavors if you happen to have somehow failed to notice the country's ever expanding reach in electronic music.
Best Enjoyed Loud, Hard, & Live: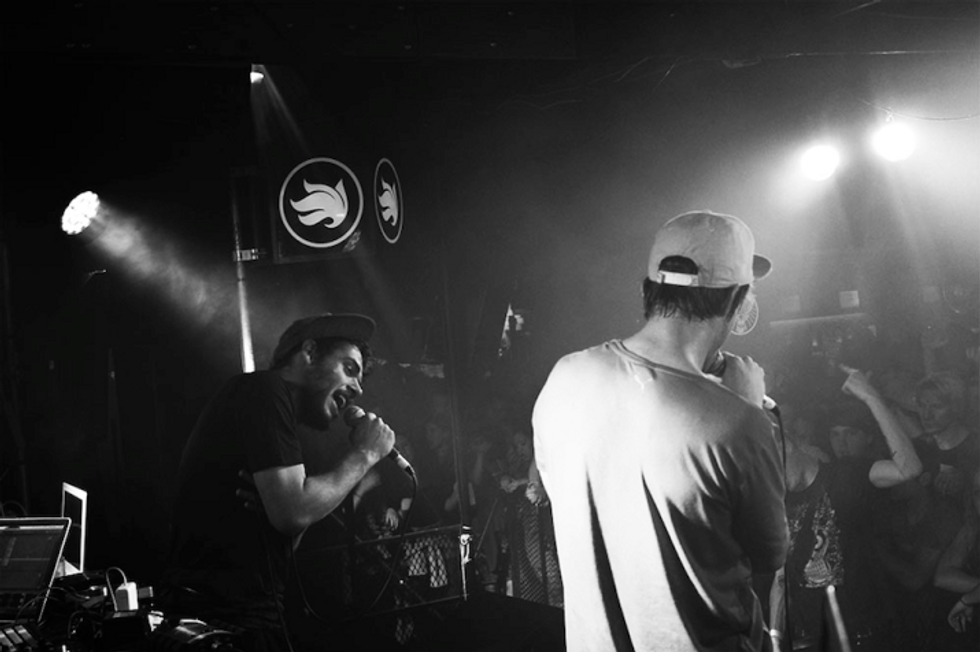 *Cape Town Album Launch at The Assembly (Image by Silas Lekgoathi)
As part of their "coming of age" album's launch, the guys have organised a number of events over the coming months, two of which have already happened in Cape Town and Pretoria. The Assembly saw Cape Town douse last Friday night in a lot of complimentary Jagermeister, acquiring the Happiness Machines merch and anchoring ourselves to the nearest pillars, as the sweaty moving masses left little room for much more. You see, PHFat live, as opposed to PHFat via those cheap headphones that came with your smartphone are two completely different creatures, and should be treated as such-- Cape Town knows this, with the queue snaking around the corner as the litmus test to their success. The launches included the best in local electronic beat freaks, such as Felix Laband, Seafood (Card on Spokes and Dank) as well as Damascus and Wildebeats on one of the most crisp of sound rigs available, thanks to Golden Circle. This is music that is best enjoyed loud, hard, and live.
Official Jozi Launch: Grietfest - 31 August
Official East Coast Launch: Port Alfred Boat Races - 7 September
Official Durban Launch: Durban Electronic Festival & Music Conference - 21 September
See Their Visuals:
Travys Owen, video director of the first single "House of Clashes" captures the trio's sentiments perfectly. Also having leant his high quality ingenuity to Petite Noir's "Disappear", Owen is humble guy with a healthy creative appetite. In an eery, death stained feel at the helm of what is yet to be seen from the album, Travys shared his thoughts with us on the video itself and what's to come... "I have been looking to do something like this for quite some time... This track let me explore this way of filming, and I think overall we are very happy with how it looks. There is talk of a sequel but let's wait and see!" The CD available for purchase and the illustrations on the site are fantastic contribution by illustrative designer Jason De Villiers. who has worked on everything from Poppa Trunks to the Sunday Times. Words would not do the man justice, so download yourself a wallpaper while you're at it.
DIY Electro-Rap:
What Disco, Mike and Narch have managed to accomplish is the ability to use hip hop devices without letting the spring-to-mind nature of the genre define their sound. With a well curated collection of tracks that go from dark, cantankerous and sexy "House of Clashes," to the tasty "Snacks," to a playful collab with Christian Tiger School's Luc Vermeer under the moniker Desert Head, to the musical palate cleansers like "Butterfly Stroke" and "Junios," this album is an all-round winner. After scouring the country for the analogue synths that would give the album the edge it needed, the boys have truly outdone themselves on this one; the self-manufactured sounds lend to their need to be completely independent of the outside influence of a record label, into which Disco and (the aptly named) Smooth Mike plant their rhymes with deliberation and unmistakable flow. Having maintained their quirk but seasoned their skill, the DIY nature of this album (available for free on the website) is stellar. Buy the album and you'll be treated to a limited edition 17 page booklet of badass design also tended to by Mr Izrael himself.