---
Earlier this month African cables were buzzing with a diplomatic bru ha ha between two powerhouses on the continent, Nigeria and South Africa, when 125 Nigerians aboard Nigerian-owned airline Arik were refused entry into Johannesburg and deported due to concerns from South African authorities on the "validity" of yellow fever vaccination cards. Not to play up on clash of the titans but on a more fashionable March Madness note, Johannesburg and Lagos both hosted high-profile "fashion weeks" during the SAME week in March.
The Johannesburg Fashion Week announced a new crown sponsor, lauded and reputable Mercedes-Benz, and a new home at Hyde Park, a wealthy suburb with a luxury clientele. Often criticized for being a spectacle, the Jozi fashion week has matured in the business of fashion with promises of local and international exposure and what all fashion designers need, a return in investment; buyers, buyers, buyers! The Mercedes-Benz Johannesburg Fashion Week took place from March 7th to 10th featuring 27 South African based talents. See Kate Bomz's fashion picks from Johannesburg below:
* Mercedes Benz Fashion Week Joburg 2012 #MBFWJ
Photo Credit: Simon Deiner/ SDR Photo & Africa Fashion International
Arise Magazine, Nigerian-owned and the only African outfit to continuously showcase African design on the world stage at The Mercedes-Benz Fashion Week in New York announced its second fashion week on the continent in Lagos featuring  77 designers spanning  from different African countries; think Botswana, Eritrea, Mozambique - even the Caribbean, St. Lucia, Jamaica, Martinique, and India! The African Diaspora inclusive, world inclusive, and continental inclusive extravaganza Arise Magazine Fashion Week ran in Lagos from  March 6th to 11th. See Kate Bomz's fashion picks from Lagos below:
*Arise Magazine Fashion week #AMFW
Photo Credit: Kola Oshun/BellaNaija & Arise Magazine
Also digging these individual pieces spotted in different collections at #AMFW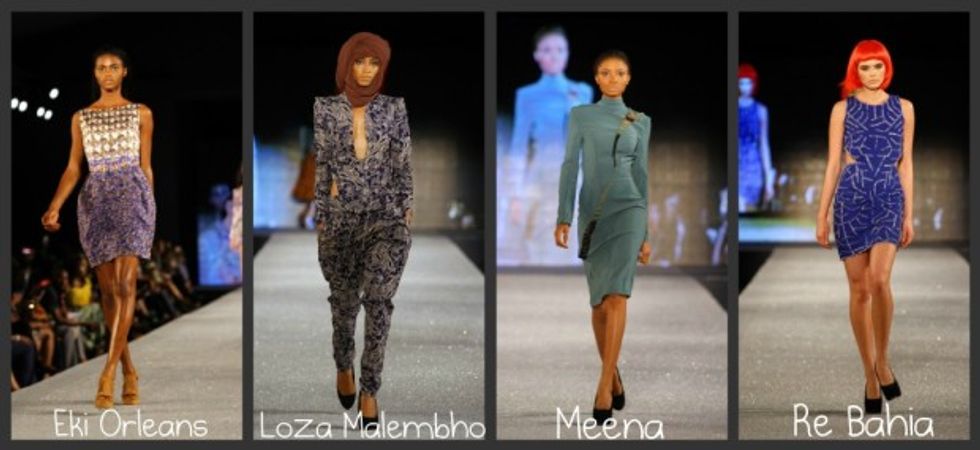 On an eco friendly note check out (yes, independent of both fashion weeks) the cutest, quirkiest latest release from eco fashion award-winning, Tanzanian designer Chichia London in collaboration with Made By Africa below.
"Chichia for Made by Africa SS12 collection is a range of ethically produced high quality garments using a combination of cotton blends and locally sourced organic cotton jerseys with African printed cloth that brings new life to the perception of everyday basics."
For more on African designer's departure from tired cliche's, read Hannah Pool's piece in The Guardian "African fashion is about more than zebra print" here.