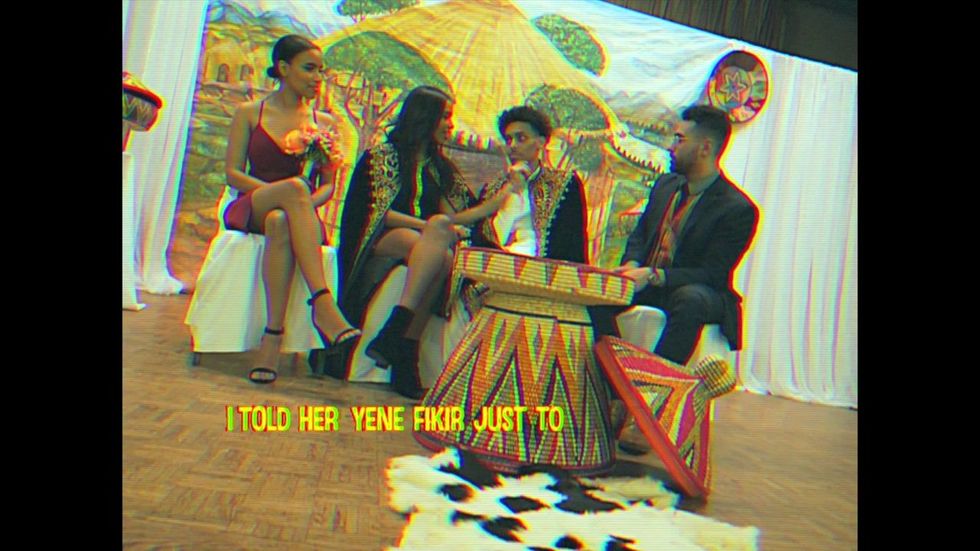 Ramriddlz, another incarnation of the Drake-sponsored Toronto sound ting is back with the visuals for "Habaesha."
What up, it's your resident Ethiopian, known by the cashier at my local Walgreens as The Weekday, here to discuss this new video that just hit the internet.
---
Ramriddlz, another incarnation of the very, very popular new-wave Drake/OVO sponsored Toronto sound ting—that combination of trap, dancehall, R&B, sugar, spice, poutine, and chemical X—is back with the visuals for the track "Habaesha."
The title seems to be a play on the term Habesha, a word for Ethiopians and Eritreans, and Bae, which according to Urban Dictionary, is the danish word for poop and also a slang term for your significant other that, if I'm not mistaken, stands for "before anyone else."
The catchy dancehall influenced track, which was produced by Jaegen & Krs., is upbeat and sunny with some Spanish and Amharic words thrown in. The song is about, surprise, an Habesha women and how she is very beautiful, has soft skin, is from the East End, slim waist, thick, doesn't need collagen in her cheeks, and is hot like cayenne. He also, in an unexpected and shocking plot twist, rhymes Habesha with "bad bish uh."
The grainy visuals follow master riddle maker Ramriddlz and his band performing at an Habesha wedding. The music is playing, the drinks are flowing, tis litty, as the children say.
Ramriddlz, who is of Egyptian descent and from Toronto, first caught significant attention with his track "Sweeterman," which Drake covered, propelling Ramriddlz into the spotlight. He's released two projects, P2p in 2015 and Venis in 2016.
In the video for "Habaesha," homeboy struts around doing a struggle eskista, calls the bride "konjo" and asks about "bailando" which, by demonstrating his command of simple phrases in other languages and limited dancing capabilities impressed homegirl.
"I told her yene fikir just to dick her," he sings, which upon my first listen to the track, sitting alone in my living room, I yelled "Besmamwoldomenfuskaduss, amen!" and furiously snapped my fingers at the air. Yene fikir, for those of you who don't speak Amharic, roughly translates to "my love."
The sneaky riddler then proceeds to serenade the newly married women as her husband, a miskeen Habesha dude, sits there, stunned at his misfortune, shaking his head, the love of his life, literally snatched away by the dashing casanova Ramriddlz.
What did this nigga do for his future wife to leave him with such nonchalance? Did he cheat on her with a white girl? Does he not identify as Black? Is he an ardent supporter of Trans-Rachelness? Does he have mixed feeling about Drake? Is he from the West End? Is the riddle master's eskista better than his? We may never know. What we do know is that the riddles proved too ferocious and appeared with too dizzying a speed for this Habesha marriage to last. It was doomed before it even began.
Kendrick Lamar, on his new album DAMN., repeatedly asks who will pray for him. It seems we should instead be asking who will pray for homeboy whose fiancé/wife just left his ass on a whim at their fucking wedding party. I will be starting a GoFundMe page for dude. Please give what you can to help homie through these hard times and to fund his forehead reduction procedure and hair transplant surgery that he will undoubtedly need in the near future because he is, after all, East African.
Ramriddlz and Jaegen are on the last leg of a European tour. It goes without saying, you probably shouldn't bring your "Habaesha" significant other. Anyways, peep the video above and pray for homeboy.