In April, one of South Africa's most potent lyricists, Reason, released the first single to his then-upcoming sixth album Azania. The Swizz Beatz-produced track of the same name was to set the tone for the album.
"Azania" is somber, and in it the lyricist speaks about poverty, drug abuse and unemployment, among other ills faced by black people in Azania (South Africa).
---
He raps:
"Let me remind you who I do this for/ My nyaope homies at the corner stores/ Getting less from addiction but always ask for more/ Just for a taste of them living above what's going on/ 'cause they fit in the system that everyone belongs/ They see you pull up in Germans when you be at the mall/ See, they have never been driven, so they help you park"
Towards the end of the song, he reflects on his own life, from the tricky ways of the game to his love-hate relationship with it. He speaks about his ambitions of bettering his and his family's lives, and appreciates his kids and his bae:
"So let me remind you what I do this for/ To get my mom a crib in Ballito/ Farm in Magalies for my papito/ While making money with my little bro/ So little sis don't need no other man to give it to her/ Getting shows all around the globe, getting known/ Uploading posts from the greatest places ever known/ My little son and daughter with me when I'm back at home/ Before I zone with my my tall Xhosa yellow-bone."
Azania, the album, which dropped last week, was built around the single. Most of the songs on the project are an extension, if not a reiteration, of the sentiments expressed on the single, which features legendary jazz artist Sibongile Khumalo.
Speaking on the subject matter of the then-unreleased project, Reason said in our interview in April:
"There's a world of people out there that need to be reminded why they need to get up and go and fight and be entrepreneurs slash monsters. Because this is the Africa that we live in, being black is not easy. So we always have to stand up and fight and loosen up the circles. As you go into the album, there are other subjects where we talk about the ballers in Africa, clubbing in Africa, self-medication… a whole bunch of things."
Reason - Nkosi Yam' (Official Audio) // Azania albumwww.youtube.com
Two themes that stand out on Azania are Reason's faith and sympathy. The song "Nkosi Yami," which comes after the intro, covers both themes. In the song, which is as overtly Christian as "ReDefinition," the opening song to his fourth album Audio ReDefinition (2016), Reazus thanks Jesus Christ for "the blessings" and keeping him in the game. "Got me out the bottom/ took me to the top and gave me just enough to keep the summer covered/ just for now and any other summer coming," he raps in the last verse.
He then goes on to question his fellow believers:
"Chillin' in church and I had a thought/ Do all of y'all followers of God think about him when you in a club?/ Or talk about him when you getting drunk?"
Calling out is a thing Reason does several times on Azania. He holds up the mirror to his fellow rappers and fellow believers in what is one of the most definitive lines on the album. On the same song, he raps:
"Mina I'm tryna get mama red bottoms 'cause in the churches they flex too/ I've seen a pastor with the presidential, Rolex and the Benz too/ Screaming out God bless you, you can live like this, too/ But then the brother I was next to didn't have enough to get fruit/ I ain't taking shots at anybody I'm just talking to you about some issues/ That you won't hear from any other rapper, 'cause they busy tryna out-flex you"
A sentiment he echoes on "Azania":
"There's people going through pain that may be due to loss/ And we just talk about gains like Planet Fitness does/ Surely these rappers got brains, but do they got the heart?/ You can admire these kings, I choose to look at God."
The rap game is crazy. And Reason has expressed his uneasiness towards it, for instance in the song "The Soul: My Ugly World" from the album Audio High Definition (2014). While in the aforementioned song, he was wrestling with the life of being a rap star, on the song "Lying," from Azania, he goes at his fellow rappers for being pretentious:
"Taking shots when you rhyming/ See each other then you quiet/ 'Cause all along you was logging onto your timeline, you were childish/ Why is everybody lying/ Why you think we never vibin' 'cause all you/ motherfuckers lying"
Reason feels the richer rappers become, the more they neglect the harsh realities of their audience, which is why he uses a clip from a Hugh Masekela concert, in which the late jazz legend reminds artists about the importance of singing about the struggles of their audiences.
"The time has arrived for us to restore the best elements of our heritage back into our lives to relearn and reteach our own languages and history to our people and the rest of humanity," opines Masekela in the repurposed clip.
Azania does all that. Reason continues to incorporate more indigenous languages in his lyrics, and his guests—Kid X, Kwesta, PH Raw X, Nelisiwe Sibiya and Mr. Beef complement him. He gives a mini history lesson on the song "Cashless Society," which features a vicious verse from Ginger Trill. The two MCs trade bars about the repercussions of the Group Areas Act, the Natives Land Act, and other effects of apartheid that still affect black people in South Africa.
Ginger raps, "At the bottom of the crab bucket that we call society/ Hospitals got no cash, cop station… no vans/ Skater kids got no Vans, skater parks got no ramps/ Thugs hang around and gang bang/ Kids caught up in a crossfire over turf wars, gangland."
"10111" tackles the cancer of police brutality, with Reason questioning whose side the police are on:
"Shiver and fear as soon as 'em mgatas appear/ If they only here to serve and protect, I find it all weird/ How it also gotta result in everybody being scared?/ Makes you wonder who suffocates when there's some shots in the air."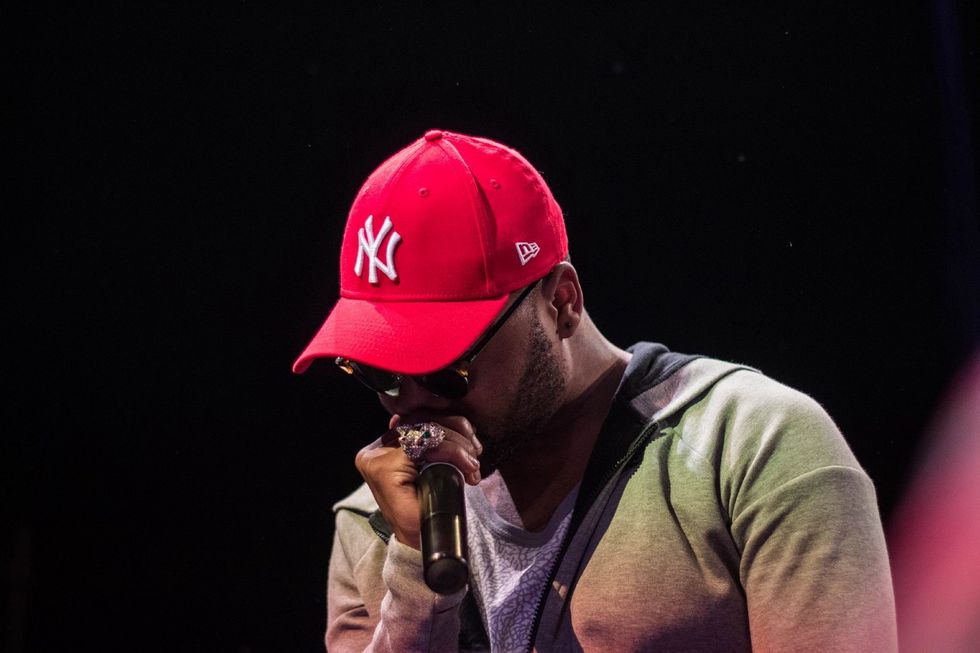 Reason. Photo by Sabelo Mkhabela.
Sticking to the theme of Azania, and restoring elements of our heritage into our own lives, as Bra Hugh says in the clip that introduces "Azania," sonically, the album has touches of "African sounds." Sporadically, you'll hear percussions and marimba keys co-existing with those groaning 808s, synths and pads. A good example is the Mick Jenkins-assisted "Champagne and Water," which is built on bongo drums. The rappers wax poetic about striking a balance between worldly things and what the soul needs—water, which, if you are familiar with Mick Jenkins, you'd know signifies purity of the heart and soul. Or something. "Bag Dat Happiness 4 Sale" is about our tendency to turn to materialistic things and vices when we are feeling empty inside.

In between all these pressing topics, Reason takes some time to give us a window into his personal life, one of the MC's strongest traits. Assisted by the singer Una Rams, he lets us in on a steamy moment on the song "Home Alone," raps about parenthood with Mr. Beef and PH Raw X on "4 The Kids," and macks on "Byela Mina." He exchanges some bars with fellow East Randers Kwesta and Kid X on "O Suna Mang," and speaks on the extreme sport of striking a balance as a rapper's rapper who still needs to make accessible songs on "Banani MaVoko." The song, which appropriates a hook from the late kwaito legend Mawillies' 2002 hit "Gagu." Reason raps about finding himself distant from rap dudes he was close with at a point in time. He traces his journey
The lines, "Everybody asking for some deep shit/ Everybody telling me they need this/ Back when I was on it, they was beefing/ Soon as I was shallow, they was tweeting," speak to longevity—which as we've seen many times, is tricky for artists, especially rappers.
Reason must be doing something right in that department. He might not be on every pop chart show, but he has been able to serve his fanbase properly.
It's his ability to document feeling, spit technically correct raps, and do his best to keep up with hip-hop's current styles while still maintaining his essence. Or maybe it's because, unlike many mainstream rappers, every now and then he remembers to speak to you by sympathizing with your struggles.
Download Azania here.