Music
In Conversation with Reason on His Collaboration With Swizz Beatz & Sibongile Khumalo
"It's about telling a different South African story than the one everyone is telling right now."
South African rapper Reason is working on his sixth studio album called Azania, a follow-up to last year's Love Girls.
The album's first single just came out and it features legendary jazz artist Sibongile Khumalo and Swizz Beatz who also produced the song.
Lyrically "Azania" is intense, which is what we've grown to expect from the lyricist. Reason talks about poverty, unemployment and all ills and how rappers choose to ignore all that.
---
He raps on the first verse:
"Let me remind you who I do this for/ My nyaope homies at the corner stores/ Getting less from addiction but always ask for more/ Just for a taste of them living above what's going on/ Coz they fit in the system that everyone belongs/ They see you pull up in Germans when you be at the mall/ See, they have never been driven, so they help you park"
Just like a majority of Swizz Beatz beats, this one also comes with a hook. Mama Sibongile Khumalo sprinkles some soul on the chorus.
"When I got the music," says Reason in an exclusive interview with OkayAfrica, "I was pretty happy with Swizz Beatz being on the song, but I needed something more special. Because the direction of the song was going to a place where it couldn't just be a rap song. I felt like a bit of musical integrity needed to be thrown in on it. I think Mam' Sibongile was the perfect Aromat to kinda take the song to that level. Especially as a wise woman in the community, her words for me were quite important."
"Azania" isn't your typical South African hip-hop single. It's somber and takes itself too serious to be the entry point to an album especially in South Africa. Asked why he chose the song as lead single, he says it sets the tone for the album, and is the opening song.
"I think having Swizz Beatz and Sibongile Khumalo on the song is a fucking big deal," he adds, "A big deal that needs to be thrown into people's faces to celebrate and uphold. Here is a mixture of mentalities, ages, environments and cultures, coming together and telling one story."
Speaking on the album, Reason says:
"There's a world of people out there that need to be reminded why they need to get up and go and fight and be entrepreneurs slash monsters. Because this is the Africa that we live in, being black is not easy. So we always have to stand up and fight and loosen up the circles. As you go into the album, there are other subjects where we talk about—the ballers in Africa, clubbing in Africa, self-medication… a whole bunch of things."
On the subject matter of Azania, he says:
"I think as a South African artist, my mission was to try and make a South African album. Politics being part of the conversation and some of the things that happen in society, they are part of it. But this is just one of the many different colors that represent South Africa. The direction of the album is telling a bunch of South African stories that have been seen and experienced through mine and other people's eyes. There is a South Africa that goes to club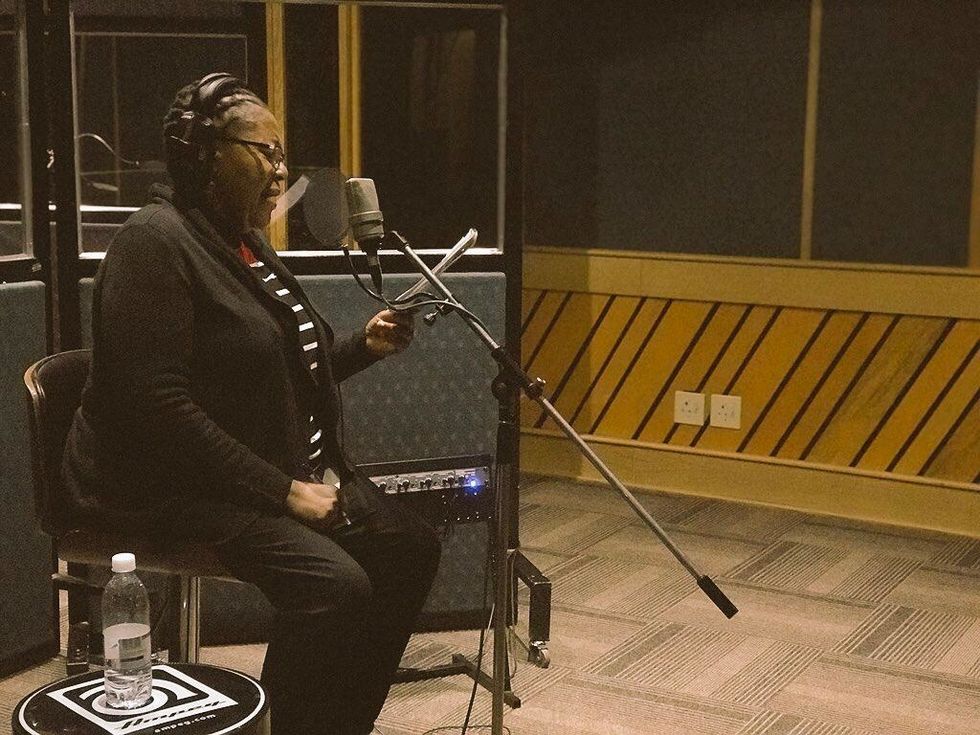 Sibongile Khumalo in studio. Image supplied.
s every weekend, that pops champagne, and is balling. But we can't all represent that in the music. We can't all be that because not everybody in this world lives like that. I chose to tell my people's stories to the world, both rich and poor, happy and unhappy. It's about telling a different South African story than the one everyone is telling right now."
Listen to "Azania" below: