---
The very same young man who turned listeners into fans with "Sangria" a year ago, recently scored feature album of the week on Australia's top radio station Triple J. Yes, Nigerian-Australian rapper Remi and his longtime collaborators Sensible J and Dutch are about to release their latest offering, the deliciously bassy, sample-heavy Raw x Infinity. In the lead-up to the album launch and with an Australian tour set to kick off in late June, Remi chatted with us to shed a little light on what's been good down-under.
__________________________________________________________________________________
Shiba for OKA: Let's start from the beginning... how did you three meet, and how'd it come about that you'd want to make music together?
Remi: Sensible J and Dutch had been working together, producing beats for three to four years before I'd met them. When I first started rapping I was working retail with J's girlfriend. One day she played their beats over the speakers and I lost my mind. Not long after that I went to J's house and met him. We've been working on, and putting stuff out on our bandcamp since then.
OKA: Some of your family members are of African descent. How does that influence your lives culturally, and especially musically?
Remi: For myself, having a Nigerian pops has been character building to say the least! But musically, I've been surrounded by afrobeat since I was born, to the point where Fela was just some annoying shit that played in the background at family get-togethers. I didn't really understand it as a kid, but growing up and making my own music, I've realised that it is mah fuggin genius! In that sense I'm super thankful for my up-bringing.
J's family are all originally from Cape Town, South Africa, migrating to Australia in the 70s. His folks were in a band when they met, and there's always been musical instruments around the house, which I guess helped him catch "the bug." Also, playing him original music from Africa opened his ears to what else is going on around the world, musically, hence some of our "interludes" are quite heavy with the afrobeat rhythms. Dutch, was actually J's neighbour when they were growing up, so maybe he caught some of the culture through J's family!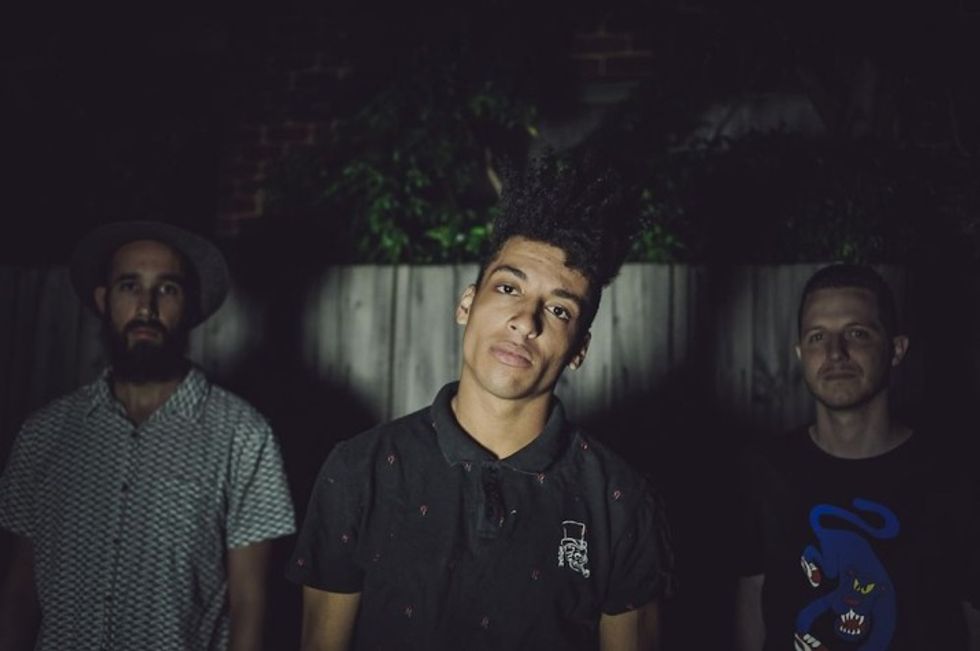 OKA: What are some of your influences/favourite acts past and present?
Remi: Here we go... Stevie, J Dilla/Slum Village, D'Angelo, Radiohead, Fela, Common, Mos, Madlib, Jay Electronica, Oddisee, Karriem Riggins, Guilty Simpson, Flying Lotus, Avalanches, Erykah Badu and we hope it's not too cliche but The Roots and in rap, Black Thought. To the point where we actually did a track on our first album called "Tribute to Tariq Trotter!"
OKA: So you've already dropped a video for "Livin'." What's your philosophy in life and what has it been like, looking back on what it's taken to get this far?
Remi: In the least douchey way possible, being happy man. You've got to be happy in what you're doing, and all of us find that happiness in our music. Don't get me wrong, music is one of the hardest industries to be successful in no matter how much you plot and scheme, practice etc. but once all the bull dust settles, we're all 100% happy with the music we make no matter how it's looked upon by the masses. That means everything, no matter what field you're trying to excel in.
OKA: "Tyson" also just came out. Tell what creating that was like.
Remi: You know when people say you're doing it for the love? It really felt that way with this clip! We shot the whole thing in a day, and I'm super unfit, so all the training stuff was RAW!!! I also got punched a fair bit (I won't give too much away), but all the hits were legit, so the day after, I was pretty beat up. Totally worth it though haha. Everybody did a killer job though, Sensible J is super... well sensible, so he had it pretty easy. Dutch on the other hand really stepped it up, as it's rare to see him skipping down pathways, burning incense with beads around his neck.
OKA: And Raw x Infinity? What can expect when the full album drops?
Remi:Raw x Infinity drops 6th of June, available on both iTunes and bandcamp. As for its content, we did it for music lovers. It's very eclectic, jumping from straight hip-hop samples that've been chopped to shit, to afrobeat, to electronic. I know the guys are heavily influenced by Dilla's "The Shining," and the way it combines live drums, samples and keyboards. This kind of SHINES through on our record... (we love dad jokes) Vocally the aim was really just to cover all spectrums, and reflect the stuff I and the team go through on a daily basis. Stuff like race, drugs (and their effects), how we're told to live, chilling out, being unphased by others' opinions and of course, rap just to rap!
OKA: How are you feeling about your upcoming Australian Tour? Nervous, excited, both? What are some of the other places you'd like to travel to?
Remi: Honestly, we're just hoping for a solid attendance, as we don't really fit the "Hip-Hop" mold in Australia, and our new stuff may be a little challenging for the masses. However we do have some forward thinking fans so hopefully that will out-weigh the "What the fuck is this?" factor! So basically we're both nervous and excited, because it's always dope to perform to people who appreciate your stuff! The dream is to be able to get well known enough to play some shows in Africa! I know I've got some family in Nigeria who reckon I should come through, and we heard Hiatus Kaiyote had a blast when they played at the Cape Town Jazz Festival! Apart from that we're hoping to get to Europe at the end of the year, and possibly the U.S. so keep your fingers crossed and eyes peeled!
Look out for the 13-track 'Raw x Infinity' to arrive on bandcamp and iTunes on June 6th