Finding artists with pure and unique talents that set them miles apart from their peers is one of the joys of music journalism. Unearthing hidden gems right on the cusp of stardom rekindles our excitement for the future of music.

One of these new gems is 26-year-old singer, rapper, songwriter and Def Jam Africa signee, Bokamoso Kgomotso better known by his stage name Ricky Tyler. The South African artist has been on the rise since his breakout single "Deja Vu," a heartfelt pop song that introduced him to a mainstream audience. He also reached the final stages of Afropunk's Battle of the Bands.
Early last year, Ricky signed to Universal Music Group/Def Jam Africa and released his debut album, Small World. The 14-track project, which features Alpha P, M.I Abaga, Harvey and KLY, went on to be a major success with hit singles like "Thirty Ks" and "Peachnut."
We caught with Ricky Tyler and spoke to him about his musical journey from childhood, signing to Def Jam and his love for Donald Glover.
---
Tell us about growing up in South Africa and your early inspirations.

I was born in Spruitview, grew up in Edenvale. I'm what they call a '94 baby, in other words, I grew at a time just after apartheid ended. I attended a public school that was multinational so I was blessed to be able to make friends from all races. I learned a lot about different cultures and ultimately how to respect each and everyone's way of living. My mom was a single parent so I looked to her for strength a lot. I loved a bunch of different things growing up as a kid. I fell in love with sports, had a secret passion for chess.
I initially started off dancing, I got into acting and now I do music. When it came to school though, I was an underachiever. It used to affect my confidence a whole lot when I was one of the kids failing in school. When I realized I had talent and love for entertainment I used that to build my confidence. I believe we should always focus on what brings out the best in us. I have an older brother who exposed me to the likes of Notorious BIG, 2 Pac, Bone Thugs, Eminem, Snoop Dogg early on. He was such an old school hip-hop head and he even exposed me to Lauryn Hill, K-Ci & JoJo, Seal, Michael Jackson, Mariah Carey. So, I became a big fan of the '90s era and you can definitely hear it in my music.
Then slowly I started getting exposed to Lil' Wayne, Drake, Kendrick, ASAP Rocky, Usher, Neo, Chris Brown, Justin Bieber, Frank Ocean. So, there's a whole lot of music in me I'm still waiting to share. There were some tough moments in my life growing that taught me strength and patience. Music allowed me to heal and express what I was going through. I also used music as a way to get to know myself better. Vulnerability is a strength in itself. There is still so much I need to share but one step at a time.
Image courtesy of Ricky Tyler.
When did you know you were interested in music and how did your music journey begin?

If I remember correctly the first time I realized I wanted to pursue music is when I sat in a studio for the first time with some friends who are artists and producers. I watched them start to create some dope records and I fell in love with the whole creative process. I would listen in on each melody laid down and every lyric written, but something in me always felt like it could be done better. The ideas they were laying down could be executed better. I just never said it to them because I knew they wouldn't listen to me. I guess when you're not necessarily in the same game people don't take your opinion that seriously. But I learned to listen to my audience. I think that's one of my strengths. Just being open-minded I would say. But yeah, that moment is when I made a conscious decision to pursue music at some point.
How did you find your sound and voice in music? You also rap and sing, why did you decide to do both?
Well, I like to believe I don't have a very distinctive sound, or rather I haven't yet fully found a sound that I believe is unique to me but I'm working on it, I'm always trying new things. Music is never one-sided to me. I like expressing myself in all kinds of different ways. I think the best way I would describe my sound is a fusion of old school R&B and new school R&B with elements of trap, pop, hip hop, and some rock in it. So a little bit of everything but the front seat is R&B. I decided to do both singing and rap because I love both. Like I said I'm a big fan of both and naturally, I go when the song feels like it should. If it feels like there's a moment for a rap verse I'll just write it myself and the same goes for singing. I'm somebody who likes to channel every part of me in music. I don't believe we should only express ourselves in one way. Makes the approach less interesting
Take us on your journey of dropping your first single in 2016, and how your art grew from there?
My first single in 2016 was the first trap-soul record I put out. It was the first time I showed a more soulful side to myself. I realized I wasn't showing casing enough of that side so I wrote "Swerve" produced by Playground Productions. It was also the first song where I decided to be very open about my tragic love stories. The response was beyond what I had anticipated. People wanted more of this side to me. How I grew from there is I began to experiment a lot more with soulful music and realized my strength lies in music writing about love experiences. Also, I feel like when you're experimenting with different styles of music you find a way to add your own flavor to it, and through that, you craft a sound that's unique to you.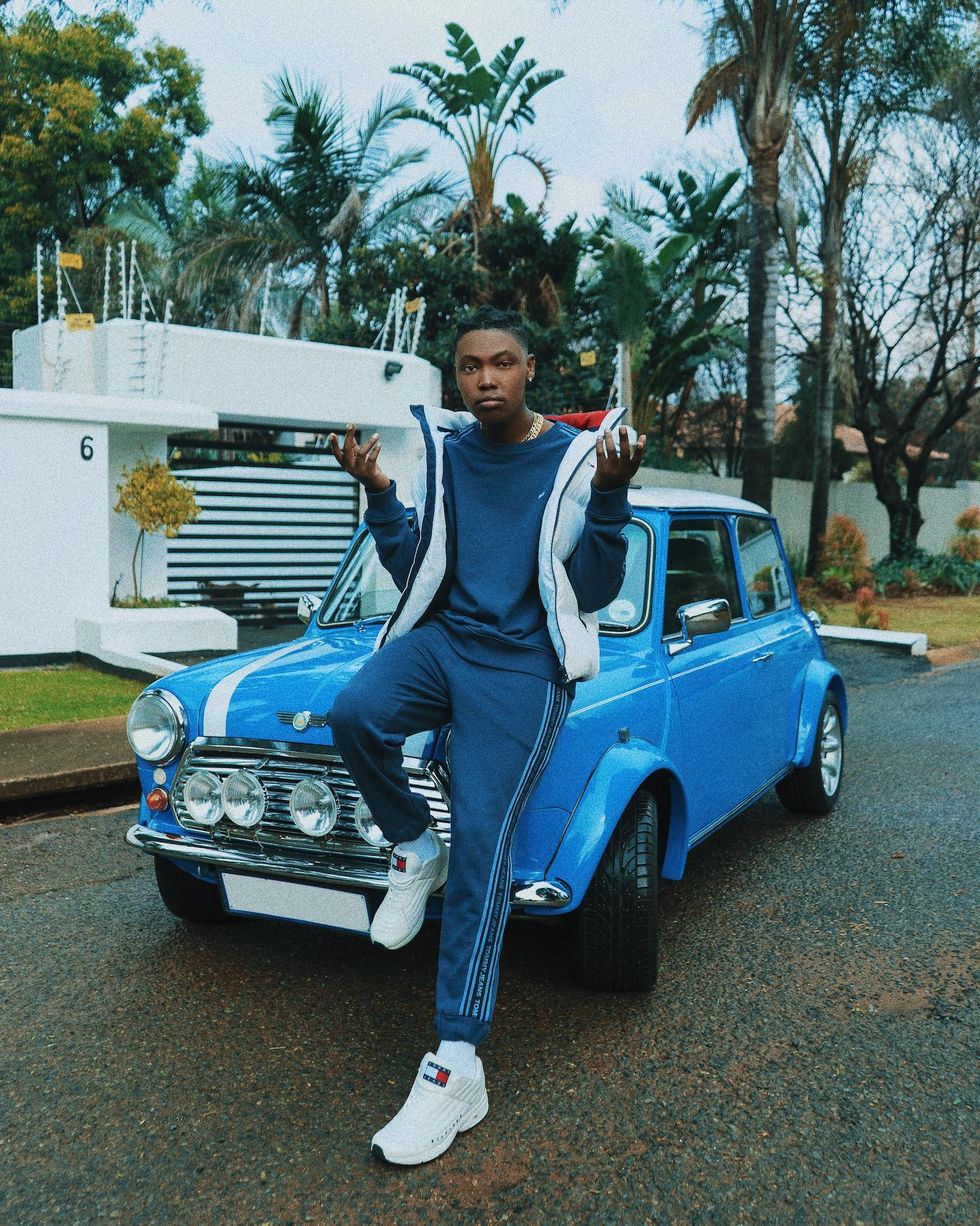 Image courtesy of Ricky Tyler.
Releasing your project last year and being under Def Jam Africa have been two major highlights that have pushed your art and sound to the mainstream. How has this been for you and how does it affect your craft moving forward?

It's been very eye-opening in terms of what I thought was possible and definitely a confident booster because I've realized I can take things as far as I want to, I've realized I'm capable of greatness and as long as I consistently apply myself to my craft the right people will take notice. I don't think it necessarily impacts the type of music I choose to make, what it does impact though is the pace at which I work cause I'm used to taking my time with my creative process, now I have real deadlines I need to meet, which is fine I'm learning how to balance my passion, my job and my ever-growing workload
Being a young artist in an African music scene that's currently experiencing global placements, how important is it for you to keep growing as an artist and expanding your sound to not only more African countries but globally? Do you have this in mind when you make music?
I believe with anything that we do in life it's important for us to grow, adapt and keep changing, that's what keeps life interesting. I partially keep this in mind when I make my own music, because as you become more comfortable with yourself as an artist crafting your own sound in a particular space; in order to truly be you, you need to grow and understand as many aspects of the game in order to truly make your own path. You also need to be aware of the global market not just from a business standpoint of what's hot right now but from an innovative one as well. You know, making a sound that actually resonates with the times, is the message I'm trying to convey in my music, actually connecting with the people via the type of music I'm making. With that said, despite me being aware of all this, art is subjective and I don't want my creativity or artistic license to be put in a box simply to appease any market in particular. So while I am considerate of everything around me I first make music that resonates with me.
Ricky Tyler - Thirty K'syoutu.be
What do you want your music to mean to your fans and listeners?

What I want my music to mean to my fans and listeners is it's okay to make mistakes in life and it's a strength to be nothing but yourself. To be aware of the decisions we decide to make in our lives, to be honest with how you feel about things, and most importantly is that we all face challenges in life but sets us apart is our attitude towards those challenges. I want my music to be uplifting and a sign of hope when things get hard.
You've expressed admiration for Donald Glover and how he delivers in art, are you still trying to get into acting and what pushes you to explore different disciplines?
I definitely still want to pursue acting; I believe acting is another form of artistic expression and I'm the kind of person who enjoys expressing myself in different ways. If you ask me acting, music, modeling, dancing are all forms of artistic expression, they also work hand in hand and you can tell the same story in multiple ways using these mediums.
When can we expect a new project and what's next for you? Who would you like to work with next?
I spent a good part of 2020 doing a bunch of collaborative features with various artists around Africa, so I'm pretty excited about those songs coming out. Beyond that, I'd still like to work with Rema, Wizkid Burna Boy, Jorja Smith, Stormzy, Drake, Kendrick, Frank Ocean, Amir Obie, Jhene Aiko, Cassper Nyovest, Nasty C, PartyNextDoor, Kaytranada, Tellaman, Elaine. I've got visuals of songs from the album I'm currently working on and first on that list is the "Everything" music video which you can expect in early 2021. Lastly I've still got this deluxe version of the album to give you guys and a few more surprises I'm going to share in the coming year.