In May of 2018 with two months left on his contract, the Nigerian popstar Runtownwoke up one morning to news that his record label, Eric Many Entertainment, was suing him for damages worth N267 million. A potential local court injunction against him meant Runtown might face the possibility of being barred from making music until the suit was resolved. It was the the start in of a string of legal battles between the singer and his label that threatened his very existence as an artist.
As Runtown planned his next steps, his boss, Ukwudili Umenyiora was doing everything he could not to let him go. The suit was a ploy to get him to extend the contract, or reach a settlement that would allow the label to keep a stake in his future business. In the press, Runtown was lambasted daily by suspected paid agents of the record label.
After the record label tried to prevent a performance in Canada, and sent cease and desist letters to radio stations, asking them to pull Runtown off playlists, something cracked in his camp. His legal team mobilised. They launched an offensive, filing cases and petitions on many fronts across Lagos, Abuja and New York. His boss and aggressor, Okwudili Umenyiora, was arrested twice by the local police on petitions by Runtown. To stop the media harassment, Umenyiora signed a legal agreement promising to back off. With the coast clear, he could then focus on the music.
---
Runtown. Photo courtesy of the artist.
Two months since his contract ended, Runtown, real name Douglas Jack Agu, cuts a pensive figure standing on the balcony of a small luxury hotel in Lekki, Lagos. He lights a cigarette but he has had very little peace. The string of legal battles means that he's still tied to the Eric Many Company at some level. He wants nothing more than complete freedom from those who had handled his business for four years. This was the supposed to be the end.

"Bro, I did everything they asked me to," he says sadly. "I went overboard to ensure that they got their hits without spending a dime."
Runtown broke through in 2015 after his hit record, "Gallardo," became one of the hottest Nigerian songs of the year. Seeking more investment, he signed up with the company through a dear friend and had a good run of hits. It was the classic grass to grace story, only this time it wasn't a miracle. Runtown had the talent and the looks. He wasn't the most influential artist, but he commanded a kind of pure love from music lovers. By the end of that year, his debut album, Ghetto University, had dropped to critical acclaim and he played shows all over. From Paris to London, Kampala to Nairobi, Cairo to Zanzibar his constant appearance made him a money machine for everyone involved.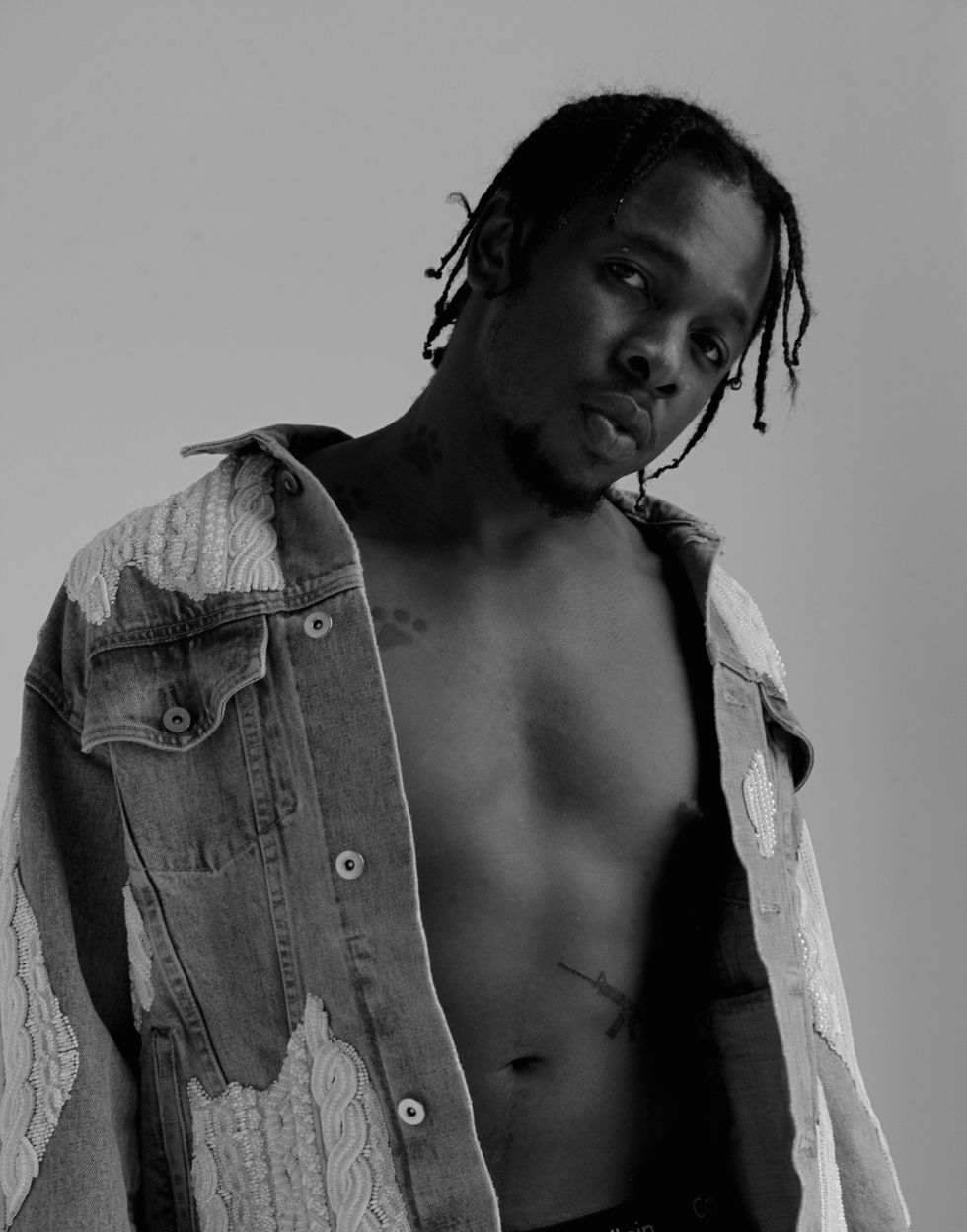 Runtown. Image courtesy of the artist.
"Bro, you don't understand how much we made together," Runtown says, taking a drag on the balcony of the hotel. He looks upwards, and exhales. Thick smoke fills the air, diffusing as we wait for the next sentence. "We even got a Major Lazer (Walshy Fire) collaboration, which made me hot property in the Caribbean."

He is talking about "Bend Down Pause," a single which also has Wizkid on it. It's designed to target that Island territories, and it did a great job. The record charted across the Islands for months, piquing the interest of soca legend, Machel Montano. He jumped on a remix, which further extended the life and power of the single.
"When they asked things of me that wasn't a part of my contract, I mostly obliged for peace, and because I was focused on making it work," he added. "It was my career, and I was focused on getting it to the next level."
Mad Over You (Official Music Video) - Runtownwww.youtube.com
"I dropped 'Mad Over You' in 2016," he continues, "and it popped at the end of the year. I started touring from December 2016, performing shows every weekend, sometimes multiple shows, until December 2017. There was no day off. Even when I had my son, I couldn't go see him. I was in South Africa performing when my son was born in the US."

After a health scare and repeated recommendations from his doctor to slow down, he took a break when the lawsuits landed. It was the space he needed to clear his head, and deal with everything.
"The doctor told me to take a break," he says. "The label issues helped me. It was good for my health because I rested."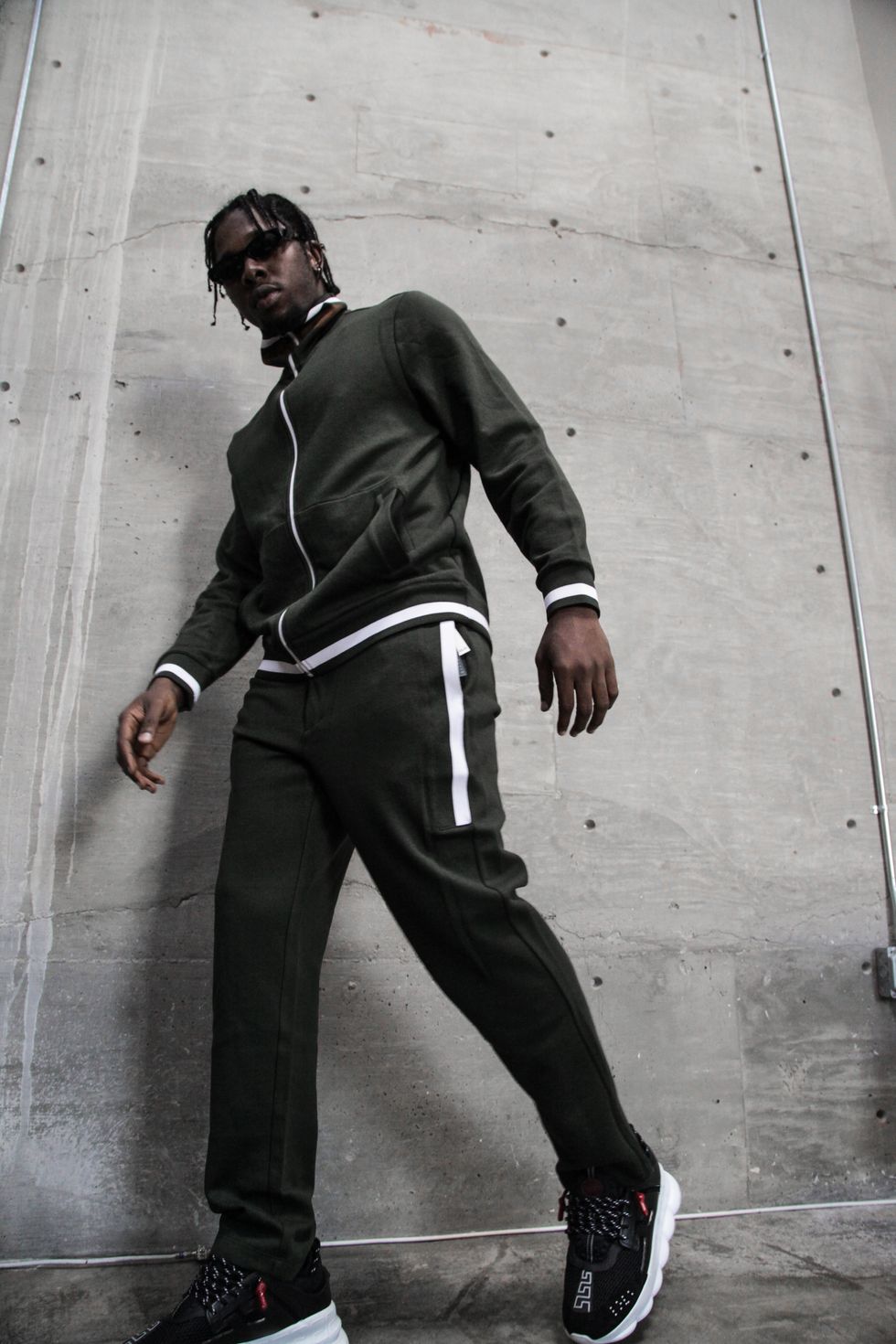 Runtown. Image courtesy of the artist.
Runtown is complicated. You can't see it on the surface because he rarely communicates with strangers, but his energy is measured, and his mannerisms, mysterious. While he exudes simplicity on the surface—he keeps his team small and tight—his mind is complex. At various points, you can catch him whisper something under his breath, and while trying to decipher it in your head, he calls out to you, laughing about a random post on Instagram, and inviting you to join in a conversation. It's the same with his music. No one knows exactly what Runtown is about. This ambiguity is reflected in his art. It's part of his allure, which his fan base has come to appreciate. He could be just a romance-stricken lover on "Mad Over You," a defiant, tortured soul on "Energy" while still finding ways to turn up on "Unleash."

It is also why no one knows how to accurately classify and rate him. He's an industry recluse, holed up mostly in his home in Lagos, or when that gets too crowded on special occasions and holidays by friends and family, he retreats to a secret hotel, where he finds the peace to record music. We are at that hotel. Inside his room, Nasty C's raw vocals can be heard from speakers of a mobile studio set up in his room. It was the rough recording of what would later become "No Permission," a trap-influenced song which Runtown says defines his approach to life. "I do what I want, no permission," he sings on the hook.
Soundgod & Runtown & Nasty C - No Permission (Official Video)youtu.be
Fielding repeated attacks from the record label weighed heavily on him. Nothing stuck because "I had no case to answer," says Runtown. "I fulfilled the terms of my deal, released music, made everyone rich, and now I have to go." After getting two cases against him thrown out of court, and dealing with repeated death threats, the singer tells me he went on the attack.

First the music. I had a conversation last October with singer Odunsi (The Engine). He was just fresh off collaborating with Runtown on "Star Signs," a song housed on his debut album, rare. He believes Runtown made some of his most reflective music in 2018 as a result of his travails.
"I love when I can know what is going on in the life of an artist," he explains. He is referring to "Energy" and "Unleash." Two songs released by Runtown at the height of his saga. They are mid-tempo bangers, which translate his agony into public entertainment. Runtown explains that they are some of the best "timely songs that any artist can put out," because it contains "equal turn-up, and equal truth." He says releasing those songs wasn't just another act of expression. It was his diary; a concise daily summary of his mindset, which he channeled towards the music. It is that energy from seeing both songs become hits that helped him. That period.
Runtown - Energy (Official Music Video)www.youtube.com
"Those records were some of my most powerful. For the first time in a long time, I was doing me," says Runtown. "Previously, the record label always tried to meddle with my sound and direction. For the most part, I never listened, but it was good to work without the noise or bothersome requests."

Runtown's latest single, "Oh Oh Oh (Lucie)" is a mid-tempo fusion banger which contains elements of Afrobeat and Caribbean rhythms, was released in November. The video, featuring picturesque scenes, was shot by US filmmaker, Isaac Yowman, who had earlier worked with Marvel/Sony on the movie Venom. For marketing, a billboard went up in Times Square, New York. He tells me it's the first song that he is releasing with no involvement from Eric Many.
In December, I link up with him at a restaurant in Lagos. Runtown is meeting a superfan, a lady who he hugs tightly, and describes as one of his 'day ones.' She arrives with two friends who all request and get selfies with Runtown. "My fans are special," he says, while directing a waiter to her table. She gives him a gift. It's a shirt with the word "Soundgod" on it. They spend some time talking while she shares stories about her life.

The mood feels different from that night at the hotel balcony. As the fan motions to leave, Runtown discreetly gives her money for "transport." He caught me staring at the exchange, and gave a knowing smile. "These fans connect to me on many levels. They patiently waited for my saga to end, so I could give them more music without distractions," he says. "They are the reason why I am relevant, and continue to make music in spite of all these."
The air around his camp is different now. There is a spring to Runtown's step. I join a meeting with him and his manager, Ifeanyi Nwunne, detailing plans for a new single, his efforts at charity and expanding his music to new territories. You know that sharp burst of light that hits a dark room when a window is opened? It felt like there was a light in the camp. Someone had let the sun in. Runtown orders a salad, citing his need to get back in top shape for his busy performance schedule in December. I recommend a trainer for him. Instantly, he calls and books an appointment. "Bro, we need to go hard," he declares.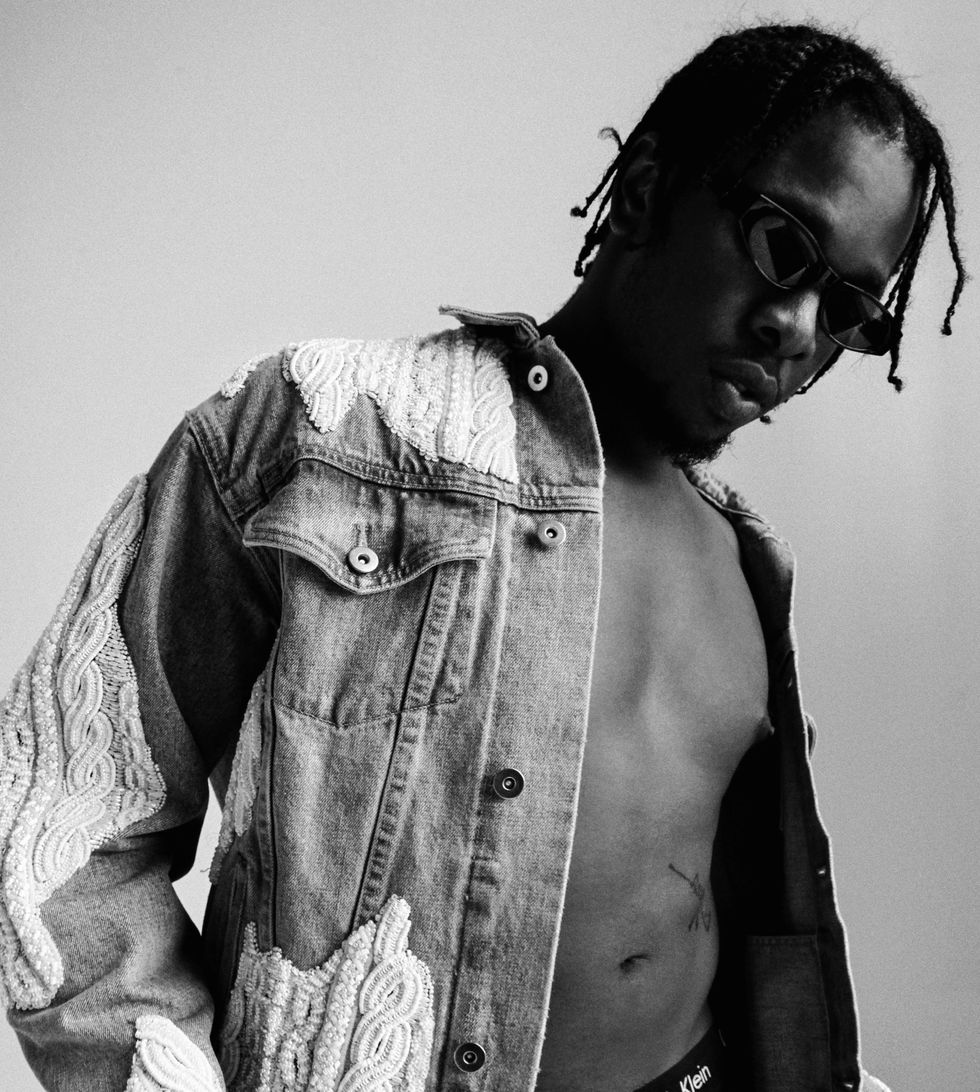 Runtown. Image courtesy of the artist.
Runtown has plans to release an EP in 2019. It's the first independent project under his record label, SoundGod Music. Earlier that month, he had acquired and announced a strange pet on Instagram; a rare white lion cub named Kovu. It's moniker was inspired by a character in the 1994 American animated film, Lion King II: Simba's Pride. Kovu sleeps in his room, walks freely through every part of the house, and takes trips to the beach with Runtown. It's a relationship that is cute to experience. He describes the pet as representative of his mindset after his legal saga. He had gone into the jungle and beaten the boogeyman. He is a lion now. Kovu isn't just his pet. It's his younger sibling.

His forthcoming EP is named Afrobeats and Stadiums. It's a project which was inspired by his travels during his legal battle with Eric Many Entertainment. He had watched musicians from other sound cultures fill out stadiums and arenas. So he thought to himself, why not Afrobeats? In 2018, Runtown took part in writing and production camps for Rihanna's next album, which is reportedly heavily influenced by Afrobeats and Dancehall. He worked alongside some of the best singer's, songwriters and producers from different music markets and across a spectrum of sounds. He says he hopes that his contributions across the project, makes the final cut. This invitation, he says, was made possible due to his extensive talent across the music creation process.
Runtown - Oh Oh Oh (Lucie) Official Videoyoutu.be
"What people don't understand is that I am a music producer," he says simply. "I was a professional songwriter before I became a recording artist. I write all genres of music, and I can produce any type of music. I do my A&R, and I understand the depths of sound. That's why I call myself the Soundgod."

He continues: "We are trying to take Afrobeats to the real arenas of the world. You see how artists like The Weeknd are doing it in big arenas? Afrobeats deserve that kind of energy. So I am recording this project which will contain music for the world, but also music for my people. We have found that balance in the music and we're about to drop the project on that wave."
2019 is just out of the blocks, and Runtown has already headlined a show in Dakar, Senegal. It's one of many shows, around the world, where he is booked for stretches across the year. He's stayed back in Dakar, applying finishing touches to the EP. He says the sanity and vibe of the city, encourages creative thoughts. 2018 was his one of his most difficult years, but he intends to make 2019 his easiest and most successful. He feels like a man reborn. Stronger and equipped for what he intends to be a lengthy career. I ask him why he is so assured of his journey.
"I use to be the book-guy in school," he explains. "I came first in most of my classes. When my ex-classmates see me now, they always wonder how I dropped academics for music and succeeded at it. It's the same way I intend to surprise everyone with the next step of my journey."