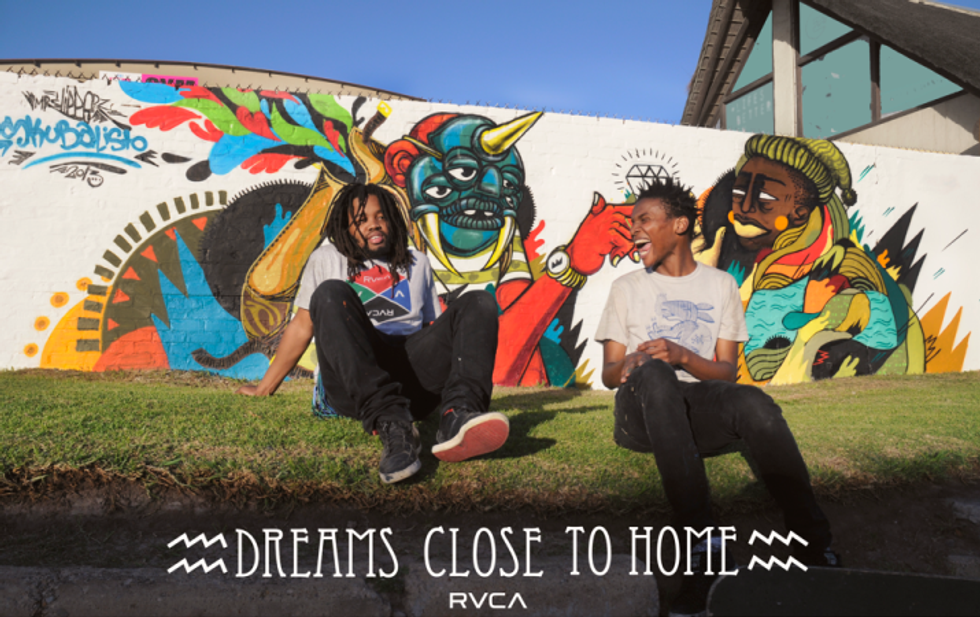 ---
All Images by Karabo Mooki.
Backed by RVCA, creatives Lisolomzi Pikoli (Mr Fuzzy Slipperz), Skumbuzo "Skuba" Vabaza (Skubalisto), and photographer Karabo Mooki (Mooki Mooks) decided to prepare a countrywide mural tour, painting and documenting at each stop as they travelled through Jeffrey's Bay, Port Elizabeth, Grahamstown, the Transkei and finally Johannesburg. The result is a range of breathtaking pieces of art the guys hope will ignite new appreciation for the "hills, seas, forests, small towns and big cities" of South Africa. We chatted to Skubalisto and Fuzzy to get a feel for their involvement in this creative collaboration, their feeling for community, and exploring the beautiful places that can be found closer to home than we think.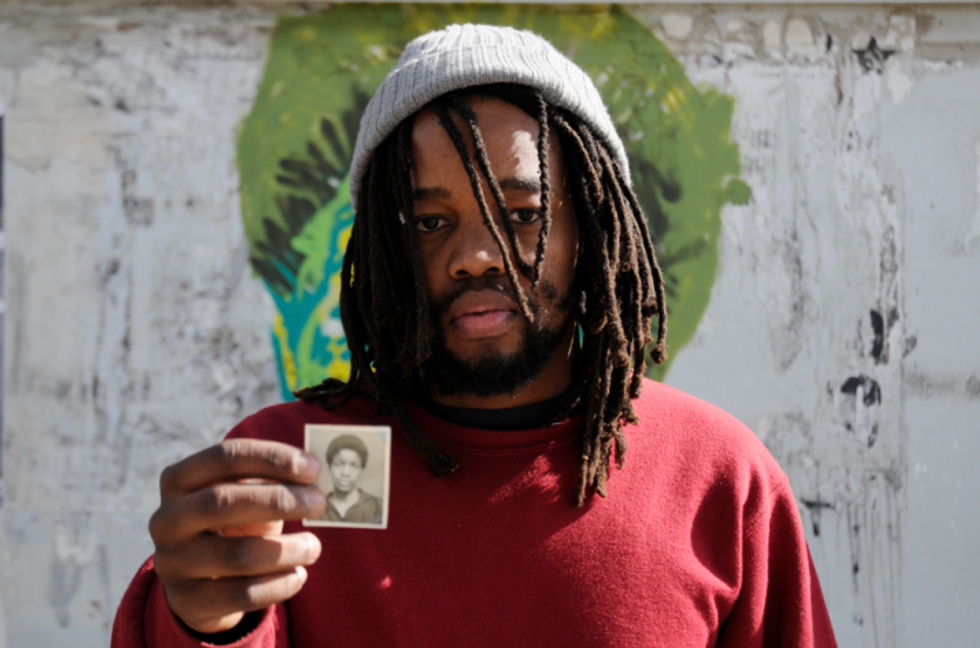 Skumbuzo "Skuba" Vabaza.
Shiba for OKA: Right here in Cape Town, you and a couple of guys did a mural for 100in1Day a few months back, which is probably the first outdoor mural most have seen you put together publicly. Can you tell us a bit about that to start?
Skuba: The piece we did on the 100and1day initiative was a matter of perfect timing. I ran into Chris Auret at AfrikaBurn, after months of online talk about collaborating when we were in the same country at the same time (we both live fairly nomadic lives). We agreed to meet up at Trenchtown, in Observatory to talk concepts and the location of our first mural. Chris also filled me in on the 100and1 initiative and how we could incorporate our mural to the initiative. To maximize diversity of style within our concept, we invited artists Martin Lund and Garth Waverly to paint with us. Our vision and aim with this piece was to express our artistic voice and style but stay true to the building blocks of muralism.
OKA: What are these building blocks, and how do you contend with the bad rap that street artists & muralists often get? The general public people often looks down on the culture as just another mess on a wall, but now you're travelling across an entire country to do this.
S: Communicating with the community within, whether they agree or disagree, what is most important is that the piece evokes some form of emotion. These days artists are so focused on style and the technical approach of creating, that they forget that by painting in a public space, they are opening a dialogue with the community they are painting in. Once it is complete, the piece no longer belongs to the artist but to the community that sees it everyday. It falls mercy to the youth that decide whether or not to tag, bomb or piece over it. So saying something that the people can relate to and understand also contributes to the lasting power of ever so temporary mural art.
OKA: And this great adventure, how did it come together?
Fuzzy: Before the road trip I'd seen Skuba once in Cape town since his return from San Francisco after he'd been gone for almost six years! I guess the timing was good because we're at similar stages in our lives and careers. To tell the truth, I've been lucky enough to grow up around and meet really inspiring friends and family who when speaking about things they are passionate about they have full intentions of following through with their point of interest. This trip with Mooki and Skuba was just like that, all three of us have a great passion for travel and art but what was an even more alluring factor was that we could fulfill ourselves artistically and existentially through public art and service.
The idea of not having to buy an expensive ticket and fill out crazy VISA forms because we wanna find out what's cooking in our backyard was great! South Africans don't travel enough in general whether foreign or domestic so I feel this exhibition also seeks to bridge that gap for the South African audience. There is so much to learn about ourselves through learning about our different cultures, heritage and landscape and this was a good way to delve into the above mentioned. Everywhere we went we had incredible hosts whether it was my fam, Skubas fam or a backpackers (The Wild Labanzi in Transkei) we were in good company and got to enjoy our time there. It was a crazy trip filled with fun, paint, beer, cops, family, new friends, beats, petrol issues, early mornings and long nights! Just how an incredible road trip with the goon squad is supposed to be.
Look out for the September 6th "Dreams Close to Home" group exhibition at the Velo Art Cafe in Joburg. The event will fully showcase Mooki's documentation of the entire journey, with t-shirts, books and RVCA merchandise to boot. In the meantime, check out images taken on tour below.
Cape Town
Jeffrey's Bay
Port Elizabeth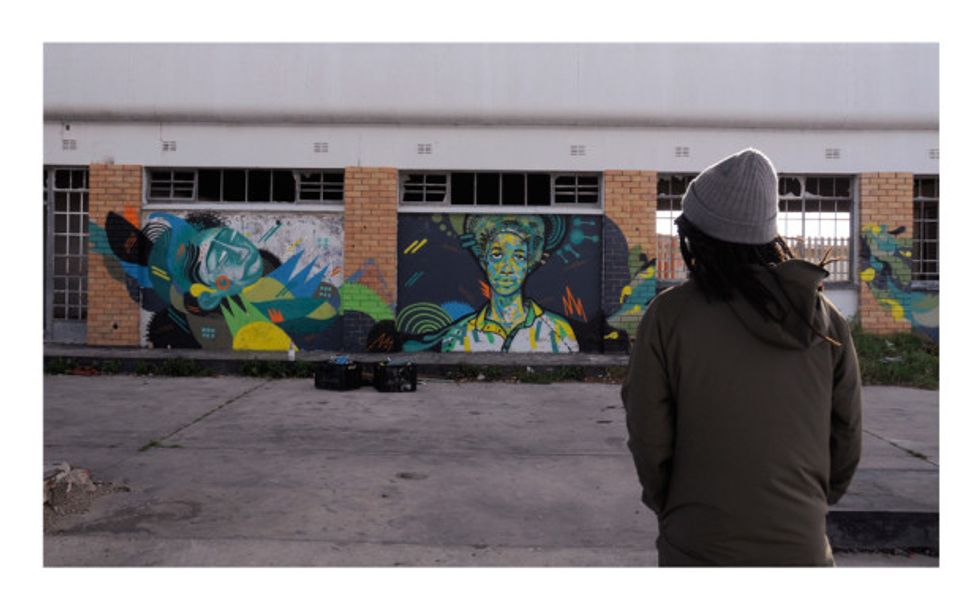 Grahamstown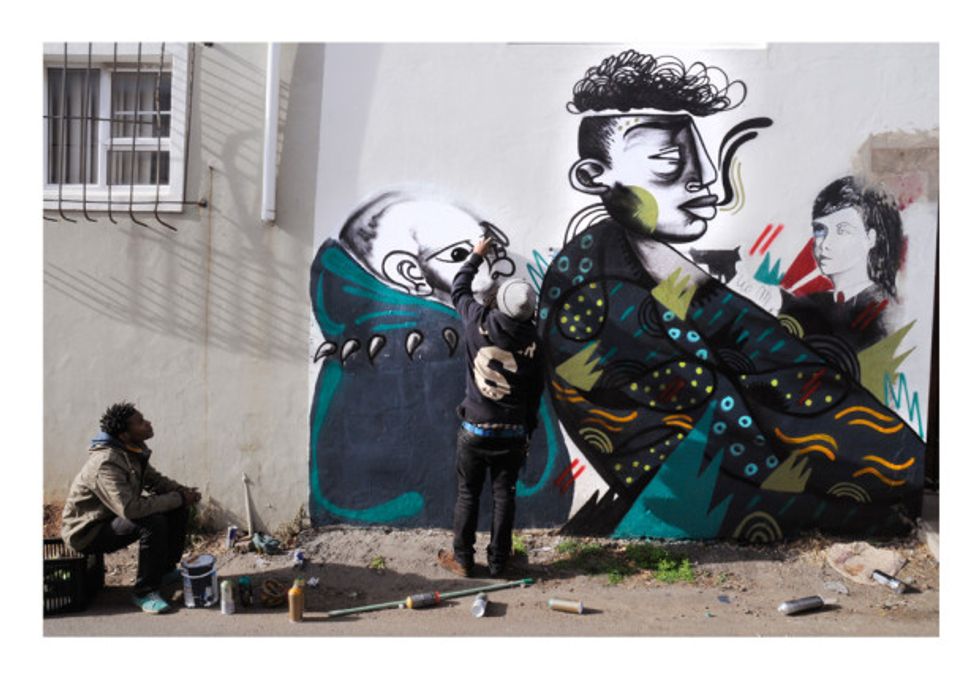 Transkei (featuring Danielle West)
Johannesburg (featuring Kasi 1)