In the midst of a pandemic-rife 2020, the voices of African youth have gotten louder in demand for a better present and future. From structural reforms, women's rights, LGBTQ rights, and derelict states of public service, the youths have amplified their voices via the internet and social media, to cohesively express grievances that would hitherto have been quelled at a whisper.

Nigerian youth have used the internet and social media to create and sustain a loud voice for themselves. The expression of frustration and the calls for change may have started online, but it's having a profound effect on the lives of every Nigerian with each passing day. What started as the twitter hashtag #EndSARS has grown into a nationwide youth revolution led by the people.
Even after the government supposedly disbanded the SARS (Special Anti-Robbery Squad) unit on the 10th of October, young Nigerians have not relented in their demands for better policing. The lack of trust for government promises has kept the youth protesting on the streets and online.
---
These protests have been a powerful showing of the strength and resolve of Nigerian youths. The #EndSARS protests are one of the most organized peaceful protests the world has seen in recent times. Protesters have independently provided food at protest grounds, medical bills for brutalised protesters, legal aid for detained protesters, and compensation to the families of protesters killed by the police, most of which have been organized in real time on social media.
Photo: Alvin Ukpeh.
The level of decentralization of these protests is something that hasn't been witnessed in Nigeria's history. Without a leader's integrity to compromise, the Nigerian government has been clutching at straws, and subsequently asking the youths to select one. As far as the youths keep these protests message-centric rather than people-centric, they stand a chance to get the changes they so eagerly yearn for.

The gap between this generation and the ruling generation is immense. Young people today can create a living for themselves outside the confines of what older Nigerians understand to be possible. Young Nigerians are well equipped for the internet age with a plethora of tools and skills allowing them to compete in today's globalized world.
Young Nigerian creatives are showing that their strength in unity knows no bounds; photographers are capturing these pivotal moments in history, art directors are creating art pieces to foster more conversation, programmers are creating archival websites and managing platforms which aid the protests, chefs are cooking meals for protesters, and so much more. This union of young professionals are using their innovative minds to fight for a Nigeria they can be proud of.
New age media companies have used their platforms to circumvent state-controlled legacy media channels. With reporters in the trenches with the youth in different parts of the country, they are making sure this moment in time is documented the right way.

Young media companies like Zikoko, The Republic, Stears Business, More Branches, The Native, and many others have stepped up at a time when trust for legacy media is at an all time low. They're not afraid to tell the stories as they are, and foster pertinent conversations like the inclusion of LGBTQ peoples' plight in the overarching injustices of the Nigerian police force.
For a country with close to 70% of its population under the age of forty, the very youthful country is experiencing something thoroughly remarkable. A time that has unified the entire country against a heinous evil, and filling frustrated Nigerians of all age groups with a glimmer of hope. The voice of young people is a force to be reckoned with and they have no intention of stopping until they #ENDSARS and #EndPoliceBrutalityInNigeria.
"This generation is doing more than just tamely complaining, we are boldly demanding for better governance, and we won't settle for less.
Through the power of the internet, we've been able to put our voices together to challenge authorities and band together regardless of gender, ethnicity or geo-political zones. It's no wonder why African governments are increasingly making efforts to ban or tax the web," - says Nasir Ahmed, a journalist & editor for More Branches, a digital media company from Nigeria shared with me.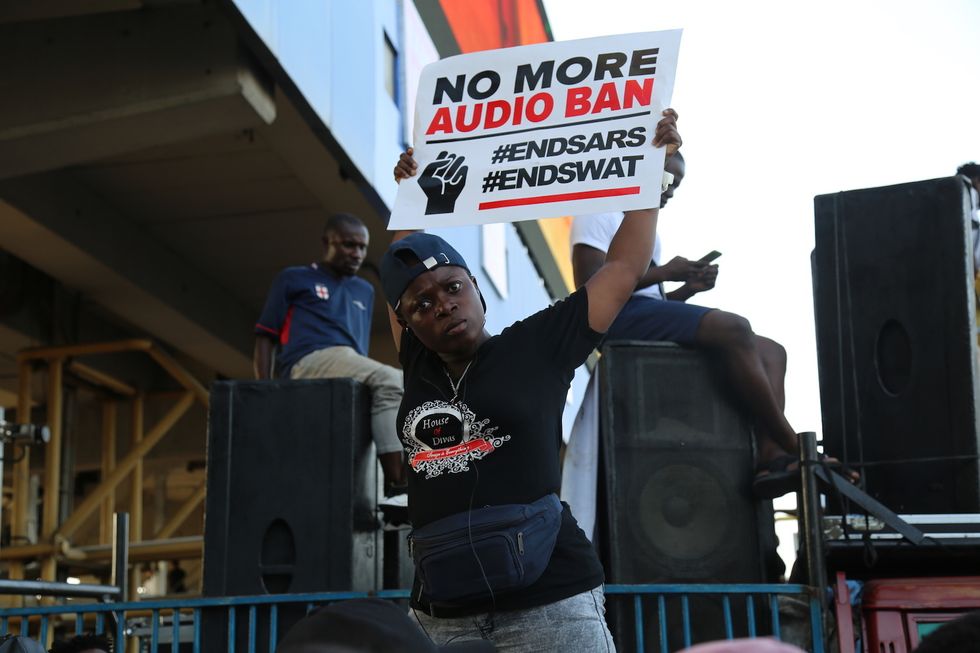 Photo: Alvin Ukpeh.
Stories of SARS Encounters

Kelenna,Photographer & Creative From Lagos.
"This was back in 2017 when I lived in Satellite town, I had to meet my sister at Iju. I took public transport and left my home with just my camera. Heading out, I was stopped by a policeman. He waved his ID card at me and said he wanted to check my bag, I asked why, then he told me to walk with him, that he would explain. Then another guy joins us and asks me to pass my phone. This was my first time having this experience, then they told me to get into a bus with more policemen all armed with rifles and one of them had a SARS shirts on.
I tried to explain to them that I'm a photographer but they just started driving off without telling me where we were heading to. Some stops away, another young man like myself gets in. I started getting agitated, I tried showing them my equipment to prove I'm a photographer but they kept checking my phone and said if I said another word they'd teargas my face.
They kept driving, almost two bus stops away and they kept threatening to kill me. I kept defending myself and raising my voice till they let me go.
The second time, I was lucky to get away. I was out with two friends and they stopped the car ahead with my friends but before we could do anything they were beat up, and the SARS guy got in the driver seat and drove away. My friend Tayo said they took him to a dark spot that looked like a warehouse, it didn't look like an official police station, more of a holding place with other young men and women trapped there."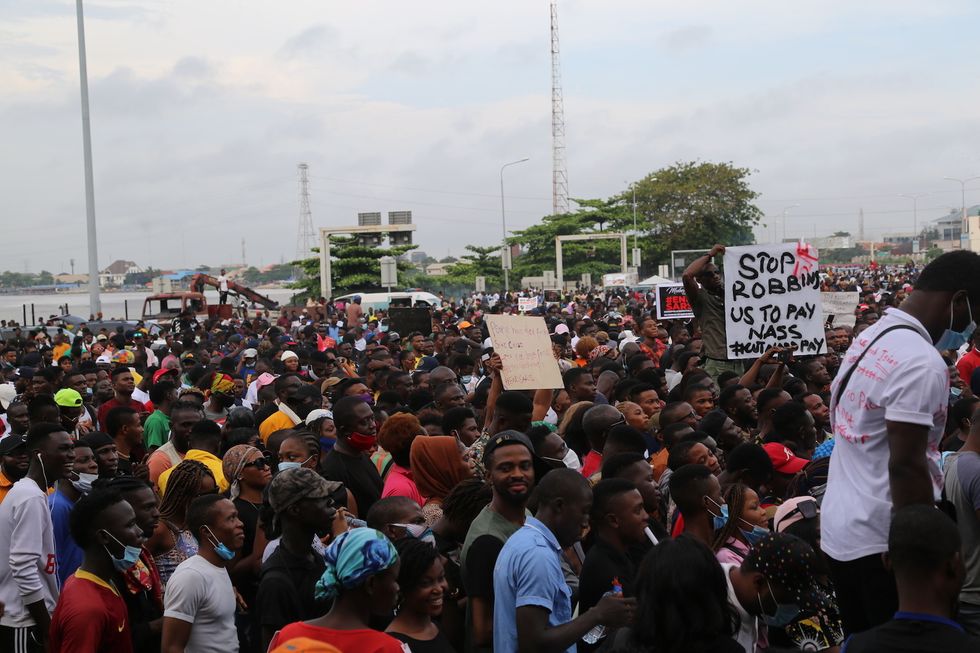 Photo: Alvin Ukpeh.
Korede Ogundiya,Journalist & Co-Founder of More Branches.

"In October 2019, I was heading to the embassy on the island in the morning and my friend decided to carpool with me cause he was heading to the island too. The cab picked us up. There's this notorious SARS–AntiCultism at Gbagada/Charlie Boy–the driver randomly parked around there and said he wanted to fix his tire. At this point, my friend figured something weird might be going on because it didn't make sense why he would just park there.
Prior to that, while the trip was going on my friend had a phone call with his bitcoin trader trying to get some cash and we think that made the cab guy think we ventured in Cyber-Crime.
We got down and asked if the driver was trying to frame us, and he apologised and continued the trip. This is where we fucked up because we should have gotten another cab then. When we got to the island close to where I would drop my friend, two vans flagged us down from nowhere. Some of them were SARS officials, some claimed to be EFCC. Next thing they searched us, went through our phones. I wasn't bothered cause I knew we didn't have anything to hide.
Then they said my friend has a lot of bitcoin trading apps on his phone and that he's definitely a yahoo boy and they said I'm the one helping to keep the money clean, coming up with all sorts of theories. Then they took us to Ikoyi and threatened us, they said once we get to the jail that's the end for us because anyone that goes in never comes back out so we should talk bribes.
I said okay, because no one wants to risk their lives. And one of them asked for 20 Million. I was so confused, when we made calls everyone said it was ridiculous and we shouldnt do anything before we could go on, they seized our phones saying we were wasting time. A bank alert comes and they see my balance, threatening me more and driving us to the ATM forcing me to empty my account. I withdrew about 300,000 naira and also made my friend transfer his bitcoin. After extorting us they dropped us in front of the station with just our phones."
Young Nigerians Creatives on Why They've Been Out Protesting

Tami Makinde, Writer.
"Okay, so I'm joining the youths of Nigeria to protest against SARS because of my lived experience as a Nigerian woman. As long as I can remember, I've associated the Nigerian Police Force with a system of violence, intimidation and a lack of empathy. We are taught to fear those who serve us because every encounter with them is brutal and could cost you your life. I'm one of the lucky ones, I lived to tell my stories, my friends have lived to tell their stories. But this is bigger than the US.
There is something deeply sinister going on within government and law enforcement ranks and we cannot allow it to go on any longer. I am protesting for me, for you, for our people, our future, our homes, our land!! It's important to realise your privilege and speak for those who are less privileged than you are. This is a collective fight because it represents something much bigger than SARS; this is about reforming decades-old systemic forms of oppression."
TSE, Photographer and Visual Storyteller.
"This is a very important time in my generation. At this moment, we're so unified against our bad governance we've gone through for the past 60 years. As a young person, experiencing the terrible and sometimes brutal side of the police is a regular occurrence. For some reason they feel as a young person you can't dream and make money for doing something that's not white collar orientated, they're so small minded and boxed in they can't understand the kids using the internet have gone beyond the third world nature of Nigeria. We're programmers, photographers, stylists, writers, designers, artists, business owners, all from our iPhones and laptop. They can't see that we're building our future on our own.
The protest is about putting our foot down and saying enough is enough. We won't be fools anymore! We won't be killed, extorted, and bullied for existing. I'm marching out there because I know a revolution is coming and I won't be on the sidelines. I've always done everything for the youth and this is probably the most important time as youth to represent Nigeria and support the #ENDSARS."
Anti-Design, Set Designers & Creative Directors.
"We have to speak up. Everyone has a story, we fear the police and it's not right. It's important because we feel it's the only way to get noticed and bring about real change in the police force."
The Fourth Arm of Government in Video Footage and Social Media
The media is supposedly the fourth arm of government, but recent events have laid bare the influence of the Nigerian government on legacy media channels. Traditional media has all but ignored the nationwide protests, the NCC (National Communications Commission) subsequently warned on-air personalities not to mention the #EndSARS protests on radio stations.
The state uses its propaganda machine to disseminate its agendas, however ridiculous they may be–like snakes and monkeys swallowing state funds.
On Oct 10 when Ademola Ojabodu was arrested and wrongfully accused for the murder of a police officer, young Nigerians dug up mobile phone footage on Twitter of him protesting peacefully, and of the officer who was responsible for shooting a colleague. Due to the availability of this evidence the charges were dropped.
Through the power of social media, the protesters have been able to shed light on the misinformation spread by traditional media and government institutions. Trustworthy media will be needed as the youth are already gearing up for the 2023 elections. While they try to put an end to SARS at this moment, they will need much credible reporting so that the truth will always be the property of the people.
Social media has proven to be just more than an online gathering place, but a powerful tool for social change that can be used by a new generation to reshape the old.