"I think more than the music, the narrative is more important these days," says Sarzas he sits at the offices of his press agency. "So one great song with an amazing narrative can get you farther than five great songs sometimes."

When Sarz talks about music, his eyes light up. They dart with excitement as he runs through topics like sounds, production, trends, and innovation. These are all words that represent his life's work of impactful music production, which has powered a generation of music in Nigeria, and is currently playing a role in its international future. Sitting at the offices, decked in a white t-shirt, red trousers and Nike kicks, he makes a point that he rarely grants interviews. And when he does, it's in spaces like this, in rooms and studios where his business is conducted, and his work is birthed and refined for public impact.
Born Osabuohien Osaretin, the 30-year-old music producer discovered sounds by accident when his ears would automatically pick apart music and focus on the beat. Interestingly, he discovered that he could remember every beat in detail. It was the entry point to a career that took off in 2010 when he scored his first hit on Jahbless' "Joor Oh" remix—during the formative stages of the current Nigerian pop success—and has provided sounds that have shaped the culture and given it its biggest moments.
With afrobeats' global ambitions taking off, Sarz's production is playing crucial roles in celebrated cross-cultural projects. He's helmed Drake's "One Dance," unlocked the chemistry between Wizkid and Skepta on "Energy (Stay Far Away)," and added composition on Beyoncé's Lion King: The Giftalbum.
"I'm inspired by the thoughts of how far I can take music. Just thinking about where this music can take me to," Sarz says, taking swigs from a water bottle. The producer has also worked with the biggest stars in afrobeats, and a look through his catalogue has hits every year since 2007.
He talks passionately about his work, the source of inspiration, where good music originates from, and how he identifies where to direct his energies. He runs an academy that has been a vehicle for delivering new producers to the culture. Sarz converses with range, a brimming energy, and a humility that is tied to purpose and achievements. He never shies away from topics that examine his revered place in this ecosystem, admitting without bragging that he is no one's mate. Even his 2019 SINYM EP is affirmation that "Sarz Is Not Your Mate." He has seen a lot and has a lot to say.
Sarz. Photo: Manny Jefferson. Courtesy of the artist.
---
Why did you name your EP, Sarz Is Not Your Mate?

It's just provocative. It's just a way to pass a message out to the people that they already know. I feel like everyone knows this subconsciously but now it's in your face. I just thought it was the right way to go moving forward.
What is this message? Why is Sarz no one's mate?
Because I have an extensive catalogue, I don't follow trends, and I've been able to push the afrobeats narrative ,especially from the music side. The composition side. I have done so many songs that have started certain trends. I feel like the creatives know, so everyone else needs to know.
These days producers chase more press than building a catalogue...
I guess it's a different time and things work slightly differently now. I think more than the music, the narrative is more important these days—the narrative behind the music. So one great song with an amazing narrative can get you farther than five great songs sometimes. It also depends on how long you want your career to last. If you really want a long-lasting career, you have to put in the work. But then again, you can't question people for doing things differently if it's working. So I know there are producers out there that really just want to be the guy, by just doing one song or a few songs. and think that's enough to move to the next level. But to be honest, if you really want a long career you have to put in the work. Except if you just want to fizzle out as soon as you get in.
"Don't follow trends, because you'll end as soon as the trend ends."
What earns producers longevity at the top?
Sticking to your guns, reinventing yourself, spreading your talent as far as you can. For me, I think I was really particular about Sarz as a producer. I always made sure that with my work—not that I had PR then or anything—I wanted people to always notice the beats. I was doing a bit too much sometimes, but it works for me. So when you hear a song I produced, you're also going to say 'this beat is fire as well, this beat is really dope.' Back then, I remember that anytime a song I produced dropped, I would get as many plaudits as the artist. Even sometimes they'd drop music and I'd be trending. Sarz is trending because of a song he produced. I always made sure that I try to stand out at every chance I get and I think that helped me become who I am today. And don't follow trends, because you'll end as soon as the trend ends. Just be original, take your time, build your craft. Bring something valuable to the table because you don't necessarily need an amazing beat to score a hit sometimes.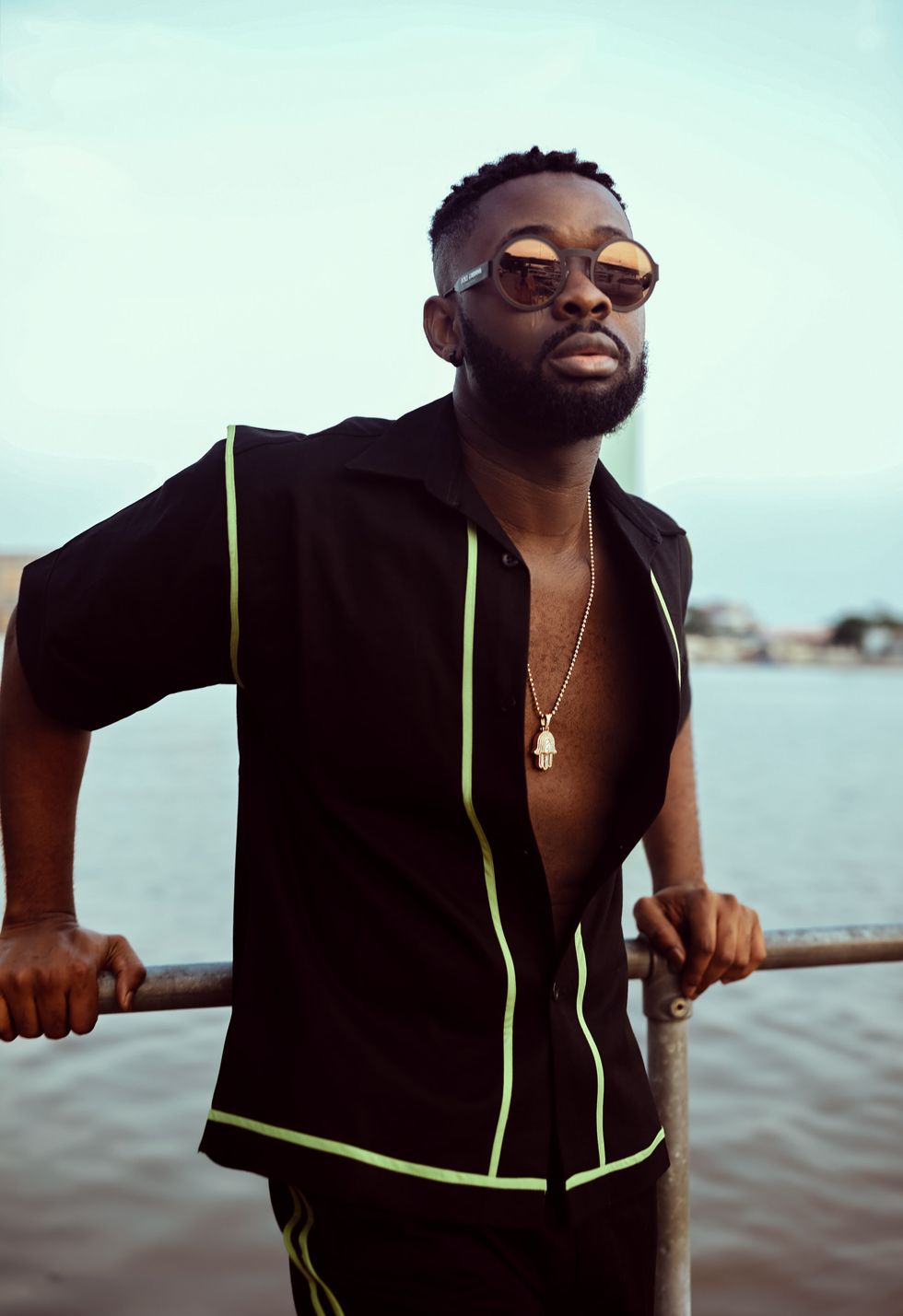 Sarz. Photo: Manny Jefferson. Courtesy of the artist.
What was the start of your productive connection with Wizkid?

I've known Wizkid even before the Superstar album. I had been burnt by the industry, so at that time, it was a money thing for me. You want to work with me, but can you pay? If you can't pay, I'm not interested. I remember he came to my studio with Osagie and we decided to work. I played some beats, we even recorded one song—and the song was actually really good. I wasn't really thinking long-term. I didn't care about all those things. I just wanted to make music and get my money. At that time I told them my price, and they said they couldn't afford it, that they would talk to their label. But they didn't think their label would release that kind of money for them at that time. I was like 'if you guys cannot pay, I don't know what to do.' So we didn't end up working. A year after Superstar album came out and he became a star, I remember seeing him at Rehab once and he'd tell me that 'oh you didn't work with me then, but you know, we'd see.' He was trying to let me know that he was the shit now. But luckily for me, I was still putting out hits. And he would still hear work I did.
He was really hot that time, so most of the people I was working with were looking for remixes with a Wizkid feature. He started doing remixes of songs I produced. What made us start working together was when I moved close to his house. We were staying maybe two minutes away from each other, so I was always going to theirs and we started working again and we made a few songs. And that's we became like really close. Right now, we are always making music.
You've been present at every stage of his career since Superstar.
Yes, I've always been there and I'm still there. But I always get tweets from people like when is the next song with you and Wizkid coming out? That's not something I can control but we have music and we have a few on Made In Lagos album. You guys will hear the Wiz and Sarz shortly.
How did Drake's "One Dance" Happen?
I pretty much did co-production on the track. It was a song they sent to Wiz but it wasn't finished or anything. It had just the keys which were obviously from the Kyla song sample. And Wiz asked if I can work on this beat. I wasn't even thinking anything about it, I was just like 'sure why not?' I just did it.
"The song came out and I feel like it's still Drake's biggest song till date."
And brought it to its final form?
Not necessarily it's final form but maybe like a little further along. I sent it to them and they still arranged it how they wanted to, and add the things they wanted to. I wasn't really expecting anything from the song. It's something I did and forgot about until they said they were ready to release the song. The song came out and I feel like it's still Drake's biggest song till date. Sometimes your biggest moments are never planned. So I feel like its the way of God blessing you in disguise because if I said no, maybe someone else would have done it. Maybe the song wouldn't have come out. You just never know.
And the Beyoncé song as well. I was just on my own and they came to me saying that they sampled "Maradona"—the composition of 'Maradona'—and they need to get it cleared. It's pretty much simple. So I wasn't necessarily involved in producing the track but the original track was produced by me, so that makes me a composer as well. That's how it should work.
Skepta & WizKid - 'Energy (Stay Far Away)' (Official Video)www.youtube.com
How did you bring Wizkid and Skepta together on "Energy (Stay Far Away)"?

Again, sometimes the best songs are never planned. This happened in LA. The song came out in 2018 right? We made that record in 2017. And I know Wiz and Skepta have a history from the "Ojuelegba" remix. I also know that they've been trying to work on music but I guess they have slightly different tastes when it comes to beats, so it was hard to find something that works. Because I know they've been going back and forth at it and nothing has really happened yet.
One day, Wiz was working in the studio with some other producers and stuff. The studio is located downstairs and everyone else stayed upstairs. I went downstairs at around 2am to check on Wiz's work. All of a sudden, as if from nowhere, Skepta and his boys just came to the studio. I know I didn't want to be roped in that Wiz-Skepta situation, where they are trying different things and it was not working. I was already tired and wanted to go sleep. For some reason, I was still there, just chilling and Wiz asked me 'do I have anything Skepta and Wiz can jump on?' I was playing a few beats and I could remember playing "Energy" and Skepta said he likes the drums. That version had a different melody. He said he likes the drums, but thinks perhaps a different melody, maybe something darker will work. I played some new keys and he liked it and told me to put in on a loop. Yo, he listened to that beat for like two hours straight. Everyone was tired. There was a recording engineer there and he was ready to record. So I just sent the beat and bro, when this guy recorded his verses I was like Jesus!
Sarz. Photo: Manny Jefferson. Courtesy of the artist.
How did you make "Beat of Life" with Wizkid?

I made that beat in 2011 when EDM was mainstream in the world. This was the Taio Cruz era, Ne-Yo, Pitbull era. And I was searching for how I can infuse EDM in afrobeats and make it seamless. I did not want a beat that would sound alien to Nigerians. I wanted people to hear it outside the shores of Africa, understand it, and also enjoy it. I worked on that beat for a long time. I have like 23 versions of that beat because I wanted to get it right. At some point I didn't have the skill or the plugins to do what I wanted to do. So I had to wait until I got them. And eventually when I made that beat and played it to people, they didn't understand it. They were 'like it's dope but what are we going to do with this?' Some people were like put the beat out like that but I wanted someone on it, I just didn't know who.
I played it to all the people I was working with and they had no idea. They just thought the beat was cool. But I knew with the right song it would be something. Wizkid was the only person who tried. We were in a studio at the EME house. I was with Skales and Wiz in the studio just working. I think that was the day we did Skales' "Mukulu." Wiz asked if I had something, any other beats and stuff. And I was playing different beats he liked and he was working on. Because a lot of people had said no to "Beat of Life," I just thought he'd also be be one of them. I think I played it by mistake. He didn't even look excited or anything. He just said he might have something for the beat. And fast forward to the popular video and that's how it happened. And the moment we recorded that, we knew we had something. That's one song that I knew right after we recorded it. I didn't have any doubt. I knew it was going to be a smash hit. I just pressed play when anyone said let me hear it.
TROBUL (Official Video) - SARZ X WURLDyoutu.be
What's the creative magic between you and Wurld?

WurlD for me is not a usual go-to artist for me. However, I'm open to a lot of things and working with him has made me understand music from another angle. And I remember a mutual friend of ours telling me about him, and how he'd like us to get in the studio together and stuff. At that time I had heard "Show You Off" and thought the song was cool. He had a unique voice. But I was in LA at that time and bro, living in LA is not cheap. I asked 'does he have money?' At that time, it was really a money thing for me. The first day we met, his time was up at the studio so we rescheduled. We later met another day at the studio, and he was playing me his music. While they were amazing, they weren't really what I was accustomed to. I kept thinking, 'how can we work?' I played some beats and I remember playing "Trobul" and he started humming some melodies. The next day, he sent me what he recorded and I loved it. That's when I made the decision: 'let's just work on a project.' He agreed, and since then, we've been working. We've been exchanging ideas, working at lengths. The project is out now. And it's lit.
How have you stayed at the center of afrobeats rise to global success?
One is the grace of God. Two, Sarz is not your mate. And three, I guess if you have something to offer, when the opportunity comes it would knock on your door. There's so much I've done music-wise that... that I'm glad has happened. For the creatives behind the music, I feel like it's a good time to be alive because we always get the short end of the stick. But making international records that do fairly good numbers puts some change in your pocket that most people do not get from producing local music. That's a little relief. Because here, apart from the advance you get from producing a song, nothing else makes sense. Especially for new producers, even trying to have a conversation with artists asking for some royalty, they feel like you're growing wings. That's terrible because these guys work even harder than the artists to make sure the sound comes out how it comes out.
"The producers dictate the sounds. We are the ones that go to our studios, bring it to life, and the artist just comes, do what they do and the song comes out. The numbers have to start reflecting that."
The producers dictate the sounds. We are the ones that go home, go to our studios, think about something amazing, bring it to life, and the artist just comes, do what they do and the song comes out. We're everywhere our music needs to be, I just think the numbers have to start reflecting that. I think that's because of us not having a functional industry here. Because at the end of the day, most of our numbers are still here. Because imagine if the afrobeats industry wasn't blowing up internationally and it was still local. At this point, I think everyone would be in tears because there is not much going on right now.
Don't you think it'd force us to do what needs to be done locally?

Has the hardship in Nigeria forced us to do what needs to be done? I think we're still used to living, as Fela says, suffering and smiling. So afrobeats booming all over the world is a blessing to be honest because if it wasn't, I don't know what we'd fall back to. We don't have as many shows as we used to. The rest of Africa is embracing their own. I remember there was a time where Nigerian artists would travel all over Africa and get tens of thousands, hundreds of thousands, to perform in other African countries. But it doesn't happen as much now because they have their own superstars now that they love more than Nigerians. Where are we going to get our revenue from? Artists that have brands bigger than the budgets of show promoters, how are they going to survive? It's a blessing that this is happening now and I hope we can get things right because we have an amazing industry in our hands.
Sarz. Photo: Manny Jefferson. Courtesy of the artist.
Tell us about the Sarz Academy?

The Sarz Academy unofficially has been open for the longest time. I've mentored so many producers including D-Tunes, Jay Pizzle, Legendury Beatz, Kel-P, and more. Lots of the new producers look up to me. I've always been that guy that shares knowledge, and helps elevate the creative side of things as regards music production. I just thought maybe I should do this professionally and my lawyer actually brought the idea and facilitated making it a thing. And that's what birthed the Sarz Academy. And so far, many producers have come out from there. Tempoe, Dunnni, STG were from the first edition of my Academy. I'm an open book, I feel like passing knowledge to people actually helps me even become a better producer and the ultimate goal for me is to see producers do way better than me in a shorter time. So the Academy isn't really just about music production, we also deal with the music business and the legal aspects as well, so any producer that comes out of the Academy is well rounded and you have like an attorney assigned to you moving forward so you don't sign slave contracts and anything you don't understand.
And you also have an idea of what to expect when working with someone. Because these were challenges I faced on the come up, and the next generation deserves better. This is one reason why parents don't want their kids to work in entertainment. They don't see a future, and how their kids can sustain a livelihood off of that. It's because things are not done properly. That's why I make sure that in my own way, things are done right for the producers that come to my academy.
What's your legacy?
I want to be remembered as that creative that pushed the envelope and pushed the afrobeats narrative to the next level. And I think to a large extent, I've done that. I also want to change the narrative of people thinking being a creative person, a musician, a producer isn't a serious job. Hopefully I can have my academy as a department in Nigerian universities. So that way, they know they are getting quality "sound education."