---
Okayafrica caught up with Kenyans Sauti Sol in the run-up to their first international headlining slot. This weekend the Nairobi-based quartet joins favourites The Very Best, Mafilika, Tumi Molekane, and YADi at the City of Stars Festival (27-28 September), a two day celebration of Malawi's very own arts festival stealing hearts worldwide. With Malawian artists such as Black Missionaries, Skyffa Chimodzo and Lucius Banda touring South Africa in the past few months thanks to the folks over at Limbani Multimedia, more people in the south and beyond have become familiar with Malawi's music scene, thus generating immense hype for this weekend's festival. Below Sauti Sol discusses what to expect from this weekend's festivities as well as what they've been up to of late!
Shiba for OKA: Hi gentlemen! Let's get into it, shall we? Last year, you were nominated for "Best East African Video" with AY for "I Don't Wanna Be Alone" and won! How do you feel about the two Channel O nominations this year and how far you've come as a band?
Sauti Sol: Last year was a surprise for us but it felt awesome, because at last our hard work was paying off and being recognized. For the two nominations this year, we're more than happy even if we don't win (that's a big IF *crossing fingers*), we appreciate that our efforts are starting to gain recognition. We will continue working extra hard to cross all borders in Africa. Also the new album we're working on, our third, will be quite something, we can't wait for you all to listen to it.
OKA: Who do you think will take the award for Most Gifted Video of The Year?
SS: That's a tough one to be quite honest because all the artists in that category are immensely talented. We can't give you a conclusive answer on that one. We'll just have to wait and see. All nominees deserve it, so it's a tough decision.
OKA: Tell us about City of Stars. How does it feel to be able to headline this amazing event?
SS: It's the first time we're headlining a festival outside Kenya so we're elated about that and at the same time we've been rehearsing a lot so as to give a performance worthy of a headliner. City of Stars is one of those festivals we've wanted to play because it's such an awesome platform and many other acts that have performed there such as the Noisettes are an inspiration to us.
OKA: Which acts are you most excited to share a stage with?
SS: First of all we mostly look forward to meeting new acts and getting to interact with them because we don't know most of them, in and out musically, and what we like about that situation is the surprise element of it all. We look forward to sharing a stage with Tumi because he's really good at what he does and we shared a stage with him here in Kenya at the Blankets and Wine festival. He was really good so we can't wait.
OKA: Congratulations on your graduation Bien! Clearly you care a lot about education, as much as you do entertainment, and, all of you have been travelling, doing talks under The Soma Soma Initiative. Tell us a bit about that and your experiences on the road.
Bien: We basically started our own project for championing education among the youth. We just want them to know that it's important to be educated and have a well-rounded world view. Experiences on the road are almost always exciting - I love my band and our tours and travel. We are soon going to Malawi, and then South Africa, then later maybe Ethiopia and London for gigs.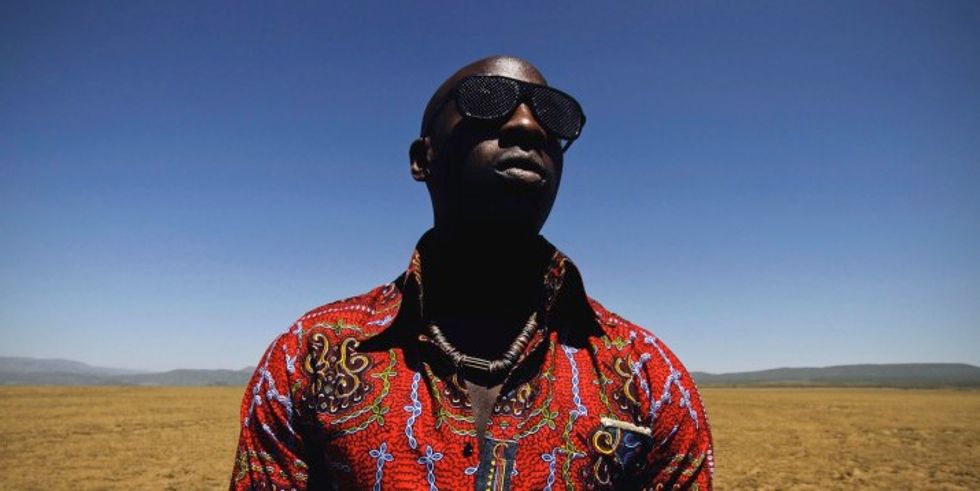 OKA: It's been a good year for Sauti Sol so far. Where would you like to see yourselves in 2014?
SS: We owe it all to God and hard work. We're spiritual and always visualize about where we'd like to see ourselves and we're where we are as a result of that. Things are picking up and what's next for us is to be big on this lovely continent of Africa, because this is home, this is where all the potential is, this is where the world is looking to and the continent is making great leaps in the international scene. We're working on our third album which we hope will be our soon. We feel the music in it will resonate well with the continent and can't wait to shoot videos for it and generally share it. We're really passionate about increasing our African fan base so for sure that's the agenda for 2014!
Join Sauti Sol in Malawi at this weekend's (27-28 September) City of Stars. Channel O's Africa Music Video Awards go down 30 November at Walter Sisulu Square in Kliptown Soweto.