You might know Shingai Shoniwa better as the lead singer of platinum selling UK-based indie rock band, The Noisettes. With hits from the previous two decades such as "Don't Upset The Rhythm" and "Never Forget You," the band went on an indefinite hiatus to concentrate on solo material, which hits closer to home. In Shingai's case, it's literal. Sitting with her for over an hour via a Zoom call from home in South London, she talked with pride over
Let's talk about the very beginning of your solo project. Why did you choose to go for a Zimbabwean sound with your solo stuff rather than with The Noisettes?
Well the cool thing about that, which Noisettes fans have appreciated is that for me, my most cherished musical and creative collaborator is actually Dan, my guitarist in the band! Him and I wrote most of the songs together on this new project. And we understand each other's musical tastes and what really excites us. For me it's always been about rhythm. Obviously I'm the bass player in the band and I grew up with a lot of rhythmic bass like African music or popm that was inspired by Southern African music as it's an important part of my musicality. So with Ancient Futures, Dan actually co-wrote and co-produced one of the songs on the EP with me called Revolutions. As for Dan, he hasn't so much been holding my hand, but more so being super supportive every step of the way and he just cosmically understands how quickly I can evolve creatively. With The Noisettes, it was really important for us to pause after album number three so that we could really dive in to our other musical personalities that maybe wouldn't have been necessarily right for the band or record.
---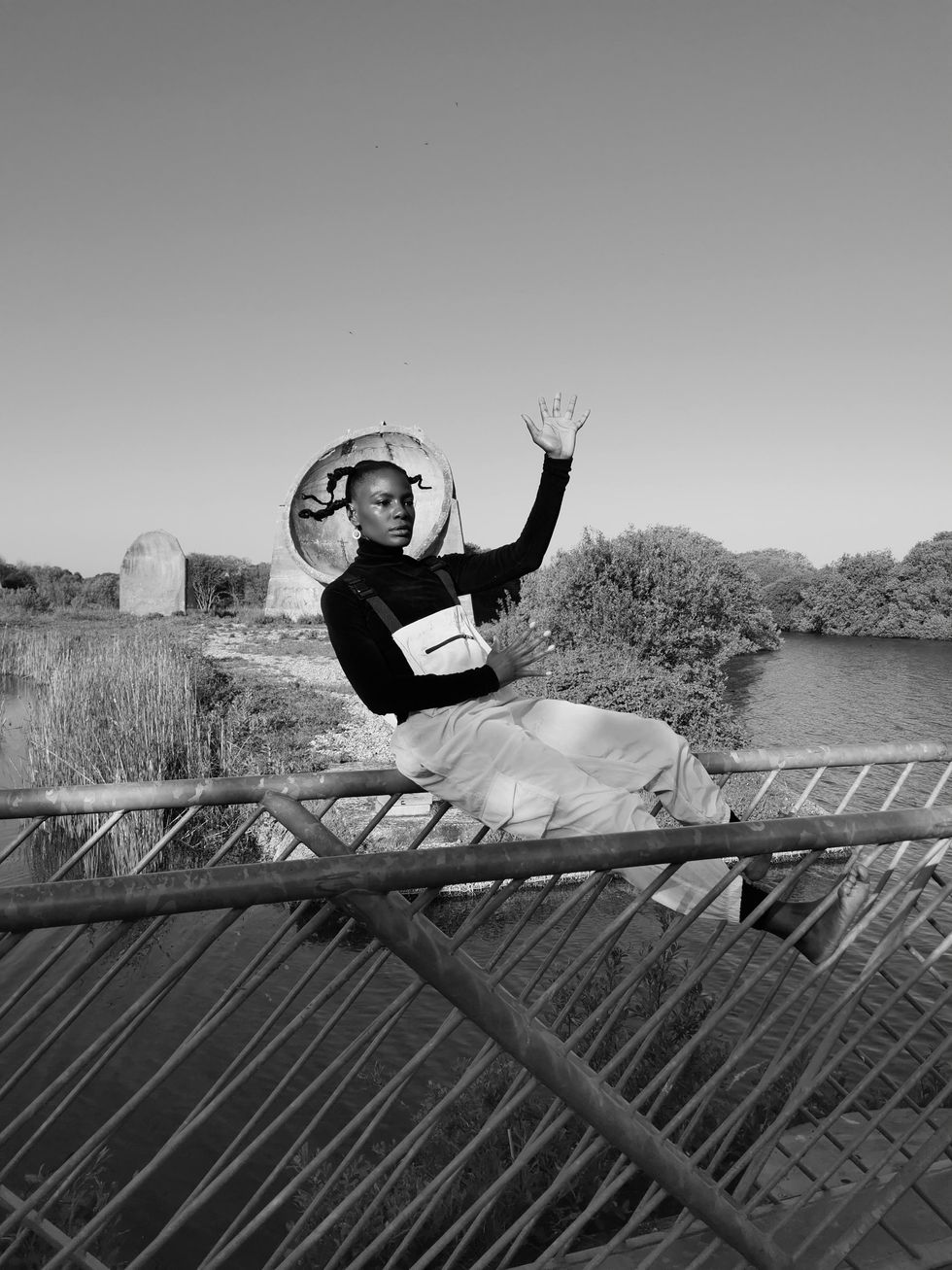 Shingai.Photo courtesy of the artist.
This new record is in two parts – the first one released earlier this year, with the second to be released in October. Why is that?

Well to come from Ancient Futures, which is a bizarre record in its own way, which is a compliment to going to a thirteen or fourteen track record—a heavy body of work—would have felt a bit too much and a bit too intense. I still really wanted people to soak up the first seven tracks as if they're still following part of my journey. Maybe some of them stepped on the train with The Noisettes, or with Ancient Futures or even Life.Sounds.Dimensions pt.1. Musically, I'm quite an insatiable spirit!
What are the themes of Life.Sounds.Dimensions?
There's a lot of poetry and the sonic territories are even wider. It's a big meal and I felt it would be too big to digest in one go! (Laughs) "War Drums" has a recording from when The Noisettes did a festival tour in Southern Africa. I got reunited with my family and dozens of my cousins came and they were singing this welcome song for us. So the kids chanting on the track that you hear is from them doing exactly this, which was so warm and intense. For me this is a journey of my musical work, which is not just reflecting my emotional journey but the harmonizing as well, like in the track "South London Safari." That was a series of hilarious stories and anecdotes of what it was like being a kid and growing up in South London in the nineties and noughties for example. Such as getting told off by your aunties or getting stoned in Crystal Palace Park and thinking that the dinosaurs are actually real, that kind of stuff! So there is a lot of me in there! (Laughs)
SHINGAI - War Drumsyoutu.be
What was the thought process behind your songs? As you said, there was a lot to unpack from the album, what with it being so diverse.

The thought process of this record was that I wanted to work with collaborators with whom I felt could really bring out the best of me. When I worked on the tracks "Revolutions" and "War Drums" for instance, it was the first time I worked on something like that, which was quite personal. At the time I wrote that song about a dark period in my life, it was around October-November time. The backdrop was current affairs and everyone was going crazy with their anxiety levels hitting the roof. My friends were worried on how Trump was going to press this button or that button. Obviously right now there's tension but for very different reasons. But towards the end of 2019, we can all agree that the tension levels in terms of worldwide current affairs, there was a lot of fear mongering going on. So I wanted to write an uplifting anthem to say that a lot of the people who are making people feel on edge have never experienced war. I thought I would turn the whole thing on its head and try not to write a conscious protest song, but more of a pop song laughing at people singing about war drums. Until Covid-19, most people in the west had no experience of war, especially the middle class or people from privileged backgrounds.
Staying on the subject of Zimbabwe and South Africa, whenever you go out there, you've got a tremendous rapport from The Noisettes days. What was it like playing a homecoming show a few years ago?
It was crazy! I was falling apart inside! I was looking snazzy on the outside, but on the inside I was the most nervous I'd ever been before a gig. First of all, we decided to a set of traditional songs. Because I don't speak Shona, that was my biggest fear because I obviously wasn't born or haven't lived in Zimbabwe for a consistent amount of time. The most time I've spent there was maybe a month and a half. I was also so humbled that people bought a ticket at a time when the financial stability of the country wasn't there. People who had saved up had done us really proud and they were saying we were part of the diaspora, even though that we'd achieved success in the UK, we'd always be bigging up Zim! There was lots of tears afterwards and the next day we were on all the local radio stations. We learnt from this experience that taking a risk pays off.