News
Solange Claps Back at Commenter Who Questioned Why Her Son Speaks French Instead of an African Language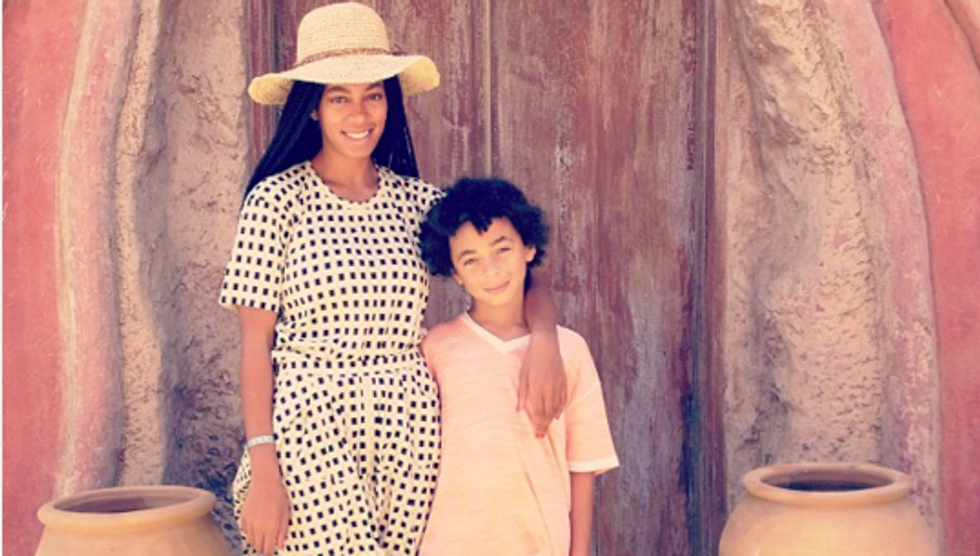 An exchange between singer-songwriter Solange and an Internet troll underscores a larger debate within African literary circles.
It seems quite obvious by now that you don't come for Solange Knowles unless she sends for you.
---
But apparently, one woman didn't get that memo Wednesday when she criticized the singer-songwriter on a Instagram post of her son Daniel "Julez" Smith Jr.'s 5th grade graduation ceremony where he recited a speech in French.
Instead of offering a simple "congrats," the woman questioned why Julez was learning French instead of African languages.
What was the point of him learning and speaking French? Is french gonna get him into heaven? Is French in his history? Is he French? Guide him to read and study African history, culture, language, etc. and The bible! His history! That's what is important. Stop raising our black little boys to be Euro men. #imjustsaying
The Saint Records founder prefaced her response with a bit of shade, also noting that English—the language they're communicating in—is also "a white mans dialect," before coming to this point:
What I will say is one of the key factors in making a decision on whether to embark on the French Immersion journey was actually made with the hopes of him being able to travel to many countries in Africa and connect, experience, and learn. He has since, been able to use that line of communication in Senegal, Rwanda and Morocco and make incredible friends, experiences, and moments in his life that I believe will be lasting and defining ones.
The exchange between the two women underscores a larger post-colonial debate within African literary circles on language and identity—whether writing and publishing in European languages privileges them over African languages and whether African literature can be considered authentic and classified as such if those works do not prominently feature them.
Consequently, there has been division among African writers like Ngũgĩ wa Thiong'o, who has questioned why African writers have accepted the "unassailable position of English in our literature," and Chinua Achebe, who supports using European languages contending, "it will be able to carry the weight of his African experience."
And in 2013, Zimbabweans restated their commitment to communicating in English, making it one of the officially recognized languages in their constitution,
along with 15 others.
While the questions the woman asked on Solange's Instagram are backed up by legitimate ones African writers grapple with as part of the process of molding a post-colonial African identity, posing them on an otherwise innocuous and celebratory post seemed wholly inappropriate.
But mama knows best. Tina Knowles, mother to both Solange and "LEMONADE" star Beyoncé, chimed in with some words of wisdom:
God just gave me the message...We must learn to not give negativity any rhythm and just it give it the attention it deserves and that's NONE!!! <3
Read the full conversation here.