South Africa's transition into the winter months is thankfully marked by plenty of visual art and mixed media events to take note of. Below we round up eight shows and exhibitions featuring some of the spiciest artists from the continent and the Diaspora. If you're in Cape Town, Johannesburg or Pretoria this June, be sure to save the following dates.
---
Kemang Wa Lehulere, The knife eats at home // Stevenson Gallery, Johannesburg
Kemang Wa Lehulere, Night sky, 2015, Ink on paper, 42 x 29.5cm ©Kemang Wa Lehulere courtesy of Stevenson Johannesburg and Cape Town
June is a month where South Africa is nudged into a painful nostalgia over the year 1976. Kemang Wa Lehulere unravels this poignant moment of history in his third solo exhibition at the Stevenson Gallery in Johannesburg. The knife eats at home is concerned with the unravelling of objects through the mediums of painting, drawing and sculpture. Nuanced echoes in the form of golden dust speak to Kemang's previous collaboration with his aunt Sophie Lehulere, History Will Break Your Heart, producing layers of what Kemang describes as a "sad love song."
Kemang will conduct a preview walkabout at the gallery on Thursday 9 June.
The knife eats at home opens on Thursday 9 June, 6-8pm, and runs through 15 July.
Pieter Hugo, 1994 // Stevenson Gallery, Cape Town
Pieter Hugo, 1994, Portrait 1, Rwanda, 2014, C-print © Pieter Hugo courtesy Stevenson Cape Town and Johannesburg
While Stevenson spotlights Kemang's work in Braaamfontein, Woodstock in Cape Town will be lit up by a new series of photographs by Pieter Hugo. 1994 juxtaposes the youths of Rwanda and the documentary photographer's homeland, South Africa.
Describing his body of work, Hugo says:
"I happened to start the work in Rwanda but I've been thinking about the year 1994 in relation to both countries over a period of 10 or 20 years. I noticed how the kids, ­particularly in South Africa, don't carry the same historical baggage as their parents. I find their engagement with the world to be very refreshing in that they are not burdened by the past, but at the same time you witness them growing up with these liberation narratives that are in some ways fabrications."
1994 opens on Thursday 2 June, 6-8pm, and runs through 16 July.
New Revolutions // The Goodman Gallery, Johannesburg & Cape Town
The Goodman Gallery is commemorating its 50th anniversary with stellar exhibitions in Johannesburg and Cape Town. New Revolutions features the work of David Goldblatt, ruby onyinyechi amanze, William Kentridge, Brett Murray, Tracey Rose, Carla Busuttil, Nolan Oswald Dennis, Kudzanai Chiurai, Jabulani Dhlamini and many many more.
The Cape Town opening will take place on 2 June. The Johannesburg opening follows on 4 June and features performances by socio-political performance art ensemble The Brother Moves On and Nelisiwe Xaba, who is known to choreograph manic infusions of feminism and dance. On 7 June you can catch an artist talk with Jacolby Satterwhite.
And if the multitude of African and international artists on show doesn't satisfy your aesthetic appetite, check out the series' film programme on 2 July at the Bioscope in Johannesburg and The Labia Theatre in Cape Town.
The Goodman Gallery's New Revolutions: 50th Anniversary Show is on view 2 June through 6 July in Cape Town and 4 June through 6 July in Johannesburg.
Untitled 2.99 // 99 Loop, Cape Town
Tsoku Maela, Appropriate 2. Courtesy of 99 Loop Gallery.
99 Loop Gallery in Cape Town will be hosting its first winter group exhibition. The show features the ethereal work of Tsoku Maela, a fine art photographer, filmmaker and writer from Limpopo.
The rest of the 99 Loop family includes Heike Allerton-Davies, Ilené Bothma, Bev Butkow, Katrine Claassens, Karen Cronje, Adriaan Diedericks, Girls & Boys, Marna Hattingh, John-Michael Metelerkamp, Johann Nortje, Leanne Olivier, Anastasia Pather, Khaya Sineyile, Cornelia Stoop, Hannalie Taute, Alice Toich Chris Valentine and Karen Wykerd
Untitled 2.99 will run from 2 June through 22 July.
Art of Brother, Country for Old Men // Worldart Gallery, Cape Town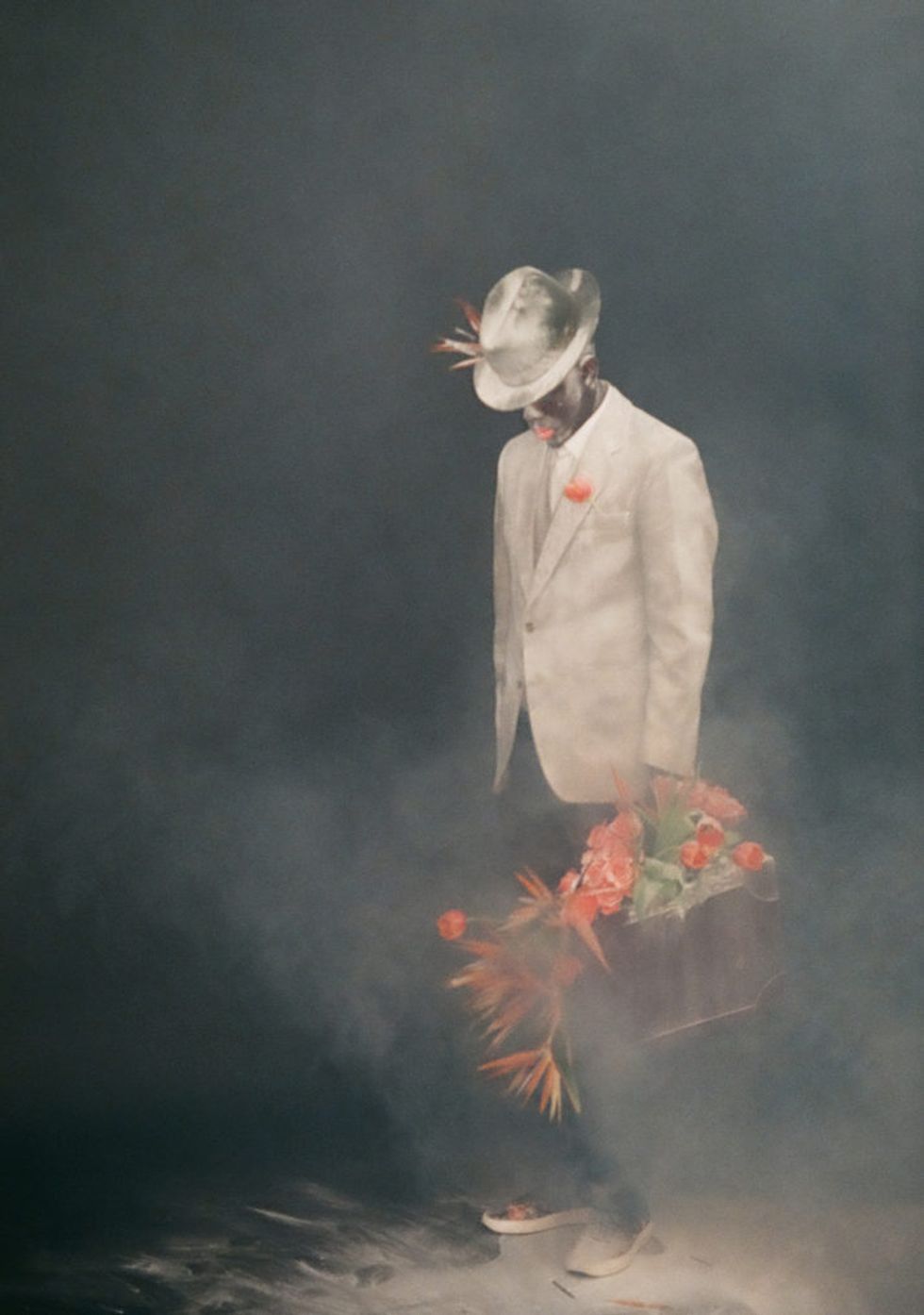 Country for Old Men photoshoot. Photo: Altus Brand. Model: Batsy Magwere. Courtesy of Art of Brother
The Art of Brother duo is sharing their second exhibition on the first Thursday of June at Worldart Gallery in Cape Town. The showcase will feature an interrogation on the performance of masculinity through the mediums of photography, sculpture and painting.
Art of Brother is the Cape Town-based art collective of Cobus Engelbrecht and Karabo Makenna, the duo behind last year's Myths Recreated show in Cape Town. Speaking on their new exhibition, Art of Brother says:
"We like to describe our work as crossing paths with the past and the present – bringing light to that unnamed space in between.
With Country for Old Men we explore how our forefathers represented a more 'culturally preferred gender role', acting out what society thought and felt a man should be. This exhibition is the act of us searching for the meeting point between the experiences of our forefathers and the present – how they live through us, and how we will live through others in the future.
This exhibition sees Art of Brother question the old 'rules of masculinity' we were taught by our forefathers, at the same time as remembering them, and figuring out what it means to be a man in the present and what that means for the future."
Art of Brother's Country for Old Men opens 2 June.
!Kauru Contemporary African Art Project, Being and Becoming // UNISA Art Gallery, Pretoria
Edson Chagas, Patric J. Njong, Tipo Passe, 2014
The !Kauru Contemporary African Art Project has been running for five years, with an incentive to promote cultural diversity as a way of opening up discourse surrounding contemporary art in an African context and all the intersectionality and transformation talk that comes along with it. The exhibition is jointly curated by Paula Nascimento (Angola), Raphael Chikukwa (Zimbabwe) and Bongani Mkhonza (South Africa).
Being and Becoming: Complexities of the African Identity features works by some of the continent and the diaspora's foremost video and photography artists, including Yinka Shonibare, Robin Rhode, Ayana V. Jackson, Lerato Shadi, Kudzanai Chiurai, Thando Mama, Louis Kakudji, Irineu Destourelles, Yonamine Miguel, Délio Jasse, Nástio Mosquito, Mario Macilau, Helen Zeru, Egnaldo Vilanculo, Edson Chagas, Mudi Yahaya and more.
The !Kauru Contemporary African Art Project's Being and Becoming is on view 25 May – 25 June.
Maurice Mbikayi, Mupia-Mupia // Gallery MOMO, Johannesburg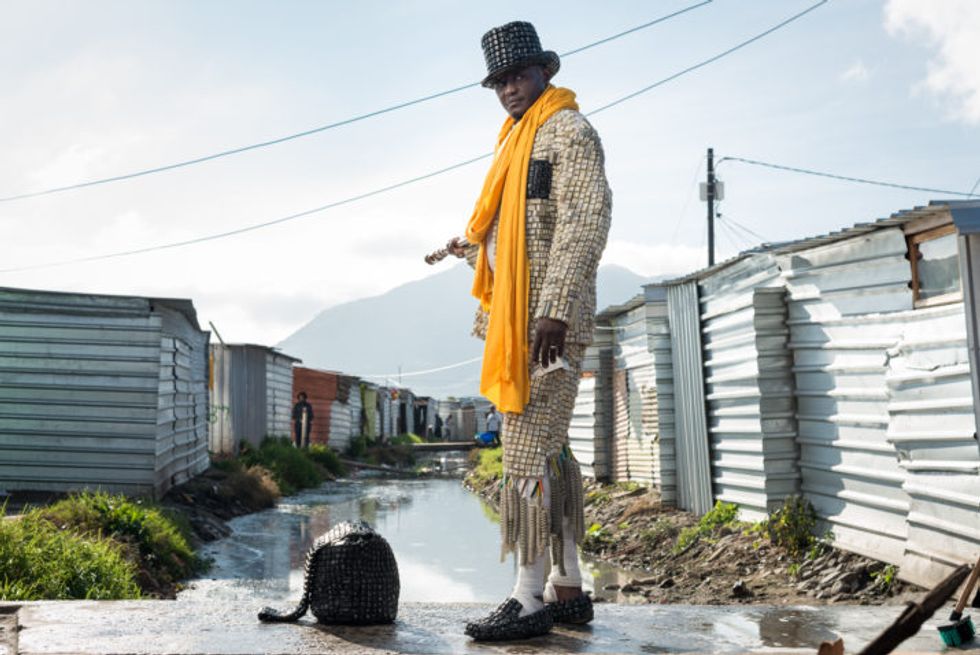 Maurice Mbikayi, Bilele, 2016. Courtesy of Gallery MOMO.
Cape Town based, Congolese-born creative Maurice Mbikayi will be sharing his latest dismantling of technology in an African context at Galley MOMO in Johannesburg.
In his afro-expressive envisioning of negritude, post-modernism, post-colonialism and a hybridization of his Congolese heritage, Mbiyaki presents an introspective discourse on the borders of virtual and physical space.
Mupia-Mupia translates from Luba into English as "new and shiny." This is the essence of Mbiyaki's body of work, which is at once a weapon of mass reconstruction and introspection.
Mupia-Mupia will be on show from 9 June through 18 July.
Virtual Encounters // The American Corner, Cape Town Central Library, Cape Town
On the first weekend of June, spend the afternoon checking out some of the world's best VR at The American Corner, Cape Town Central Library. Virtual Encounters, part of the Encounters Documentary Film Festival, is an exhibition floating at the nexus of documentary storytelling and new technology.
Of the event, curator Ingrid Kopp says:
" …from exploring painful personal experiences (That Dragon, Cancer) to being tracked on the web (Do Not Track), to immersion through sound and virtual reality of a man's experience of going blind (Notes on Blindness: Into Darkness) These exciting projects show how elastic and expansive the world of non-fiction storytelling can be, an inspiration for artists to try something brave, new and different."
Virtual Encounters runs 2-4 June.
Chaze has got Zambian roots and is currently making the most out of a polyamorous relationship between poetry, photography and documentary filmmaking in Cape Town.