Winter in South Africa is a great time to snuggle up and get your reading on. Last year, South African literature saw the rise of a new generation of writers releasing their debut novels, from singer Nakhane Touré's Piggy Boy's Blues to Panashe Chigumadzi's Sweet Medicine.
---
2016 has been no disappointment. Young South Africans are putting pen to paper and telling their own stories. We've rounded up some of the most exciting new books by South African writers from the first half of 2016.
"The Yearning" – Mohale Mashigo
Photo: Sydelle Willow Smith
Published By: Pan Macmillan South Africa
Lauded as a "A bewitching addition to the current South African literary boom" by South Africa's own beloved author, Zakes Mda, "The Yearning" is Mohale Mashigo's debut novel. Mashigo, who moonlights as Cape Town singer-songwriter Black Porcelain and radio moderator Carol Mashigo, began working on the book in 2006. It tells the story of Marubini, a young woman living in Cape Town, who has a seemingly perfect life. But when her past comes back to haunt her, she must begin a journey of self-discovery and fill a yearning that's both spiritual and cultural.
"The story of Marubini is really about how her parents loved her so much, they had to hold on to her so tight that they caused some cracks as well," Mashigo told The Daily Vox. "When I was writing this book, I didn't know that I had my own yearning. I questioned whether I was living my life the way I want to or living the way my parents want me to. Am I trying to please them or hiding from being a writer? Through this, I realised there were many things that brought me to this point."
"The Girl Without A Sound" – Buhle Ngaba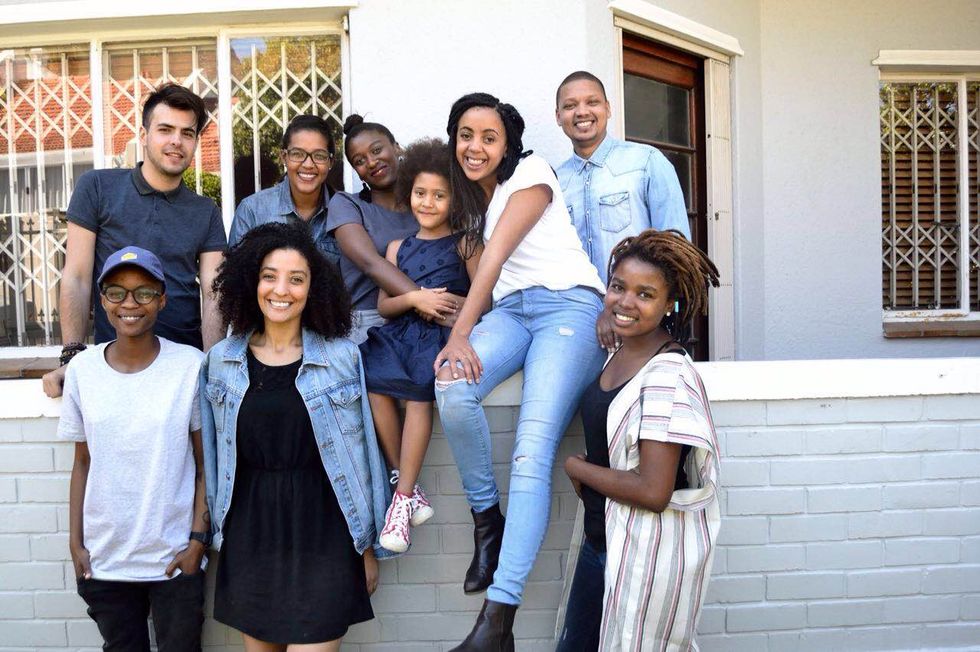 The team behind "The Girl Without A Sound"
Published By: Self-published
"The Girl Without A Sound" is a book for black girls everywhere, as author Buhle Ngaba calls it. It tells the story of a "voiceless" young girl on a journey to find her voice.
"The Girl Without A Sound was born out of defiance and as a response to the fairytales we were told as little girls," the book's team writes in an email. "Stories about white princesses with blue eyes, flowing locks of hair and an overwhelming awareness of their beauty."
"More than that, we want it to be a healing balm for all who read it.. For the black female bodies that are dismissed or violated in a white, patriarchal and racist reality...As an act of restoring power and agency to young black girls in South Africa."
"The Girl Without A Sound" is available for free download as an ebook in English and Setswana. You can also pick up your hard copy here.
"Three Sisters" – Tshego Monaisa
Published By: Porcupine Press
In "Three Sisters," scriptwriter and novelist Tshego Monaisa tells the stories of Millicent, Lesego and Mpho, three women who exist in parallel universes but are all in abusive relationships.
Millicent is a 45 year old housewife living a lavish lifestyle thanks to her husband Paul. But when money troubles strike, Paul becomes increasingly violent towards Millicent. Lesego is a 23-year-old Johannesburg transplant whose life changes when her ex-boyfriend arrives in town. 32-year-old Mpho is murdered by her boyfriend Kgotso, and the question remains whether her mother will avenge her death or let it go.
"In writing this book, my appeal to women is that we open up, let the mask fall and speak about things that are negative and affecting us," Monaisa told SABC. "If you are going through abuse then speak up, it could save your life."
"Always Anastacia: A Transgender Life In South Africa" – Anastacia Tomson
Anastacia Tomson. Courtesy of Jonathan Ball Publishers.
Published By: Jonathan Ball Publishers
"Always Anastacia" is the memoir of a transgender woman born into a Jewish family in Johannesburg and raised by her parents as a boy. Anastacia Tomson, who graduated as a medical doctor from the University of Pretoria, tells the story of her transition from being a man to a woman and finally being able to be herself. "I don't have to hide my disgust anymore at being called 'boet' or 'sir'. I no longer have to tolerate any references to my deadname," Tomson says in the book. This firsthand account of a South African transgendered life explores the complex topics of gender and sexuality in contemporary southern Africa.
"Writing What We Like: A New Generation Speaks" – edited by Yolisa Qunta
Yolisa Qunta, editor of "Writing What We Like: A New Generation Speaks"
Published By: Tafelberg
"Writing What We Like" is a collection of works by young and emerging South African thought leaders. The book offers a glimpse into a range of topics affecting South Africa, and boasts contributions from the likes of singer Simphiwe Dana, comedian David Kau and Sivuyile Ngesi. "In this country I feel oftentimes we don't engage each other" the book's editor, Yolisa Qunta, told SABC. "Maybe we can start having conversations on how to make South Africa better."
"I'm A Different Mess Than I Was Yesterday" – Msizi E. Nkosi
Published By: Self-published
"I'm A Different Mess Than I Was Yesterday" is the true story of TV and radio producer Msizi E. Nkosi and his journey from humble beginnings in Kwa-Zulu Natal to dropping out of varsity and still making it in South Africa's cut-throat entertainment industry.