Op-Ed
Price to Pay: The Complicated Relationship Between Ambitiouz Entertainment and South Africa's Music Scene
Photography by Sabelo Mkhabela.
Through all the horror stories shared by artists, it's impossible to overlook Ambitiouz Entertainment's contribution to South African music.
One of the biggest South African songs at the moment boasts a lineup of artists that blend styles for a smooth collaboration. With verses for the heads and a catchy hook for the radio, "Price to Pay" by Miss Pru DJ features the duo Blaq Diamond and Lesotho-born rapper Malome Vector.
A quintessential Ambitiouz Entertainment song, "Price to Pay" feels like 2016/2017 all over again, even if it's for just above five minutes. When Ambitiouz started circa 2015, a majority of its hip-hop artists—Emtee, Saudi, Sjava, FiFi Cooper, and others—were doing trap rap, mostly in native languages. Even A-Reece, who raps almost exclusively in English now, threw a few SePitori phrases in his rhymes. Singles such as "Tshela" and "Smokolo" released by the rapper Priddy Ugly under Ambitiouz were his first experiments with adding native languages in his verses beyond hooks.
While streaming "Price to Pay" and other songs released by Ambitiouz Entertainment, however, one wonders if, years from now, Malome Vector and Blaq Diamond will be sharing horror stories of working with the label, just like many of its previous signings.
---
The highly publicized departure of A-Reece, Flvme, B3nchMarQ and FiFi Cooper from Ambitiouz Entertainment in 2017 was the first of many events that showed the public that not all was well regarding the label's relationship with its artists.
Miss Pru Dj - Price To Pay Ft Blaq Diamond & Malome Vector ( Official Music Video)www.youtube.com
On the same day he announced his departure, A-Reece released a song titled "Loyal," in which he shared a few insights about his decision to leave and what kind of treatment he endured from the label, rapping: "Getting monthly pay of less than 20k was never part of the plan/ PR buying cars before the artist, it doesn't match up."

Upon his departure in 2018, Priddy Ugly shared stories of being overlooked by the label; which he claimed didn't deliver on its promises to him.
Amanda Black successfully sued Ambitiouz Entertainment for close to R1 million in unpaid performance fees last year. "Ambitiouz made me," Amanda toldDrum in January after the settlement. "I loved them to death, and I appreciate the platform they gave me. They helped me find my sound and my identity and I will be eternally grateful. It's a pity things had to end up in court."
Emtee, Sjava and Saudi have also since left the label. The former, after a highly publicized commotion between both parties. Even though the label hasn't put much effort in giving its side of the story to the public, there has been enough information for fans, fellow artists and industry insiders to know that many of the departed artists weren't happy with how they were being treated. Artists Riky Rick and Busiswah have both publicly expressed their disapproval and condemnation.
RECORD COMPANIES THAT DID "BLACKOUTTUESDAY". WILL YOU PLEASE FREE THE YOUNG BLACK ARTISTS THAT ARE FIGHTING TO BE R… https://t.co/X8RBdCFugL

— MR MAKHADO™️ (@MR MAKHADO™️) 1591176755.0
Emtee continuously "blesses" you in many ways even after he's left your label & you're here to act like a hungey kr… https://t.co/xPsGLmmz4O

— Busiswa Gqulu (@Busiswa Gqulu) 1589125703.0
As fans, we always take the artists' side. After all, they are the ones who make the songs we connect with. We, however, overlook the fact that none of these artists were forced to sign contracts (in the cases where contracts are even signed). Running a label is a business—the label provides artists with resources (studios, producers, PR and marketing etc.) which all cost money. It's unfair to expect labels to simply allow their investment to go to waste when an artist decides to leave.

On the other hand, yes artists sign contracts, but we don't live in an ideal world. We can never overlook the realities under which these signings happen. With most labels signing or "partnering" with and prioritizing established acts in South Africa, young talent generally struggles to attract labels that are willing to assist them, until they have built substantial fanbases. If emerging artists choose the independent route; they risk their music never reaching the rest of the country.
Artists have often been criticized for "signing contracts while hungry" mostly by fans who aren't clued up about the hardships faced by emerging talent in South Africa. In 2019, while engaging one such fan, Sibu Nzuza, one of Ambitiouz Entertainment's recent signings, shared a detailed response in a lengthy Facebook post.
Sibu Nzuza - 5 Minutes (Official Music Video)www.youtube.com
"[When the deal comes, you read it, and as an artist you understand English, so you understand it], and you're not happy with signing your life away," he wrote, "but this deal gets you outta the streets, guarantees you nationwide exposure, you gain hundreds of thousands of followers, guaranteed airplay and you'll finally get to feed your family nawe ube ngumuntu. Coz turning down this deal, what do you go back to? Is there even anything to go back to except the streets? Sadly not."

So, in some cases, artists do walk into a deal knowing exactly what they are getting themselves into. That is a reality in many industries in a country that has a high rate of youth unemployment. The difference, however, is contractual feuds between an accountant and a firm they are working for is highly unlikely to become an issue of national interest.
It's still saddening and concerning nonetheless to know that your favorite artists, who are role models to many young people in the country, are subjected to unpleasant treatment by the same entities meant to propel their careers forward. A-Reece rapped in Riky Rick's "Pick You Up," a 2017 song in which he's featured: "Funny thing about this whole shit, making Paradise was a living hell."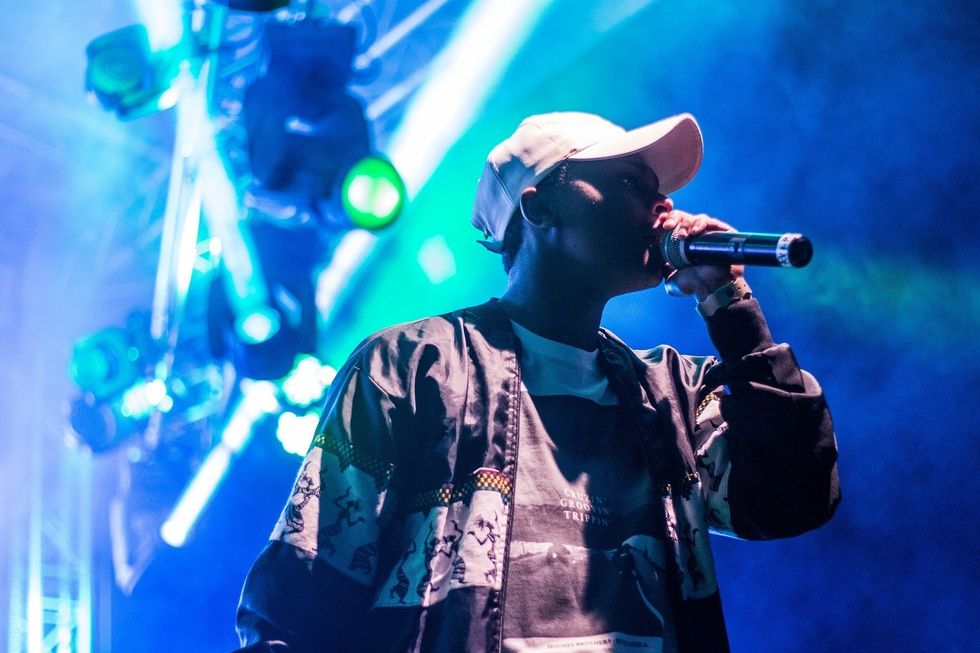 A-Reece in 2016.Photo by Sabelo Mkhabela.
Last year, speaking at the monthly music industry information sharing event Music Unscripted, the rapper Gigi Lamayne shared her ordeals with the labels Mabala Noise and Ambitiouz Entertainment. She cited being neglected and interference in her creative process as reasons for departing from the latter. "I got into discussions like, 'but, you can sing. Why don't you sing?'" Gigi Lamayne said. "But I'm a rapper."

With all the negative and disturbing press and recurring stories of ill treatment of artists by the label, however, it's still impossible to overlook the role played by Ambitiouz Entertainment in the country's hip-hop and popular music scene.
Anyone who has been observing South Africa's music scene will tell you that the 2016-2017 period was dominated by Ambitiouz and its artists. Era-defining and genre-shifting albums such as Sjava's debut Isina Muva (2016), Emtee's debut and sophomore albums Avery (2015) and Manando (2017), A-Reece's Paradise (2016), Amanda Black's Amazulu (2016) and Saudi's D.R.U.G.S Inc (2017) were released in that era.
In those years, Ambitiouz was home to the crème de la crème of young and emerging SA hip-hop talent at the time. They were churning out quality albums at a fast pace. Fans were treated to memorable posse cuts and collaborative singles—"Ameni," "Ugesi," "Washa," "Vura," and more. Their videos usually incorporated storytelling, playing out like short films (Sjava's "Ek'seni," Emtee's "We Up," Miss Pru's "Ameni" etc.). These videos were directed by Ofentse Mwase who has gone on to become one of the country's most sought-after and trusted music video directors.
Ambitiouz Entertainment was a breath of fresh air—the label's roster consisted of young and progressive musicians. It plugged its artists on radio and TV with a muscle almost as strong as the major labels'. For instance, after struggling to get effective airplay for years, after signing with the label, the rapper Priddy Ugly's single "In The Mood" became his biggest single to date at the time, getting playlisted on most of the country's national radio stations. Emtee's breakout single "Roll Up" had been released in 2015, but it took the label's muscle and a music video for the song to catch on and become a nationwide hit and one of Emtee's biggest songs to date (a remix featuring Wizkid and AKA would come out the following year).
Emtee - Roll Up (ReUp) Ft WIZKID & AKA ( Official Remix)www.youtube.com
To this day, Ambitiouz is one of the few labels that are willing to do the dirty work—finding raw talent, developing them and turning them into some of the country's biggest national stars.

These artists could have eventually found their way into the industry on their own or with other labels, but as things stand, there's no Emtee, Sjava, Amanda Black or A-Reece as we know them without Ambitiouz Entertainment. They were all introduced to the industry as unknown artists and left as award-winning nationally (and some internationally) recognized acts.
Just like rappers such as ProVerb, the late PRO(Kid), Skwatta Kamp and others before his time, A-Reece took the momentum the label had afforded him and built one of the most impressive independent hip-hop careers in South African history with a loyal cult following that could kill for him. Flvme's case is the same.
Currently, Ambitiouz Entertainment is developing, recording and promoting new acts like Blaq Diamond, Malome Vector, Kid Tini, Snymaan and a few others. Prior to signing with the label, these artists were not known to the general public. Today, they are slowly becoming household names themselves.
Ambitiouz Entertainment is to the mid-2010s (and evidently the 2020s) what labels like Ghetto Ruff (Zola, Khuli Chana, O'Da Meesta, Prophets of da City etc.) and Outrageous Records (ProVerb, Zubz, Optical Illusion, Miss Nthabi) were to the 2000s—understanding what the streets want, scouting for talent and introducing them to the country and at times the continent and the rest of the world.
Many young artists express their desire to work with Ambitiouz Entertainment almost every day on Twitter. The controversial label continues to be impactful in the country's music scene and is still home to new artists that fans are in love with. This explains why, even after hearing all the horror stories from artists, we are still streaming and rapping and singing along.
This piece is part of Sabelo Mkhabela's South African hip-hop column. He's happy to debate you on Twitter: @sabzamk.