In the mid-2000s, South African hip-hop wasn't as popular as it is today, but it was at its most promising business-wise, and at its most potent lyrically (let's not argue).
The greatest wordsmiths SA hip-hop has ever seen—think Optical Illusion, Konfab, Godessa, ProVerb, Zubz, Tumi, Nthabi, Isaac Mutant, Qba, Maliq among countless others—were active in full force during that era. Of course, a few of them are still active today.
---
Boom bap was the sound of choice, and the main focal point for rappers was bars. DJs were scratching and releasing mixtapes frequently, B-boys were spinning, and graffiti artists were conjuring characters on walls. Not that none of that is happening now, but there's just something special about the purity of that era. The authenticity of the music and the synergy among the art form's elements was a great sight to behold.
New age artists such as Jozi were also on the come-up, and Skwatta Kamp was penetrating the mainstream, paving the way for the biggest stars of today.
Hype magazine, the biggest South African hip-hop print publication (which is still in existence), was there to document it all. One of the most important contributors of Hype at the time was the Soweto-born photographer Tsakane Maubane. He took memorable portraits of artists who were active during that era.
His images are a time capsule and an era well-documented. The photographer preferred outdoor shoots as opposed to the confined space of studios. Which is why, according to him, he hardly shot the magazine's covers.
In the interview below, we talk to Maubane about documenting that era, his relationship with hip-hop, money, what he's busy with now, and more.
Editor's note: This interview has been edited and condensed for clarity.
How did you get to document hip-hop?
All my friends are heads, rappers and graffiti artists and I was into photography. So these are people I lived with in the same space, sometimes, same house or building­–the likes of Cashless Society, Groundworks, Ben Sharpa… basically the elder gods. So if I was taking pictures, they were there.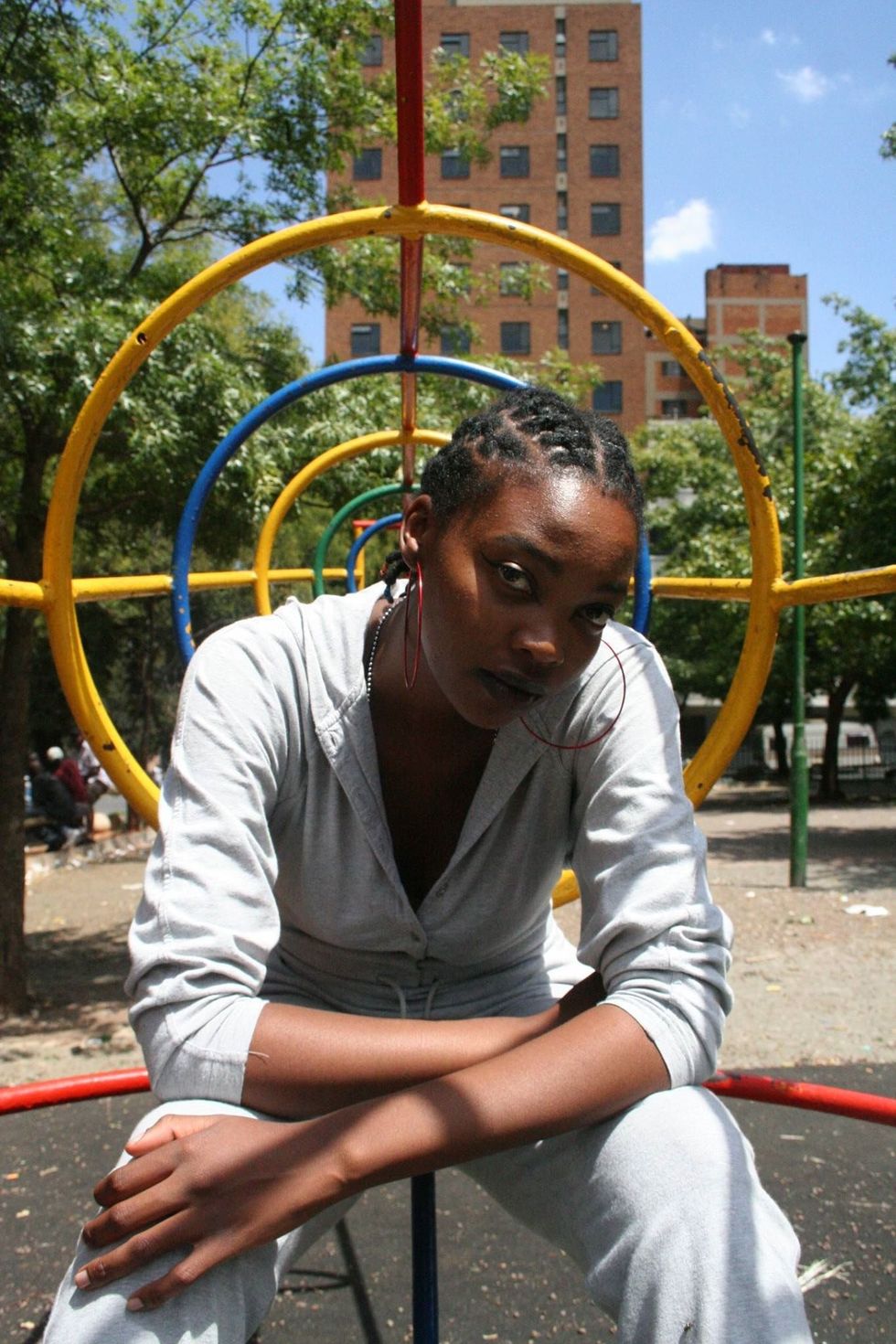 Qba. Photo by Tsakane Maubane.
How did you get to contribute to Hype?
So what happened is that one night, there was a hip-hop show in Newtown–guys like BMP and Gin-I-Grimes were there. On that night, I had my camera with, as usual, and I got to meet Mizi Mtshali (ex-editor of Hype). This young brother steps up to me, and asks if he can get some of the pics I took. I liked the dude­, he was respectful. And a week or two after that, he got the job at Hype. I think when he spoke to me, he knew he was in contention for the job.
I stayed in Yeoville, which is closer to Parktown where the Hype offices were at the time. So it wasn't difficult to take a walk to the office and find out what they needed visually.
In the beginning it was Mizi saving hip-hop, with a red cape and all of that, you know. When there were artists out, say in Tembisa, they would send in material for a feature on the magazine, but the visuals were never right. So Mizi would phone me and I would mission. I then also started seeking out artists even outside of Gauteng.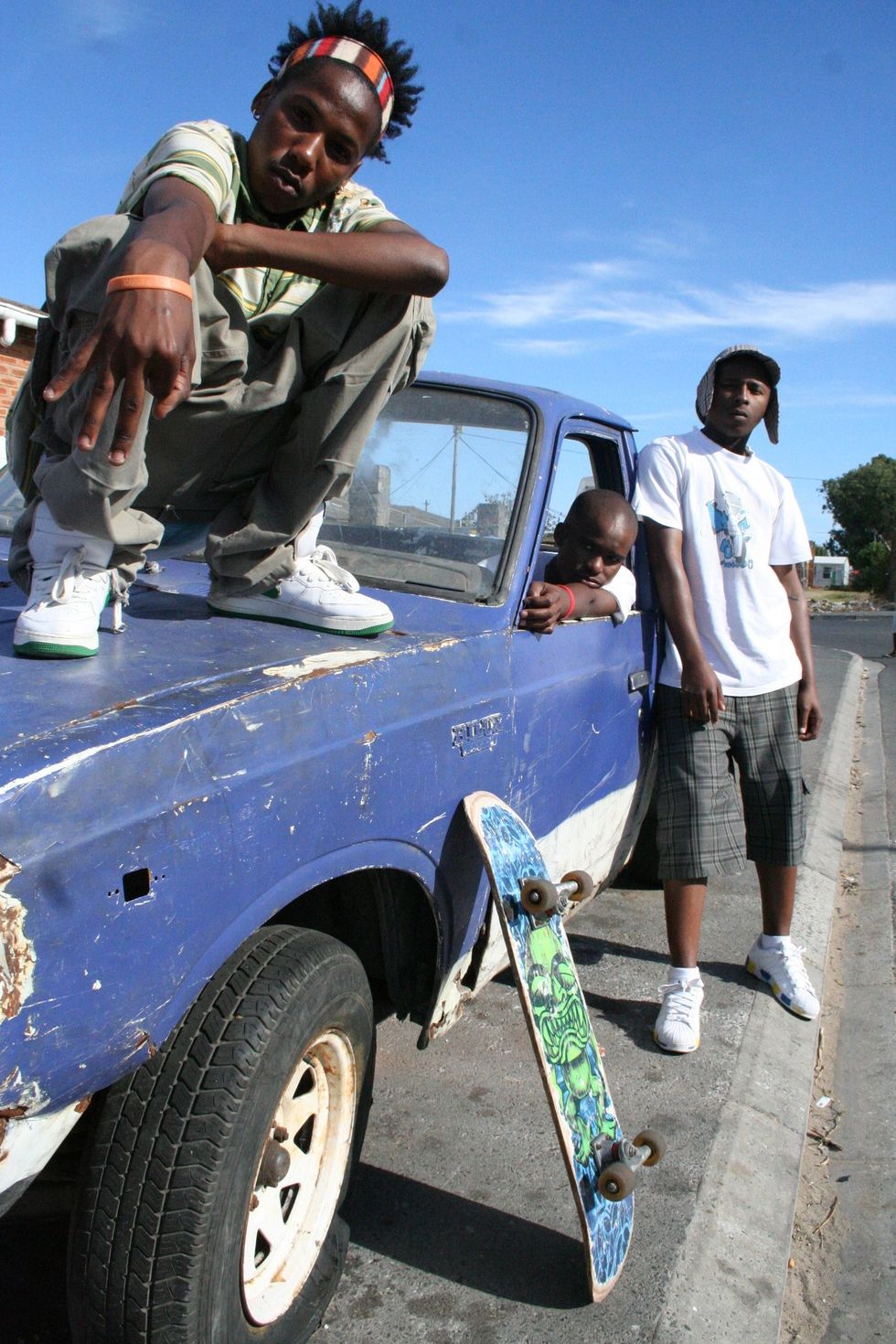 Driemanskap. Photo by Tsakane Maubane.
Your images had a street aesthetic to them, which is where SA hip-hop was at the time.
I had a clear vision of how hip-hop should look. When we were in our teens, the sound of hip-hop crystallized into the golden era, from 1992 to 1998. You couldn't just rap over a house beat and call it hip-hop. There was a distinct sound that defined hip-hop. There was a definite language and mannerism. So when I got involved with the magazine, I came from that. There was a way that you were supposed to pose (not that I told dudes how to pose), a certain attitude, a certain strut to it. And I felt like that had been lacking in the magazine at the time. When we came along, our purpose was to show that—you don't just come in here, not everything goes.
So how did you approach taking photos of artists like Jozi, who were doing crunk, and didn't fit that aesthetic?
That was interesting. When I grew up we were influenced by what was happening in the States obviously—watching the videos, I would look at the environment, not just at dudes. This is before selfies, so it wasn't about the person that was in the picture, but also the environment, the people around, the buildings, the tags on the buildings. So my photography had that accent to it. I would take the artist and put them in a certain environment, so I had to seek out locations. Yeoville and the inner city in general sort of became my studio. Whenever I had someone to shoot, I would insist they come out here.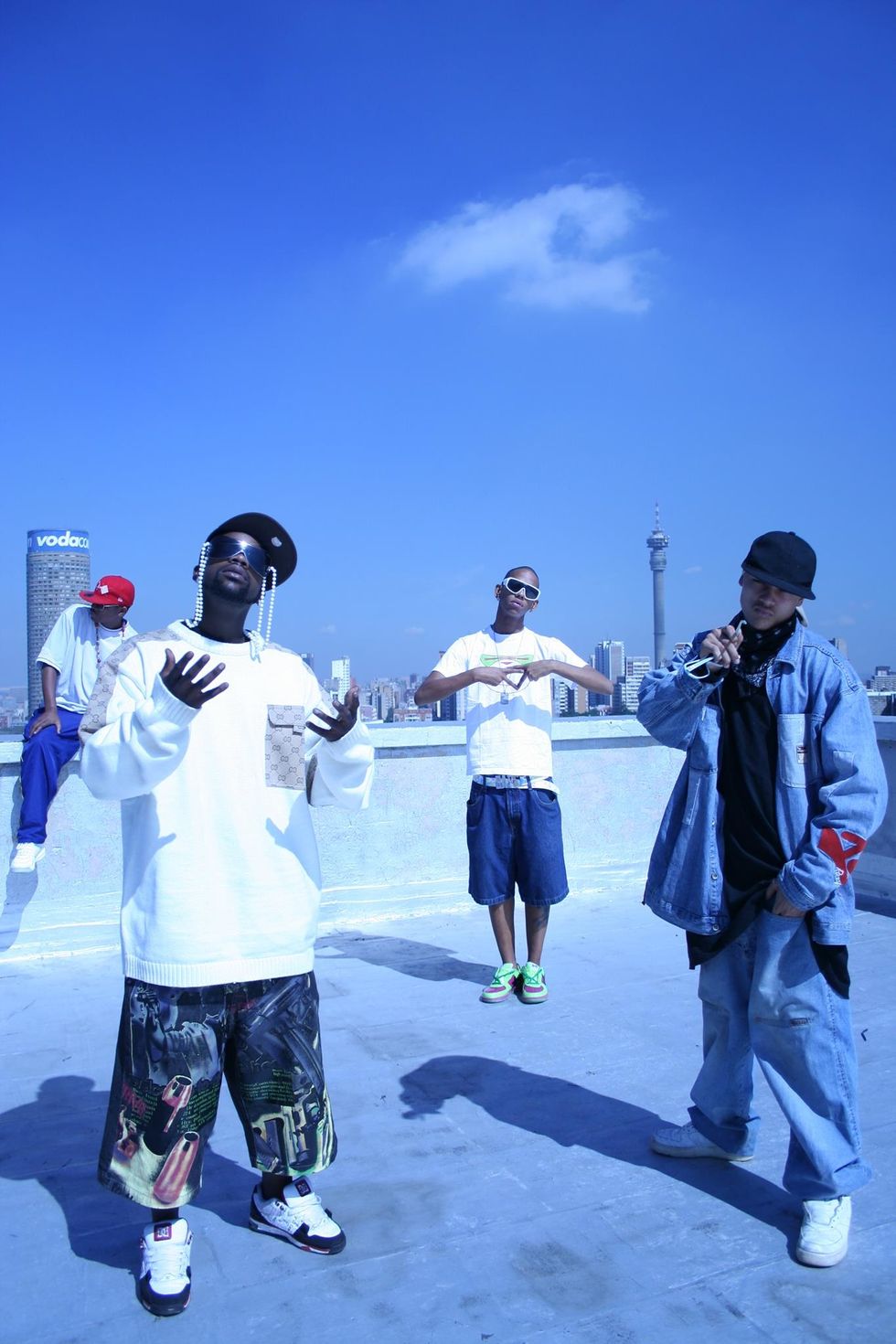 Jozi. Photo by Tsakane Maubane.
With the Jozi shoot, they had a radio interview elsewhere. They asked if we couldn't just pull in for five minutes and take pictures next to their cars, because they were pressed for time. I used to persuade artists that it's in their interests that we do it my way. I made Jozi cancel the interview. I explained that you can go on radio now, the interview is for now and people will forget about it. This will go on print and live forever. They came around. I shot them at a rooftop, with the city as a backdrop, it was a metaphor. But the shoot itself, it wasn't tough. At the end of the day, they were still hip-hop cats, they were influenced by hip-hop. You know, Ishmael. I was influenced by that cat actually.

I'm getting the sense that you were not just a photographer, but were heavily into the scene.
Yes. I can take credit for taking spaza out of Cape Town. I was always going to places with my camera. So I ended up in Cape Town, and there was this new sound. So I got introduced to all these people. And I took pictures of them. And it was off of my own accord, it wasn't an assignment. It was just that when I was missioning around, I always had my eyes open for whatever was out there. Then I came across these cats—I was introduced to them of course by my brothers who come from Cape Town–Breeze, G.O.D… dudes who I would be in Cape Town for. Then when I came back [to Joburg], I had to persuade the people in the office to expose to the wider public this new sound from Cape Town that not many were aware of.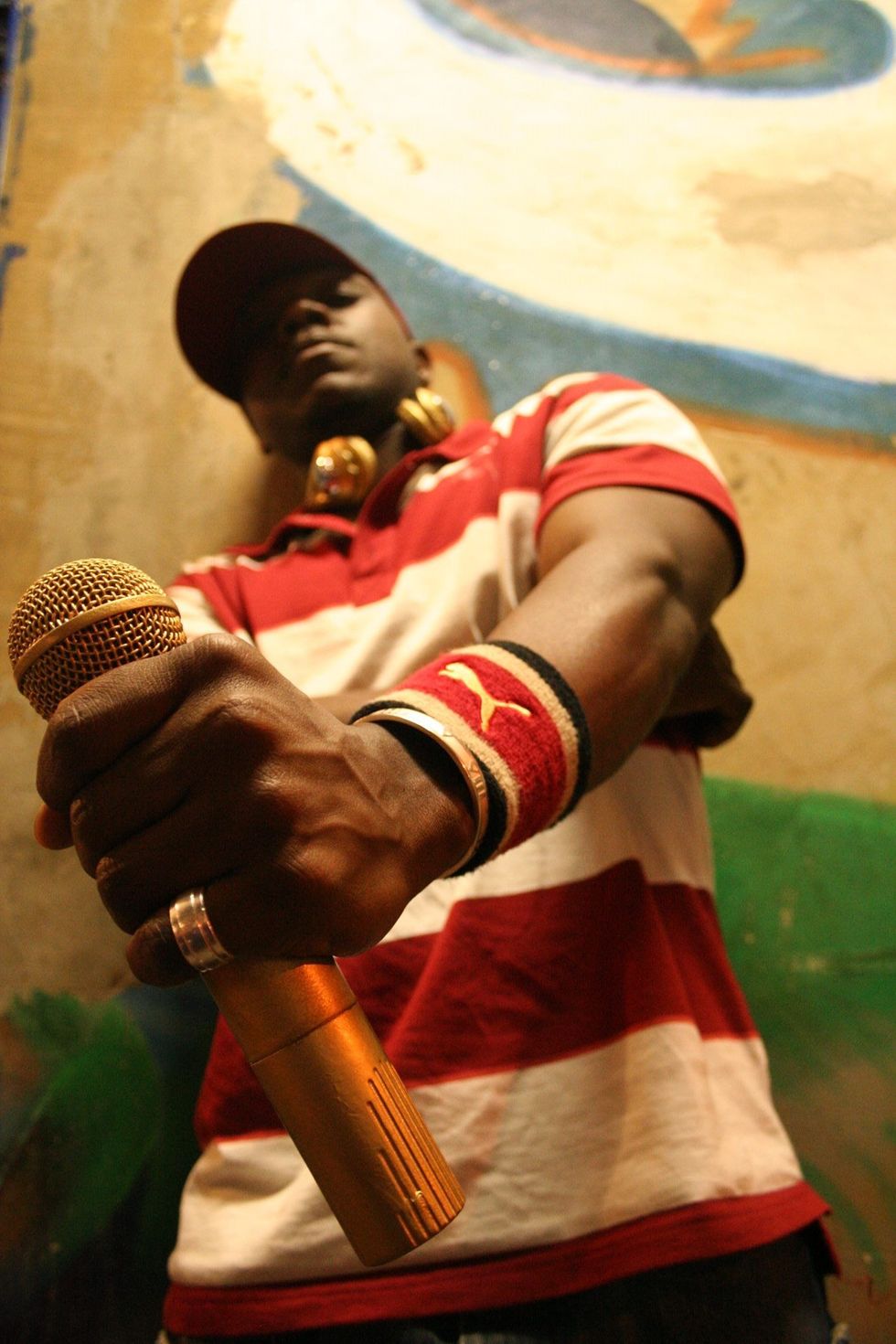 Zubz. Photo by Tsakane Maubane.
What's your impression of South African hip-hop now, in contrast with that era?

I don't know, my brother. It's just how it's always been. The people with the ability we all respect, are in the underground. And those who produce what's lesser will be the ones who get the shine.
In terms of the business? Are you, say, happy with what brands are doing for hip-hop?
It's not like brands are paying any recognition to hip-hop? What we are seeing is there's a number of alcoholic brands that endorse a few artists. It's just what usually happens everywhere. Entities and brands will always make use of popular culture to further their means. The nature of heads is that they are enterprising people–chasing boundaries, hence even hip-hop has changed. Kwaito is kind of dead, highly likely because it failed to evolve. So brands, and even other subcultures, will attach themselves to that progressive spirit.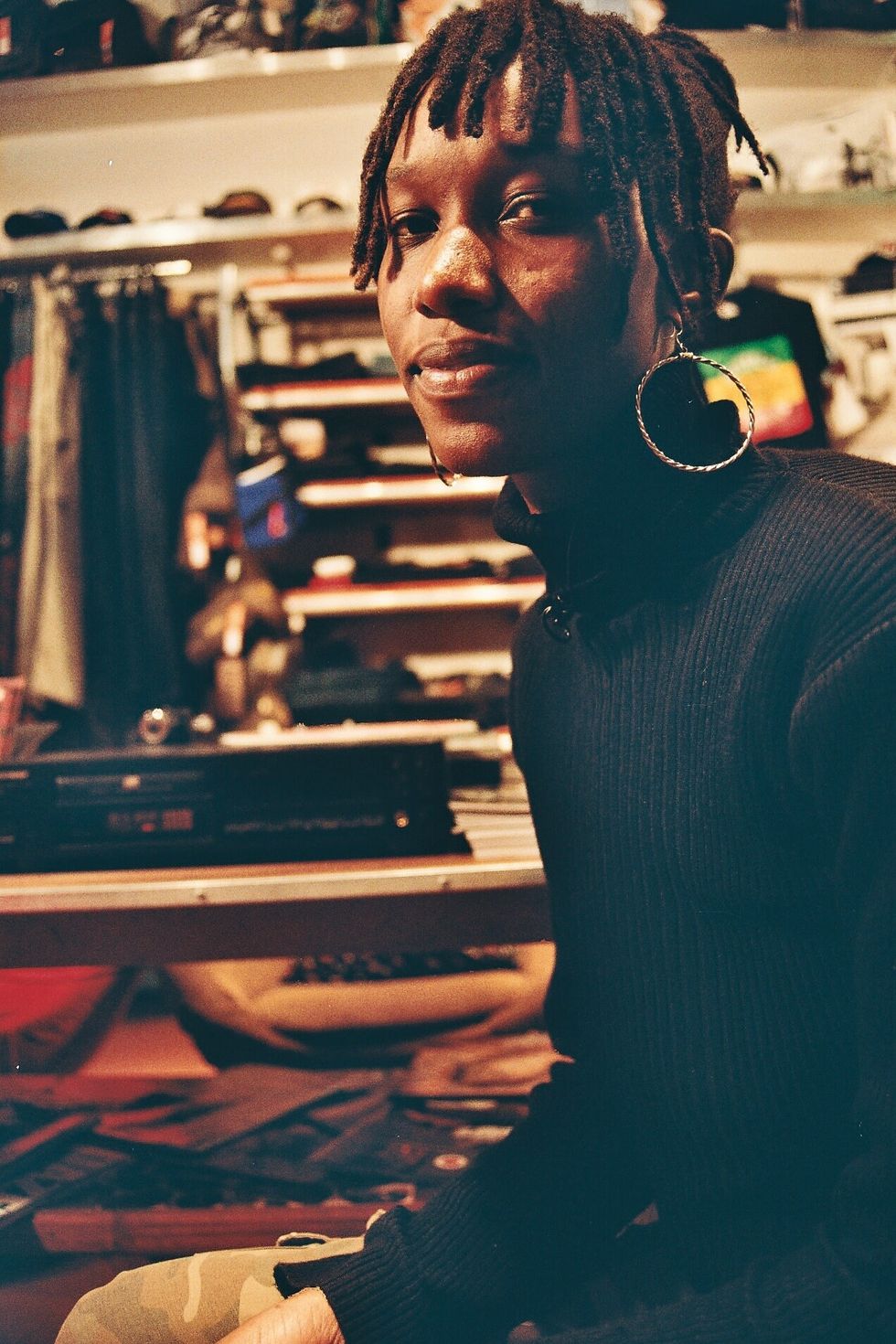 Endz The Otherness. Photo by Tsakane Maubane.
I don't think South African hip-hop has been properly documented. For instance, you hardly ever see photos or footage of the Le Club days. What do you think has changed now—for the worse or for the better?

I could argue. It isn't that that era wasn't documented. That stuff is there in pockets, [owned by] one or two people, so it's going to be hard to find. We were the first generation to purposely seek out to have hardware. Before us, people didn't have computers. Even among us­—Vusi Magubane, Breeze Yoko, Krooked [The Warmonga]… those cats–you'd find that it's only two cats who had computers. Some of us would make beats, and then when they tire up, I have a little photoshopping to do. So we were the first people to kind of go out, especially before digital. We did it without the expectation of making any money.
What we did then allowed for the present paid artists.
An artist like Simphiwe Dana, I was taking a lot of photos of her before she got signed. Now she is performing at these big events, and you are not allowed to come in and take pictures, it's the weirdest thing. Someone that I was so much a part of in their formative stages, now it's like, you can't come in here. So that's what the present guys have to deal with.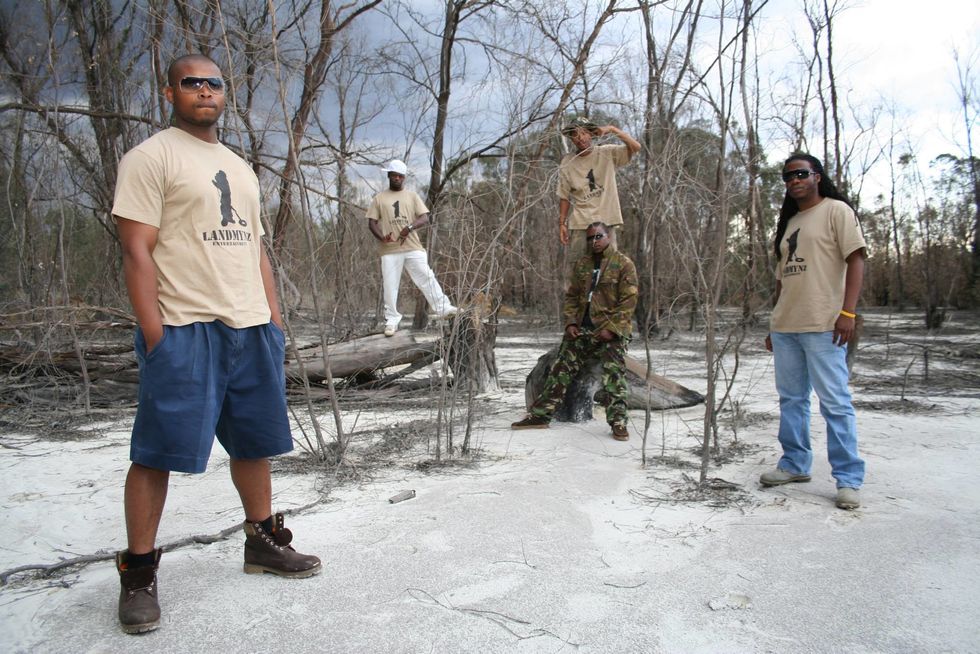 Landmynz. Photo by Tsakane Maubane.
How lucrative was documenting South African hip-hop at that time?

You are obviously from a different generation, so we feed off different things. It was lucrative, because I'm here now, you are interviewing me. I was always interested in making money off what people didn't make money from. So, with Hype, you're a contributor, they would maybe use one photo from you. I just made it impossible for the people at Hype to give jobs to other [photographers]. I always showed up, and I worked out which pages paid the most. So I knew what pages to miss.
Of course, with my name on the byline, I had artists calling for albums sleeves and covers. So I started making money off of that. I did a lot of covers, and it wasn't just hip-hop.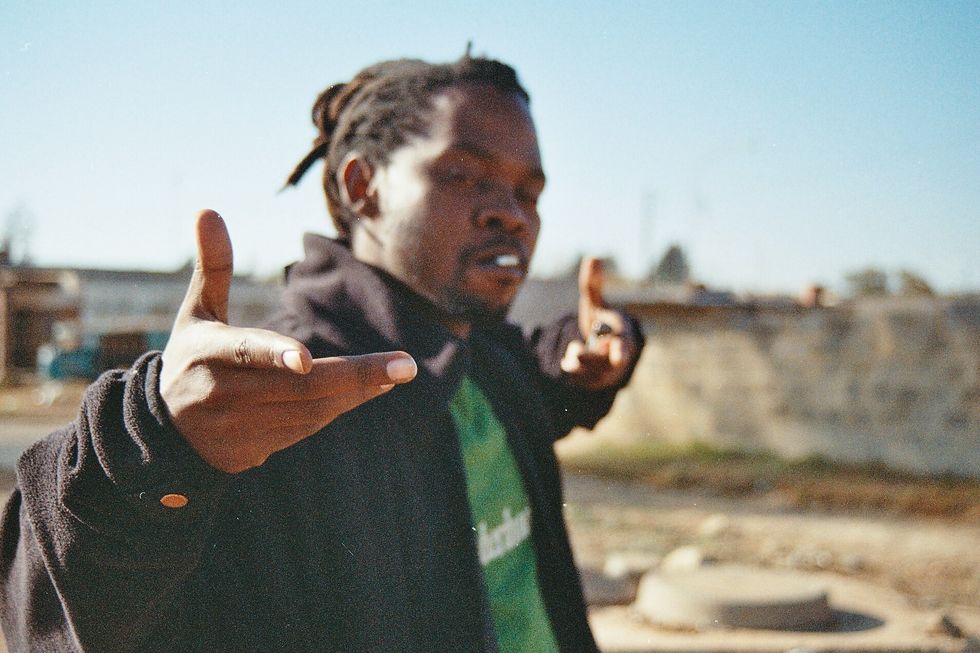 Ben Sharpa. Photo by Tsakane Maubane.
Do the photos you took hold any sentimental value?

Anything in art has to do with provenance. I've got the pictures, but they are only as important as the people in the pictures. And then I get to hear someone like you saying, 'I used to check out your work.' That's mad worthwhile, I don't wanna lie. I know it sounds corny, but you hardly ever hear people acknowledging the photographer; when they're looking at a photo, they are looking at the artist.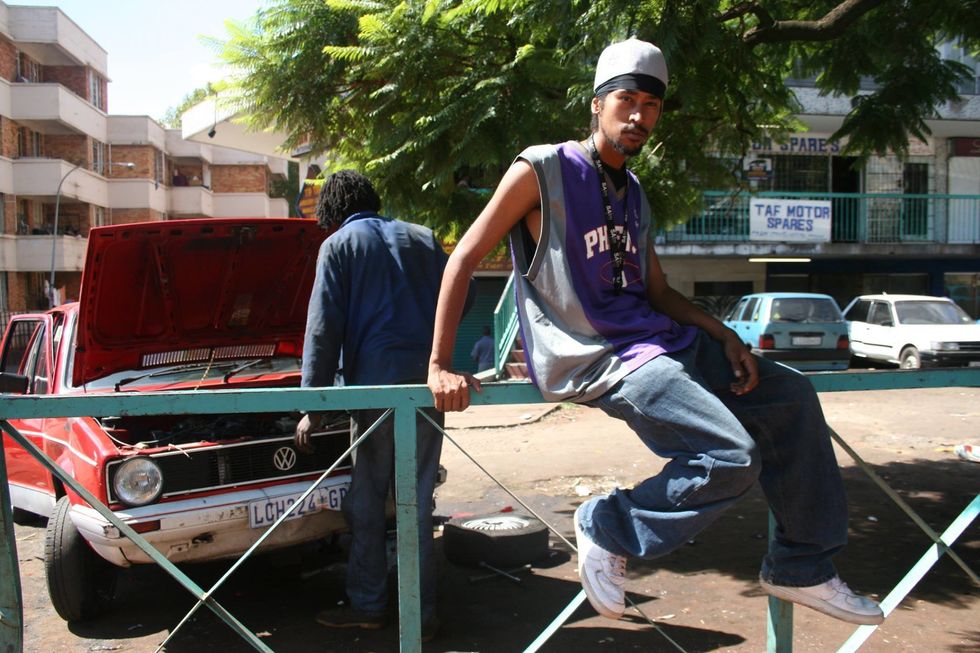 Snazz D. Photo by Tsakane Maubane.
Would you ever do an exhibition of your photos from that era?

That's an idea. That would be interesting. If there is something in it, whatever it is—I can't tell you what. I need to be hustled, just like anyone. So if it's worth my while, not even in money terms, I'm always game for it. If you come with the right intent and intensity, I'm always game for stuff.
What are you currently doing?
I'm a multi disciplinarian in the visual world–photography, I am a published writer, I'm a fine artist, I paint and draw and I'm in film, I do all those things. In the film industry, as a first assistant director, or even an assistant director. When I'm not working for someone, I direct music videos, I'm in a collective of filmmakers.
I also executive produce albums, because I know a lot of producers and rappers.
Ba4za. Photo by Tsakane Maubane.
DJ E20. Photo by Tsakane Maubane.
Ill Skillz. Photo by Tsakane Maubane.
Lungelo. Photo by Tsakane Maubane.
Robo The Technician (R.I.P). Photo by Tsakane Maubane.
Snazz D and Hoodlum. Photo by Tsakane Maubane.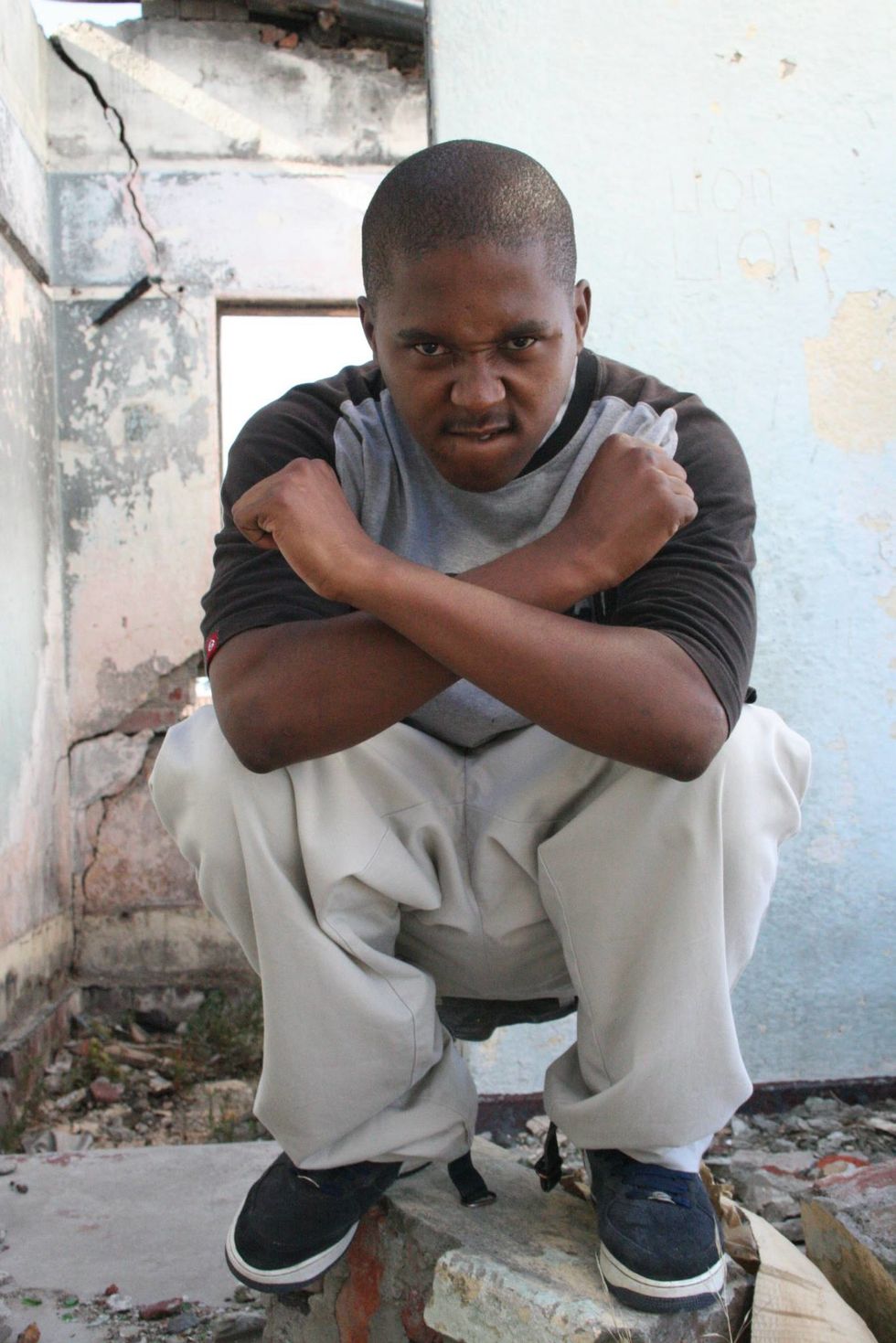 T.O.P. Photo by Tsakane Maubane.
ProVerb, Mr Selwyn, Amu, Zubz, Hoodlum, Zuluboy. Photo by Tsakane Maubane.
Township Frikwensi. Photo by Tsakane Maubane.
Simone Harris, Mr Fats, Contro 'Versy (R.I.P). Photo by Tsakane Maubane.
You can keep up with Tsakane Maubane on Facebook.