(South) African rappers sounding American. Rapping in American accents, dressing like Americans, and making American references in their music—these are not new topics.
---
ProVerb released a song—2016's "Truth Is Revealing"—in which he argues that him rapping in an American accent doesn't mean he isn't proudly African. Verb asks pertinent questions on the song. "Are you tryna be German if I see you in a BM?/ Or if I blow a trumpet, am I tryna be European?/ No. So who's to say what language music should be in," he rapped. "Would you feel better if I was wrapping a leopard skin/ with a monkey on my back or riding an elephant? 'cause that's how ignorant you being."
But the many explanations by artists such as ProVerb still haven't convinced some.
Little America is a new documentary dealing with the phenomenon of South African rappers who rap in American accents and copy American hip-hop. It's directed and narrated by Yoza Mnyande, who is also one half of the South African music duo Darkie Fiction.
"We are influenced by South African music of yesteryears and pride ourselves in making music that authentically represents where we are from," says Yoza about the group in her narration of the documentary.
Adds Katt Daddy, the other half of the duo: "Now that the music industry in South Africa is booming, we realised that it's important to preserve what really sounds South African."
Yoza mentions that kwaito was a "sound of celebration" for the youth when Nelson Mandela was released from prison. "No matter where you're from, you knew what kwaito was. Kwaito was the soundtrack to new possibilities. Kwaito sounded like home," she says.
The documentary is cool and all, but it doesn't add anything new to the narrative that South African rappers are American wannabes. Da L.E.S, veteran South African rapper and God of the north side of Joburg sits in a dimly lit studio during his interview in the documentary. "I always just find this conversation a little bit annoying," he says. "Because these conversations are never brought up in rock music, pop music, house or EDM. It's always hip-hop. It just shows how influential hip-hop is."
It's a no-brainer to L.E.S that a genre of music that originates in the US will come with US influences—dress code, lingua franca and even mannerisms. "If you're gonna learn Kung Fu, you're gonna wear Kung Fu attire, that's just the way it is," he adds.
Hip-Hop, not America
Hip-hop heads have always been viewed as American wannabes. A lot of us took offense. We fell in love with a genre of music, and with that came assimilation into the culture, which just happens to be American.
I'm a hip-hop head. I live this shit; been, since I was a teenager wearing baggy jeans and Air Force Ones. We spoke English the way our idols did—we said "nigga" and cussed like Uncle Snoop (insults we couldn't dare utter in our indigenous languages), and we owe all of that to hip-hop.
Now that we are older, that identity crisis we went through as teenagers is part of our history. Growing up listening to Hype Sessions is an experience many heads my age hold dearly to our hearts. South African hip-hop artists with "American accents," the likes of Ben Sharpa, Glitz Gang, Tumi Molekane, ProVerb and a lot more, played an integral role during our come-up.
The US' Influence on Kwaito
One school of thought argues that kwaito, which "sounded like home," was a slowed-down hybrid of hip-hop and house. Artists such asSkeem, TKZee, Mashamplani and later Chiskop and a few more, were overtly influenced by hip-hop, from their style of dress, mannerisms and even in the music itself.
Remember those hip-hop lines Kabelo of TKZee used to appropriate? For instance, "It's plain to see, you can't change me, ngilipantsula for life," from his hit song "Pantsula For Life" was a rip of "It's plain to see you can't change me, 'cause I'm People Army for life," by Dead Prez on the song "I Am African." There are several more lines which Bouga Luv appropriated from hip-hop.
Kabelo - Pantsula For Life
How about the baggy clothes worn by Skeem, the breakdancing on Chiskop videos? Some of these crews were originally hip-hop crews, but they resorted to kwaito, which was selling at the time, unlike hip-hop.

This "authentic South African sound" came about from fusing two American genres, it seems. The indigenous languages and slang used in kwaito songs atop this hybrid sound did form a distinct South African sound.
But it still drew from America.
The argument made by Darkie Fiction—and by many who share the same sentiment—is that there's an accepted level of drawing inspiration from American music and culture, but exactly where that line is drawn remains unclear.
Judging from the hip-hop artists they interviewed who had to defend themselves—Da L.E.S, J Molley and Nadia Nakai, who all rap in English—I will assume that according to the duo, originality happens when one raps in an indigenous African language.
Globalization at Play
Zubz rapped on his nostalgia-driven 2006 single "Baby In The Cradle Of a Mind Stand," "Rap Pages, Right On!, Jet Magazine/ Hi top, fade, with cuts extra baggy jeans/ None of them were sold in Africa, but still you got' em/ It's called passion, something that you since forgotten."
baby in the cradle of a mic stand
Things are, however, different in 2018. Unlike in the 80s and 90s, getting hold of the music kids are exposed to on BET and Trace is the easiest it has ever been.

Instant access has resulted in a lot of Black kids all over the continent identifying with hip-hop to an extent that's clearly shocking and concerning to some. Hip-hop is no longer niche, but forms a major part of young people's lives on the continent.
Not Everyone Grew Up on Kwaito
There are South African kids who didn't grow up on kwaito or bubblegum. Some rappers will even tell you that their mothers put them onto hip-hop.
So, to them, hip-hop sounds like home. Take, for instance, the 21-year-old rapper Nasty C. The razor-sharp lyricist went to a mixed-race school, which as we know, leads one to be fluent in English. Nasty, every time he's asked about the music he grew up on, cites T.I. and Lil Wayne. The likes of Zoocci Coke Dope, Priddy Ugly, A-Reece and Shane Eagle, Nadia Nakai among others, cite the same artists, especially Lil Wayne.
These influences are overt in these artists' work, but we must never overlook the fact that they are telling authentic South African stories in their music. When Nasty C raps about losing his mother to taxi violence, or Shane Eagle raps about how he sees his surroundings, or when Reece and his goons rap about spending money they never dreamed they'd ever see, these are South African stories that deserve to be told.
What we tell to Americans and Europeans who treat Africa as this great monolith of a village, we must also remember ourselves as Africans.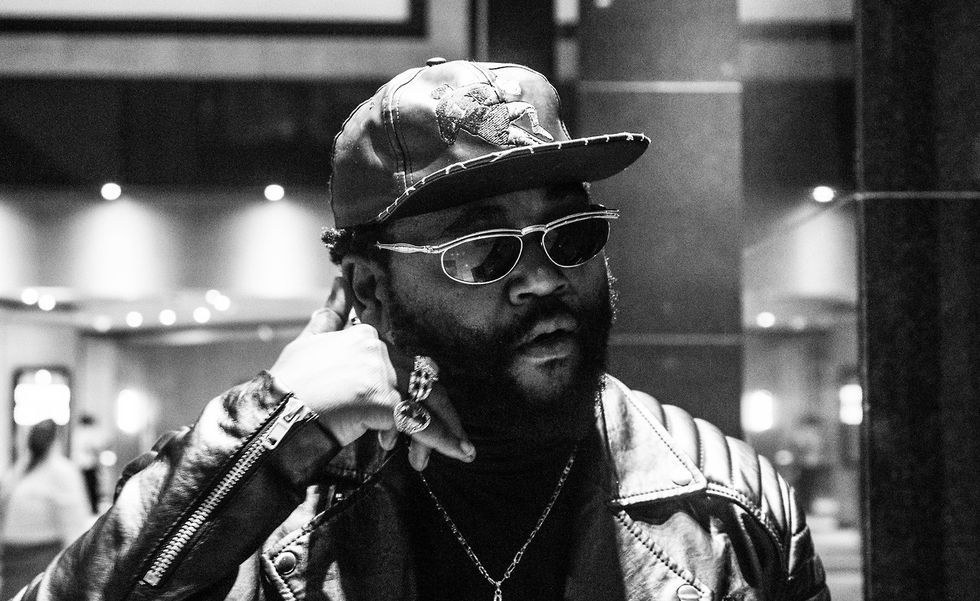 Sjava. Photo by Sabelo Mkhabela.
It's damaging and exclusionary to think there's one way to be South African. A kid who grew up on hip-hop and speaks English with an accent may not fit other people's stereotypical definition of being an African, but it remains that they are from here, and their stories deserve to be told in the way they choose. When I listen to Da L.E.S, I hear a South African who grew up in the lavish northside of Joburg telling his story the best way he knows how. Kwaito may form a big part of Darkie Fiction's story, but not so much L.E.S' or A-Reece's or Nasty C's. And that is fine.

While it's great that artists like Darkie Fiction, Muzi,Anatii, Sjava, Emtee, Robin ThirdFloor, Future Africa, Kwesta, Sho Madjozi, and many many more are opting to infuse more vintage South African genres like maskandi, mbhaqanga and kwaito in their music, that can never be used as a benchmark for originality.
To many kids who are lining up at Shane Eagle and Nasty C's Yellow and IVYSON tours all over the country, these stories told by these American accents are relatable and sound like home. America has colonised the world culturally, and we can't just leave it at rappers. You see it in how people dress, and in the phrases people use in everyday conversation.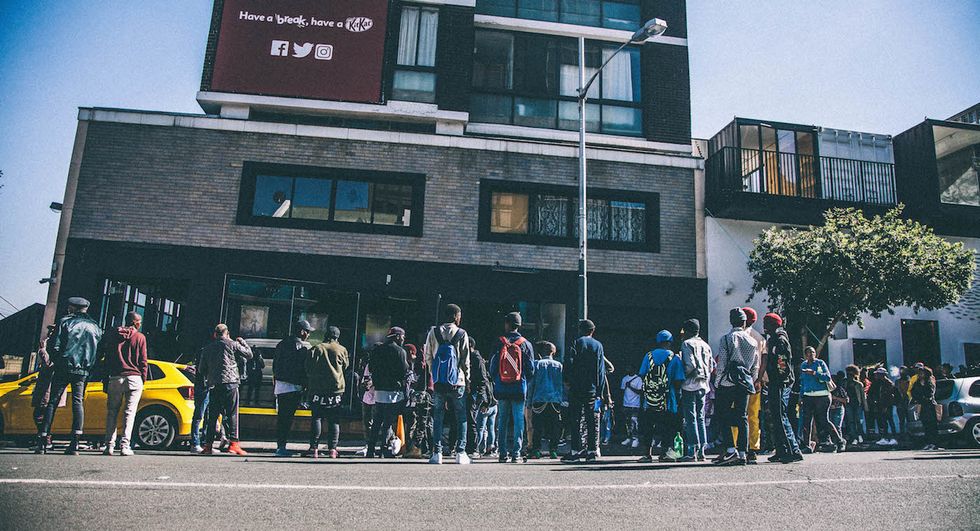 The line outside Shane Eagle's Yellow pop-up store in Braamfontein, Johannesburg. Photo by Sabelo Mkhabela.
Zola puts it well in the Little America documentary when he says: "If you have enough money, you can take an idea of your country, and go sell it so much to another country that it becomes law of that country. Then the people of that country, their generation, would leave everything they're about in their culture, and follow what you say if you are a conquering nation. That is why you get SA kids speaking American tsotsitaal (slang)."

He is of course referring to America's influence on pop culture as a whole. The infiltration of American subcultures on the continent and the rest of the world might, to others, seem detrimental. The arguments might have legs, but the fact remains that there are (South) Africans who identify with it.
Bi-directional Influence
Last year, when the first AFROPUNK Joburg event took place, there were plenty of South Africans who, as one person put it on Twitter, looked like caricatures of African Americans trying to look like Africans.
I first rolled my eyes, asking myself why, if we are celebrating our Blackness, it has to be through a Western lens; why do we have to look like Africans in the diaspora to celebrate our Blackness?
I thought that us celebrating our Blackness as South Africans meant we should come dressed up as amapantsula and izikhothane—you know, "authentically South African" subcultures. But I had to get rid of those thoughts because, as much as these young Black people looked like those who attend AFROPUNK in Brooklyn, this was also how they chose to celebrate their Blackness.
How about the US movements that we've now all made our own?—#BlackGirlMagic, #HoeIsLife etc. This is us as Africans in the continent and the diaspora celebrating our similarities in the midst of our nuanced, lived realities. The difference is no one will make a documentary questioning the cross-pollination of cultures in those kinds of settings. Because it isn't hip-hop, right?
Originality is Subjective
Human beings aren't brands. What we deem original is subjective. Unlike sneakers, we don't come with a swoosh or a jump man, that if it's facing a certain direction, means it's a knock-off. We are a product of our environment, which will always evolve, just like their cultures. And, in a world where we are free to subscribe to cultures that mean something to us, as opposed to those that are imposed on us because of our clans and nationalities, originality is subjective now more than ever.
Lindiwe | A Short Film @BYLWANSTA
Rapping or singing in IsiZulu or sampling kwaito or maskandi doesn't automatically make you original. What do you make of the OkMalumKoolKat knockoffs that are being hailed as the forward thinkers of our generation, when all they did was bite another artist's style? Some aren't even Zulu. Are they trying to be Zulu by using the same slang OkMalumKoolKat uses, which is part of where we grew up?

How are songs like Tumi and the Volume's "76," Ben Sharpa's "Hegemony," ProVerb's "I Have A Dream," A-Reece's "Meanwhile In Honeydew," ByLwansta's "Lindiwe," Shane Eagle's "Julia," Solo's "Jubilee NoLigamo," and thousands of others, not authentic South African classics? Just because they are in English and the rappers have American accents, and they choose to rap over boom bap and trap beats that don't contain Mahlathini or Mdu samples? Puhlease!
JULIA - Shane Eagle (Official Video)
This piece is part of Sabelo Mkhabela's South African hip-hop column. He's happy to debate you on Twitter: @sabzamk