During her set at the annual hip-hop and street culture festival Back To The City in April last year, the rapper Rouge said, "This year is the year of the female." She then proceeded to give one of the best performances of the whole festival. So did Assessa, Yugen Blakrok and Tyrant The Rapper, among the few other women on the line-up.
"I think I hit the nail on the head," says Rouge eight months since Back To The City when asked about the statement she made during her set. "People can fight it all they want. I made top 5 in MTV Base's Top 10 Hottest MC list, and that hasn't been done before. There were three women on that list. That hasn't happened before. Girls hitting the million views mark [on YouTube], us getting these endorsement deals and all. It was a great year for us. But we still have a long way to go."
The rapper Nadia Nakai took the 10th spot on the MTV Base list, her video for "Naaa Mean" passed the million views mark on YouTube and she was on the cover of Hype. Nadia collaborated with urban fashion retail giant Sportscene for her own range, Bragga. Most clothing brands have collaborated with male artists in the past—Loxion Kulca collaborated with Pro in the late 2000s, Nasty C collaborated with Sportscene last year, Head Honcho collaborated with AKA for the Supa Mega merchandise in 2014.
---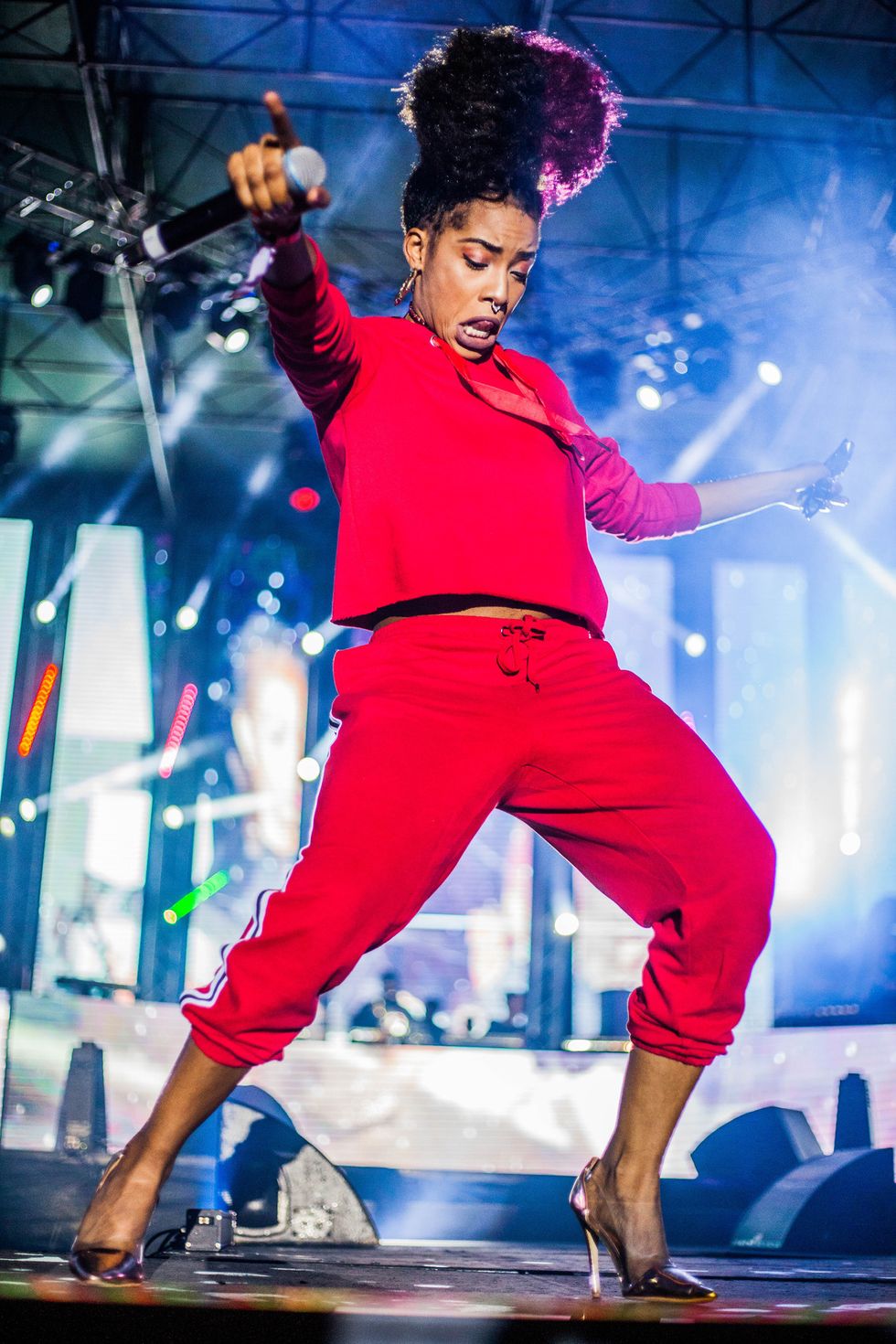 Rouge performing at Back To The City in 2017. Photo by Sabelo Mkhabela.
But in 2018, brands are taking women artists more seriously. Continues Rouge, who recently partnered with Levi's: "[2018] was a year whereby people can't deny Rouge is a force to be reckoned with. Brands are taking me more seriously. Rather than just handing me a check, they see value in investing. That is growth and a step towards longevity."

According to veteran rapper Shameema Williams, a member of the trio Godessa, longevity is an issue when it comes to women rappers. "It seems that every 10 years, there is a spike in female hip-hop activity," she says, "and after a while, the hype dies down. Once they made enough noise, once the novelty of a new female act wears off or perhaps motherhood, building a home or a business becomes priority." She makes a contrast with male rappers who are able to grow old and not look as attractive as they did in their 20s and 30s, but still be able to have thriving careers.
Astryd Brown, Nadia Nakai - Lately (Official Music Video)www.youtube.com
"Few women, in each decade since hip-hop's inception, have had careers that span further than a couple of records," she continues. "In my opinion, Nicki Minaj has been the most consistent, and I don't see her slowing down anytime soon. If there is any female MC in this country right now that I believe has that same stamina and longevity, it's Fifi Cooper. So I think a lot more doors have opened, but not that much has changed. The same challenges a female MC had in the 80s, she still has now. Comments on YouTube beneath a Rapsody video [will be as ridiculous as]: 'She can rap, but she ugly.'"

Patriarchy is a real thing; the pressure to look a certain way to be considered attractive and thus accepted. The rapper Yugen Blakrok is no stranger to that. "There's a lot of meeting with people wanting to manage me—like, 'Dude, you have a great voice, but why don't you try be more sexy?'" the MC said when I interviewed her earlier last year. "This is coming from women as well in the industry. We can talk about women in hip-hop, we can talk about how we are treated in society—hip-hop is gonna be a reflection of that either way, it's just showing us everyday things."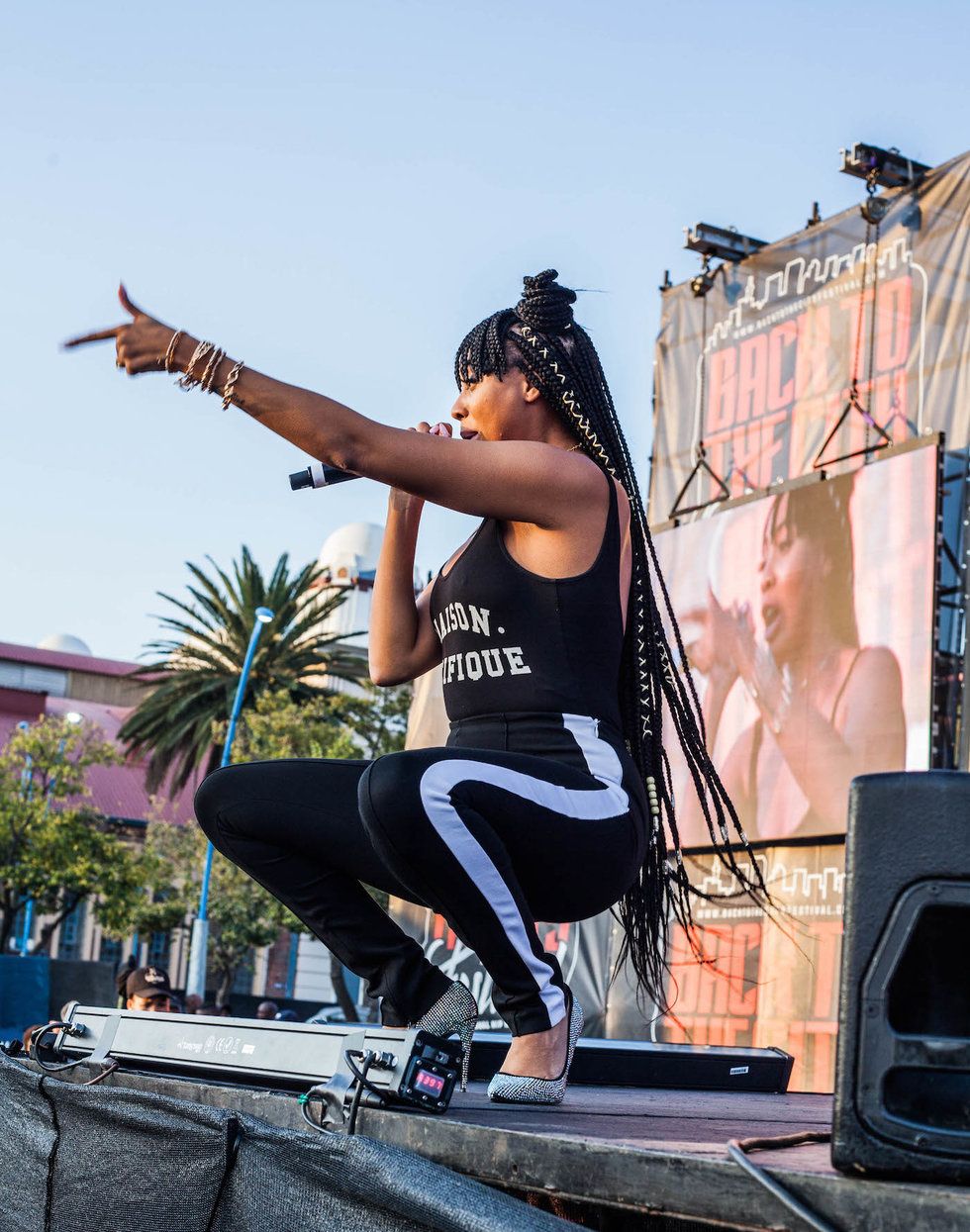 Nadia Nakai at Back To The City 2017. Photo by Sabelo Mkhabela.
Yugen is one of the several women hip-hop artists who made serious strides last year. While she was on tour in some parts of Europe in 2017, she got the email from TDE to contribute a verse that would land up on the Black Panther soundtrack for the song "Opps."

"It was a, 'Hey, we came across your work, it's good stuff'—you know that kind of thing. For me it was really hard to believe, but also not, because you put your work out there for it to be found. So when it happened, it was so mind-blowing that it would lead to that."
Yugen and her Iapetus labelmates have a solid presence on the online store Bandcamp, which is the friendliest to indie artists. The MC has a niche fanbase in South Africa. So niche that when the Black Panther soundtrack tracklist was revealed, a majority of South African media houses missed her name because a lot of them just weren't aware of who she was.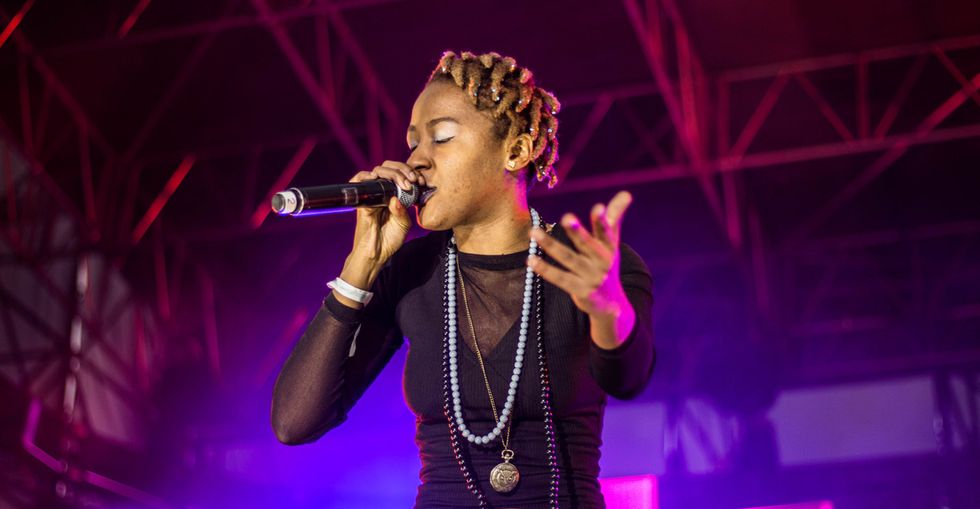 Yugen Blakrok at Back To The City 2017. Photo by Sabelo Mkhabela.
Yugen went on to receive an overwhelming amount of media coverage off of her verse on "Opps," which received praise from the likes of Billboard, Pitchfork, Rolling Stone and other publications. The rapper tiptoed over the skittering drums on the instrumental, which she shared with Vince Staples and Kendrick Lamar. She displayed adeptness and flair and proved she's one of the best around.

A few months later, the MC announced a deal with the French label IOT Records, which will release her sophomore album Anima Mysterium in 2019, a follow-up to her stellar 2013 debut Return of the Astrogoth.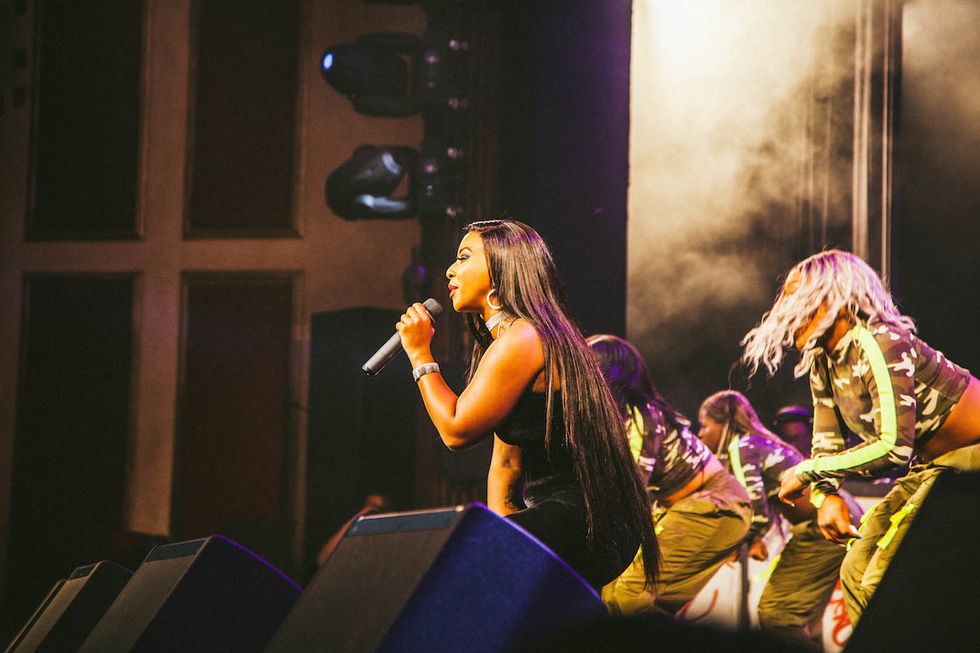 Boity at the 2018 South African Hip Hop Awards. Photo by Sabelo Mkhabela.
Back To The City was a microcosm of the rest of 2018 for women who rap in South Africa. They shone, and reached heights they never had before. So did Cardi B, CupcakKe, Tierra Whack and a lot more—this rise in prominent women rappers is worldwide.

Moozlie dropped a potent debut album Victory, released one of the best hip-hop singles of the year "Vatel", while Rouge became the first rapper to win a South African Film and TV Award for her short film The New Era Sessions, along with winning Best Music Video at the South African Music Awards—South Africa's biggest award show.
Women are breaking new ground and creating their own terms. For instance, Dope Saint Jude performed in Germany, France and Switzerland this year. Her song "Grrrl Like" topped the 5FM Hip Hop Charts, she was Apple Music's Artist Spotlight artist for the month of November.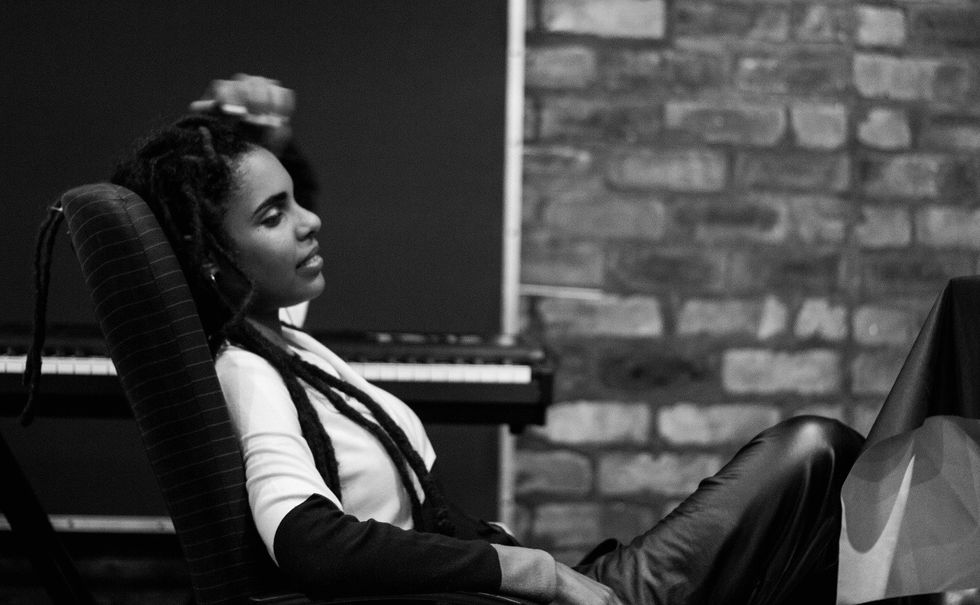 Dope Saint Jude at Cape Audio College studios in 2016. Photo by Sabelo Mkhabela.
"My career shifted the moment I started requesting more for myself," says Dope Saint Jude when asked to comment on the shift that has seen women being more visible in hip-hop. "I set a very high bar with my work and I expect it to be reciprocated. I believe a lot more women in the industry are demanding better treatment, working conditions and better pay. This makes me excited for women artists in South Africa."

In the past few years, this excitement has expanded beyond bars and vocals; women are making their names behind the boards. Cape Town-based Kay Faith has been engineering songs by the likes of YoungstaCPT, Reason, Nasty C, Spoek Mathambo, Uno July and hoards of others. Faith, who released her debut EP In Good Faith in 2017, was Apple Music's New Artist Spotlight feature for January 2018. Recently, Molly 1080 has produced songs for Moozlie and Reason in his latest album Azania.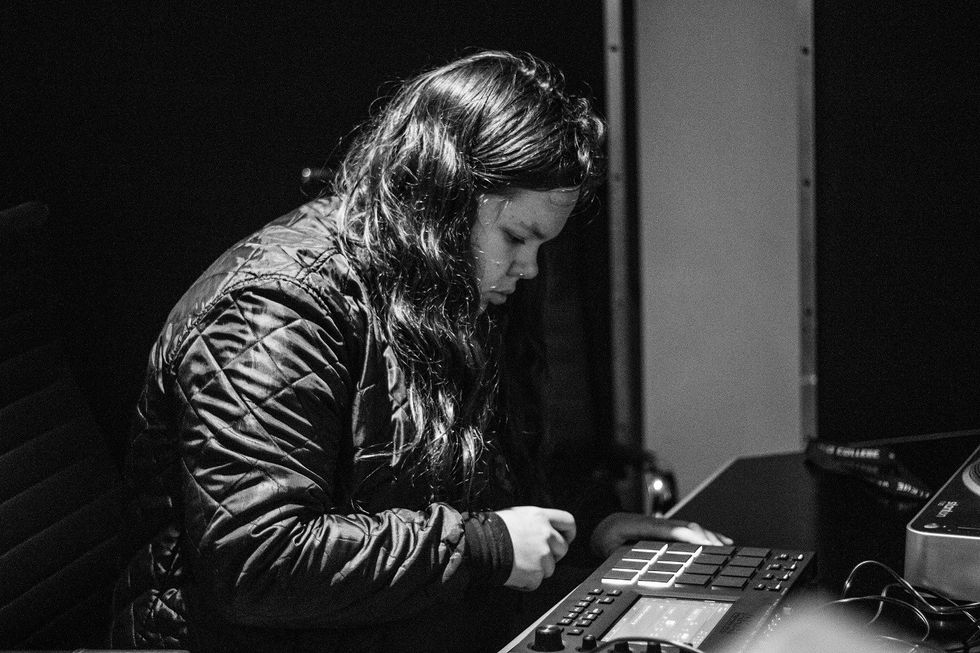 Kay Faith at Cape Audio College studios in 2016. Photo by Sabelo Mkhabela.
Women's participation in South African hip-hop has been limited to behind the scenes. A lot of your favorite rappers' careers are managed and shaped by women. A large amount of hip-hop journalism—from print to digital, radio and TV—is championed by women (Helen Herimbi, Spoken Priestess, Mercia Tucker, Caron Williams, etc.).

The first solo South African rap album rhymeziwrote by the rapper Spex was released by Eargasm Entertainment, a label co-owned by DJ Bionic and Melanie Ramjee, known to the skreets as Hypress. The label was also home to the late legendary MC Mizchif.
Says Shameema: "I definitely think one of the most positive things that has happened is that the wave of new female MCs have broadened the female fan base of hip-hop because there is a lot more hip-hop that women can relate to. I certainly hope that it translates into sales as women are still feeling cheated, as they do in society in general, that they are paid less than men for the same damn job. This is an ongoing struggle."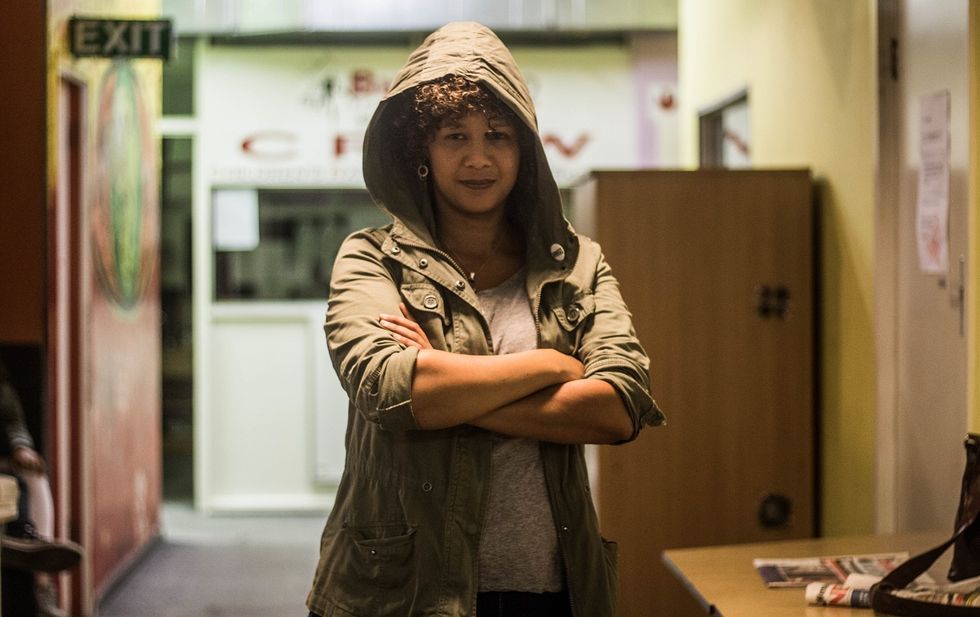 Shameema at Bush Radio in 2017. Photo by Sabelo Mkhabela.
Rouge agrees. Asked what challenges still persist for women rappers, Rouge says, "Bookings. 'Cause they don't want to have to many women on. And the pay for these gigs in relation to the male counterparts."

Shameema feels women need to be more careful in their careers. "One of the biggest challenges is that so many women's careers are paved by men," she says, adding that most of these men have led to the downfall of women artists' careers. "Behind every female MC is a manager, producer, husband or boyfriend pulling the strings," she continues. "And dare I say it, men writing rhymes for women. I would like to see true empowerment where woman are in control of all aspects of their careers, with at the very least, a proper understanding of their business. Don't get duped by men who have been in the industry longer than you, [don't] allow men who can't rap to live vicariously through you or be a puppet to enrich someone else's wallet."
Perhaps, more platforms such as the South African Hip Hop Awards need to nominate women artists on more categories that aren't gender special. Last year, with an album as strong as The New Era Sessions, didn't make the Best Lyricist Award. Her response when asked if she thinks her not making that category has anything to do with her gender, is, "I do. And maybe I could be wrong, but I feel I can challenge a lot of my male counter parts lyrical on a daily. But at the end of the day everybody feels that way about themselves. So in due time. My time will come but for now I'll just prepare for it."
***
Boity fucked up the game with just one single; the Nasty C-produced and featuring "Wuz Dat?" The young Cape Town rapper Dee Koala got a cosign from Riky Rick.
Gigi Lamayne and MegMafia joined one of the country's most successful indie labels in the country Ambitiouz Entertainment, Yugen Blakrok appeared on the Black Panther soundtrack. Castle Light hosted an all-female line-up hip-hop event Hip Hop HerStory, which was headlined by Young M.A., Nadia Nakai, Rouge, Moozlie, Gigi Lamayne, Roxanne Shante and a few more. The list of women's achievements this year is endless.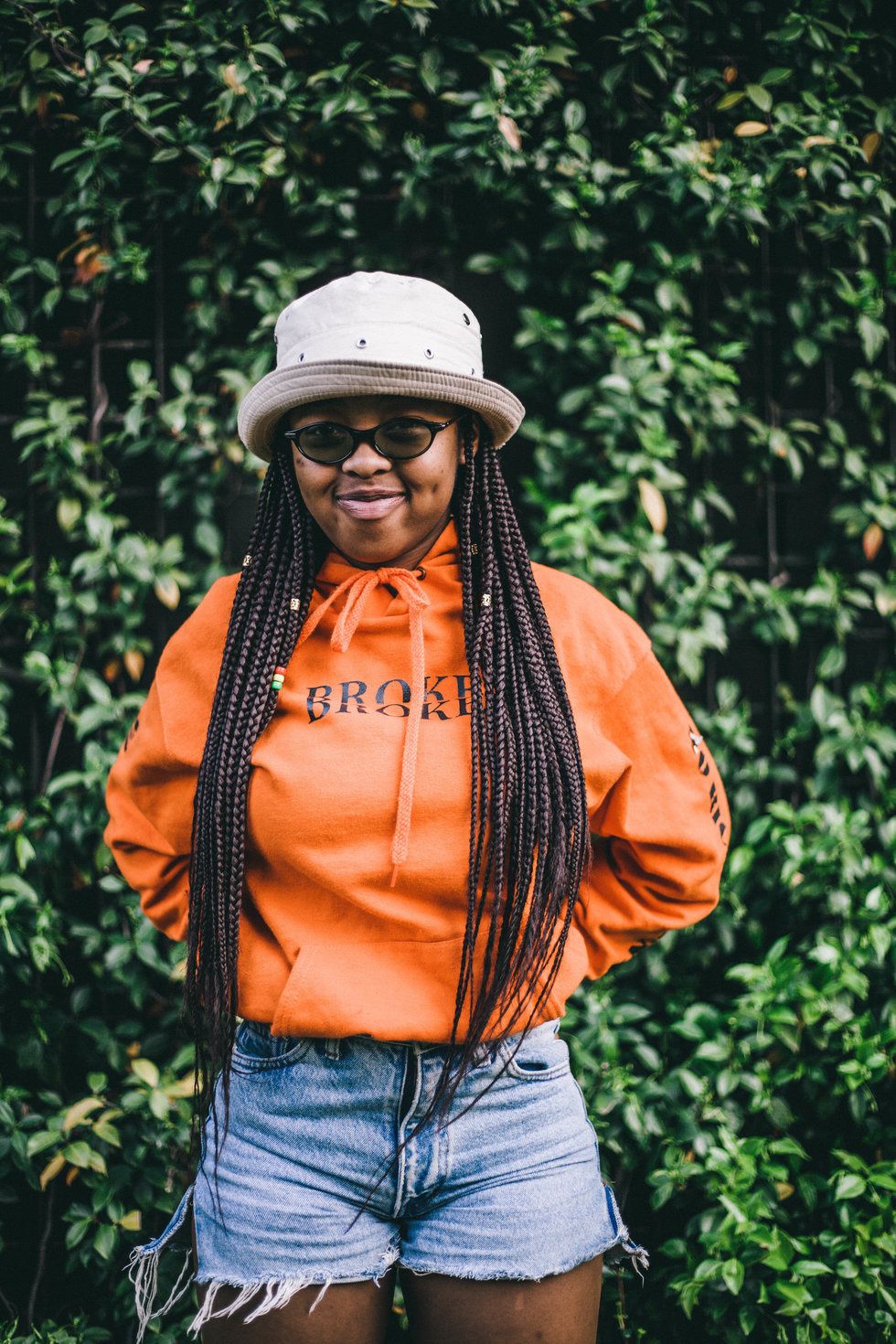 Dee Koala. Photo by Sabelo Mkhabela.
A few select albums & EPs that were released by women rappers in SA 2018:

Dope Saint Jude Resilient
Fifi Cooper Take Me Back
Tyrant The Rapper Stress of a Genius
Gigi LamayneVI
Ms Nthabi Broken Silence
Eavesdrop Scrolls of the Unseen
Moozlie Victory
Some women in South African hip-hop trivia:

Fifi Cooper was the first artist signed to Ambitiouz Entertainment
Yo! Girls was the first all-female hip-hop crew in South Africa. They performed in the 80s, and one of the members Malikah Daniels is now married to Grandmaster DJ Ready D and doubles as his manager and booking agent.
Godessa was the first all-female hip-hop crew to release an album, Spillage (2004).
Ms Supa was the first woman to be on the cover of Hype magazine in 2005.