Mo' Molemi is one of the most potent lyricists in South African hip-hop but he's also a farmer. In recent years, he has been rapping less and concentrating on his farming business in his hometown Mafikeng, in the North West province.
---
He recently got interviewed by "Boyz n Buckz" member Siyabonga Ngwekazi aka Scoop Makhathini on the first episode of a web series called #ViewsFromTheBottomUp. In the video, Molemi gives an unpopular viewpoint on the burning issue of land redistribution—a hot subject of discussion in South Africa. Black people want their land back from colonialists.
Molemi starts by making reference to why land redistribution didn't work in Zimbabwe. "Some of us believe it's because of the sanctions that it has failed. Not because Zimbabweans can't farm," he says. He says in South Africa, there's already a lot of hands that's in black hands but is being underutilized. "I do not think taking more land is advisable at this stage," he says.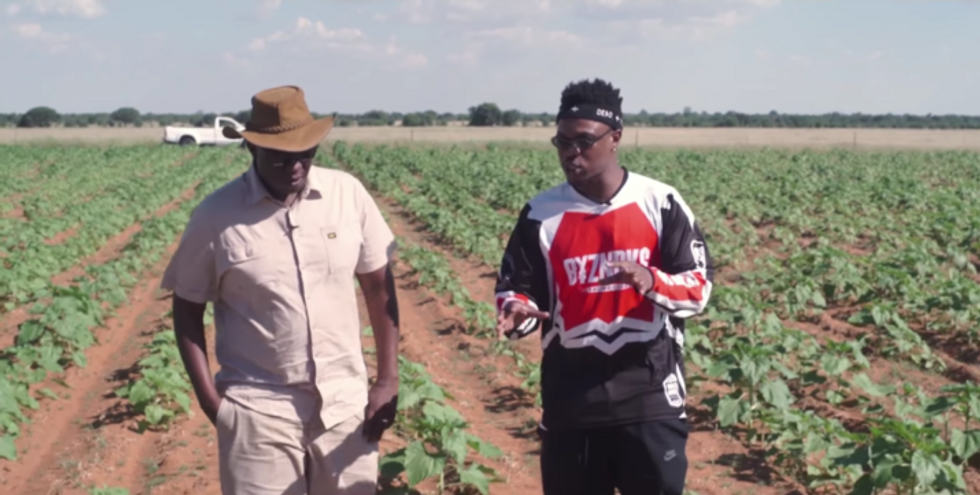 Scoop Makhathini and Mo'lemi on Bakang Farm, North West. Screegrab from Are We Ready For Land Distribution? #ViewsFromTheBottomUp
"We have not mastered how to work the land that is in our hands right now. Then there is no point taking new lands. In my experience I've seen a lot of farms that have been distributed, that have been given back to communities or individual cooperatives or farmers that has collapsed, not because people could not work, but because the system is not put together properly in terms of the support system, the education that needs to go into it, the money that makes a farm work, and everything that goes with that exercise."
The rapper then goes on to talking about the difficulties – that it takes time to get a farm profitable. He also talks about other possible uses of the land he has at his disposal.
Watch the whole brilliantly-shot episode of #ViewsFromTheGroundUp below.
More like this one, Scoop and team, please.