---
This weekend South Africa commemorated the "Soweto Uprising" that took place on June 16th, 1976 in Johannesburg. An estimated 20,000 students took part in the protests which started in Soweto and spread throughout the country. Thanks to organizations that mobilized students such as Steve Biko's SASO (South African Student Organization), young people took action to protest Afrikaans as the main language in their schools, as well as the poor quality of their education under the Bantu Education Act during apartheid. In return, police showered the students with tear gas and later live ammunition that killed many (the number given is usually 176 with estimates up to 700) in the event which is now memorialized by Youth Day in South Africa.
One of those killed was 13 year-old Hector Pieterson, whose image is immortalized in Sam Nzima's photograph of Pieterson's body being carried in the arms of a fellow student with his sister running next to them (above).
Young people in South Africa today seem to be increasingly "apolitical". I was one of those young people until I was illuminated by the rebellious message in the work of many of South Africa's rising art stars. It's easy to become disheartened by multiplying stories of government corruption, pervasive poverty and violence, but we must channel the revolutionary spirit of the young people of the struggle days to resist complacency. Below are 5 artists that will help politicize our generation. Take a close look at their work and become inspired.
Ayanda Mabulu next to his controversial painting, "Umshini Wam" (Weapon of Mass Destruction)
This brings to mind a chance encounter I had a few months ago. With the original intention of peeling my two friends who run a gallery away from their desks for a post-work drink, I found myself walking through Ayanda Mabulu's workroom at Greatmore Studios in Woodstock, Cape Town. He stood, a dreaded and burly man, covered head to foot in various paint smears among huge canvases plastered in layers of colour, gold leaf and newspaper clippings. He had just finished putting the final touches on a painting depicting a scene that resembled Jesus' Last Supper, which included Jacob Zuma and various other political figures that I, at the time, couldn't tell the names of. I found his use of colour invigorating. He asked me what I thought, without so much as a greeting, and I told him so. My half-response unsettled him, and his passionate reaction threw me. Looking back, I wish I had said something more; something that resembled the voice I use now to write this article. His gigantic piece of art carried an important message that I clearly didn't get, or didn't want to get, and all I could comment on was his use of colour! Had I understood, I would've quipped about South Africa's politicians' use of colour instead. I hear that when he sells his paintings, (which are hardly cheap) should he feel the buyer doesn't understand his work, he tracks them down and insists on buying his paintings back. Such is the value of understanding that most recent body of work, which aptly named 'The Native Opinion."
2. Khaya Witbooi + 3. Kent Lingeveldt
Khaya Witbooi at Greatmore Studios (Image from alphalongboards.com)
In the studio next door, is painter Khaya Witbooi, who recently embarked on a project with longboard shaper and businessman Kent Lingeveldt. The two teamed up to create a tribute to a side of Miriam Makeba that most are not privy to. Khaya is well-known for his extremely detailed stencilling, watching him work is a chilling experience; quietly resolute, he almost never slept-- and the pressure he puts himself under would drive any human to tears, although he seems to have everything under control. When I asked Khaya about his work with Kent, he responded with this:
"Mama Africa has surfaced as a pop diva for many South Africans and the memory of her is narrowed by the media. The stories about her being an activist are only limited to people who go to read about it and those who are in other parts of the world!  She was not just singing but speaking for the oppressed... To stencil her in the Che style,  I am "turning the lights on" so that we can as South Africans appreciate the other side of her, Mama Afrika, the activist."
"The Side Not Seen" by Khaya Witbooi
Kent Lingeveldt at Alpha Longboards.
Beyond being an award-winning businessman and longboard shaper, Kent is a qualified social worker, and uses skating to connect with the children in his neighbourhood. "There's not enough introspection about who we are as a young, strong, and independent South Africa, and how it can influence our art." Kent told us. "There's too much looking at what everyone else is doing, especially in Europe. Do what you do because you love it -- sincerely and wholeheartedly."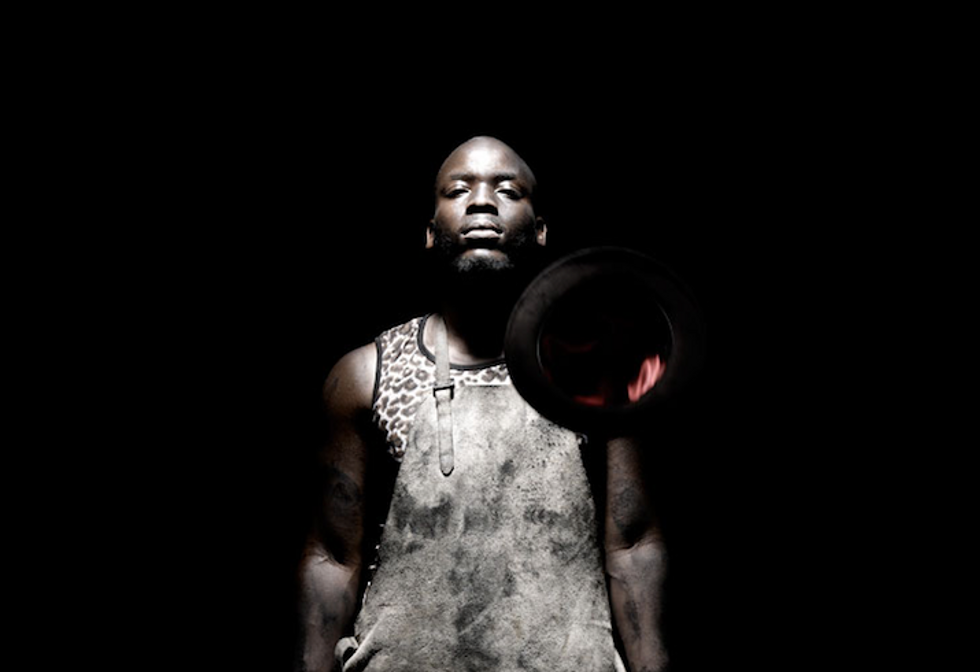 Mohau Mosadikeng as part of his tryptic 'Untitled'
In Johannesburg, Mohau Modisakeng, another young artist alongside Kent uses his own portrait to communicate that differences between us need to be resolved as a country. After having seen this work, a certain level of wanting to understand politics and our history was born within me. South Africa dons many conflicting characteristics in the eyes of the world, with stories of struggle and harsh imagery scattered among the many milestones we've reached as a new generation of strong and opinionated individuals. I particularly admire the use of his own body to carry the symbolism of a schizophrenic society.
"His apron speaks for the hard, industrial labour that was the fate of his ancestors; the leopard print signifies high status among his fellow men (male members of Zulu royalty wore leopard skins to remind their enemies that this fierce animal hides, waits and attacks at the right moment); the bowler hat stands for the patriarchal white man, the 'civilized' oppressor. The body language is clear: this is a fighter come to seek justice. He emerges from a dark past, striding forward into the light, clothed in history." - William A Ewing for the Saatchi Gallery.
5. Kudzanai Chiruai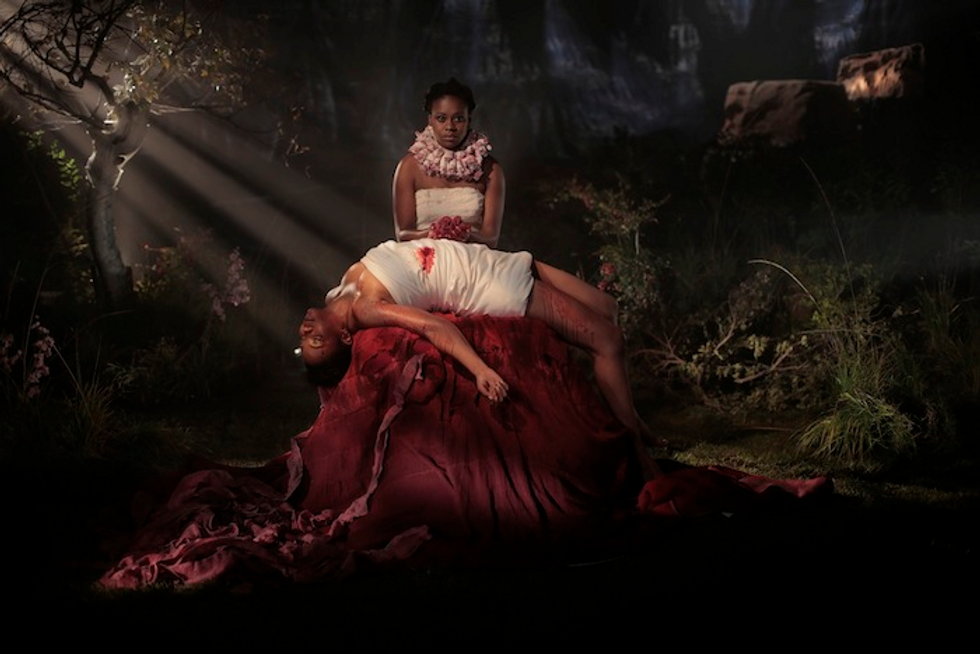 Kudzanai Chiruai's '16SNLV' at 50 Gwigwi Mrwebi Street, Newtown, Johannesburg
The most recent gift to the young South African art landscape is Kudzanai Chiruai's 16SNLV exhibition in Johannesburg. His work, which addresses violence, and mourning violence in public places, is an engaging and powerful nod to the idea of tragedy, fitting for our commemoration of the Soweto Uprising this past weekend.
With the perfect combination of imagination and analysis these 5 young minds have, and will connect the dots for anyone who cares to further understand the goings on of our country. South Africa's democracy is as young as we are, and I'm proud to be one of the many to grow with it.