In the early 2010s, the South African hip-hop subgenre kasi rap was at its peak. The late rapper Pro, who pioneered the sub-genre, was still dropping hits like it wasn't a thing.
Pro, since rising to prominence in the mid-2000s, inspired a legion of rappers, most from the townships of Joburg. The YFM radio show The Full Clip, which was hosted by popular media personalities and hip-hop heads Sizwe Dhlomo and Scoop Makhathini, was a great platform for up-and-coming kasi rappers to showcase their witty punchlines and storytelling skills. Some of the country's finest lyricists such as Kid X, Zingah (formerly Smashis), Ginger Trill (formerly Gingerbread Man) and Siya Shezi gained popularity from frequenting the show.
Then The Full Clip ended. And on the surface, it looked like kasi rap had died with it. It became hard to keep up with artists such as MT(not to be confused with Emtee)and Mickey M, Sbuda P and a lot more, who were staples of the show.
"That was our go-to show to hear what they were up to and how they sounded," says Speeka, a producer whose prominence also rose during the Full Clip days. Right now as he chats to me, he is taking a break from mixing a song at his home studio in Protea Glen in Soweto. "But as soon as that show ended, all we had was social media," continues Speeka. "And if you didn't follow any of them on social media, to you they kinda vanished. But most of them, as far as I know, continue to rap and put out projects. But there really isn't a platform that is specifically for kasi rap."
---
SPeeka has been running The Sotra Cypher series since 2016, which he films and edits himself, just like most of his music videos. "That's kind of my way of letting cats know that, 'No, guys, we can still put out stuff, and there are people who are willing to listen and watch.' And I've had guys telling me that, 'Yo man, after I appeared on the cypher, people have been inboxing me, trying to meet up and buy my tape.'"
SPeeka adds that it's stories like those that give him satisfaction and encourage him to proceed even though he doesn't make any money from the series.
SOTRA CYPHERS PART 24: Castro Gunner, LazyLazy & Earl Kaywww.youtube.com
SPeeka is a powerhouse of kasi rap. Apart from being an encyclopedia of artists who are doing their thing away from the mainstream media spotlight, he frequently releases music. This year alone, he has released four EPs and produced for countless artists, and he also directs and shoots his own videos.

The producer, who has been "messing around with music" since he was 16, was at home listening to The Full Clip several years ago when he learned that the show was open to up-and-coming artists. "And me and a couple of my friends were like, 'Hey let's go there to rap,'" he recalls. "It wasn't even about me, and them rapping on my beats, I was just like I know dope cats, they should definitely be on that show. So we organized transport and drove there. The first time I went there, I was with Axe-Ray and MaseVen. When we got there, we found abo Froz and Spy Two, and they went on and killed it."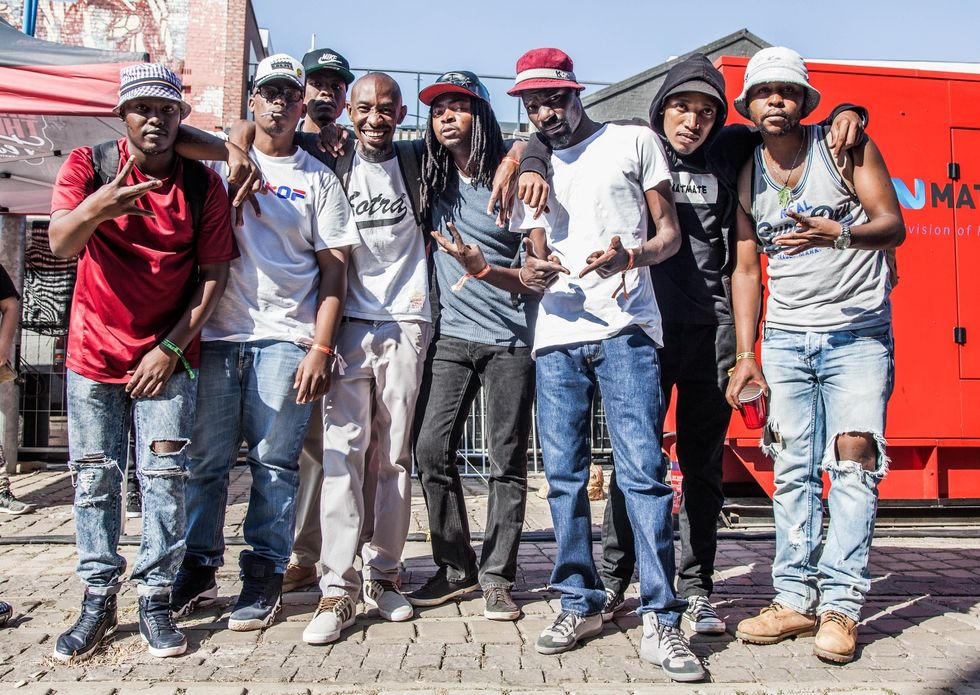 Speeka and the rappers he would perform with at Back To The City. Photo by Sabelo Mkhabela.
Becoming Speeka
The producer recalls the day his beat was first used on the show by Spy Two. "I was at home that day listening to YFM," he says, "my beat comes on, I lose my mind. On top of that, I hear Sizwe Dhlomo, who's an idol of mine, say, 'Whose beat is this? This is dope.' I lose my mind."
He says that encouraged him to share his beats with rappers to spit over on the show. "So whenever cats would go, I would be like, 'Ntwana, nay' i-beat.' I think the second or third time that happened, this one episode, Sizwe said live on air, 'Who's this Speeka guy? He makes dope beats.' That was insane. What I did was I actually sent him a disk full of my beats to play for rappers when they came through. I even got interviewed one time on that show."
Speeka - Party ya Mapantsula ft. Noks Matchbox, Sfilikwane, Mthizo & Jef (Official Video)youtu.be
Sizwe believed in Speeka so much he introduced him to rap superstar AKA. He laughs as if to prepare me for the plot twist he reveals after. "That was an L for me. I still hold that L to this day," he says. "At the time, AKA had just won a SAMA for [his debut album] Altar Ego (2012). He was AKA."

AKA asked SPeeka if he had any beats for his consideration. "I didn't have anything on me, and I kinda panicked," recalls the producer, "I didn't ask for his number or email address. I kinda sabotaged myself. I don't think I was ready at the time to be working with an artist like AKA. I think I said some dumb shit like, 'Next time.' But yeah that was a definite L for me."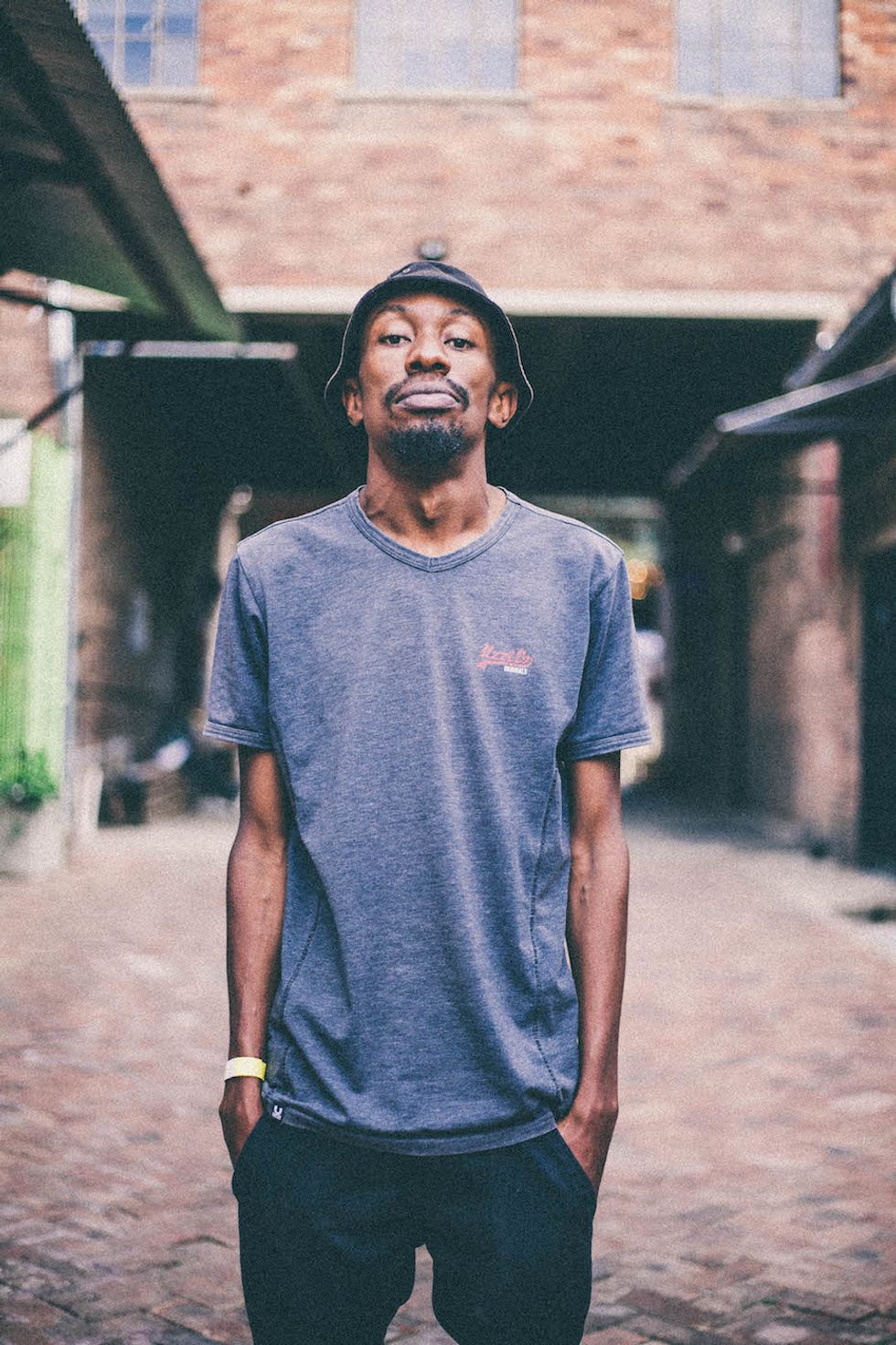 Photo by Sabelo Mkhabela.
Speeka Presents…
In 2017, SPeeka won the producer's challenge at South Africa's biggest hip-hop festival Back To The City. For the competition, up-and-coming South African producers have to send their beats through to the festival's organizers, who then shortlist 20 and fans must vote for their favorites online. The top 10 gets to showcase their beats to a panel of judges, which consists of the country's seasoned producers.
Two years after winning the competition, Speeka was billed to perform on the festival's main stage. When I met up with him, a few days before the festival, he was both excited and apprehensive. He was frustrated because he was trying to squeeze as many rappers into his 10-minute set as possible. Which makes a lot of sense; Speeka speaks highly of the countless artists he's worked with.
On the day of the festival, however, clumsiness from the festival's organizers saw SPeeka's set getting cancelled. He was, I imagined, devastated, but wasn't showing any signs of it. He told me backstage, "At the end of the day, I'm here for hip-hop, bro, so I will just stay and enjoy the festival."
Today, he's equally composed and exhibits a placid disposition. When I ask him if kasi rap is dead, as is the popular notion, his response insinuates it's far from it. "It's certainly not dead in this studio," he adds. "And mainstream-wise, definitely not. Because I believe Kwesta does kasi rap, Zakwe too, and, to a certain extent, Cassper Nyovest. So it's definitely not dead, it's just that in the mainstream, there are very few kasi rappers. In this studio, I can literally give you like 20 rappers, all dope, equally as dope as the mainstream guys that do kasi rap. The day I pop off, all of these guys are gonna be known, all of them. I'm gonna make it a mission of mine."
SPeeKa presents: Jef - Hook, Line & Sotra EP (2018) - Full Audiowww.youtube.com
He tells me he feels it would be a crime to know a great artist and not make an effort to work with them or try to expose them. This explains why on social media, SPeeka is always recommending artists that impress him, both known and unknown.

Most of SPeeka's EPs are attributed as "Speeka Presents… (insert name of artist he's collaborating with)." He prefers to work with an artist on a song or project from scratch instead of just sending them beats and letting them do as they please.
A few years ago, when he still sent out beats to artists, he was always unhappy with the final product. "What I started doing," he says, "was I waited until I could afford a decent studio setup, and as soon as I was able to do that—I'm talking the day after I got my equipment—I started working on my project. I started organizing guys, and started recording and mixing. So even now, when I produce a song, I want to mix it myself." That project would go on to be his debut EP Organized Grime, which was released in January of 2017.
Loux Artiste - Catch A Fade (ft. Infektist, Mreja & Soweto Tshepiso) [OFFICIAL MUSIC VIDEO]www.youtube.com
But as meticulous and prolific as he is, he admits it doesn't always lead to big checks. "It's not easy," he says. "And most of the time, the reason I'm doing music is because I love this so much. If I get to a point where I feel like even the love isn't working, then I will stop and go back to getting a 9 to 5."

At the moment, it's all about perfecting his craft and making as much music as he can, while waiting for his big break. He sends his beats to artists every chance he gets. "I've even gone as far as hitting up a DJ—since a lot of DJs are releasing music—with a disc full of my beats." He laughs when he recalls sharing a beat with a particular DJ, who rejected it because he didn't have a CD player.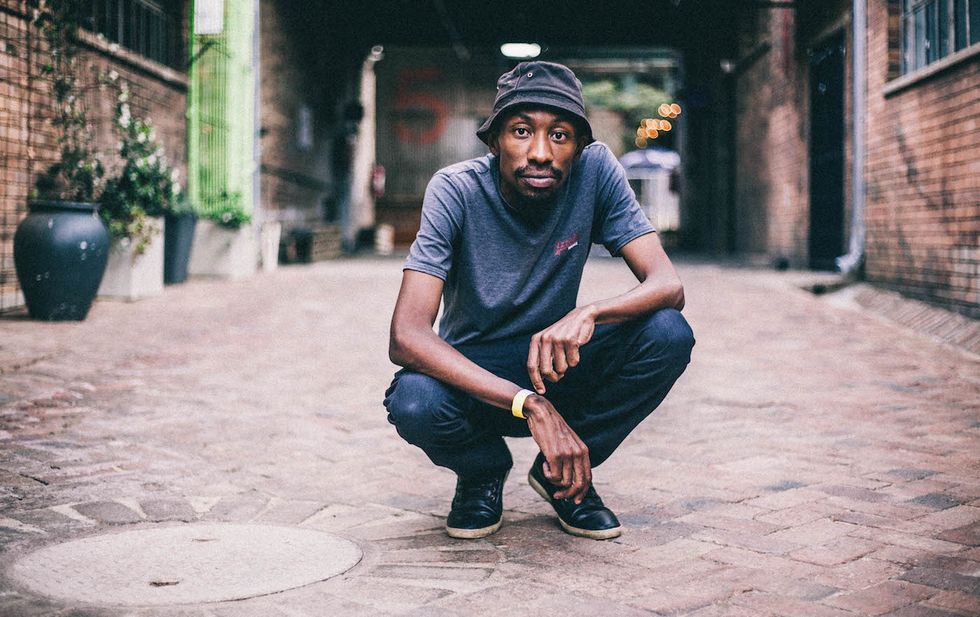 Photo by Sabelo Mkhabela.
Next Steps
SPeeka's production style is an anomaly. It leans towards boom bap, but has the intangible rawness that characterizes kasi rap. He's slowly catching on to the trap wave, as can be heard, for instance, on the song "Catch a Fade" from his collaborative project with the rapper Loux Artiste titled The Craft, which came out earlier this year.
"For the longest time," he says, "I was your typical purist—boom bap or nothing. But for the past few months, I've been kind of experimenting and working with the new age sound; the 808s. But even with those sounds, I still wanna have my identity in those beats, maintaining the grunginess that I'm associated with. I have mad respect for those who can pull it off flawlessly. I learn from them."
Expect more music, music videos and episodes of the Sotra Cypher from SPeeka.
Keep up with him on Twitter, Facebook and YouTube. Stream and/or download his projects on Audiomack.
Interviews | "I Wasn't Ready To Work With AKA" - Speekawww.youtube.com