Style Dimension is OkayAfrica's seven-part series highlighting emerging designers from Africa and its diaspora. Along with giving you a glimpse of each designer's stunning work, this series is an introduction into their creative realm. In the third edition of the series, meet British-Nigerian blogger and designer Fisayo Longe.
Fashion blogging has become one of the primary ways for brands to market directly to their core audiences by using influencers. However, it was rare for influencers to take the risk of using their own brand as a way to promote their independent run fashion labels—until recently.
Fisayo Longe was willing to take that risk and set the bar for herself and other young women in the continent. As a British-Nigerian fashion and travel blogger and designer based between London and Lagos, she wants her story to be a testament that women are bosses too. On her blog Mirror Me, she not only shares stories on her personal style, travels, and lifestyle but she also uses this space to promote her brand Kai Collective.
Her collections mirror her effortless style and her attention to detail with prints and silhouettes. Her inspiration for Kai Collective came from the fabrics she would find during her travels and wanting to design things with them that weren't in her closet. She would then wear them on her blog and social media and people would ask where she got them from, which sparked a business idea. Her vision extends beyond her next collection and she is already thinking about how the brand can evolve into affordable clothing with luxury aesthetics, but also accessible to make the average woman feel strong and sexy. She wants to fill the gap in the African market for a Zara/H&M equivalent and is actively working to turn that vision to reality.
I got to speak with her about building her brands and some of the inspirations she has taken from her Nigerian heritage.
---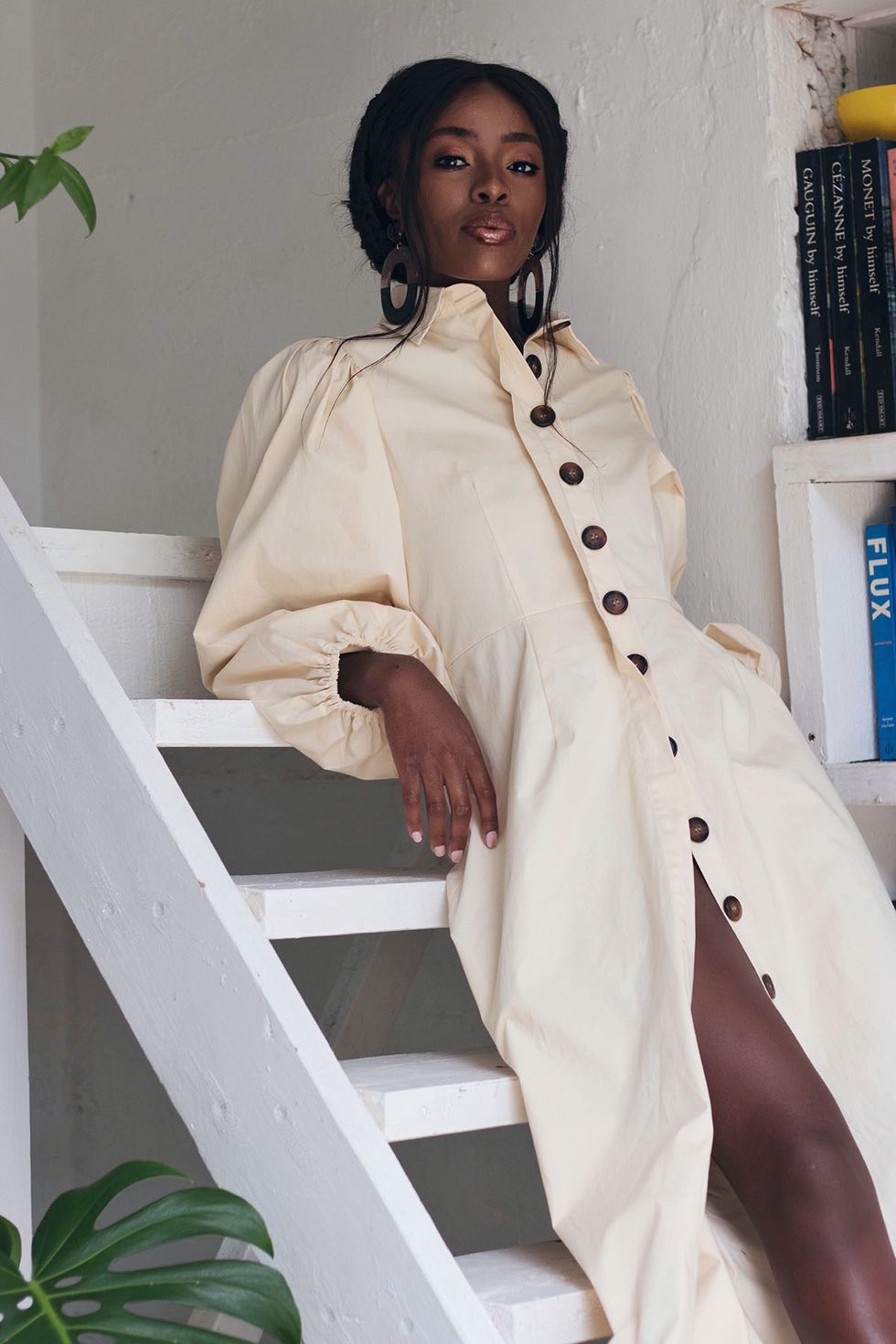 Photo courtesy of Fisayo Longe.
Amarachi Nwosu for OkayAfrica: How does your African heritage shape your approach to design?

My African heritage shapes who I am completely—the very essence of my being. It is who I am, and thus shapes my ideas and everything I do. Long term, I really would want to manufacture in Africa, starting in Nigeria. We tried it a few seasons ago but it didn't work out quite so well. There is a lot of development that needs to happen within the sector to make it efficient for us, so one of my major life goals is to work out how to be a part of bringing about that development. That being said, my favorite sample maker is actually based in Lagos. She's amazing and just gets it!
What are your thoughts on the current landscape of the fashion industry in Africa? Do you think the industry is evolving quick enough to support creatives who want to build globals brands?
I am always reluctant to criticize except I am actively working to improve the issue. Being based in London and manufacturing in other places around the world, I am shielded from a lot of issued faced by fashion designs and retailers in Africa. I am also wary of citing Africa because currently, I can only really speak from a Nigerian point of view. I think women like Omoyemi Akerele are true champions actively working to develop the Nigerian fashion industry and are doing incredible work. But I also think that there is a long way to go to creating a landscape in which designers and retailers can build a long-term profitable business. A lot of work has been done to highlight African fashion on a global scale and there is international press around it more than there has ever been. However, huge infrastructural investment and development is needed to enable creatives build successful global brands.
Photo courtesy of Fisayo Longe.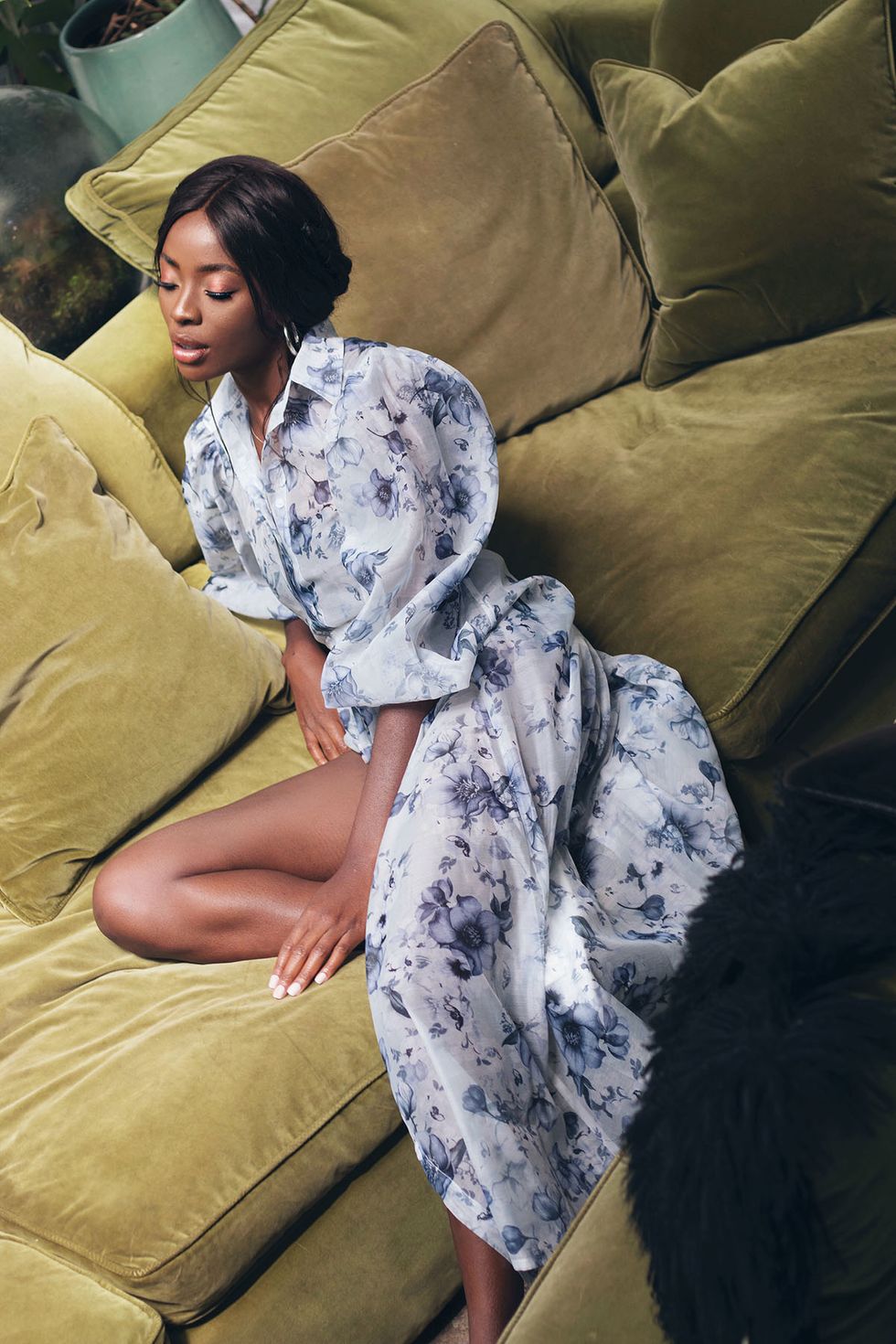 Photo courtesy of Fisayo Longe.
How are you actively trying to change norms or evolve the industry and African narrative through your brand?

My mission in life is to give women the tools they need; mentally and financially, to free themselves from the binds and limitations of a sexist world and build businesses and lives that they are proud of. That's what my purpose is. Africa is a very sexist continent and women are so oppressed. My long-term goal is to have a business where a large majority of the staff is women. Currently, I employ African women for all my freelance roles. I also tried to manufacture with a 100 percent female and owned and staffed business in Nigeria a few seasons ago but it didn't work out due to a lack of infrastructure. However, through my designs, narrative, newsletters, social media, imagery and the people I work with, I am constantly trying to create an environment of female empowerment and domination.
What advice would you give to other young designers?
I would say to not only pay attention to the creative, but also the financial. You could have great ideas but you really need a solid financial plan and great financial habits to build a successful global business. A lot of us aren't great with the financial planning so you might need to collaborate with someone who is. I would also say that it is incredibly difficult but as long as you have a solid plan, you just need forward motion. You need to keep going everyday even though it might seem like your whole life revolves around overcoming challenge after challenge.
Keep up with Fisayo Longe's brand Kai Collective on Instagram.