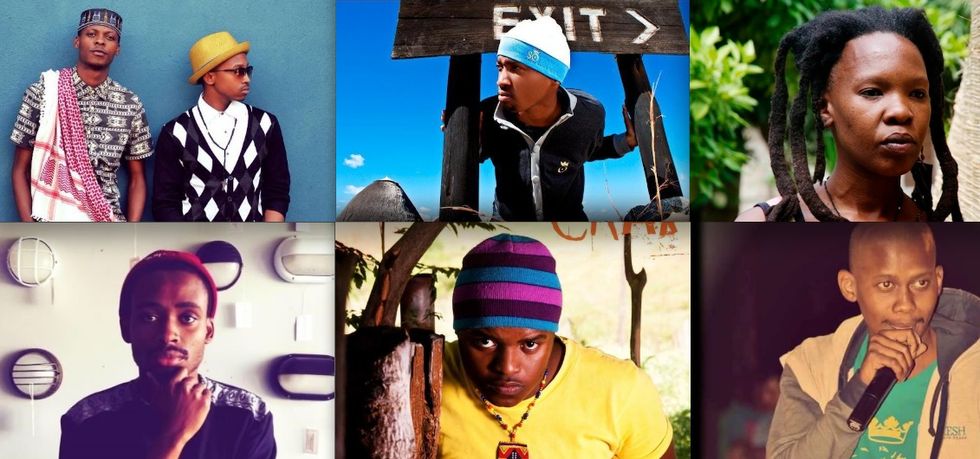 In "The Rise Of Swaziland's Hip-Hop Scene," Sabelo Mkhabela highlights 13 notable Swazi hip-hop acts.
---
Over the past five years Swaziland's hip-hop scene has been steadily shaping up and finding its own voice. A gust of Swazi artists are demanding to be taken seriously. A decade ago the kingdom had essentially no hip-hop scene. At the time, there were just a few artists – the pioneers of Swazi hip-hop – who had their songs played on radio and their videos on TV. Their music though, wasn't fully formed — the beats and delivery were weak and their concepts recycled.
Swaziland is not the most technologically advanced country. Bandwidth is still a luxury. Soaring data costs have stalled the Swazi music industry's growth in the digital sphere. The average citizen cannot afford to access streaming sites on a daily basis. The majority of artists are unable to use sites like SoundCloud, Bandcamp and YouTube to promote their music.
Instead, artists in Swaziland rely on radio for their music to be heard. Though a few radio show hosts have been working to spread the artform, like MTN Top 20 co-hosts Bongani "Bobo" Dlamini and Bongani "DJ Tizalami" Dube, and The Swazi Rhythm's Lindelwa "Lindz" Mafa, by and large the nation has been reluctant to give local hip-hop a chance.
The country has one major radio station, Swaziland Broadcasting and Information Services (SBIS ) that's split into two channels – one that broadcasts in Swati (SBIS1) and another that broadcasts in English (SBIS2). The latter, a youth-orientated station, is the more likely of the two to play rap. But because radio hosts make their own playlists, they'll only play songs that they personally know and like. And even if an artist's song does get played, they won't see any royalties. In Swaziland, airplay is entirely about exposure.
Hip-hop as a culture never truly flourished in Swaziland either. Djing, B-boying, graffiti, ciphers and park jams are essentially unheard of in the small kingdom. Recently though, some strides have been made. The general public now seems willing to pay attention to local rappers. Swazis have begun headlining well-attended shows and sharing stages with South Africa's most revered acts. The annual Hipnotik Festival – a mid-year youth music festival that hosts the biggest names in South African and Swazi hip-hop – offers perhaps the greatest opportunity for hip-hop to shine in Swaziland.
A few Swazi rappers have even seen their faces on corporate billboards, and their songs used for big brand ad campaigns. Though working within a sloppy music industry, in a country that itself has much to deal with, a handful of Swazi rappers are ready for the world stage.
In the following pages, Sabelo Mkhabela highlights 13 notable Swazi hip-hop acts.