In November of 2018, one of eSwatini's most notable rappers, 80 Script, was just being his usual confident and outspoken self when he tweeted about his long awaited debut album, That of Greatness. "I can't think of any rappers from my country that can top this album ... At least not for 5 years. I think this might be the greatest rap album from Eswatini," he wrote.
Swiss, a rapper not many fans knew about tweeted, "challenge accepted," in response to 80 Script's tweet. He promised he would hit the studio and respond to 80's claim the best way he knew—by rapping. Just a bit over 24 hours later, Swiss delivered a potent track titled "Leave it to the Fans" which took many fans by surprise. He came out pumping his chest with lines like, "Boy, you dried up like burnt toast, you ain't close to the god that I am/ Above you, I play host, I'm the ghost, I'm your G.O.A.T, I'm your idol/ How you tryna flex when you know that's my title?/ Took a couple of years doing dishes in the kitchen/ Now you tryna flex on a nigga with a vision."
"Leave it to Fans" may not be as scathing as great diss tracks usually are, but it revealed a rapper who's comfortable on the mic and who sounds like he means every word utters.
It was on.
---
Five songs were released in total between the two MCs in a space of two weeks. It was the rap fan's wet dream, a healthy rivalry between two talented wordsmiths that have a history between them and one point to prove: that they are the best out.

80 Script doesn't have much to prove as a rapper. When we spoke to him in 2016, the MC told us his debut EP 2014's These Are The Basics is the most lyrical project he will ever put out. His focus is now on making hits, which he is doing with his current single "Yaya," which he has managed to give a lifespan of close to two years.
Swiss, on the other hand, was the mystery everyone was trying to solve. Great rappers are hard to come by in these parts, you see. So any rapper who can go bar for bar with the man many consider the greatest doing it, was bound to raise eyebrows.
Just like many fans, I stalked Swiss and stumbled upon a link to his Audiomack page. Out of the seven projects the MC has put out, only one is streamable on the platform. Drugs Will Kill You, released in June of 2018, is a gem. It sees Swiss owning the recycled instrumentals he uses. He raps comfortably, and has a layered writing style that gives the EP high replay value. Just like most rappers of this generation, the MC can strike a note right after spitting solid sixteens.
When I meet Swiss in Manzini, one of Swaziland's main cities, it's for a magazine cover shoot. Swiss and 80 Script will grace the cover of Thirty2B, an arts and culture online magazine that releases digital issues monthly. It's all love between the two MCs, and they are planning to capitalize on the hype and drop a collaborative project in the near future.

Below is my conversation with Swiss about his rivalry with 80 Script, his inspirations, what he makes of the game, and what his plans for the year are, among other things.
So let's talk about the rivalry, how exactly did it start? Especially since the two of you knew each other prior to the tweet.
Well, it all started from a tweet, basically. Wasn't really a rivalry. I think it was more competition than anything, you know? So basically it just started from the tweet, and things got a bit aggressive from there, but it was never any bad blood. I won't call it a rivalry. I just call it competition.
Why did you feel like stepping up when he said what he said?
I felt like stepping up because five years is a long time to say you don't see any other artist that's gonna do any justice, you know? So I had to do my justice, same time.
And how did you feel about the response that the competition got?
I didn't really expect any hype from this. I just wanted to stand up for myself, and create a name for myself. So basically, what happened from there was just beautiful, because I loved the responses that he gave. As much as it was beef and everything, you know, you've got to give props to the music that was made. And I've gotta say, I hand it out to him for the music, and everything was proper. Everything was proper. I don't know how people's opinion would go, but I had nothing to lose in this. You know so, basically for me it was just win win. Checkmate.
When you are having a feud online, you're not sure if a person really hates you or not. Because there's no tone on social media or sometimes you misinterpret the tone. After all that happened and when you eventually met with 80 Script in person, how was it?

It was awkward a bit at first, but then baby steps helped. At first meeting, because we met at the SWAMAs (Swaziland Arts and Music Association Awards), he was busy with something. I was with the homies, so it wasn't really a proper greeting as such. But then today, ever since we held this interview, we've actually met and have been able to speak properly about things, and I can't say there's any bad blood spilled. So I'm happy with the outcome of the beef and whatever.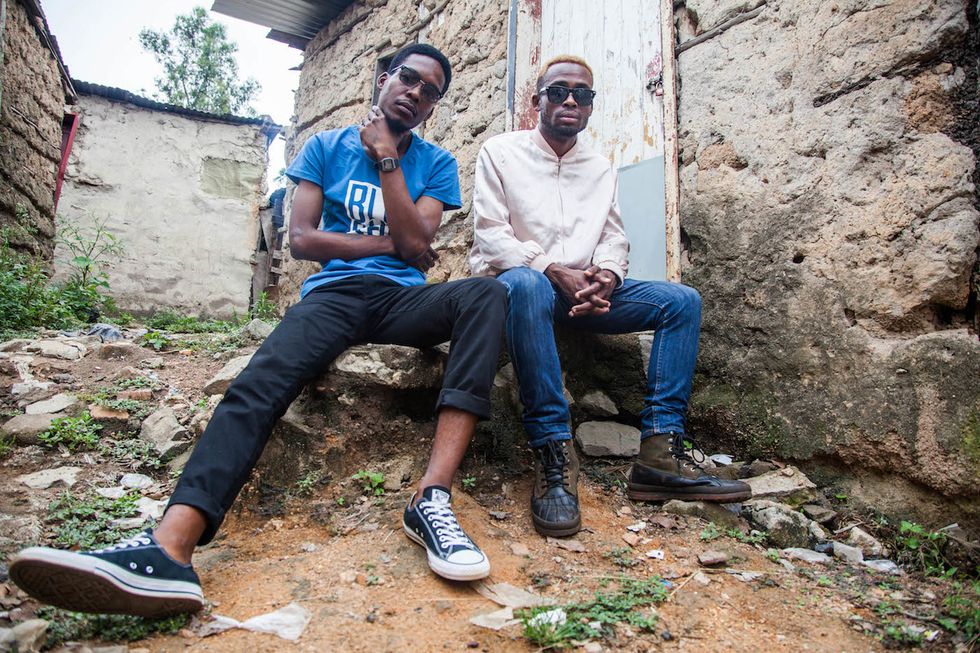 Swiss and 80 Script. Photo by Sabelo Mkhabela.
Before that thing happened, you two already knew each other. Can you tell me about your relationship?

So basically, we grew up together, I could put it that way, 'cause we went to the same school, we went to Khanyisile. He was friends with my older brother, so generally that would involve me becoming friends with the whole circle. So we ended up being friends from there. They started rapping, I started rapping, you know. I rapped, but I never used to show them that I rapped. It was just one of those things. And then yeah, we worked.
When did you start putting out music?
I started putting out music two years ago. The whole process of recording, I started when I finished high school, so that was like 2010. But I was just recording for practice. And then as time went on, I stopped. I was just like "Ah, let me focus on school and all of that stuff." But during my years in varsity, I grew back to hip-hop. It drew me back in. And I was like, "No, let me actually get back to the rapping," and whatnot. So I worked on my first mixtape which was called Scary Hours. It dropped on March 28th, 2016. And from there, it's just been up, bro. Like my road to the summit.
Who inspired you when you started rapping?
When I started I was inspired by quite a lot of rappers actually, because my style has got a lot of known rapper similarities. That's why a lot of people can pick up the Drakes, the Travis Scotts, the Kendricks, you know? So I feel like my style just stemmed from the rappers I listened to at the point in time. So I just can't really break it down to one artist, but I can say my style is just inspired by a lot of people and the music I grew up listening to.
In terms of the limitations of being a rapper in Swaziland, what would you say those are?
There's quite a few actually. One, airplay's a problem. Like, if they don't know you, they won't give you that recognition. I don't know, maybe I'm seeing it from my own perspective. They'd like to put their own opinions on it, but from what I've seen, I've gone on radio a couple of times, but only time they started playing my tracks was after the beef. The Times of Swaziland itself will fuck up rappers' names, they'll just mess up rappers' names in their publications, which just doesn't show professionalism and everything because when I dropped Drugs Won't Kill You, they did a feature on it on The Times, and they happened to name me Yung Swiss, when my name happens to be Swiss. So now, that's a imitation on it's own, because there's already a Young Swiss and he's prominent. So when people saw that they thought it was about Yung Swiss.
And then the promoters themselves; shows are not coming up the way they should be. The kids are not being given the platforms they should. No disrespect to all the people that are there, I feel like they've worked hard enough to deserve the slots at those shows. But I feel like as promoters sometimes it's nice to mix the performers that are gonna be there. A couple of veterans and then a couple of new recruits. It's gotta be that way so the industry can always be on its toes.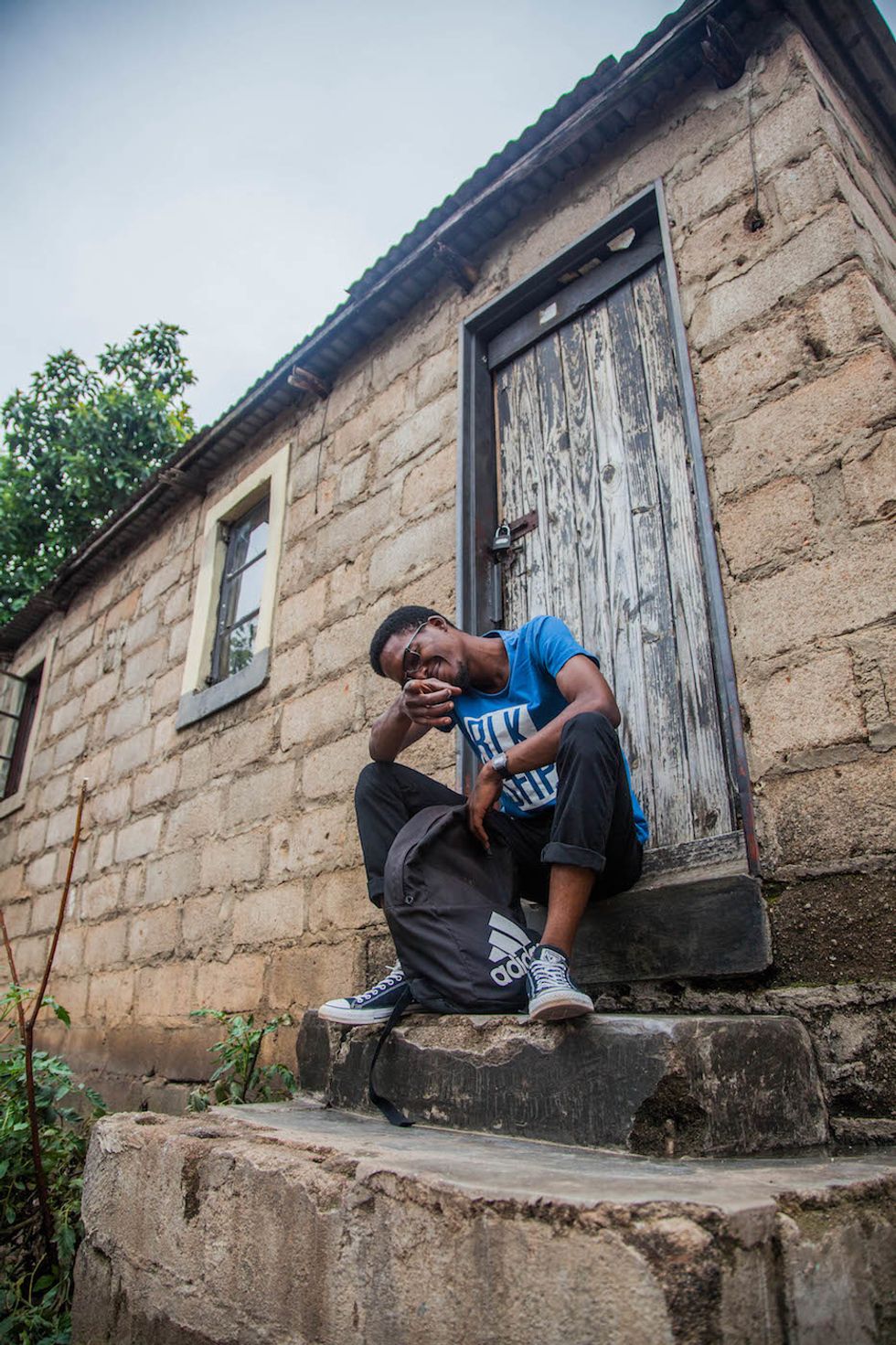 Swiss. Photo by Sabelo Mkhabela.
What are you planning to do in 2019?
I've actually got my plans down for 2019. I've got my plans down. I've got three mixtapes worth of music. I'm working on an EP with 80 Script. I'm working on a joint project with Harristheniner. I'm hopefully gonna be working with an artist named AZ. Yeah man, there's quite a lot that I have to do and one of those happens to be a tour. But I'm not gonna talk about it right now, but there's a tour we're planning on doing which will actually reach the youth. So we're gonna be doing it around high schools and varsities, so yeah, that's part of my plans for 2019.
So in terms of the music that's coming out the country, how do you feel about that?
The tracks that are good that are coming from Swaziland are very good. They are very, very good. The tracks that are coming up from all these artists that actually stand out are very exceptional. And then the tracks that are coming out from the people who are there to make mediocre stuff will carry on being mediocre. I feel like that's the way it is, you know? But then the music coming out of Swaziland from the exceptional cats is exceptionally amazing. It's exceptionally amazing. I don't even want to consider that there's actually whack music in Swaziland because I haven't exposed myself to a whack artist just yet, so yeah.
Follow Swiss on Twitter and Audiomack.