Events
Oct. 06, 2014 10:00AM EST
Okayafrica Electrafrique returns to NYC, Friday, October 17th, with Captain Planet (album release!), Oscar P, and DJ Underdog.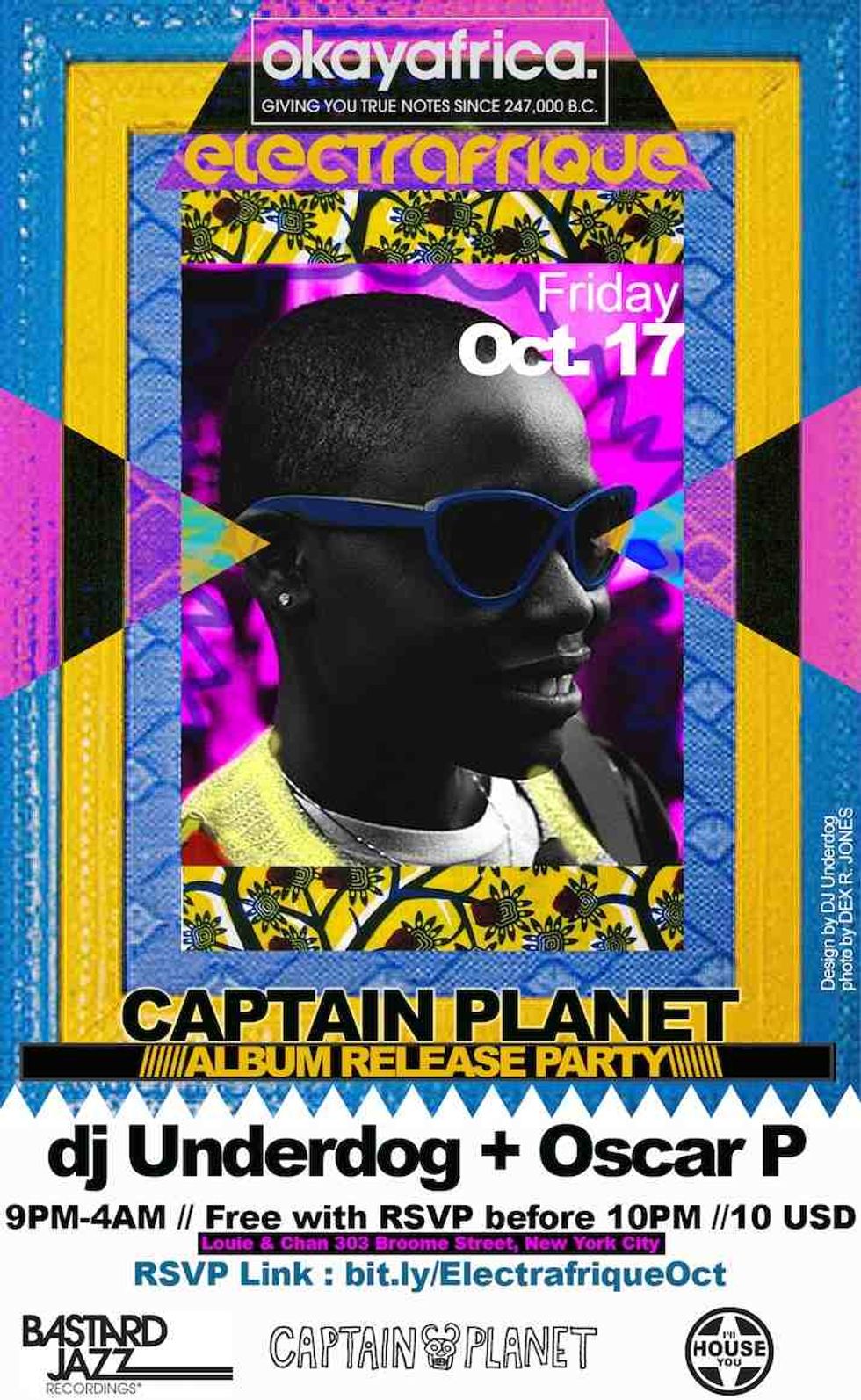 Okayafrica teamed up with Nairobi's Electrafrique this year to present New York City's new monthly dance party. Okayafrica Electrafrique returns to the 303 at Louie & Chan Friday, October 17th, (in collaboration with I'll House You and Bastard Jazz) for Captain Planet's album release party with DJs Oscar P and Underdog. Entry is FREE before 10pm with RSVP. Stream Captain Planet's new Africa In Your Earbuds tape below to get ready:
>>>RSVP For FREE Entry Before 10PM
DJ LINEUP:
Bicoastal 'gumbo funk' producer Captain Planet's sophomore album Esperanto Slang (out 10/7 via Bastard Jazz) is the follow-up to his outstanding Mystery Trip Vol. 1 mixtape from 2012. Esperanto Slang presents an eclectic collection of beats and dance-infused collaborations with artists from across the globe, including Sudanese songstress Alsarah, Antibalas' Chico Mann and several others. The diverse productions on the 11-track album blend a wide range of styles from "NY hip-hop, UK bass and Turkish psychedelic, to Nigerian afrobeat and Amazonian funk." Listen to the summertime anthem "In The Gray" and the Brazilian samba funk "Tudo De Bom" off Esperanto Slang.
Oscar P is recognized as an innovator and force in New York's DJ scene. His musical style fuses influences from not only NYC, but also Chicago, Detroit and Johannesburg. He is the leading force behind Afro Rebel Music, which is Open Bar Music's spin-off label dedicated to South African deep house.
DJ Underdog is one of the apostles of Washington DC's Afro-futuristic scene, and of course resident behind the decks at our monthly #OKAYAFRICADC party. His "Afrobeat For Your Soul" monthly acquired legendary status. For more from Underdog download his excellent Africa In Your Earbuds mixtape.
Friday, October 17th
9pm-4am
Louie and Chan
303 Broome St., NYC
Door: $10
Electrafrique's DJ Cortega has put together an hourlong warmup mix, featuring new music from Boddhi Satva, Wunmi, Fantasma, DJ Spoko and more. Stream and download below.
DJ Cortega's ELECTRAFRIQUE OCTOBER 2014 Tracklist:
Wad Alnuba (Captain Planet Remix) - Alsarah & The Nubatones
Burnt Friedman Meets Zinja Hlungwani - Burnt Friedman
Cicada - Captain Planet
Minha Infancia - DJ Znobia
Makutu (Semba) - DJ Dias Rodrigues & Eddy Tussa, Kenny Buss
Arbé de Cadjau (Meistro Sol Power Rework) - Nhu De Ped'bia
Obame (Radio Mix) - Afrobuddh & Kakatsitsi Drummers
Woa Ka Wo Ho - Anas
Woman of Substance (Awuwan Itiaba) - Ibibio Sound System
Flawless (Boddhi Satva Ancestral Soul Remix) - Beyonce
Niani (Jose Marquez Mix) - Sassouma Kouyaté
Pula (Rain) - Spoek Mathambo
The Mountain (Remix) - Mujava, Spoko, Spoek Mathambo
Rudeness - DJ Clock & DJ Mlungu
More Pain - DJ Spoko
Sefty Belt - Fantasma ft. Josiahwise Is the Serpentwithfeet
Djinew Nakan (Boddhi Satva Ancestral Soul Remix) - Issa Bagayogo
Mizobiya (Remix) - Dayto & DJ Ivan90 ft. Wes
African Salsa (Original Mix) - Black Motion
Lopeleketé - Os Banah ft. Maya Zuda
Fit Body (Jmage Mix) - Wunmi
Keep reading...
Show less