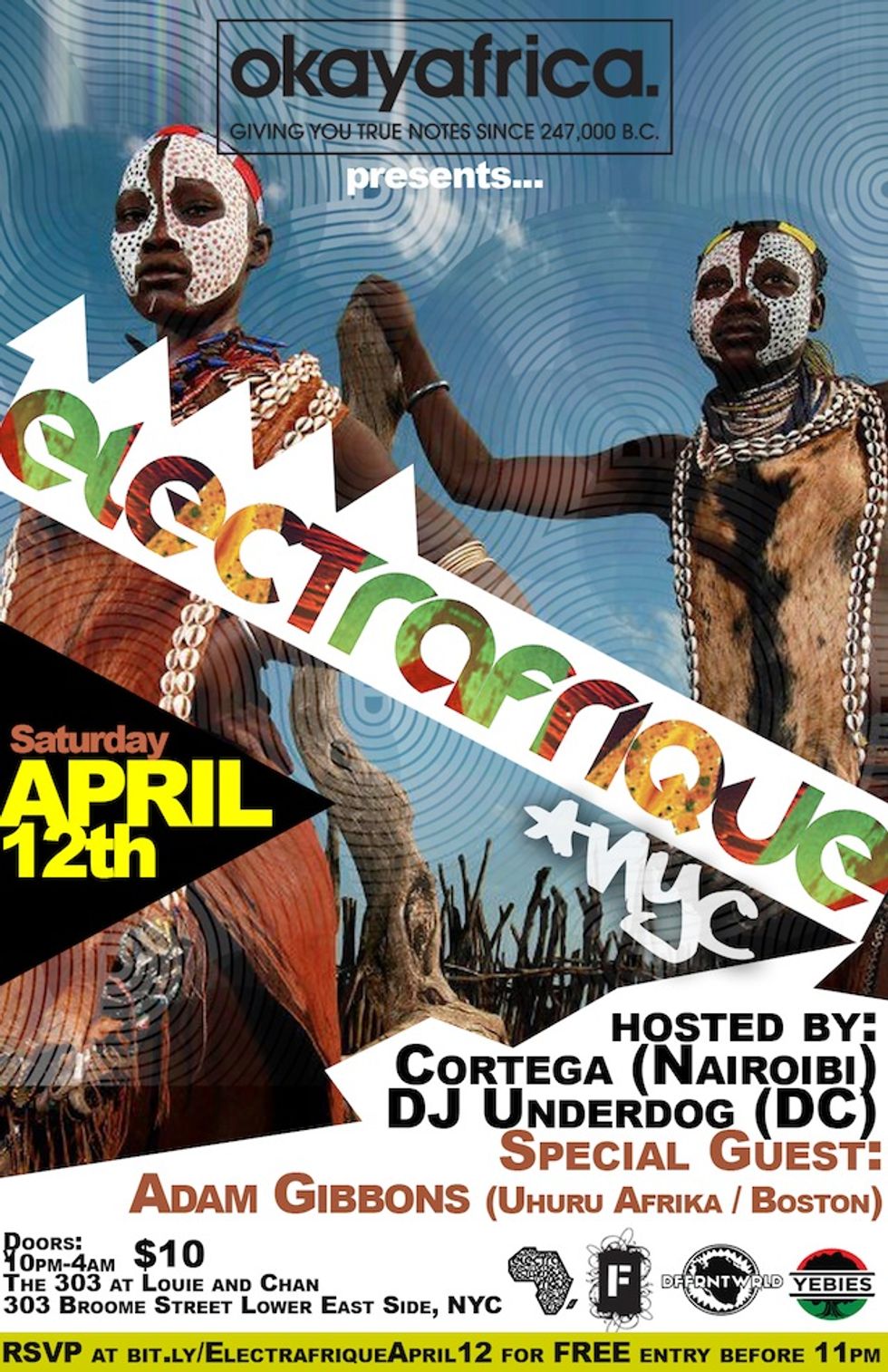 ---
Flyer by Underdog
A few months back we teamed up with Nairobi's Electrafrique to introduce New York's new monthly dance party. Electrafrique NYC returns this Saturday, April 12th, with special guest Adam Gibbons and resident DJs Cortega and Underdog! The party is hosted at The303 at Louie And Chan, one of New York's newest and most intimate clubs located right in the heart of the Lower East Side. Scroll on for more details and get yourself warmed up with Cortega's latest mix below!
>>>RSVP FOR FREE ENTRY TO ELECTRAFRIQUE BEFORE 11PM
DJ LINEUP:
Adam Gibbons is the creative force behind Boston's Uhuru Afrika. Specializing in an Afro-diasporic dance floor sound, he's known for his ability to blend traditional African rhythms with modern electronic influenced music, and has shared the stage with heavyweights the likes of Femi Kuti, Bebel Gilberto, Oumou Sangaré, Tony Allen, Antibalas, Osunlade, Thievery Corporation, and King Britt.
DJ Cortega, the driving force behind Electrafrique, is currently based in Nairobi, where this event has seen massive growth, hosting the likes of Black Motion (South Africa), Boddhi Satva Official (CAR), Carlos Mena (US), or Renato Xtrova (Angola) for the first time in Kenya.What do you think?
DJ Underdog, who has been been one of the main Apostles of the Afro-futuristic sound in Washington, DC, and of course resident behind the decks at #OKAYAFRICADC. His "Afrobeat For Your Soul" monthly acquired legendary status, mostly thanks to his electrifying sets.
SATURDAY, APRIL 12TH
10PM-4AM
DOOR $10
THE 303 AT LOUIE & CHAN
303 BROOME STREET, NYC