Africa In Your Earbuds
Aug. 26, 2015 05:48PM EST
DJ Umb of Generation Bass delivers a 2-hour long excursion into the sounds of the Angolan and Portuguese bass underground in this AIYE.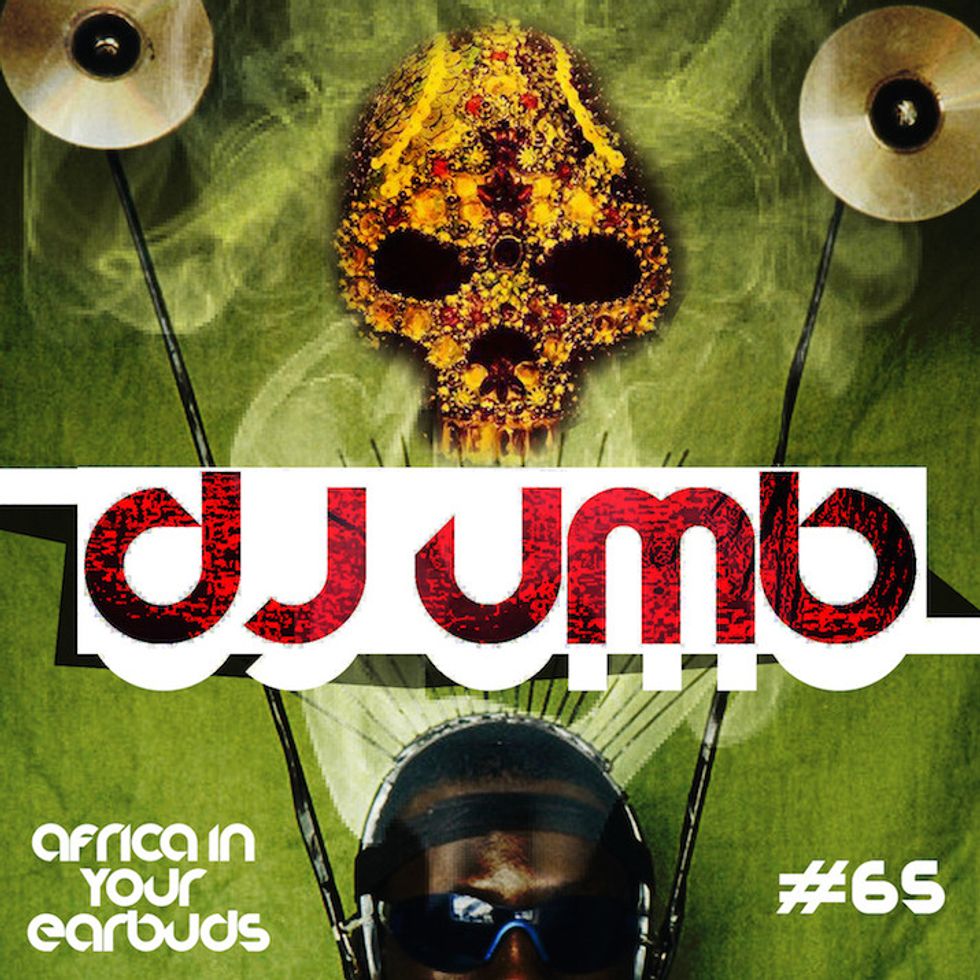 Cover Artwork by Underdog.
DJ UMB has been a constant influence on this website over the years for the underground electronic findings from across Africa and the globe he publishes on Generation Bass. As a selector and editor, Umb's been one of the initial champions behind a wide array of global bass sounds including the likes of zouk bass, tarraxo, fodencia, 'Arabtronix' and many more. For the latest installment of Africa In Your Earbuds, DJ Umb put together the haunting 2-hour long African Apocalypse mixtape, featuring selections from DJ Znobia, DJ Marfox, DZC Crew, Bison & Squareffekt, Dotorado Pro, and many other stellar producers (listed below).
"I wanted to create a dystopian scenario... distorted polyrhythmic beats interspersed with static interference, a naiveté and doom laden atmospherics to create a bleak yet enthralling soundscape with vivid imagery," DJ Umb tells Okayafrica. "The blend of tarraxo, tarraxinha, fodencia, kuduro, afro bass, afrobeat (and lots of stuff I don't even know what to label) has created an intoxicating & cinematic... journey. For this mix I drew very heavily on the Angolan and Portuguese bass undergrounds. I've been a huge supporter of these movements for a number of years. I've supported artists on the blog and also curated many of our own digital releases on the Generation Bass label focusing on these underground scenes."
"I've been saying for a number of years that the future of dance music lies in these scenes and that the future generations of super-producers and superstar DJs will come to be dominated by producers in Europe with an African heritage," adds DJ Umb. "The sound is raw, exciting and fresh and unlike anything I've ever heard before. In many instances, the bridge between African dance floors and European dance floors is 'almost' complete within the sound of these burgeoning new movements."
"A lot of the tracks in this mix have been in my vaults for at least 3 years or more. I have decided only now to commit them to this mixtape. I still don't think the world is quite yet ready for a lot of this material, it's maybe still at least 3 years or more ahead of it's time. Some of it we have previously released on our Generation Bass label and a lot of other stuff is either unreleased or floating around on other independent labels. The artists who feature are self-evident from the ID tags that are shouted out on most tracks which reveal the identities of the brilliant and mind blowing producers at work."
Stream and download DJ Umb's Africa In Your Earbuds above and sort through the artists on the mix below. View our previous AIYE releases listed underneath.
Featured Artists On AIYE #65: DJ Umb 'African Apocalypse'
Dj Znobia
Dj Paparazzi
Bison & Squareffekt
Deejay Anderson
Dj Liu K
Mambos Da Casa
Nigga Fox
Dj Marfox
King Kong
Lx Monkey Beatz
Roulet
Dj Marshall
Nazar
Beat Laden
Dj Doraemon
Dj BeBeDeRa
Dotorado Pro
Dj Lilocox
Dj Finicox
Dj Zulox
DZC Crew
MZK
Dj N.K
Nidia Minaj
Diamond Bass
Dj Satelite
Dj UmbFox
TxiGa Pro
DJ PutOo Helder
Blacksea Não Maya
Deejay KarFoX
Babaz Fox
Power Music Beatz
Get more African mixtapes from Africa In Your Earbuds:
TEJU COLE — NICKODEMUS — MARAMZA — DOOKOOM — MIKAEL SEIFU — GARTH TRINIDAD — DJ SPOKO — CAPTAIN PLANET — THE HAPPY SHOW — CLAP! CLAP! — DJ GIOUMANNE —ALEXIS TAYLOR OF HOT CHIP— CARLOS MENA — ZACH COWIE — ELIJAH WOOD — KOOL A.D. — SOL POWER ALL-STARS — DJ NUNAS — NIC OFFER OF !!! — LARRY ACHIAMPONG — KYLA-ROSE SMITH OF FRESHLYGROUND— THE GTW — RADIO TANZANIA — JON THEODORE — DESMOND & THE TUTUS — MATHIEU SCHREYER II — YOUNG FATHERS — BBRAVE OF AKWAABA — OLD MONEY — DJ NEPTUNE — SAHEL SOUNDS — BEATENBERG — M1 [DEAD PREZ] — BODDHI SATVA — L'AFRIQUE SOM SYSTEME — NOMADIC WAX —  THE BROTHER MOVES ON — LV — BEN ASSITER [JAMES BLAKE'S DRUMMER] — JAKOBSNAKE — CHRISTIAN TIGER SCHOOL — SAUL WILLIAMS — TUNE-YARDS — MATHIEU SCHREYER — BLK JKS — ALEC LOMAMI — DJ MOMA — AWESOME TAPES FROM AFRICA — PETITE NOIR — OLUGBENGA — RICH MEDINA — VOICES OF BLACK — LAMIN FOFANA — CHICO MANN — DJ UNDERDOG — DJ OBAH — SABINE — BROTHA ONACI — DJ AQBT — JUST A BAND — STIMULUS — QOOL DJ MARV — SINKANE — CHIEF BOIMA
Keep reading...
Show less