Africa Is Not a Refugee Camp, the exhibition showing at the Architekturmuseum der TU München, warns viewers about what they will not see.
Curator Mpho Matsipa notes that "there are expectations that are set when people go to see exhibitions about Africa." But in this case, instead of the widely trumpeted narrative of a continent in dire need of developmental aid, this exhibition actively reimagines African cities and presents ideas that touch on themes of migration, architecture, and Afrofuturism. According to its mission statement, the exhibition seeks to explore how architecture responds to the complexity of African mobility beyond the figure of the refugee.
---
In the body of work featured, African cities are "reconsidered as sites of innovation, rapid transformations, new architectural typologies, infrastructures and technologies." The exhibition features artists from Abidjan, Lagos, Johannesburg, and almost a dozen other cities on the continent. As an opportunity to ground the exhibition in a real dialogue, many of the artists met and collaborated in various African cities to exchange ideas prior to the exhibition. The result of those meetings include work that speaks directly to the issues plaguing these cities.
For example, Mad Horse City, produced by Olalekan Jeyifous and Wale Lawal is an ode to Lagos. Both artists had never met in person until the Lagos exchange, although they had followed each other's work. In 2016, Jeyifous, a Nigerian-born, Brooklyn-based architect, produced Shanty Megastructures, a 3D reimagining of Lagos in 2050. The images juxtaposed a sprawling mega city besot with development and the marginalized communities it often displaces to get there.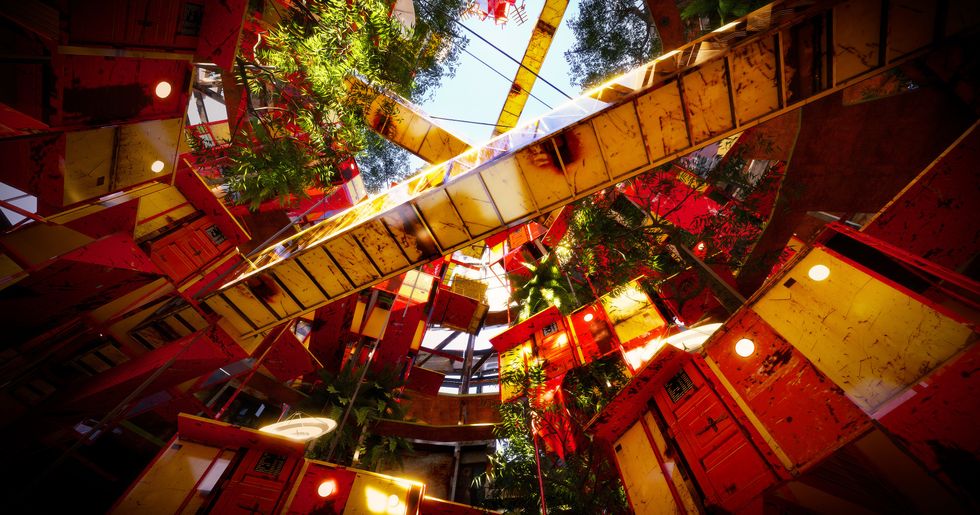 From Mad Horse City. Photo courtesy of Wale Lawal.
According to Lawal, these images reflected an "emphasis on organic interactions between the city's inhabitants and its spaces."
When the time came to create work for the Munich exhibition, Jeyifous reached out to Lawal, who works as a writer and editor in Lagos, to produce Mad Horse City, a series of animated and written vignettes describing life in a futuristic Lagos. The collection, which is named after a term used by Lawal to describe the energy of Lagos, comprises of three moments that depict Lagos in the year 2115.
Lawal describes Offline, the first of the three narratives, as a journey to escape the ubiquity of the internet that leads a woman to visit an illegal botanical garden where people pay to disconnect. In Òmìníra, the second of the three moments, two scavengers from a fishing community inspired by Makoko test the boundaries they've been given in their starkly unequal society. In Dreamscape, a proxy bypass enables a young man to illegally download and experience the dreams of people based in other jurisdictions.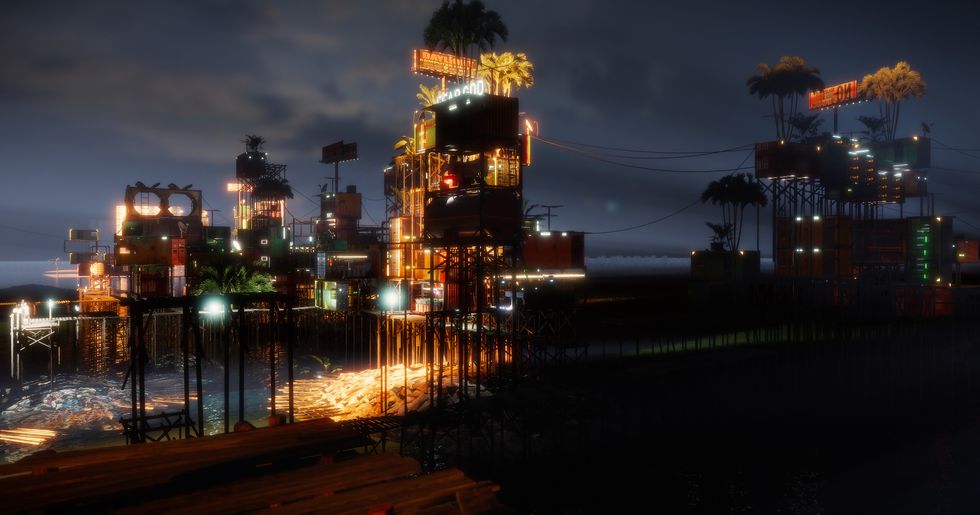 From Mad Horse City. Photo courtesy of Wale Lawal.
Òmìníra's eerily familiar leanings toward the tragedies of the Makoko fishing community, where 3,000 people lost their homes after a state sanctioned demolition in 2012, and most recently, Otodo Gbame, where close to 30,000 have been displaced due to similar circumstances, is not a coincidence. Lawal points to the immense focus on the migration of Africans outside the continent, but he encourages us to look within—where both voluntary and involuntary migration happens at a more alarming rate with consequences just as dire as what is portrayed internationally.
"[We want to] press beyond the established and rising narratives by thinking about the politics of mobilities that occur even within individual African countries," Lawal says. For example, these politics include "how states, through mechanisms such as checkpoints, may police their own citizens, creating invisible often violent local borders," he continues.
For Matsipa, it is important for those telling these stories are African artists and thinkers who can present a more holistic idea of what the continent is and what it can be. "A lot of the literature on African cities is not produced by African writers, which is why Africa is often framed as a developmental subject, a figure of crisis," she adds.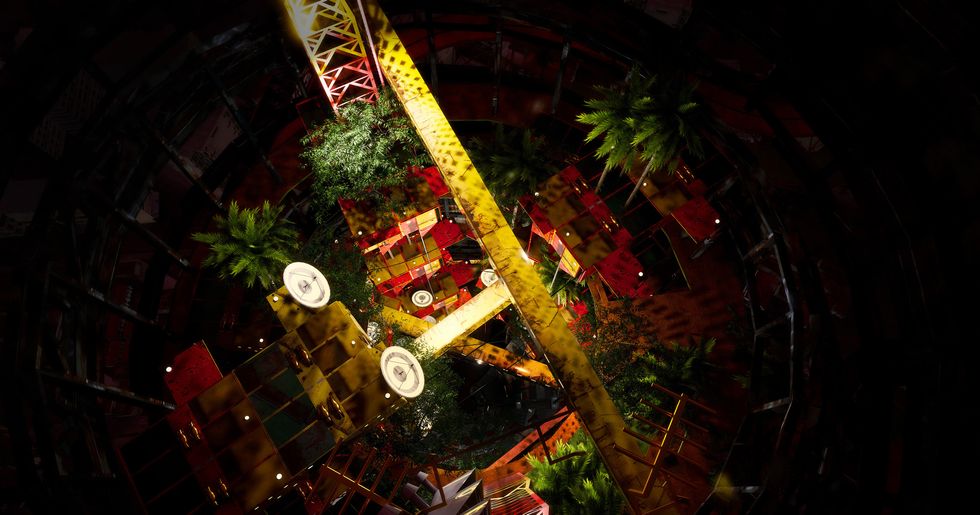 From Mad Horse City. Photo courtesy of Wale Lawal.
The exhibition also presents an opportunity to build a public around architecture and the way African cities are designed and who they are designed for. Although the exhibition will only run in Munich until August 19, the conversation it broaches will continue long after that.
"In this way, the exhibition is not extractive as is often the case with artifact-oriented exhibits, but immersive and ongoing," concludes Lawal.