Australian-Zimbabwean Rapper Tkay Maidza's 'Switch Tape'
Watch Australian-Zimbabwean 18-year-old rapper Tkay Maidza's video for "U-hu" & Bok Bok-produced "Finish Them."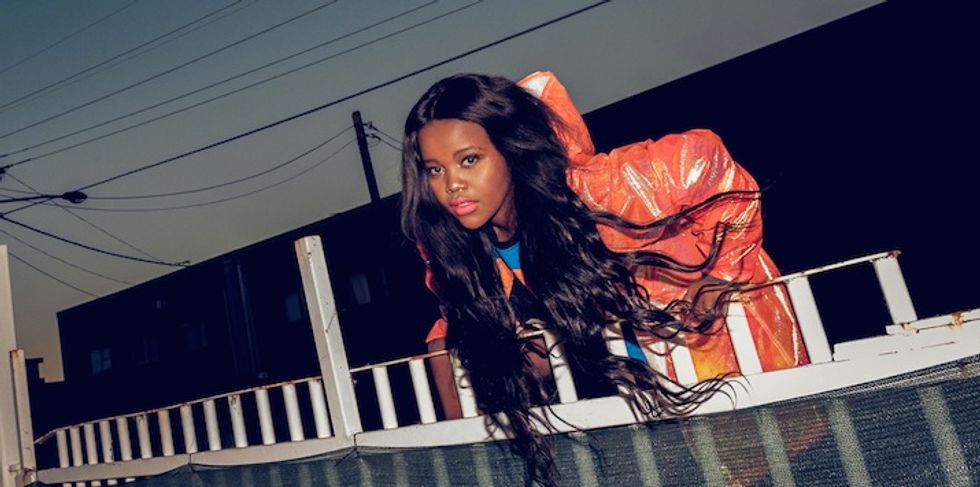 ---
Australian-based, Zimbabwean-born 18-year-old Tkay Maidza jumped on the scene earlier this year with the bubbly "U-Huh," a track that blends her agile raps with an addictive, electronic chorus that could fit on any current pop radio hit. Her style's been justly compared by several outlets to Azealia Banks (minus the drama) — her recent "Finish Them" collaboration with South London producer Bok Bok does carry a similar "212" punch to it. Maidza's just dropped her 18-track debut Switch Tape mixtape which continues her UK club explorations. Stream Switch Tape now via The Fader (full tracklist underneath) and check out the mixtape inclusions "U-Huh" & "Finish Them" below.
SWITCH TAPE TRACKLIST
Tkay Maidza - Always Been (feat. Swick & BOT)
Tkay Maidza - Switch Lanes (feat. Paces)
Tkay Maidza - MOB (prod. Elk)
Tkay Maidza - Finish Them (prod. Bok Bok)
SBTRKT - Everybody Knows (Tkay Maidza Edit)
Tkay Maidza - Brontosaurs feat. Bad Cop (Elk Drum Edit)
Swick and Lewis Cancut - Wishes (feat. Tkay Maidza)
Friend Within - The Monochrome (feat. Tkay Maidza)
Tkay Maidza - Forever (prod. Swick)
Tkay Maidza - Gangsta (prod. Elk)
Carmada (L D R U & Yahtzel) - Give It All (feat. Tkay Maidza)
Kilter - They Say (feat. Tkay Maidza)
Tkay Maidza - U-huh (prod. Elk)
Tkay Maidza - U-huh (Luke Million Remix)
Must Die! - Imprint (feat. Tkay Maidza)
Tkay Maidza -TM (prod. Swick and Lewis Cancut)
Tkay Maidza - Basskick Pump (prod. Swick)
Tkay Maidza - Trouble (prod. Motez)