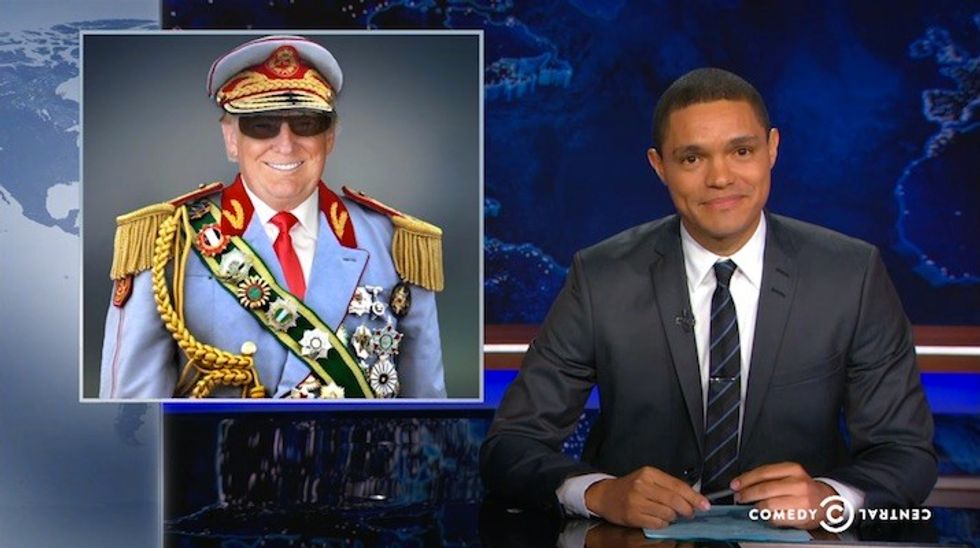 ---
Donald Trump would make the perfect African president, said Trevor Noah in the brilliant opening segment of Thursday's night Daily Show.
Over the course of seven minutes, the 31-year-old comedian offered a satirical breakdown of the Republican party presidential aspirant's similarities to some of the continent's most controversial leaders and dictators.
"For me, as an African, there's just something familiar about Trump that makes me feel at home," Noah said before playing a series of clips of Jacob Zuma. "That's light xenophobia, with just a dash of diplomacy," Noah said, comparing Zuma's comments on foreign nationals with Trump's remarks about immigrants.
Next, he compared Trump's claims that vaccines cause autism with Gambian President Yahya Jammeh's claims that he can cure AIDS.
"Donald Trump is presidential," Noah then stated. "He just happens to be running on the wrong continent. In fact, once you realize that Trump is basically the perfect African president, you start to notice the similarities everywhere," he said before comparing Trump and former Ugandan president Idi Amin's extraordinary level of bragging.
"Trump is so African presidential he's already at the level of Zimbabwe's president Robert Mugabe, whose brutality and oppressive tactics have kept him in power for 35 years," said Noah.
But Trump reminds The Daily Show host of one African leader in particular, the former Libyan dictator Muammar Gaddafi.
"I understand that Trump is a little scary– a little exotic, a little out of America's comfort zone for some. But this great country's capable of bold leaps. It took one in 2008 when it elected its first black president. Now in 2016 I say it's time to be bold once more and elect America's first African president."