This profile is part of OkayAfrica's ongoing series, THE WAV 2019, following the young artists shaping the future of the South Africa's music scene. You can read more profiles and interviews here.
South African singer and producer Una Rams' latest EP, Wavy Baby, is a gem.
The 6-track project is coherent, with an underlying theme—it's a love story between a boy and a mermaid. Una Rams is pouring his heart out, while the mermaid, played by the Cape Town-based poet Misa Narrates, is cynical as a result of her past experiences with men. Production on the project is handled by Una Rams himself, alongside C-Tea, Vuma and BLFR, among a few others.
---
"I'm kind of a sensitive kid, and I'm not afraid to express that in a song," says Una Rams when I meet up with him at Zoo Lake in Joburg. Wavy Baby is a new soul/R&B project that has sprinkles of afrobeats, pop and reggae. The man pens relatable lyrics about boy-girl relations and sings them with a subtle intensity and effective imagery. Peep the song "Murder," where he sings: "Like the jail I'll keep you/ Be at war dying for your heart/ Your love is behind my bars/ Poisonous kisses/ They leave me dizzy/ Round and round/ Till I hit the ground."
"I describe my sound as the soundtrack to people's lives," he says. "I want you to make experiences from those. I want you to play that at your wedding, have your first kiss with your crush to it. Things like that, which will stay with you for life, where you'll be able to sit down with your kids and be like, 'I was with your mom at this time and we played some Una Rams.'"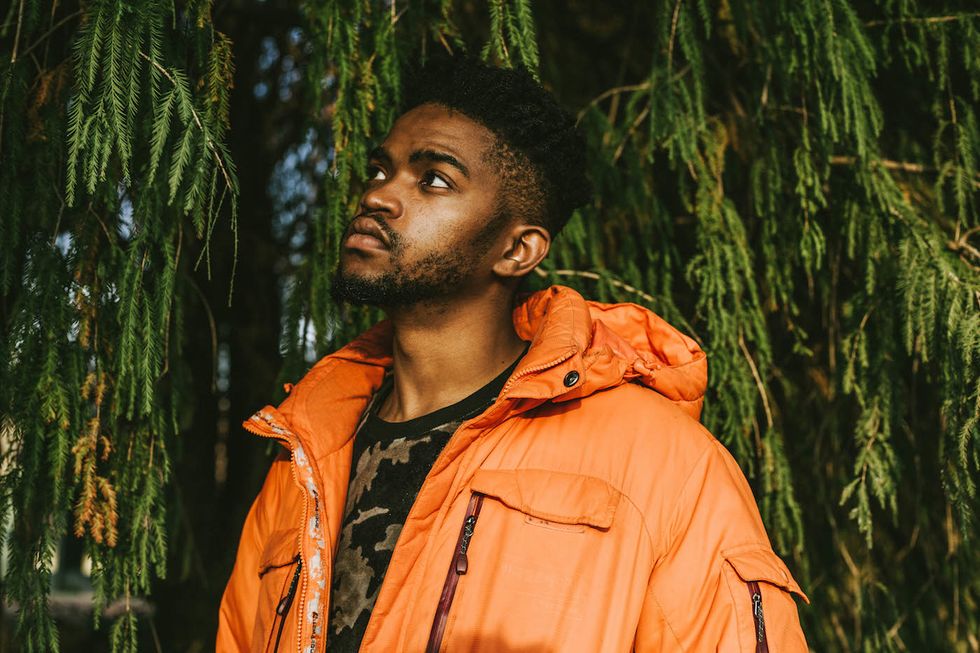 Photo by Sabelo Mkhabela.
Wavy Baby is the first project Una Rams released since becoming affiliated with Black Coffee's Soulistic Music label. In April of 2017, the groundbreaking DJ, producer and label head expressed his astonishment with the young artist in a tweet.
"I remember listening to this other Drake interview," says Una Rams before sharing the story of how Black Coffee found his music, "and he said 'you can be the most hard working and talented person, but it's always gonna take a bit of luck to make it in the music industry.' And I've seen that first hand."
Read: Meet BLFR, the 19-Year-Old Producer Behind Hits From AKA, Anatii, Riky Rick & Others
Una Rams and Black Coffee were on the same lineup for a show called Wild Explosion in Limpopo, where Rams is originally from. Black Coffee's performance was due later in the night, hours before Una Rams'. "I tried to stay for his set, but I had to go to church in the morning. And then I left at like 4 am," says Una Rams. Just as he was about to get home and get ready for church, he got a call telling him that Black Coffee wanted to meet him.
Black Coffee had heard the young artist's song "Girls Like You" on his way to the venue. "And he obviously didn't know the song," says Rams, "and he was like, 'wait who's this?' And the driver was like, 'it's actually a kid from around here. And at that moment, he was like, 'I need to meet this kid.'"
"So I went back to the venue," Una Rams continues. "I saw him play his last 20 minutes, and hoped into the van with him, and had the honor to have an hour-long conversation with the man. At this point, I'm a kid who's barely known by anyone, I'm in the same car with someone who holds sort of a god status in terms of music industry in South Africa, the continent and even the world."
He asked Coffee a lot of questions. "Like, 'how do you handle fame?,' 'how do you stay the same and keep creating when all those eyes and expectations are on you?' He gave some real answers, and I got to see his real side, as a person, as opposed to just the persona. So, I got to meet Nathi."
After that encounter, Soulistic Music made Una Rams an offer for a deal. "Something that we went back and forth on for a couple of months," he says. He, however, told his business partners that he would like to start his own thing. "I asked if it would be possible to collaborate on that," he says. "Because obviously starting out, you need all the guidance and knowledge. I just find it as a blessing to have the backing of a label that has managed to create such a brand."
Thus far, Una Rams describes the experience as "interesting," adding, "There are often instances when I have to stop thinking as an artist, and think as a businessman."
Last year, Una Rams made a reasonable impact with his Internet hit "Nobody" from his 2016 EP Pink Moon. The song's video was only released last year, and his name started spreading among the lovers of progressive and heartfelt music. "Nobody" demonstrated the patience required for great courtship. The song revealed Una Rams as a man who's in touch with is feelings, and, as he stated earlier, is not afraid to express them in his music.
His vocals on the song, and the rest of the EP, are mainly R&B with reggae and hip-hop influences. "At that point in time," he says, "I was listening to a lot of Bob Marley, so that seeped into the process. There's a strong reggae influence in my music. I feel like there's a lot of feeling and emotion in reggae. Even if you don't understand what's being said, you can still get the emotion behind it."

After getting the Black Coffee cosign, Una Rams says he wanted to capitalize on the attention that was suddenly on him. "So the songs that are on Wavy Baby are relatively old," he says. "Late 2016, early 2017, that's when a lot of the songs were made."
Una Rams comes from a large devout Christian family in a village called Makwarela in Venda in the Limpopo province. "I grew up in the church, so that's where my musical foundation was centered around," he says. "Grew up on a lot of hand-me-downs to the point where you fight to have your own identity, and that's what pushed me to wanting to be my own person so much. Even musically, I just wanna have my own thing. I hear what other people are doing, but I'm like, 'what hasn't been done?'"
Alongside gospel artist such as Israel Houghton and Kirk Franklin, Una Rams grew up on the likes of Usher, Michael Jackson and NSYNC. "My elder brothers were also musical," he says, "one of them even tried for Idols. He used to record songs on the tape recorder, and we started a boy band back when I was in grade 4 or something. We thought we'd be super famous." He chuckles before adding, "But at least one of us made it."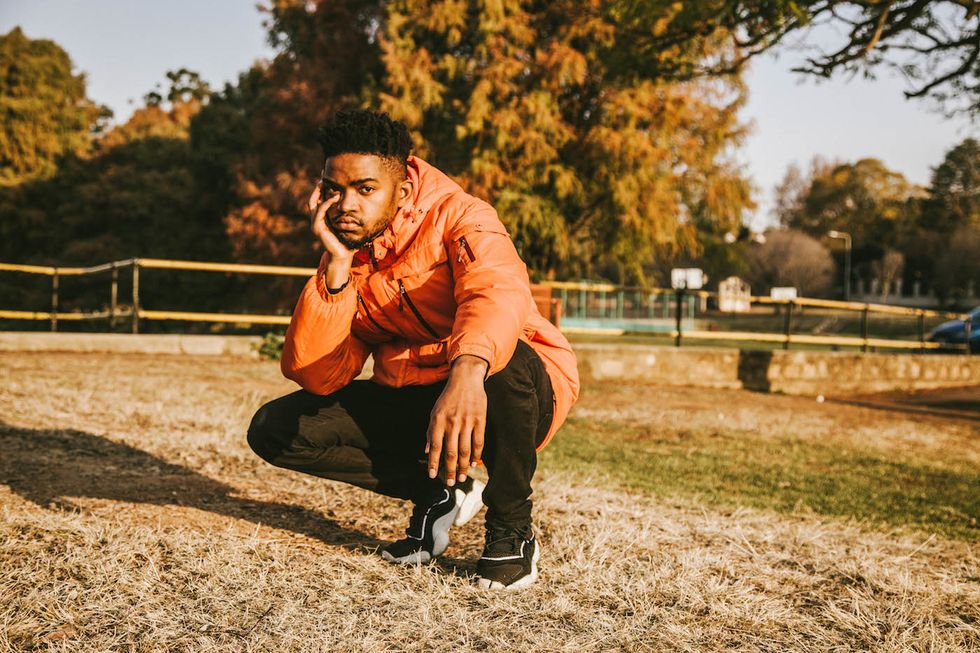 Photo by Sabelo Mkhabela.
Getting into production was a combination of being a geek and his love for music, which he was already aware of. He recalls making beats on the demo version of the music production software eJay and recording with Skype headphones.

"I released my first song that I wrote and produced," he says. "And it got like 900 downloads on the first night. That was a big deal for me. I showed my parents and they were like, 'wow you can actually do something with this.' I even got invited to perform at the matric dance, and I was still in grade 9 or 10."
The success of the song gave him assurance that he could make a career out of music. "I was a smart kid, and my parents were concerned if I'd be able to maintain my grades. I was like, 'I can prove it to you guys,' and I did it," he says. He went on to graduate with a degree in computer science from the University of Pretoria.
Una Rams and artists like him whose music isn't as formulaic as what you hear on primetime on the radio are building a movement that is fast becoming hard to ignore. Experimental artists, the likes of Muzi, Espacio Dios, Kimosabe, Mashayabhuqe KaMamba, Nonku Phiri and more are playing on the fringes of the mainstream. Una Rams is aware of this, and has made peace with it.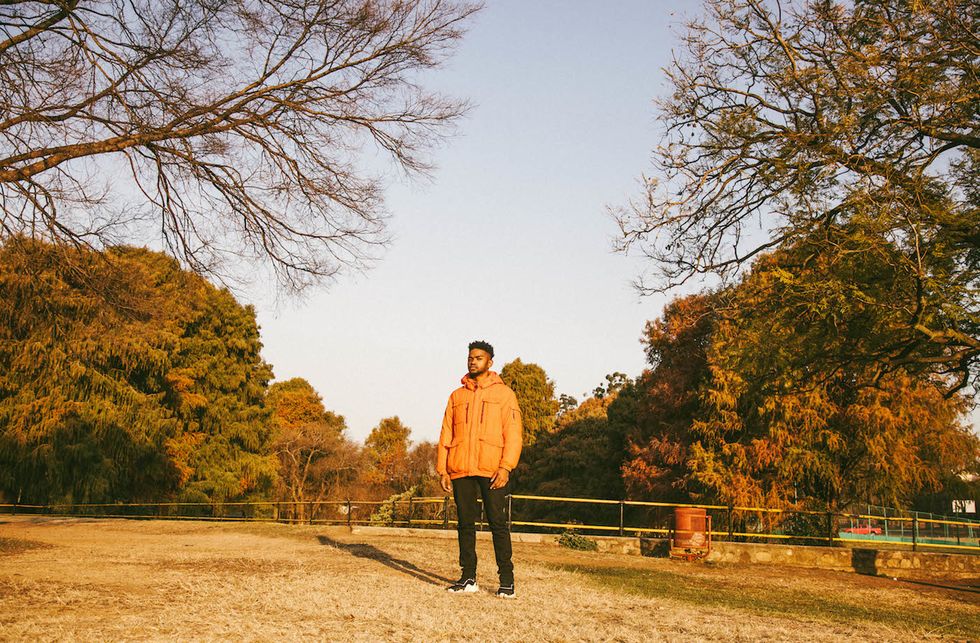 Photo by Sabelo Mkhabela.
"I know for a fact that when I release something it's not gonna be a trending topic," he says. "It's something I've had to learn, because initially it used to hurt so much. I came to see 'Nobody,' a song from 2016, become someone's favorite in 2018. It took a whole two years to get to them, and it's still happening."

He adds: "Artists who are doing them should understand that the market isn't entirely ready for that because we are still in a premature industry where the audience kinda still needs to be exposed or have their perception broadened so they can be more receptive to other things. With the likes of your Muzis, your Mashayas and myself, getting more mainstream recognition, that just opens the door for everyone else."
You and I are privileged enough to know Una Rams at an early stage of his career, and we will sure enjoy watching him and his peers dominating the music scene in the near future.
Listen to Wavy Baby below or download it here.