Orange Is The New Black actress Uzo Aduba appeared on Late Night With Seth Myers to share priceless stories about her proud Nigerian mother.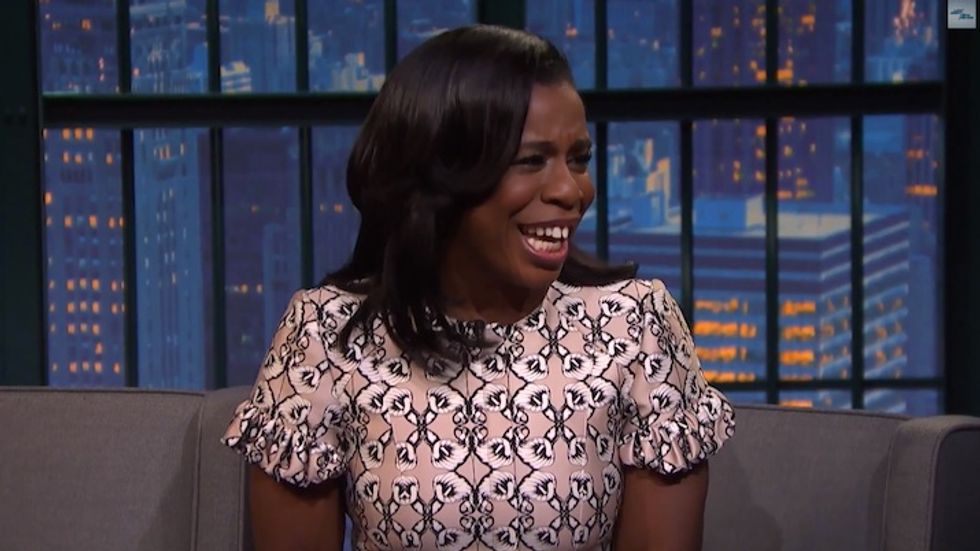 ---
Nominated this week for a SAG Award and a Golden Globe, Nigerian-American actress Uzo Aduba appeared on Late Night With Seth Myers on Thursday to tell more priceless tales about her proud Zumba-loving mother. The Orange Is The New Black star, whose full name is Uzoama, told Seth, "I wanted to be called Zoe. And so I came home one day and I was like, 'Mommy, can you call me Zoe?' And she was cooking and she just stopped and she looked at me and she was like, 'why?' And I said because no one can say Uzoamaka. And without skipping a beat she was like, 'If they can learn to say Tchaikovsky, and Dostoevsky, and Michelangelo, then they can learn to say Uzoamaka.' And she went right back to cooking and did not stop."
The Late Night stop isn't of course the first time we've heard Aduba talk about her mom, who she insist is her number one fan. After winning the Emmy for "Outstanding Guest Actress in a Comedy Series" (the first black woman to do so since the category was created in 1989) for her role as Suzanne 'Crazy Eyes' Warren on OITNB, Aduba spoke candidly about the significance of her mother's presence during the historic moment. "It means everything to me," she said. "We're talking about a woman who survived polio, a woman who survived civil war and genocide and sacrificed so much to come to the United States for her five children to have a chance... My mom named me Uzoamaka which means 'the road is good' because the road indeed was a good one despite its challenges for her." Watch Aduba share stories about the time she interrupted her mom's Zumba class with news of her Golden Globe nomination, meeting President Obama together and more in the clips below.