The seminal African-American writer Zora Neale Hurston once wrote: "If you are silent about your pain, they'll kill you and say you enjoyed it." A key figure of the Harlem Renaissance movement of the 1920's, her poignant words provide a powerful resonance that transforms the omnibus of black pain into ownership and taking pride in the wider African diaspora in the present.

One such creative embodying the spirit of Zora is British-born Ghanaian writer, poet and filmmaker Victoria Adukwei Bulley who has been active in documenting the process and maintaining a connection to Africa. Her debut poetry pamphlet, Girl B formed part of the 2017 New Generation African Poets series and is the director of MOTHER TONGUES, an intergenerational poetry, translation and film project celebrating black womanhood. She was shortlisted for the Brunel University African Poetry Prize 2016 and has featured on BBC Radio 4 Woman's Hour.
The 26 year old grew up in Woodford, Essex on the cusp of London's sprawl eastward into the Home Counties where her family settled in early 70's from Ghana. At the time a predominantly white area, Adukwei Bulley hailed from one of the few black families in suburbia and was one of five black children in her year at primary school. She recalls an early incident where she was acute at asserting her blackness "I remember as a kid, you do have a sense of consciousness about you". She adds. "I had a friend who was really nice but used to call me "Chocolate Girl." That did make me aware of myself. At that basic level, I get it but also that did make me aware of myself and I did eventually tell her to stop calling me that."
An admittedly reserved and shy person, it wasn't until the epoch of Secondary School with peers who shared African and Caribbean heritage she felt more comfortable in owning her identity amidst the cacophony of puberty. The poet recites part of a rap she wrote aged 13 written in response to the 'Essex Girl' stereotype and appropriation in the aesthetic of being black in the playground bereft of the chronic omnibus of struggle converted into covert micro aggressions.
Nowadays everybody think they're black
But don't think about the days where we sat on a ship/Being taken from our motherland to another land
That don't give a shit where we're at.
As I listen in awe at the early yet erudite bars, her pupils deem to reflect a mixture of emotions at immediate family not being politically active and not learning more about seminal Black figures in Kwame Nkrumah (Ghana's first President who led the country to independence in 1957) and Marcus Garvey (leader of the Pan-Africanist movement who promoted the return of the African diaspora to their ancestral land) but also reflects on the pressure of assimilating into life within a new country "it's very easy for me to say 'Why were you not political' when people are just trying to eat."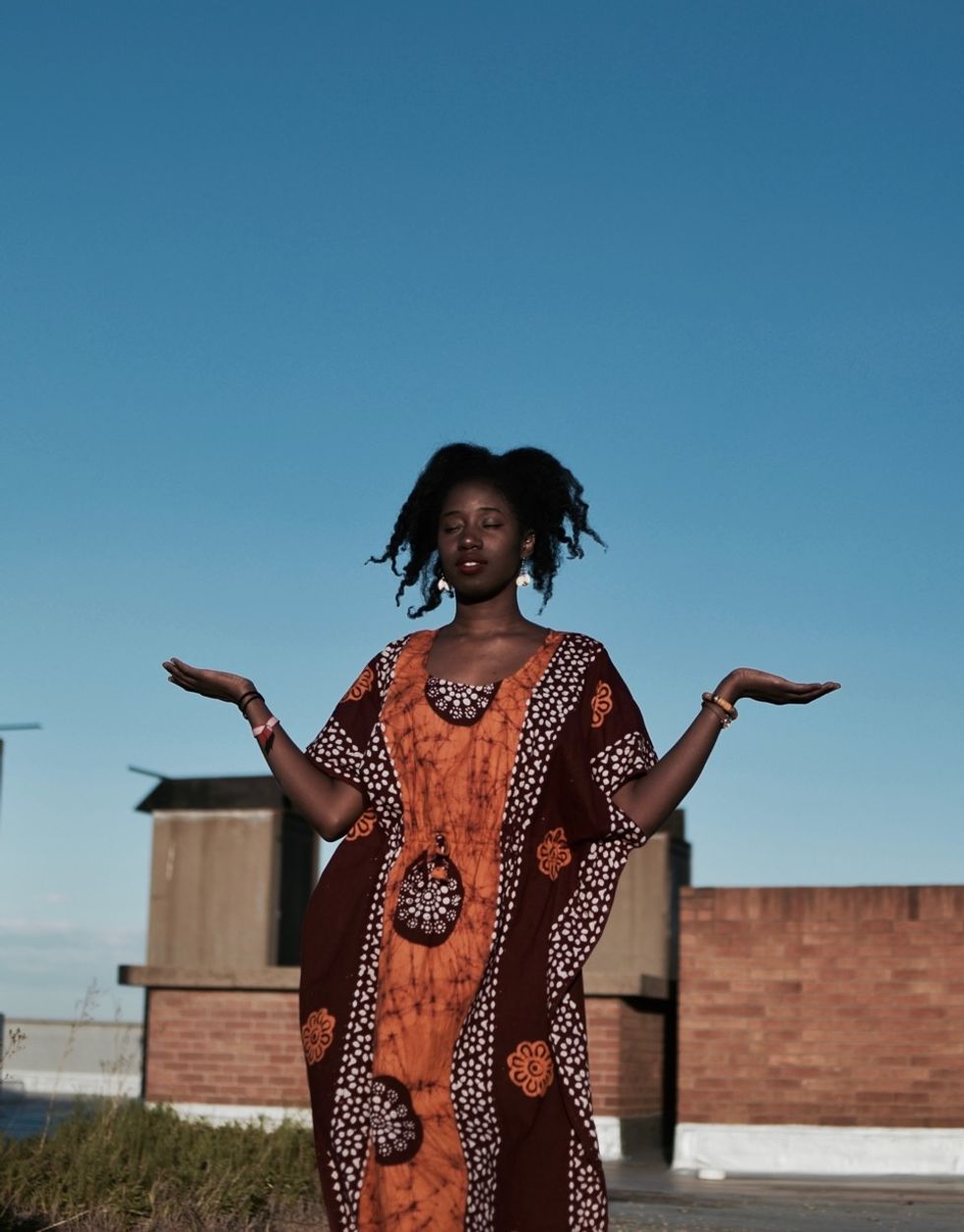 Victoria Adukwei Bulley Photo: Myah Jeffers
With a curriculum that still fails to face the nuances of the transatlantic slave trade in juxtaposition to the children of migrants who aren't taught the reality of a transcendental trauma which broke backs and built Britain to be great in schools, Bulley's experience as a child informs her creativity. The seed of storytelling which was planted after her first trip to Ghana at an early age has grown to see her retrace and reclaim her roots ever since that early curiosity. "I remember being there as a kid and we stayed next to a cemetery. I've always been very interested in history and who the people that came before us were. I left the house and went for a stroll in the cemetery. I was trying to find out whose buried here, what did they do, who were they and I wasn't scared" she says.

A hyphen imposed between dual heritage is a tightrope in which one walks tentatively between nationality embedded by virtue of birth and another serving as a harbinger to further ignorant cries of "where you actually come from." As an acclaimed poet and writer in her own right, she added director to her repertoire via Mother Tongues—a personal and intergenerational film project where Bulley included fellow poets from the African diaspora in Belinda Zhawi, Theresa Lola and Tania Nwachukwu. Their prose translated from English and recited in their native languages of Shona, Yoruba, Igbo and Ga (in Victoria's case) by their respective mothers. I query what sparked Mother Tongues into life: "Just my own experience." she says. "As a writer if you only have one language, you only have one vocabulary and so you're limited. Not speaking Ga, (my parent's language) has been quite painful for me." She further adds, "so this was a project to address that and also use my poetry whilst getting a translation from my mum to perhaps connect some words. The idea was also to do the same with other people who have a similar story and a lot of people have that story."
Despite the abyss of the Internet as an open archive, the short films personify the nuances of navigating unapologetically as a black woman intimately, the collective strength in both generations sharing stories adds further weight to a truthful narrative and building a legacy not at risk of loss. "I think women carry culture better," she remarks whilst reclining back in her seat at a Shoreditch hotel. "I wouldn't discourage any men by saying that but when you want to know what's really happening in a household you go and find the women. Even in the way that our parents speak, it's quite performative from our perspective and there is a real story being told which I wanted to capture on film."
She beams as I ask about the experience of taking Mother Tongues back to Ghana last year which was also coincidentally the first time she travelled back to the motherland on her own.
"I was there for Chalewote Festival and it was so good," she says. "They are doing some good stuff (there) talking about gender and other topics. They are really on it and also very politically active than anyone else. I knew I was having a good year…So when I was going to Ghana, I had this feeling of going home and I was very excited about going somewhere that I can claim. I remember feeling emotional when the plane was landing"

With future plans to expand her filmmaking debut beyond the African continent and eventually build a book, Victoria is determined to let her work speak for itself and have pride usurp pain when it comes to conversations around the black identity overall. Currently an Artist in Residence at The Victoria & Albert Museum exploring the links between British slave-ownership and the development of the museum. As a descendant of former African slaves who returned to West Africa from Bahia in 1835, a recent residency in Brazil offered an opportunity to explore the themes of language, migration and identity in MOTHER TONGUES.