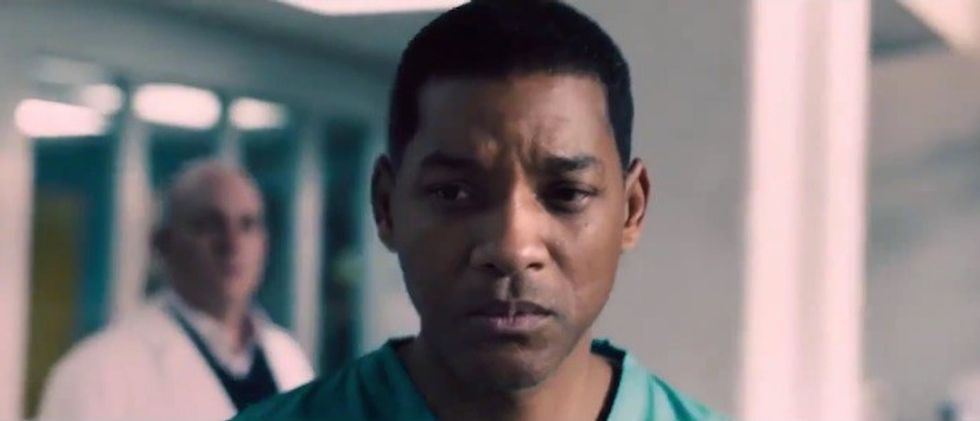 ---
We'll soon have the opportunity to see Will Smith play a Nigerian on the big screen. In Concussion, Smith stars as Dr Bennet Omalu, the real-life Nigerian-born forensic pathologist and neuropathologist who in 2002 uncovered a connection between brain trauma and the NFL after performing an autopsy on former professional football player Mike Webster.
Slated for a Christmas 2015 release, the biopic– directed by Peter Landesman (Parkland, 2013)– will also star Nigerian-British actor Adewale Akinnuoye-Agbaje in the role of former Chicago Bear player Dave Duerson– who in 2011 committed suicide at the age of 50 by shooting himself in the chest so that his brain could be left to researchers studying head injuries among football players (Boston University's Center for the Study of Traumatic Encephalopathy found that Duerson's brain did in fact have the chronic traumatic encephalopathy that he suspected).
The film's first official first trailer arrived yesterday, and while initial Concussion coverage has tended to focus on why the NFL should be fearful as well as potential Oscar buzz surrounding the film, Will Smith and his Nigerian accent have also drawn the ire of Nigerians on Twitter.
"The Grammy award winner tried to pull a Nigerian accent and failed woefully at it," writes Tomilola for 360nobs. "We are not sure how hard it was for the Producers to cast a Nigerian (seeing as there are numerous talented Nigerians in Hollywood) in this role but what we are sure of is it is quite hard for Will Smith to understand that we do not sound like a caveman coming to America for the first time," she added.
"Hollywood created an accent for 'Africans' which they use whether the person is Liberian, Nigerian or Rwandan. Will Smith learnt it well," tweeted Nigerian satirist Elnathan– who also shared his own take on the Concussion trailer.
Watch Smith debut his controversial Nigerian accent in the trailer for Concussion below, and read on for some reactions across Nigerian Twitter.
Hollywood created an accent for "Africans" which they use whether the person is Liberian, Nigerian or Rwandan. Will Smith learnt it well.

— Elnathan (@elnathan) September 1, 2015
Did you miss my Concussion trailer? A Nigerian with a Concussion https://t.co/HZqOQodHtU #WillSmith #HollywoodAfricanAccent — Elnathan (@elnathan) September 1, 2015
Will Smith's nigerian accent in the nfl concussion film is a bit like jollof rice made with basmati. Just off.

— Hootie Who (@hrhhootiewho) September 1, 2015
Will Smith's new movie Concussion hits cinemas in December He plays a Nigerian-American doctor Bennet Omalu But has a South African accent — Anyadu (@The_Africanist) August 31, 2015
When I heard that Will Smith's 'Nigerian' accent on that Concussion trailer pic.twitter.com/EafI1XOmae

— Acharugo Nwa (@AfricanCeleb) August 31, 2015
I want to complain about Will Smith's Nigerian accent; if only my people would stop buying American accents, too, from Malaysia. — WALE LAWAL (@WalleLawal) August 31, 2015
I love Will Smith as much as the next fan, but I dunno if I can sit through 1.5 hrs of him faking a Nigerian accent https://t.co/AUcqyGX6nD

— Victoria Okoye (@victoria_okoye) August 31, 2015
Naija people what you think of Will Smith's Nigerian accent? (sounds like a bad Mandela impression to me...) https://t.co/bjss0PhU8Z — Zeba Blay (@zblay) August 31, 2015
Will smith Nigerian accent basically Sudanese accent

— Fijabi (@NatureCapone) August 31, 2015
Will Smith stars in 'Concussion' a very serious and true story with a very awful fake Nigerian accent that Americans won't even notice. — Agrippa (@RTFAQ) August 31, 2015
When Will Smith does Hollywood's generic "African" accent, it's for his home audience, not you. You're not part of that audience.

— Crispin Oduobuk (@Cris_Odu) September 1, 2015
shoutout to Will Smith's naija accent in Concussion, i guess. pic.twitter.com/q0VRVcYQBg — Bim FKA yung jollof (@bimadew) September 1, 2015
The Concussion movie looks interesting, but I will not be able to sit through Will Smith doing a Nigerian accent without laughing.

— Aggi Ashagre (@AggiAshagre) August 31, 2015